My Christmas mantel decor this year is my most favorite yet! Now, lets be clear. I organically decorated my mantel this Christmas while listening to an audiobook. I had no inspiration other than the items in my home. I spend almost a whole day moving, re-arranging and re-styling this mantel. I did not know what I wanted, until I had it.
Once I had it staged and photographed the way I wanted it, I began writing this post. At this point, I started wondering exactly what kind of Christmas mantel decor I had even ended up with! So I took to Pinterest, which has this excellent little guide at the top that showed different Christmas mantel decor styles, and the one that the most closely resembled what I had created was an English country mantel.
And, well, with my love for all things English country, I was sold and decided that is what we are going to call my mantel this holiday season!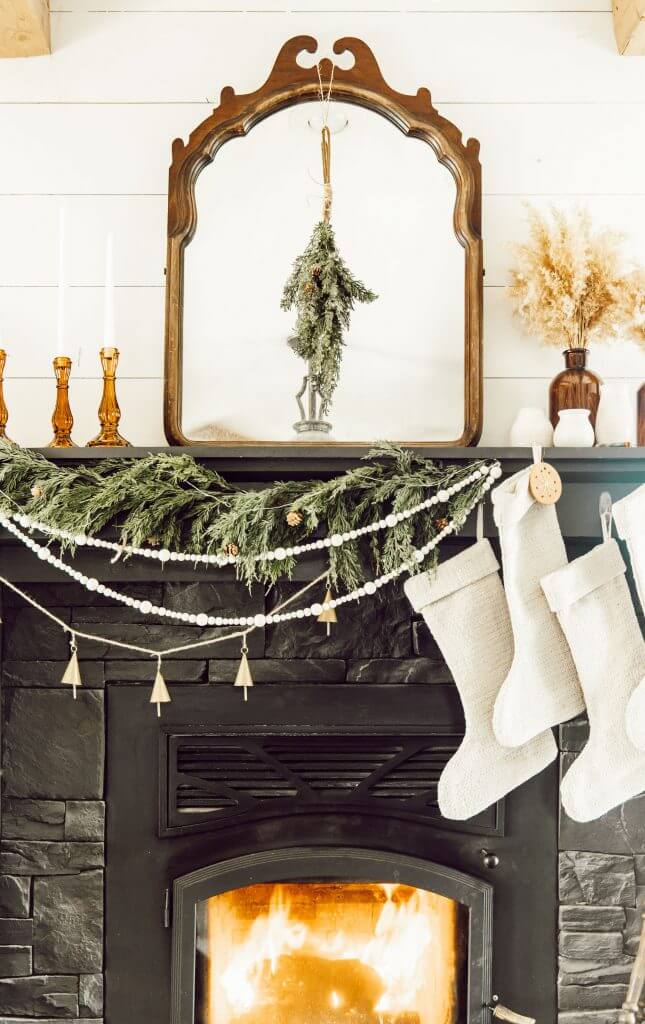 It all started with that mirror. A few days prior to styling my fireplace and mantel, I was perusing an antique store that was in the small town near us. I had already found these amazing stockings and was still looking for a bit more inspiration.
Sadly, my other stockings were somehow damaged in storage and are stained terribly. So, I needed to find something else, and these new stockings are adorable and full of gorgeous texture. Now I just needed to pull them together with the rest of my decor.
But, this year I have felt a lack of design and deco inspiration and I was in dire need of some ideas, so off to the antique store I went.
When I walked into the cute little antique store, I began rumbling through all the amazing items in the store. When I turned around and came across this large antique mirror for 49 dollars, I quickly snatched it up and on my way I went. I immediately went home and began creating. I was finally feeling inspired!
So, with the centerpiece being the large gorgeous mirror. I started to shop my home for other items I wanted to display. I had purchased some gorgeous amber candlesticks and bottles at Hobby Lobby a couple of months ago.
After trying out some black candlesticks, and not loving that, I set my amber ones onto the mantel and it was as if they were meant to be there. I added some candles to them and I was in love.
I added the pampas grass that I cut down off our highway to the amber bottles on the right. I really wanted to use the pampas grass in my Christmas decor if I could. I really love that stuff and I think it is a nice combination with the greenery.
As I began decorating the mantel with garland, I originally draped it along the entire thing. But, I just didnt love it. So, I experiments with doing an. asymmetrical garland swag. I wanted to create balance between the garland and the new stockings I purchased.
By hanging the garland on 2/3 of the mantel and letting is hang and swag along the side of the fireplace it creates movement and interest. I balanced that by hanging my stockings on the right, staggering them so that they had more interest as well.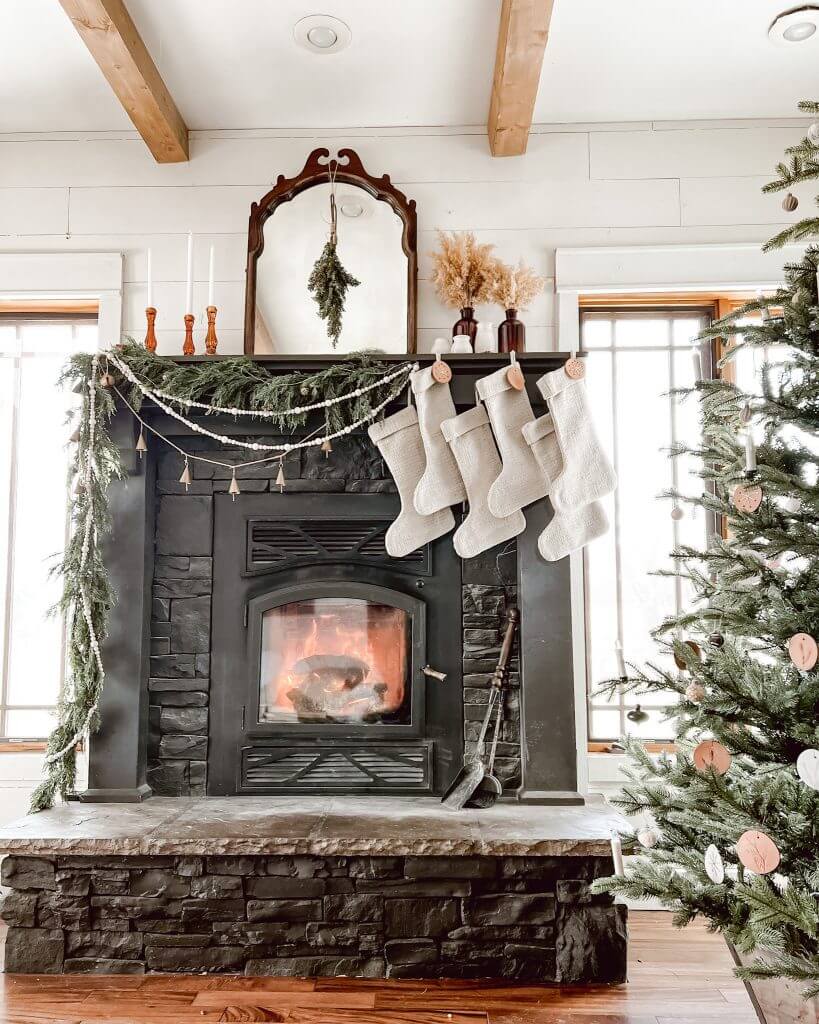 Doesn't it look amazing with my Christmas tree? Anyways, lets keep talking mantel
I added some Christmas bells as well as a wooden bead garland that I doubled up. I made sure to hang them at all different heights as well. Allowing them to hang down gives the mantel a more relaxed feel while also balancing the stockings.
A simple pine bough was hung on the mirror to add a bit more of that relaxed English country feel. I added some handmade ornaments to a couple of the Christmas stockings. I will be sharing these next week! They are my absolute favorite feature of my tree this year!
With a fire in the hearth, and the layered textures, this Christmas mantel. My living room is feeling cozy and inviting this holiday season. The color pallet is muted, but with the contrast of amber glass, fresh greenery and textured creams my holiday mantel decor is precisely how I want it this year. There is a calm feeling to this room and I am loving everything about it.
My fireplace mantel is exactly how I envisioned it when I was searching for inspiration in that quaint little antique shop.


I have oodles of Christmas mantel decoration ideas here on the blog from years past and present as well as tons of inspiration. Check out these great posts below to see them!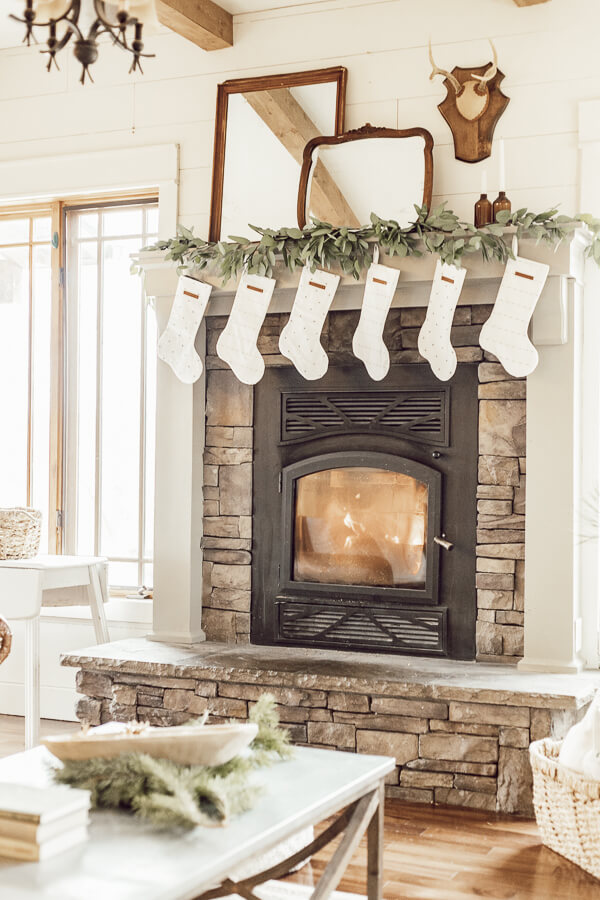 WANT MORE CHRISTMAS MANTEL DECOR IDEAS? CLICK THE IMAGE BELOW!
GET YOUR FREE GUIDE to 30 DIY projects that can be done over the weekend!
By subscribing, you will gain access to my FREE guide with 30 DIY projects that can each be done in a day, or over a weekend!
You will also receive a weekly email with some of my favorite tips, tricks, and design ideas.