I now interrupt this DIY blog to insert a few new posts….and today is one of them! You may have noticed I have been adding some recipe posts to the blog, which was something my readers were in full favor of, and today I am venturing out to share a different, yet still just as much me post. We are going to talk about one of my most favorite fashion accessories, my stylish women's sneakers.
Say what?
You might be asking yourself this, but trust me. I have had a bunch of readers on Instagram comment and ask where I got certain shoes I have worn and I decided I wanted to start sharing some of my most favorite fashion pieces. So, throughout the fall months especially(since I love dressing in all the fall stuff) I will be sharing some of my favorite things to wear.
Let's be real, I spend my days dancing with goats, building and painting, and running around with kids, so I need shoes that are comfortable but that also are stylish!
I love to combine a simple tee, skinny jeans and a cute pair of women's sneakers.
Here I am with one of my favorite outfits and favorite shoes!
Some of my favorite women's sneaker brands I love are Vans, Adidas, Puma, Converse, and Fila.
You can find so many affordable options with these brands that are so very cute and also quite affordable.
I love these brands because while they often have a design to them, they keep it classic. They each have some version of a simple white tee or classic black dress type of shoe.
You can't go wrong with a cute pair of classic Vans or an old school pair of adidas.
I have found a few places that I love to shop and get great deals. Famous Footwear is one of them. I like going here for my kids because I can usually get a Buy 1 Get a pair 1/2 off. That is always nice when you are buying for 4 kids.(Right now you can get an additional %15 percent off so you better hurry!) But who are we kidding, I often end up sneaking a few pairs of shoes in for myself….which I just did last week. Shhhh, don't tell my husband haha! I was supposed to be just buying back to school shoes, so well, these are my new back to school shoes!
There are a few things that I focus on when purchasing a pair of women's sneakers. I want to be able to wear them with just about anything. Something I also do is to avoid simple running shoes or athletic shoes and stick to the more street shoe style.
I also love the style that are simple, mono or dual color with little busy work going on. I don't want to overthink it and end up with a pair of shoes that can only be worn with one shirt.
Thus I find that I keep my choices within the white, black, grey and brown spectrum, sometimes choosing ones with a small pop of color, such as with my Adidas shoes.
So, let's check out some of my most favorite women's sneakers!

Now, tell me you aren't swooning over some of these!
Tell me which ones are your favorite?
Make sure to follow my Fashion board on Pinterest to see what else I am loving!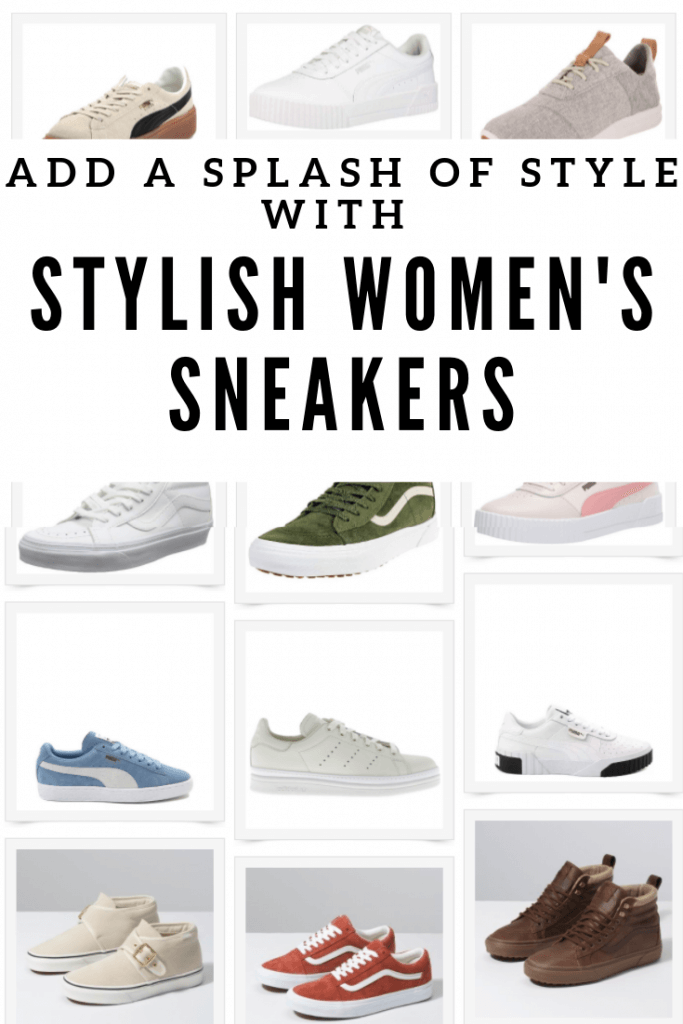 Check out these fun posts too:
Amazing Boho Decor Available at Walmart!
A Treehouse Design Perfect for Kids and Adults!
10 Home Decor Collections to Start Today
Edible Summer Tablescape Ideas
GET YOUR FREE GUIDE to 30 DIY projects that can be done over the weekend!
By subscribing, you will gain access to my FREE guide with 30 DIY projects that can each be done in a day, or over a weekend!
You will also receive a weekly email with some of my favorite tips, tricks, and design ideas.