Is it really that time of year again? Its time for the One Room Challenge by Calling It Home and boy am I excited! If you missed my last One Rom Challenge, I remodeled my laundry room. It was quite the experience, and I must have enjoyed it to even think of doing it again. This time I am creating the ultimate farmhouse bathroom design.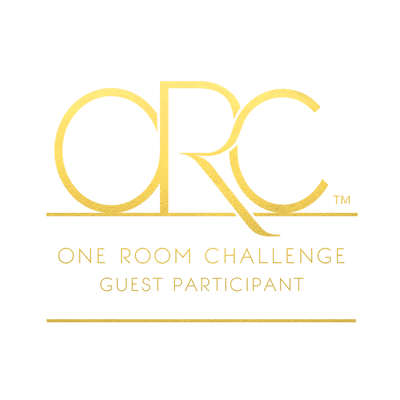 I have a few reasons for wanting to remodel my bathroom, and sometimes I feel like I have to justify myself for wanting to remodel my bathroom since we built it only 10 years ago. Well, when we built our bathroom, I decided to put slate tile in. I thought it was so pretty, and I still do, however I obviously did not know that putting the slate in the floor of my shower was a bad idea. Over the years, it has been damaged by hard water. Even with all the cleaning I have done, and tried to treat it with hard water removers, it didn't even touch the mess.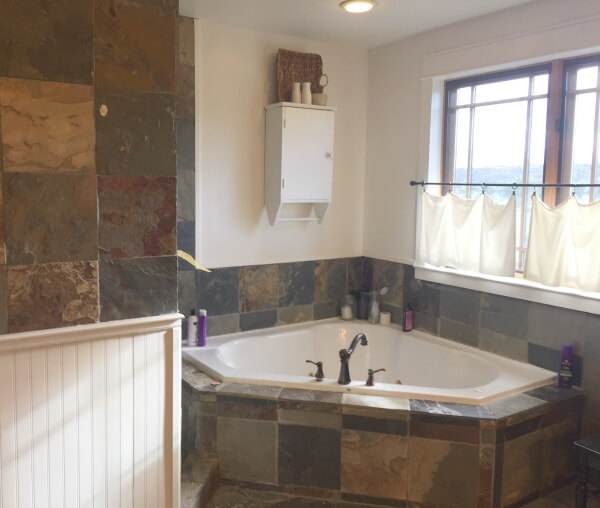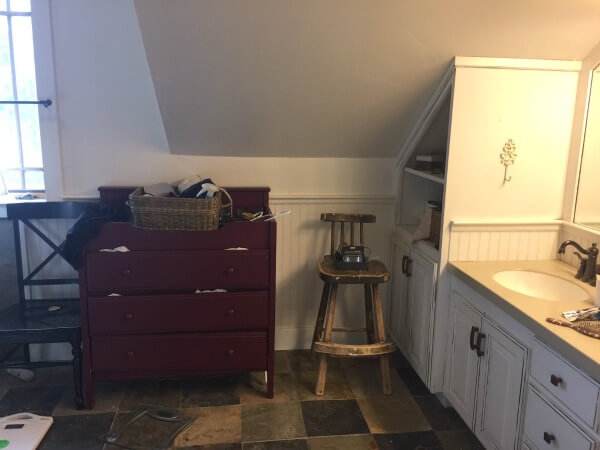 It went all the way up the walls, and the slate actually started to flake off and rust was building on it. My initial plan was to just take the shower floor out, but I would still be left with the mess on the walls.
The other thing I wanted to get rid of was our tub. We had one of those corner tubs with jets in it. It was a cheap, sale item that we found while building and just jumped on it. Soon after installing it, the big commotion about jetted tubs came out and all the problems with bacteria, hard water, etc came to light. We didn't really bother about it, but after years of combating all the yuck and grime I had lost my love of a bubble bath.
And as much as I loved the slate on my floor, it was difficult to clean, uneven, and I mean uneven enough that I have cut and stubbed my toes more than once.
And my last reason, it is time for a change. Decisions I made 10 years ago are much different that what I want these days. And as this is my "forever home" and I know that I will be here for a long, long time, I should be able to change things every once in a while since I wont be up and moving any time soon,
So, now to the exciting part…..the plan…..my master bathroom remodel plan.
I have been inspired by so many incredible bathrooms and the one thing I knew I wanted was a bathroom inspired with a little vintage, and a little old world farmhouse style. This, my friends, is the result.
The Ultimate Farmhouse Bathroom
Now, this whole bathroom started with one thing. That sink. I. Am. Obsessed. This sink is a commercial bathroom sink by American Standard. This sink embodies everything that I want in this bathroom, beautiful lines, white, and stylish with a touch of vintage with that absolutely gorgeous faucet! Deciding on this sink was actually very difficult for one reason, it is rather large.. and there will be 2 of them. I had to fully commit to that aesthetic, which I did, and I am so, so very happy about it.
I don't want to give away too much at this point, since I am still in the planning and gathering of products, but there are quite a few fun accents that aren't included just yet, but boy oh boy, this is going to one heck of trip!
I am so very excited to have some pretty AMAZING sponsors this year with Lowes, American Standard , Bellacore, Fabric.com, and RugsUSA. I am truly honored to work with such incredible companies and I cannot wait to see all of this come together.
You can check out this slideshow of some of the awesome products I will be using on my ultimate farmhouse bathroom.
Buffalo Check Fabric by Fabric.com
So, here is where we stand. We have torn out the shower and all the tile and are taking the tub out tonight. Lots, lots more to do on this ultimate farmhouse bathroom
GET YOUR FREE GUIDE to 30 DIY projects that can be done over the weekend!
By subscribing, you will gain access to my FREE guide with 30 DIY projects that can each be done in a day, or over a weekend!
You will also receive a weekly email with some of my favorite tips, tricks, and design ideas.