I don't know about you, but these days I'm loving me some farmhouse style, I also love boho, mid century modern and so much more! I would have to say my style has certainly evolved over the years. One thing that continues to be an obsession of mine are home decor collections. What are those you ask? A collection of items that you display in your home, adding style and design.
I find I have simplified. I no longer crave bright colors on my walls. Less accessories is more. My desire for light and bright have driven me to create a clean, and simple home. I often say if I didn't have 5 kids….( Yes 5. My husband counts for at least one, plus my pup, so I guess thats 6 kids!)I would have white everything! But that's definitely not my reality right now.
Many of you may not know, I live in a small town. When I say small…500-600 is the population. My husband graduated with 19 other kids. I graduated with about 1000. I'm originally a Vegas girl, . Still am. It's in my blood, always will be. However, I have come to embrace and love all those things that living in a small town is. How did I end up here? Long story. Fell in love..:). There's the short version. Maybe I'll write a post about how we ended up where we are.
Anyways…….
I am providing 10 of my favorite home decor collections to start right now~ There are no rules. These are things that I love and enjoy seeing in my home. Each collection is easy to incorporate into many different home styles.
Lets have a look at my favorite home decor collections!
1. Silver or pewter trays and platters.
SOURCE: WWW.EDYTHONEILL.BLOGSPOT
My husband and I have built a peaceful life in this small town. We love to sit out on our porch in the tranquil evenings, no traffic, no lights, just field sprinklers silhouetting the evening air. No, I am not 80. We live in a popular tourist destination, so when we can break away from the crazy tourism, we relish it.
My second love next to interior design would have to be my garden. Every spring I look forward to working the soil, watching my plants grow and feed our family. Believe me, I have not always been like this, I have college roommates that still giggle at me, and I in return giggle at them sitting in their minivan they swore they would never own.
We all change, don't we. My garden is so therapeutic to work in. On my bad days, I will spend hours working in my flower beds and garden. I've warned people if my yard looks perfect, you should be afraid of what's causing it:). You will know life has been a bit easier if the flowerbeds are overgrown and the grass hasn't been mowed.
I really am getting somewhere with this, I promise. My experience living this simple life has formed my vision for my home. Trying to create a serene, cozy, textured, simple design is very fulfilling to me. One of the coolest things about design in my opinion is the ability to take practically anything, and create a place for it in your home.
Some of my favorite things in my home are the things that were never intended to be in it. There are some really fantastic items that I have been collecting over the months and years that are so simple and ordinary but when used in a collection, make an amazing statement.
Since I have not inherited any awesome heirloom silverware or serving trays, I had to search out for these. I found them in many different places. I would say more than half of these were found at Deseret Industries(local thrift store) for $ 1.00 at the most. Others were found at fun little boutique stores or antique malls.
These silver trays have so much character to them, I love imagining what they were used for in their past life. It is inspiring take a collection of something usually sitting in a cupboard rarely being used and turn it into an interesting focal point. Here are a few examples that I really love.
Next time you spot one of these, think about adding it to your home. I love the old world feel they can give your home.
Check out these trays I found:

2. Cutting boards
SOURCE: SNEAK PEEK DESIGN
Really? A cutting board? Similar to the silver trays, I found some at our thrift store, and of course a few were actually purchased or given as gifts. There are so many things you can do, I love the idea of painting the bottom 1/4 or 1/2 of the board white or black. It is a great accent.
I bet we all have a few lying in a cabinet that are just serving a utilitarian purpose. But, once you hang them, you begin to notice all the awesome character that they have. They bring so much interest into a home! You can also set them up leaning against a backsplash. I do this with mine and it makes it easy to use them, while using them as a home decor collection.
How about some cutting boards for yourself:

3. Wooden Spoons
SOURCE: CHRONOGRAM.COM
Yes this may seem odd. But they truly do look so interesting on a wall in the kitchen. The larger than life spoon and fork pairs made a big splash in the 70s, and have made a huge comeback. I found some at a local antiques shop. If you can't find a pair like that, go grab some regular ones from the thrift store.
Creating a large collection of wooden spoons has a nice graphic look to it. If adding that many spoons to your wall seems outrageous just add a few to a vignette or set them on a cool tray. Break your way into it.
I usually keep all mine in my large crock on the counter since they are multi use for us.

4. Baskets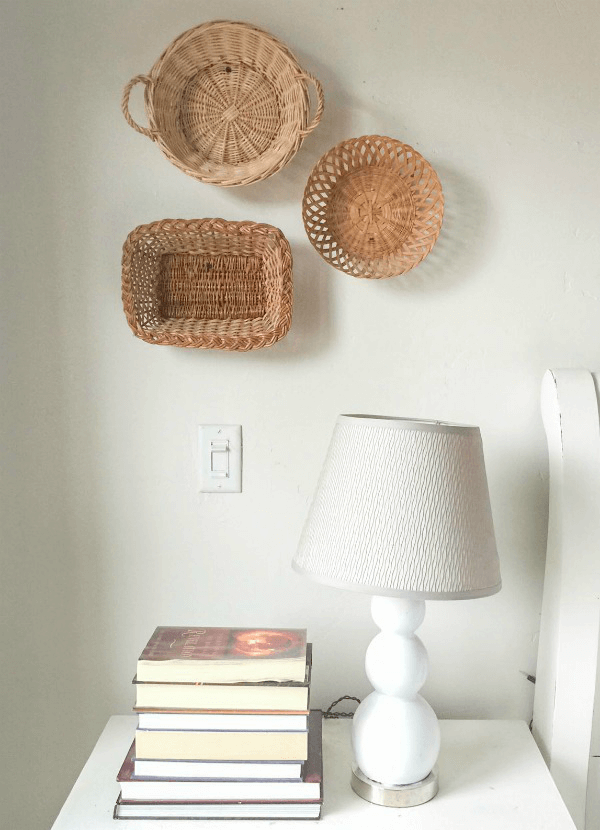 SOURCE: TWELVEONMAIN.COM
I have a huge obsession with baskets. We use them for everything from storing blankets and toys in them to hanging them on the wall. I hide my weights in them and of course, yes I hang them on the wall. Baskets are so three dimensional. There are so many things you can do with them.
My favorite thing to do these days is to hang them on the wall. Basket wall art is my absolute favorite thing right now. I collected about 10 different bakers from thrift stores for as much as $.25. So for about 2 dollars I was able to amass quite a fortune of baskets.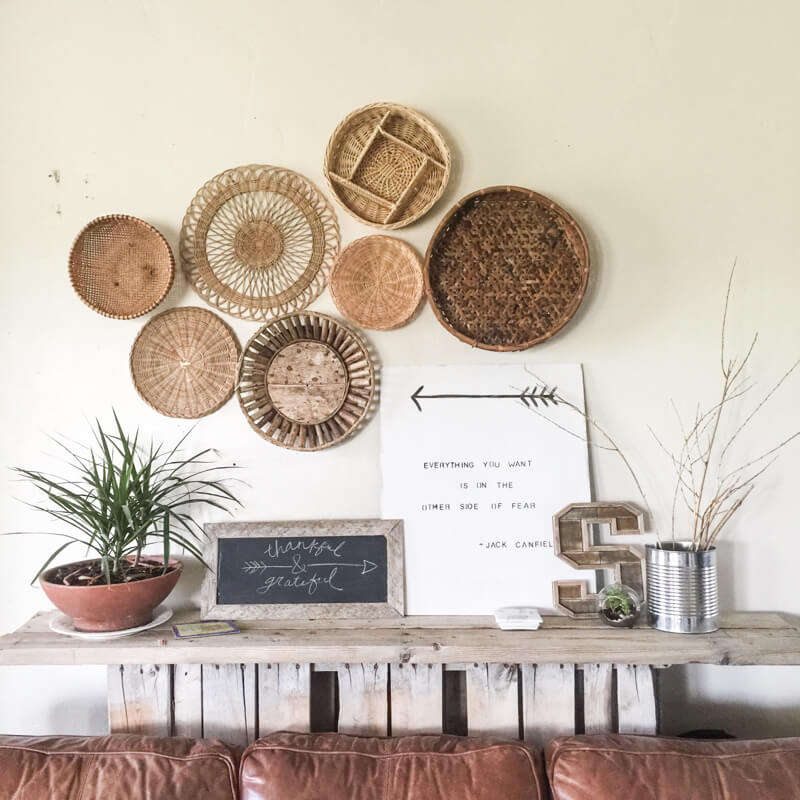 Want some baskets of your own? Check these out:

5. Ladders
Once again something that was used in mundane, ordinary chores has become something fun to add to your home. I'm pretty sure everyone can find an old ladder out in their garage or maybe in their grandparents garage. I got mine at an antique mall and only paid 5 dollars for it. Not too bad. It was in need of some love and I gave it some by turning it into a nightstand in my bedroom!
There are so many uses for these ladders. The classic use is as a blanket holder. Drape some blankets over the rungs and you are golden and have some guaranteed warmth and charm. I found some other fun ways to use them as well. Hang it from the ceiling and hang lights from it or use it as a pot rack.
What a great idea to use three ladders on the wall in a mudroom to hang coats in them! Go check out your local thrift store and see if you can find one!
Check these cool ladders out:

6. White Ironstone
SOURCE: EDITHANDEVELYNVINTAGE.COM
Nothing says farmhouse style like white Ironstone. This stuff turns me into one of those emoticon faces with the hearts shaped eyes. That's the best way I can describe it. I could spend all day admiring a collection of this stuff.
As a ceramic major in college, it has a special place in my heart. Whether you use one to hold your cooking utensils, or you have a whole collection proudly displayed, it immediately brings that farmhouse style into your home.
Now, if you're having a difficult time finding Ironstone, there's other things you can do. Try getting some thrift store finds and spray painting them white. Having the cohesive look of all white dishes really creates some drama.
Here are some I found:

7. Quilts
SOURCE: FARMHOUSE5540
My mom is a quilter. And when I say this I do not say it lightly. Like, she's a serial quilter. When I know I can run to her house to pick out enough fabric to make one quilt or many quilts, someone has a problem. She makes beautiful quilts, maybe one day I'll inherit them. I'd better.
There's nothing like a pile of homemade quilts to tell you to sit down, take a load off, and stay awhile. While I don't enjoy sleeping with these type of quilts…. I prefer a big fluffy comforter…the amount of work that is put into these demands some attention. So, if you have some hiding out in your linen closet or in a trunk somewhere, pull them out, and display them. Maybe on the awesome wooden ladder you just got.
8. Books
SOURCE: TOWN-N-COUNTRY LIVING.COM
I have found some really cool books at thrift stores. No, I don't own any first addition antiques of any kind. Old books add a grounding affect to your design. It's a small item that can make a large impact for sometimes, mere pennies. I have 2 separate collections.
In my office, I have bookshelves full of books that we actually read. My other collection is for design and accessorizing. You can use them to disguise all those ugly chords coming from your tv, I've even seen them used on, a complete wall filled with books, as a backdrop to a bed. So dreamy. Next time you're at a thrift store or yard sale, check out their book section. You just might find a gem!
9. Crates
SOURCE: BEAUTY FOR ASHES HOME.COM
Obviously there is a theme to my list. Everything on this list serves a very functional purpose, or have for many years. Never given a second thought other than the single utilitarian role they had. Books to be read, ironstone pitcher to hold water, quilts to keep you warm, wooden spoon to stir batter and on and on.
The same holds true for crates. Imagine when people built these wooden boxes, years ago, they never thought they would be so highly sought after for decor. I have used them for many different things. We have planted flowers in them for my front porch, hung them on the wall to hold accessories, stored firewood in, and simply set them out as decor. I love crates. So does everyone else it seems. Their prices have risen and it's been hard for me to find one for a decent price.
I walked into our local thrift store just as this one was being unloaded. Got it for 5 bucks. I was elated! You can also find brand new ones at many craft stores. Take one home and stain it an beat it up a bit and you have your very own unique crate.
10. Mirrors
SOURCE: ARCHITECTURAL DIGEST
This may seem like a bit more of a difficult home decor collection but believe me, you can find them! I have found many old mirrors at thrift stores and junk stores. I have also bought new mirrors and given them an old look. Using mirrors as a collection in your home is a wonderful way to bring interest, light, and style to any space.
Using mirrors will help male the space feel larger, by using that reflected light and space.
Check out some of these gorgeous ones:

What do you think of these simple home decor collections? Are they items you would put in your home? I love having these types of collections. They can be used in so many different ways.
MAKE SURE TO PIN THIS POST FOR LATER!
GET YOUR FREE GUIDE to 30 DIY projects that can be done over the weekend!
By subscribing, you will gain access to my FREE guide with 30 DIY projects that can each be done in a day, or over a weekend!
You will also receive a weekly email with some of my favorite tips, tricks, and design ideas.