I think we all find ourselves becoming complacent when it comes to our own homes decor. Whether your home needs a little TLC or is the most stylish space around, we can all find ourselves in a rut. Sometimes just a little bit of freshening up can make a big change. I've got 10 awesome kitchen decor tips that will help you love your kitchen now.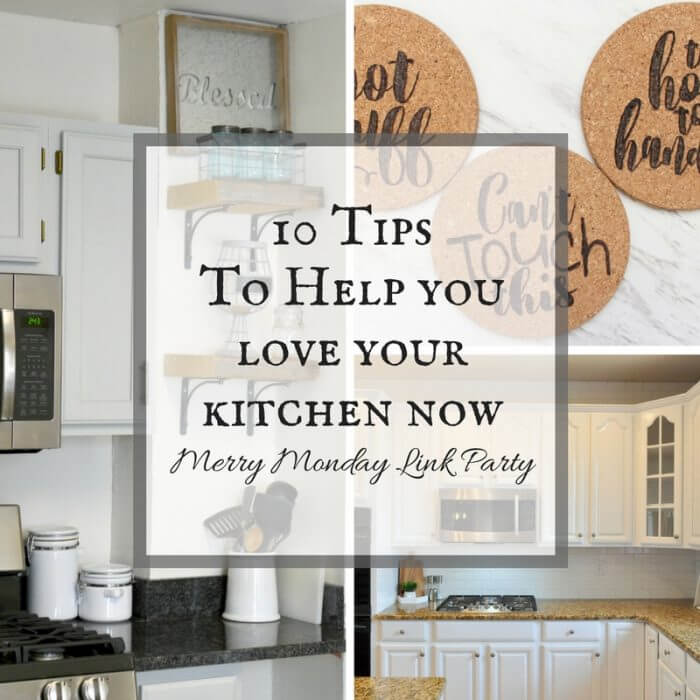 This last weeks Merry Monday Link Party had so many awesome kitchen DIYs, design ideas, and organization tips that I thought I would feature some of my favorite ones.
Do you find that your cabinets need some TLC?
Check out some of these kitchen design tips:
How about some open shelves! This is my kitchen. We recently removed a few cabinets and added some open shelves. I have loved them so much! Click the link below the image to read all you need to know about having open shelves in the kitchen.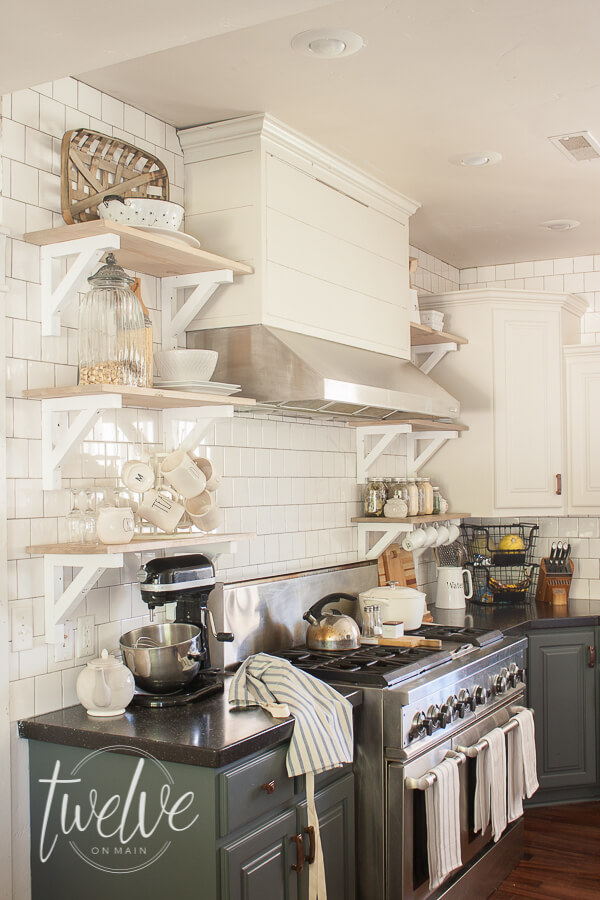 This kitchen remodel by Made In A Day is so inspiring! Its got some great kitchen design tips.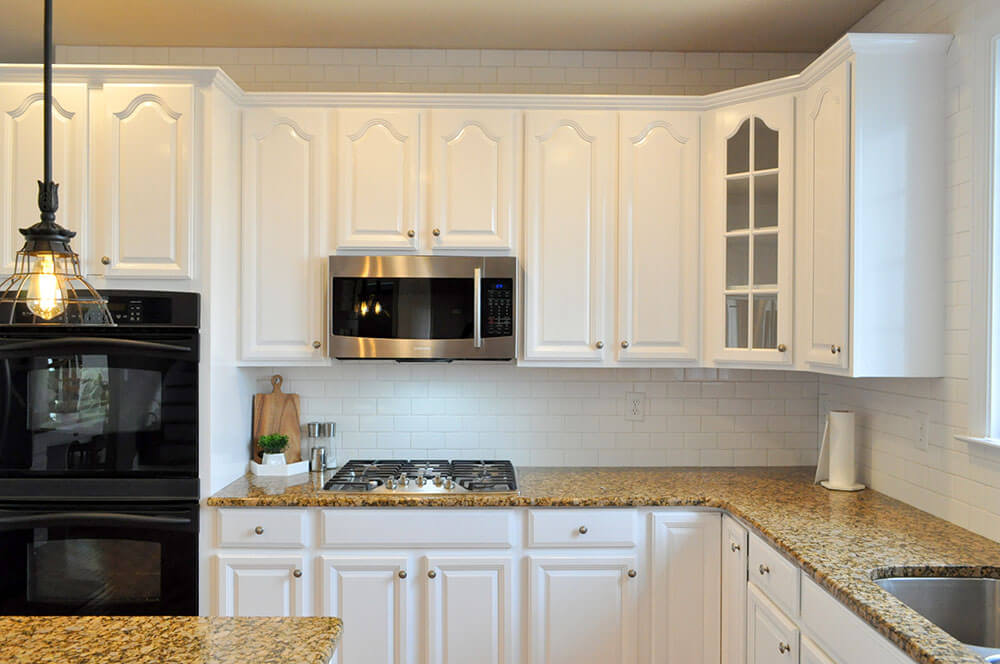 Kitchen Remodel | Made In A Day
Kristy at The Starfish Cottage is right in the middle of a kitchen update. Its looking so great so far! Go follow along and see the progress.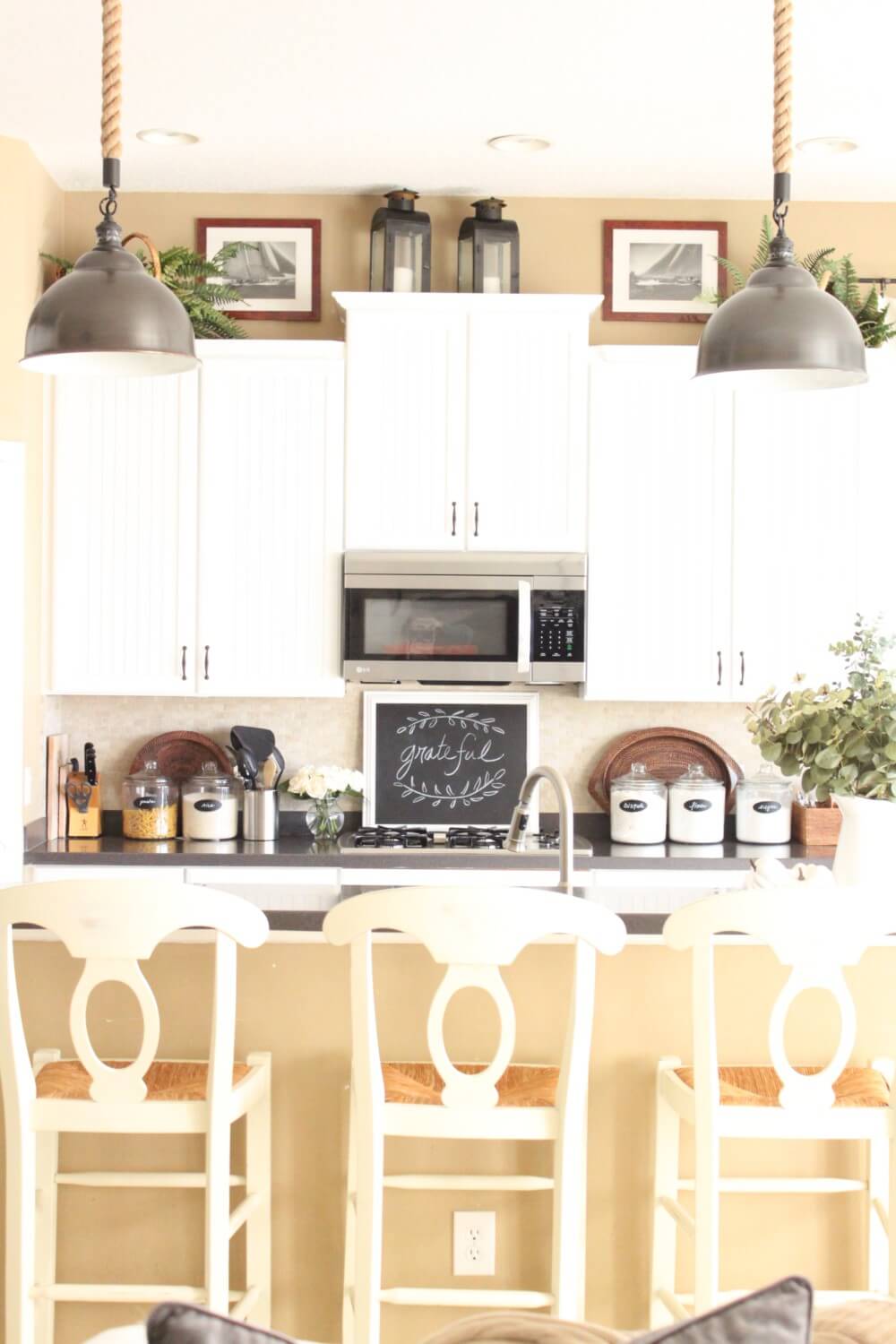 Kitchen Update | The Starfish Cottage
Sara(love that name) at Find It Fix It or Build It has some great cabinet painting tips.
Cabinet Painting Tips | Find It Fix It or Build It
What about these fun Mason Jar spice jars? I created these for my kitchen and they are so fun to have and add a fun design element to the room.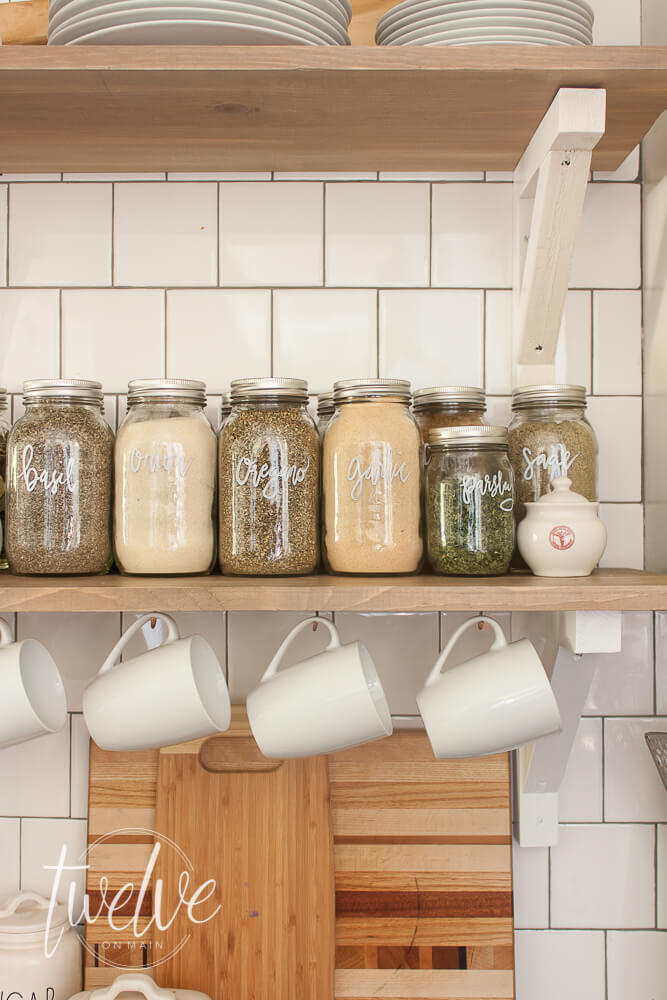 Maybe you want to add some open shelving in your kitchen. Check out these awesome reclaimed wood shelves from H2O Bungalow.
Reclaimed Wood Shelves | H2O Bungalow
What about these budget friendly open shelves by Chatfield Court. They were installed for under 50 dollars!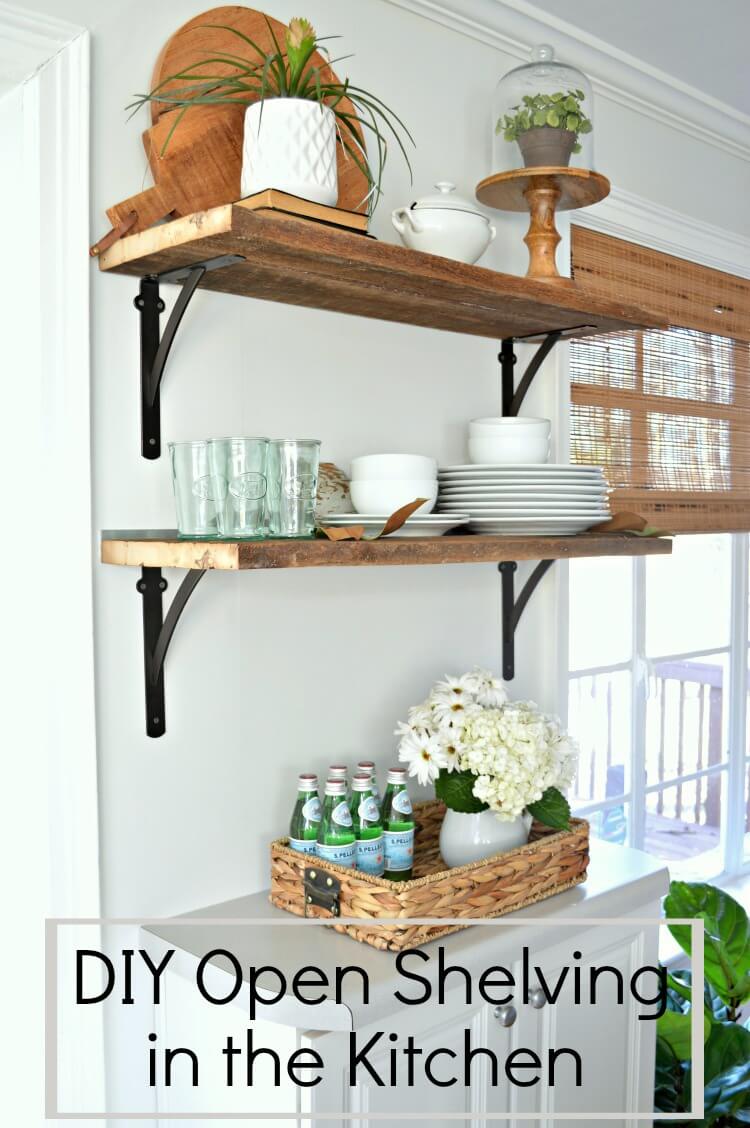 DIY Open Shelving In the Kitchen | Chatfield Court
Maybe you just want add some simple kitchen decor to your current space. Check out this roundup of recycles\repurpose kitchen ideas from The Scrap Shoppe Blog.
Recycled/ Re-purposed Kitchen Ideas | The Scrap Shoppe Blog
Kennary.com has a collection of kitchen printables if you are looking for some simple artwork to add to your kitchen decor.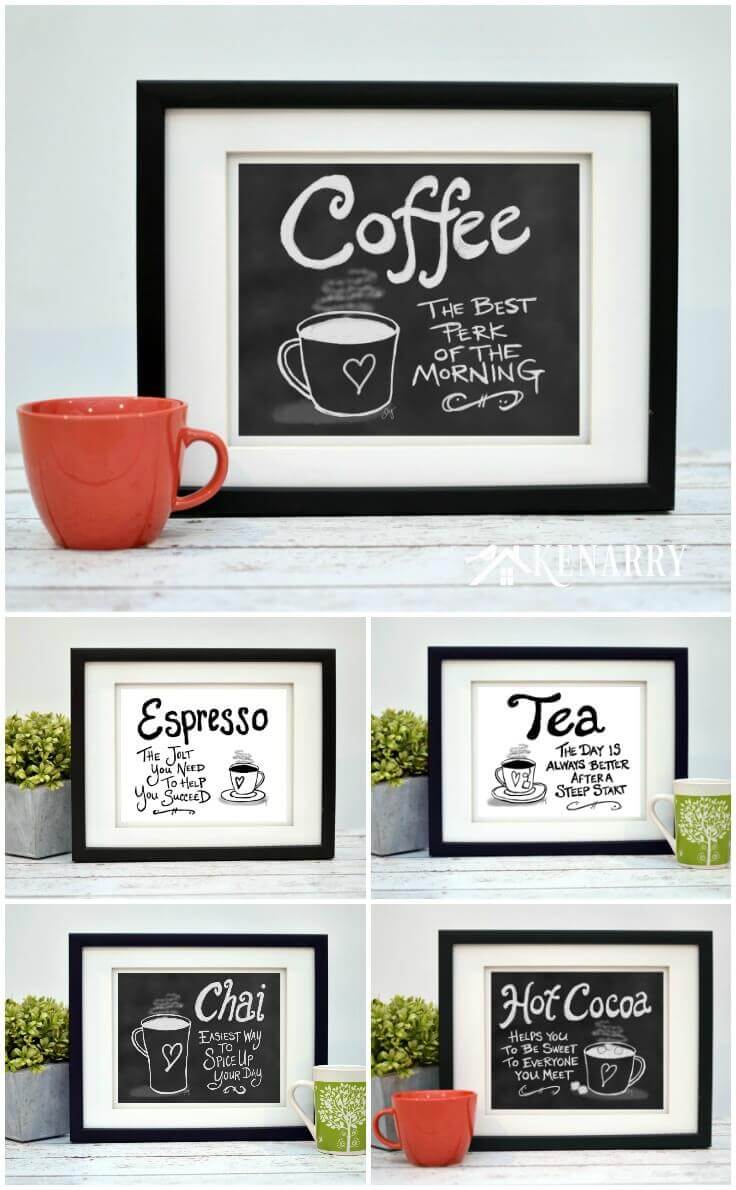 Kitchen Beverage Prints | Kennary.com
I am absolutely obsessed with these custom cork trivets from The Kolb Corner. How cute are they?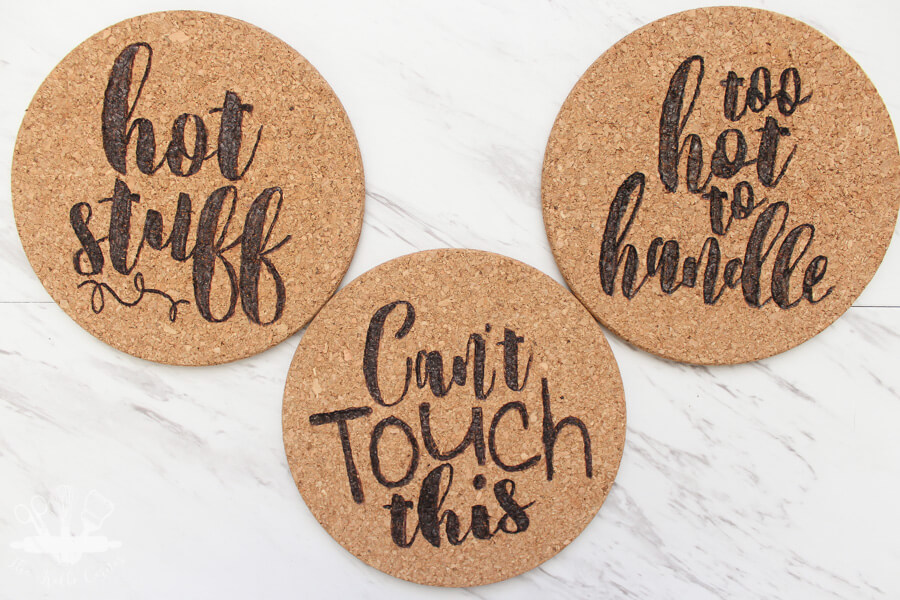 Custom Cork Trivets with Woodburner | The Kolb Corner
Maybe your kitchen needs a little organization. Try this spice cabinet makeover by Building Our Hive
Spice Cabinet Makeover | Building Our Hive
Maybe you want to add a bit of design to your kitchen cabinets. I added a simple X design to my kitchen a few years ago. It was so easy. Check out the full tutorial here.
And finally, we all hate cleaning our kitchens(unless you do, and you can come over to mine). Try deep cleaning your kitchen in 1 day with these tips from Penny Pincher Jenny.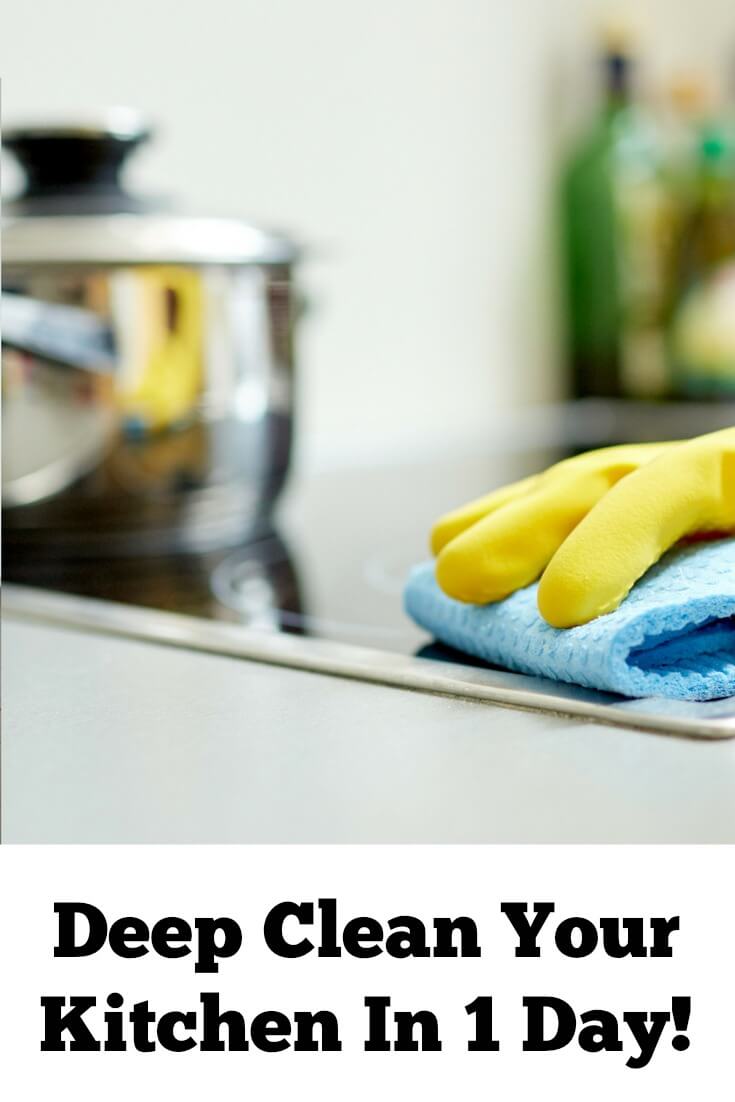 Deep Clean Your Kitchen In 1 Day! | Penny Pincher Jenny
Make sure you save these kitchen design tips for later!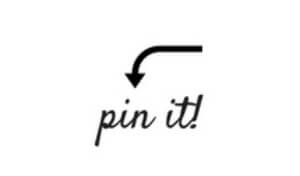 If you love this post about kitchen decor, make sure to check these out too:
Beautiful New Counter Height Stools in the Kitchen
Red and White Farmhouse Christmas Kitchen and Dining Room
Mason Jar Spice Storage | Pantry Solutions
How to Make Easy Rustic Wood Shelves
GET YOUR FREE GUIDE to 30 DIY projects that can be done over the weekend!
By subscribing, you will gain access to my FREE guide with 30 DIY projects that can each be done in a day, or over a weekend!
You will also receive a weekly email with some of my favorite tips, tricks, and design ideas.