Backsplashes are an important part of any kitchen or bathroom design. Today I want to share a huge collection of gorgeous and diverse kitchen backsplash ideas. While these are featured in kitchens, you can use the same designs and ideas for a laundry room or bathroom.
My goal in sharing this post today is to show the diverse amount of backsplash ideas that are out there, and how you can incorporate them into your design scheme. Maybe you are working on a new build, or you are remodeling your kitchen. Either way, if you are here you are looking for some design inspiration to help guide you in the right direction.
Types of Kitchen Backsplash Materials:
There are so many different options to use as you kitchen backsplash and I want to chat about them for just a bit. Here is a list of the most popular materials for backsplashes:
ceramic tile
porcelain tile
wood
glass
metal
vinyl
painted
natural stone
concerete
Within these categories there are multiple options and customizations to fit every style or budget. If you are looking for a budget friendly option, you can often find one in each one of these categories, but as a whole, ceramic tiles will be less expensive than porcelain. Vinyl and wood will also be less expensive as will a stenciled paint design.
If your goal is to add some interest and you are not concerned about functionality, a painted stencil design is a great way to go. If you are looking for functionality as well as style, make sure to consider the more reliable porcelain, stone, or glass tile options.
In addition to different backsplash materials, there are also a lot of shapes and designs to consider:
Within the tile spectrum there are so many different shapes you can consider using for your kitchen backsplash. I want to share some of the most popular.
square tiles
subway tile
hexagonal tile
penny tiles
mosaic tiles
herringbone style
octagonal
arabesque tile
singular tiles
and so much more.
Different tile layouts
The layout of your tile is only limited to your imagination or desire. The most popular way to lay out tiles is in a brick pattern. This is where you lay out two tiles in a row, and then the tile above is centered between the two tiles below. This gives dimension and interest to your backsplash design. You can see this in most tile designs as well as if wood or metal is being used. In addition you can lay them out straight, without that bit of offset.
Grout options:
Look at adding a grout that will add interest to your tile. You van go tone on tone or use a darker or lighter grout to make your tile stand out.
Let's have a look at different kitchen backsplash ideas from the most basic and inexpensive to more elaborate and costly.
This is a simple square porcelain tile that I used in my kitchen. It was a very inexpensive tile, and by laying it out in a brick design, it added dimension and interest. This is a classic style and I have been very happy with it. We used a slightly darker grout to make the tiles stand out a bit.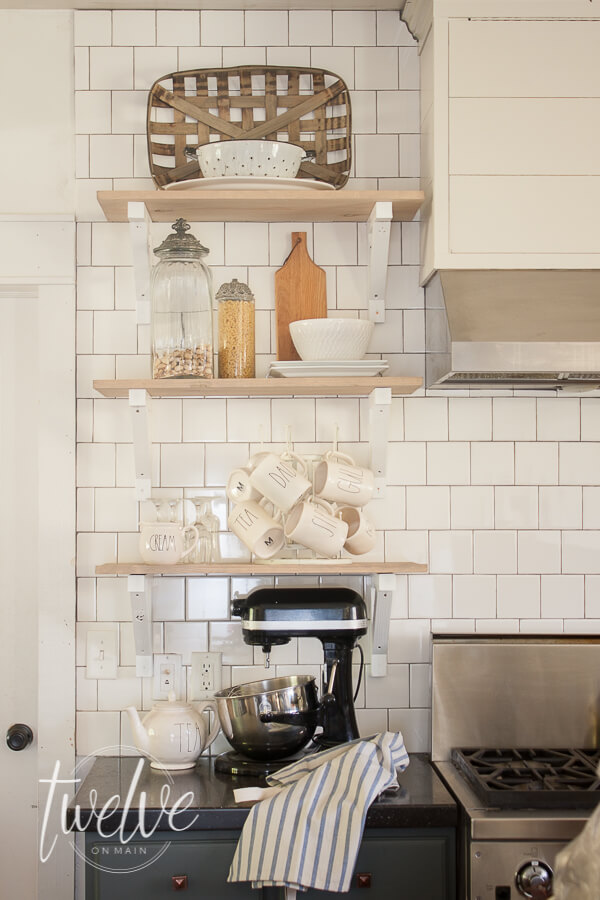 As classic as the brick layout is, subway tile is one of the most iconic backsplash options. I used small subway tiles in my laundry room, and brought it all the way to the ceiling. This backsplash has been a great addition to my laundry room and has been a very functional part of it. Keep scrolling for more kitchen backsplash ideas.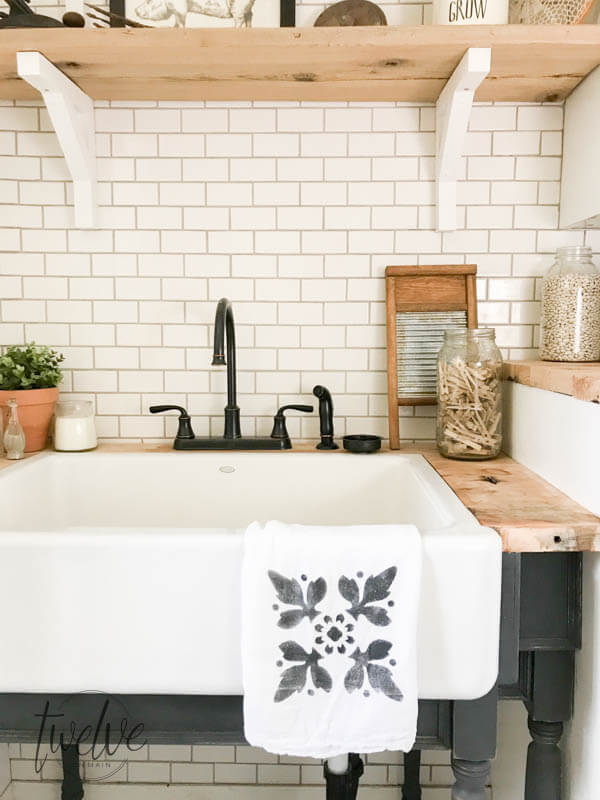 Hex tile is a very popular option for kitchen backsplashes as well as floors. This hex tile backsplash is so pretty and is also an inexpensive option depending on the material.
These 5 sided tiles are gorgeous. They are sometimes called singular tiles. I love the layout of these tiles and the simple design is the perfect accent to this space.
This mosaic tile below combines stone and glass tiles and adds a pop of color and design to the kitchen.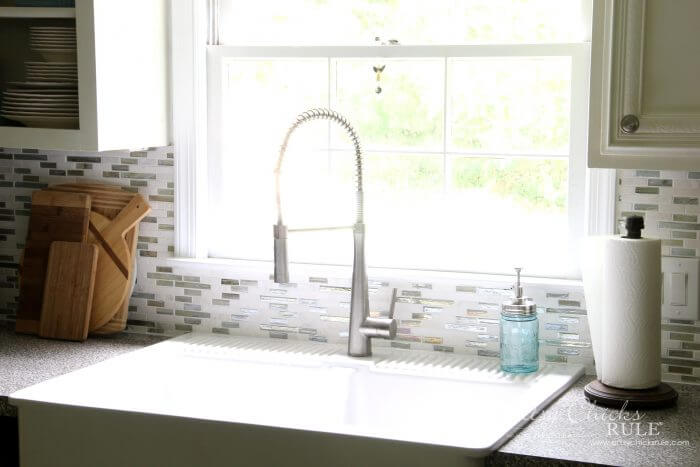 Can you believe that this tile below is a stenciled design? I love the affordability of a stenciled backsplash.
Here is a 5 sided tile with a simple white grout. This backsplash is gorgeous and the impact it makes by going all the way to the ceiling is perfect.
Glass subway tiles are another modern way to update a kitchen and they are so very pretty. These Celadon green glass tiles are gorgeous.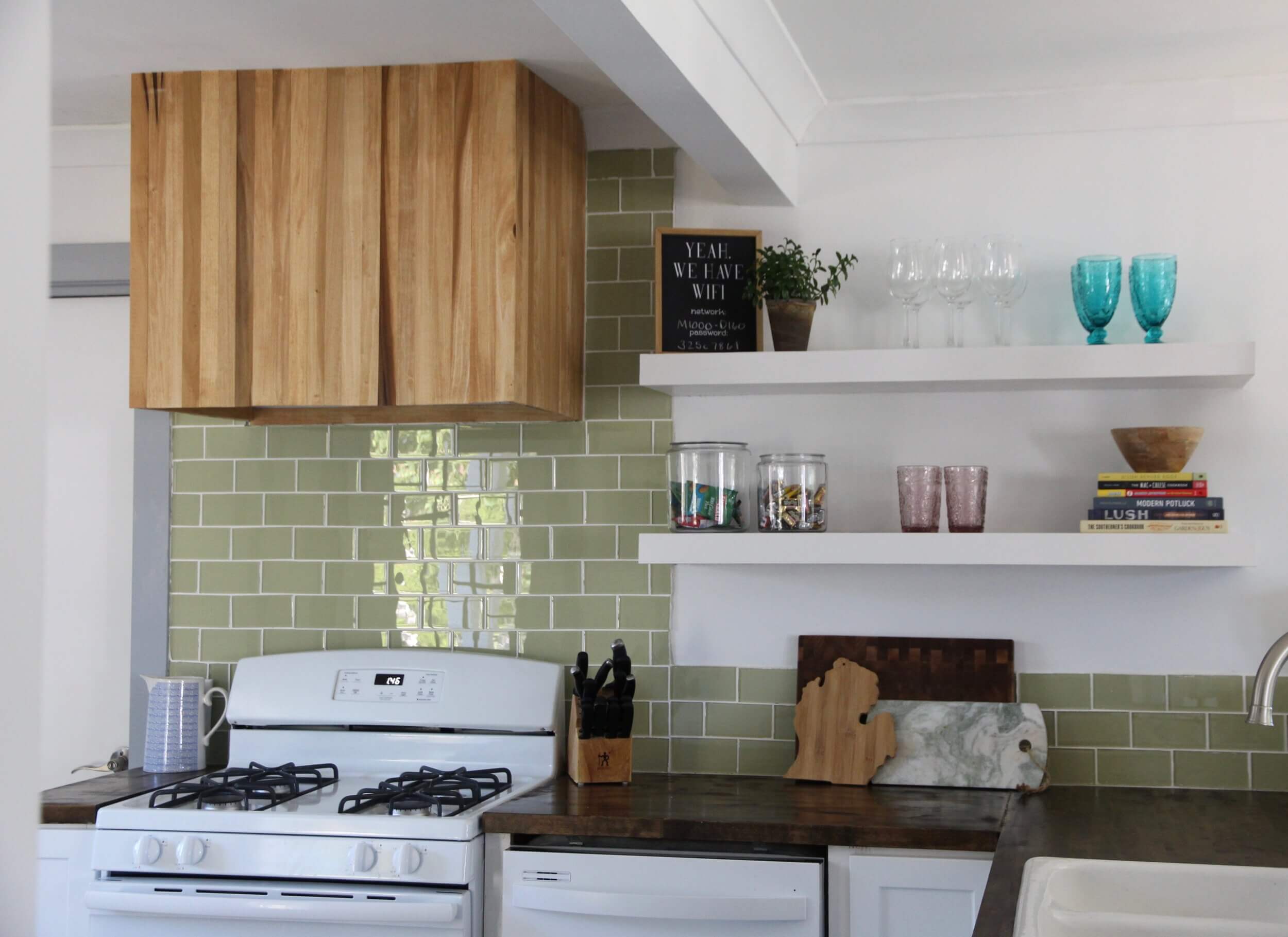 I love the look of this faux brick tile using faux brick sheets from a home improvement store.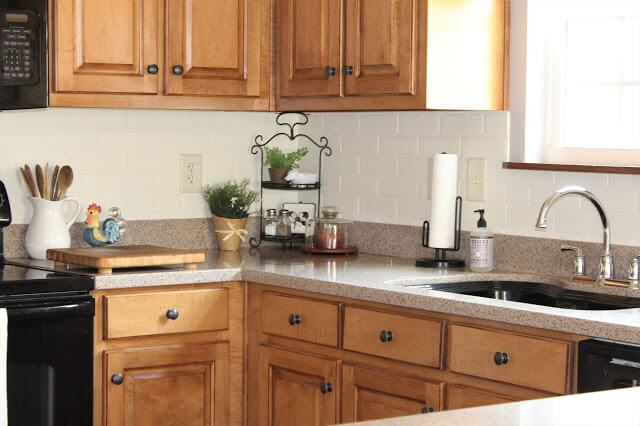 This backsplash is gorgeous with its herringbone design and combination of metal, stone and ceramic tile.
A classic subway tile once again, it a great option.
A colorful mosaic tile like the one below is a beautiful option.
A smaller mosaic tile is also a great option. I love the delicate pattern of this backsplash.
Another affordable option is shiplap. This is something we actually did in our bathroom. Its an inexpensive and less permanent option to a regular tile.
Wood is another option for a kitchen backsplash. I have seen so many different options including using old barn boards, wood tiles, and modern wood panels like below.
A metal backsplash is a gorgeous option in your kitchen. You can use it to give a rustic style using metal tiles or give a streamlined and modern look with metal sheeting.
Make sure to check out these great posts, including how to remove a tile backsplash!