*This post is sponsored by Bona. My opinions are all my own. I do not endorse or recommend products I do not use and love. I can guarantee you true and honest product reviews with helpful information*
This year I chose to give myself a goal to keep my home clean, while finding an easier way to do it. Who has time to spend all day cleaning? Not me! Today I want to talk about my hardwood floors. Do you have hardwood floor that is often a challenge to keep clean? Maybe you've made a commitment this year to keep your home more clean? Keep reading to see how I easily keep my floor clean with the best mop for hardwood floors.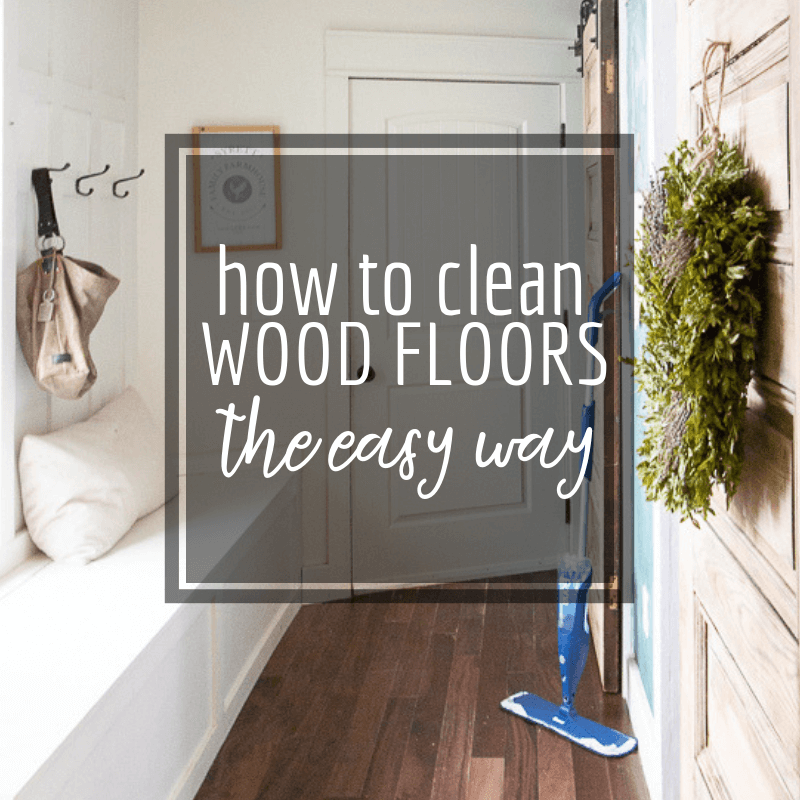 Keeping a home clean can be a full time job. I know that with 4 kids, a large dog, and a messy husband keeps me busy all day trying to keep things together. People are always coming and going, and with the snow, mud, and mess that is drug in every time….sometimes I am not sure how I keep my sanity…(I dont).
During the winter months, like right now, I find my wood floors are the hardest part of my home to keep clean. Lets be real, by the time I get to them after everything else…the last thing I want to do is trudge out all the components I need to make my floor look good. That is why I decided to make some goals this year to try to keep my home clean without spending hours every day doing it.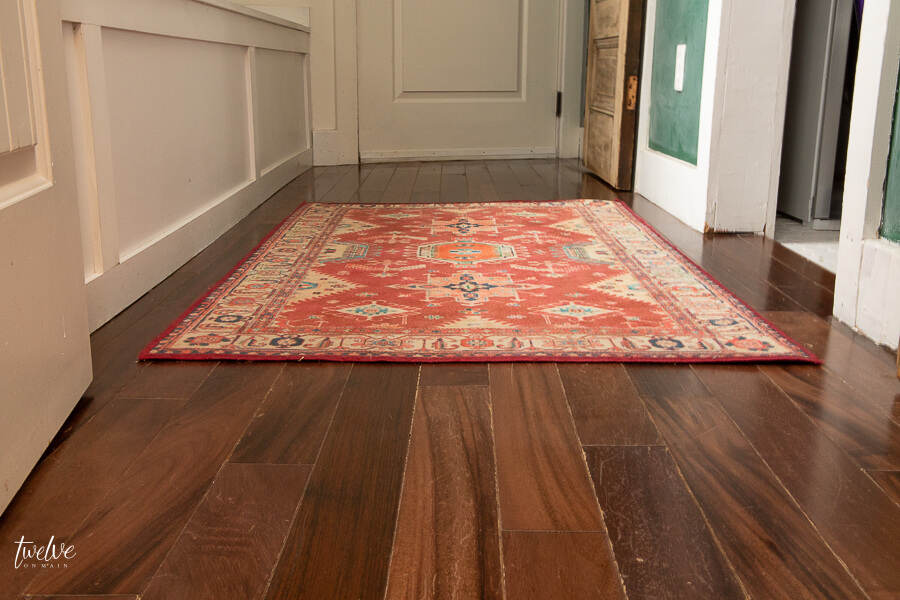 I have a dark hardwood floor, which in reality is beautiful…but shows every little crumb or dot of dirt. Not necessarily what I considered when installing it. So…I will disclose this much…my hardwood floors never used to get cleaned as much as they should, and they run the whole main floor of my house! Please forget I just confessed that.
I have struggled for years to find a good system for cleaning my hardwood floors and after a lot of purchases, trial and error, I believe I have found the most convenient hardwood floor cleaner on the market. The Bona Premium Spray Mop and Hardwood Floor Cleaner is my hero. I kid you not.
I have used so many products that left a streaky residue on my hardwood floors. Often, it would have a sticky feel to it as well. I would end up on my hands and knees cleaning it over again. So, believe me when I say that I am very picky and only want something that really works on my hardwood floors.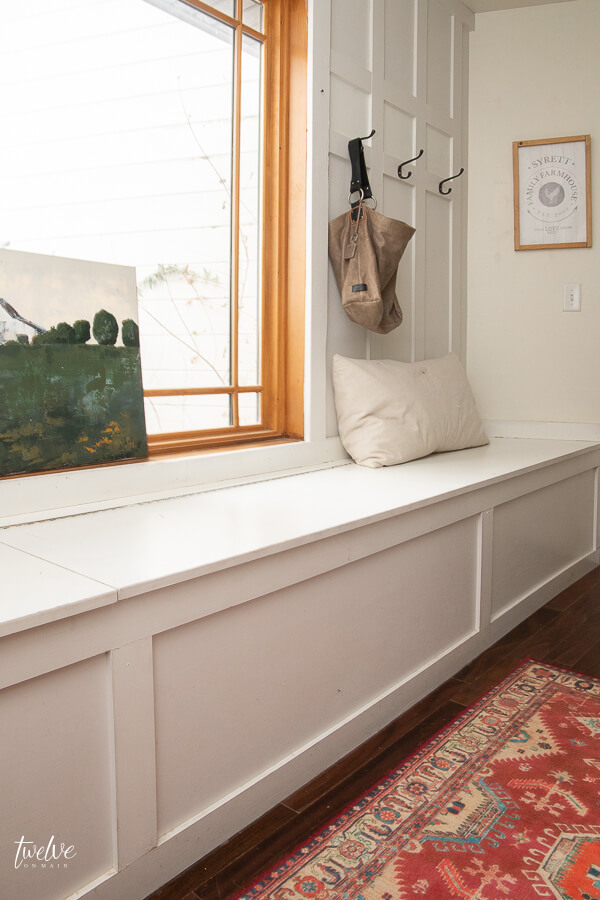 Our breezeway/mudroom is the busiest room in the house. We have our laundry room, pantry and mudroom in close proximity and the garage is just outside the far door. So, people are coming and going from this room all day long. Muddy, wet, snowy shoes get kicked off in here and the entire floor is often covered with shoes, as well as dirt and grime.
This is the room I struggle the most to keep clean. So I wanted to show you how easy it is to clean with the Bona Premium Spray Mop. This mop can be used on both hardwood floor and tile. There is a tile solution that can be purchased as well that does an excellent job. Today I want to showcase my hardwood floors though.
The assembly of this mop is so easy. The instructions are right on the box and there's only three steps. Within minutes I was ready to mop. And boy did my floors need it.
I cleared out the room of rugs, shoes, and other junk that gets left..this may or may not include my husbands ties, as well as every coat and pair of gloves we own..because LIFE.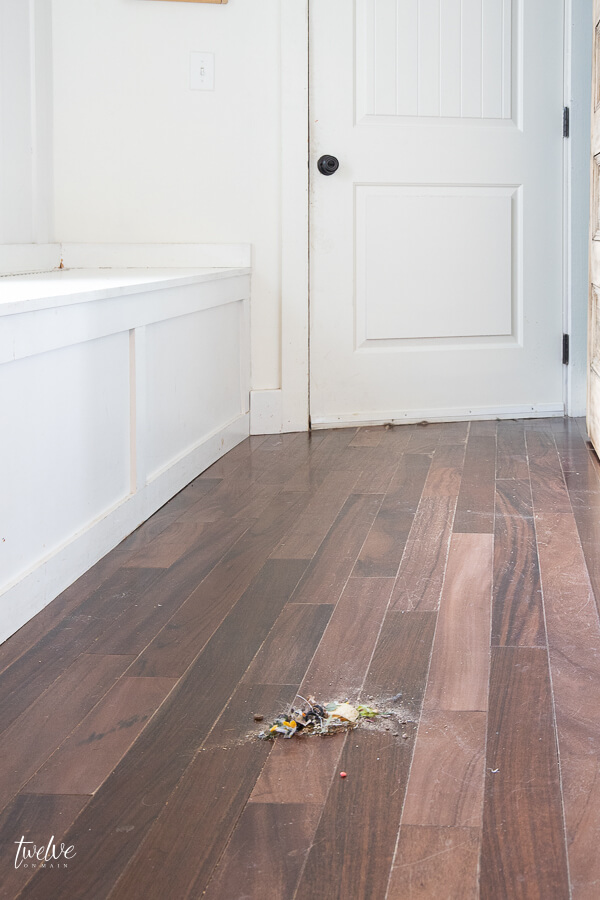 Can you see how much dirt gathers up on the floors in this small space? And I vacuum the space very often. So a good vacuuming was necessary.
Then it was easy as pulling the trigger and mopping away. I have found that this Bona Hardwood floor cleaner is so good at cleaning gently while effectively removing grease and grime from my floors. Did I mention that this is a no residue formula and has the GREENGUARD GOLD certification confirming that it is SAFE to use in your home. I think this is by far the best mop for hardwood floors.
Here my floor is after I finished mopping. Literally took no time at all. That is what I love.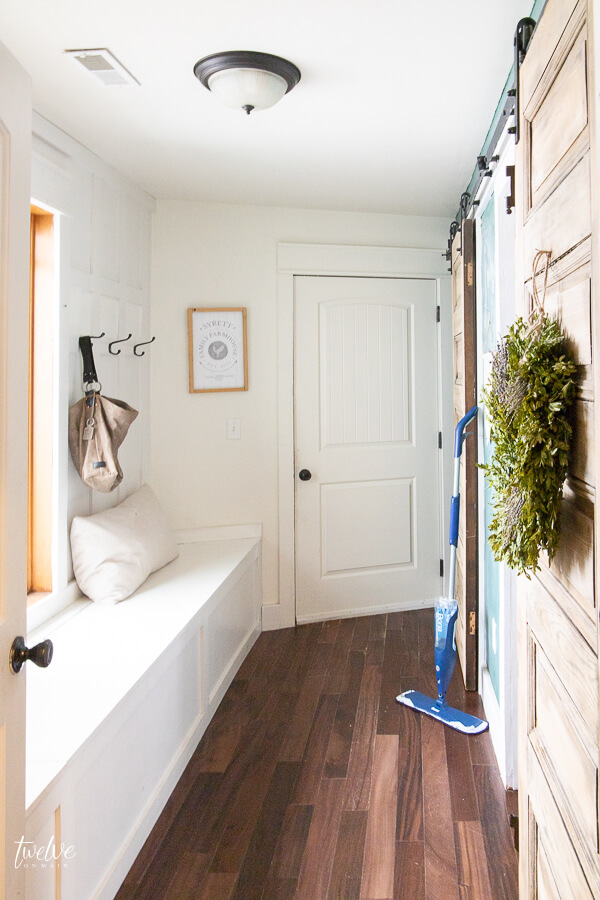 This hardwood floor formula is not intended to be used on other surfaces. For tile and laminate, there are alternative Bona products available.
Things I love about The Bona Premium Spray Mop and Hardwood Floor Cleaner:
Want to know why I think this is the best mop for hardwood floors?
Huge mop head- at 16.75 inches it is easy to mop a room in no time. It also has rubberized corners which is really nice when cleaning along baseboards.
The Bona microfiber cleaning pad features a unique design with dual zone cleaning action. Its blue fibers help break up grime and the light blue fibers help absorb 2.5 times more than before.
The trigger handle. This is so easy to use, its comfortable in the hand and it allows for ease of hanging up and out of sight when not in use.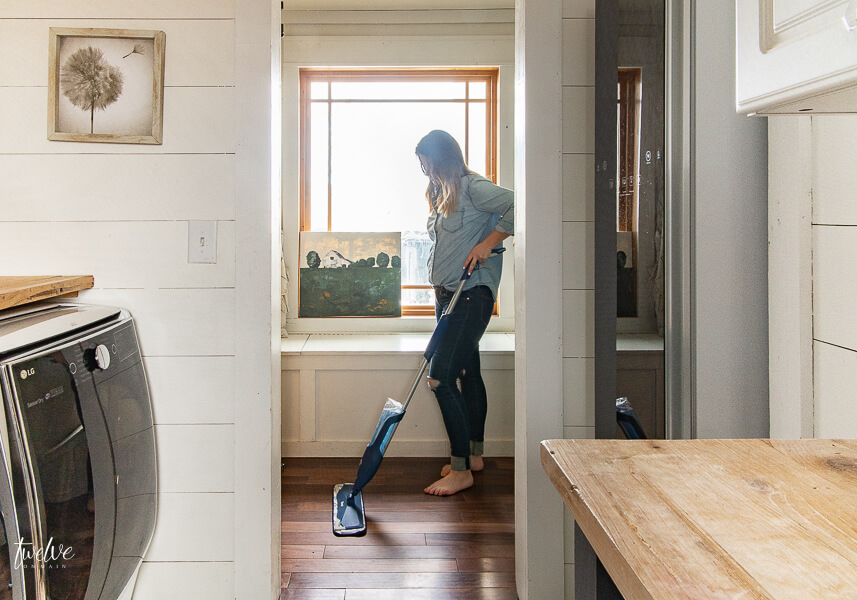 Easy assembly- I love how easy this Bona mop was to assemble. It took me literally about 2 minutes to assemble and be ready to go.
Washable cleaning pad. I love that I can simply throw the cleaning pad in the washer and reuse it the next day. Its economically smart and environmentally responsible.
My kids can use it. All my kids have chores and this Bona Premium Spray Mop makes it easy for my older kids to get in on the cleaning action and clean the floors easily. No worrying about filing mop buckets, ringing out the mop, or spilling water. Its an easy one stop shop for them.
The cleaning solution dries fast with no dulling. With kids and dogs roaming the house, I can't exile them from the main floor for long, so the fact that the solution is quick drying makes my life so much easier! No more wet footprints/pawprints through my clean floor. This is the best mop for hardwood floors!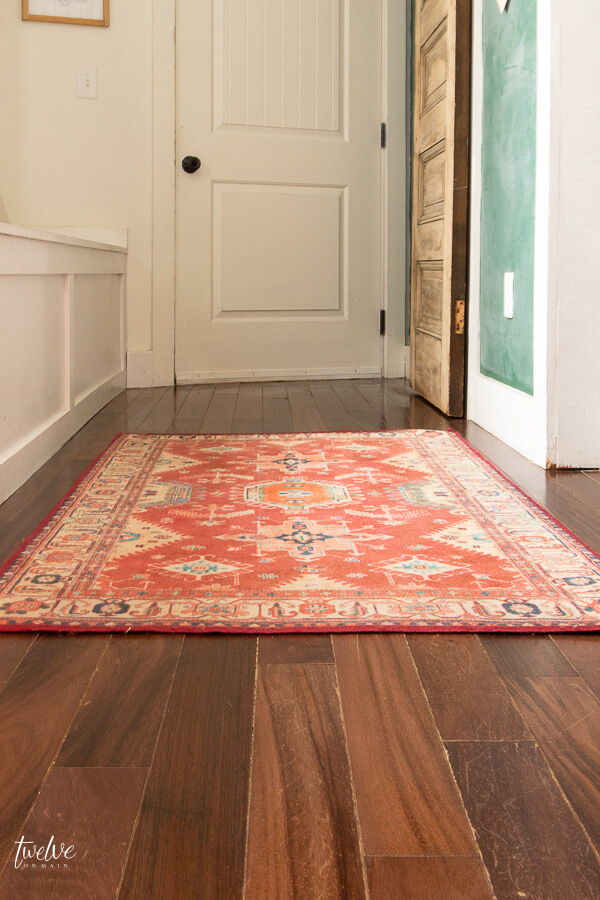 After a a good floor cleaning, I was able to lay down my rug, clean the benches, and style it up for the next few months.
I try to create an inviting space where the kids can put their shoes on, and be invited when arriving home from school. I think it is important to keep a clean home. Its also important to make the best use of your time.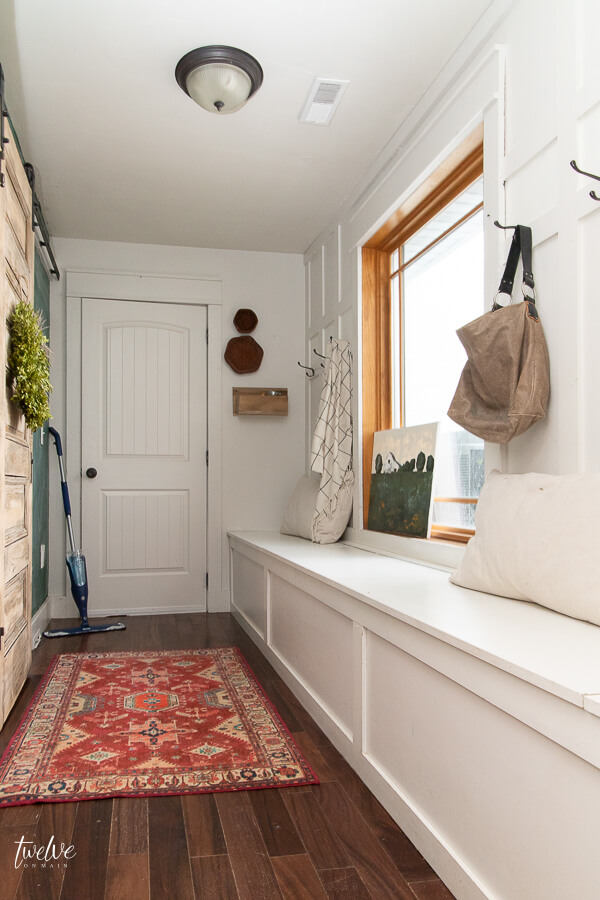 I think this Bona Premium Spray Mop and Hardwood Floor Cleaner is the best hardwood floor cleaner for my home.
It saves me time and it saves me my sanity! Being a full time mom and wife, with a full time blog, this thing is my saving grace. I truly think it is worth investing in and I am so glad that I made it part of my new year clean home challenge.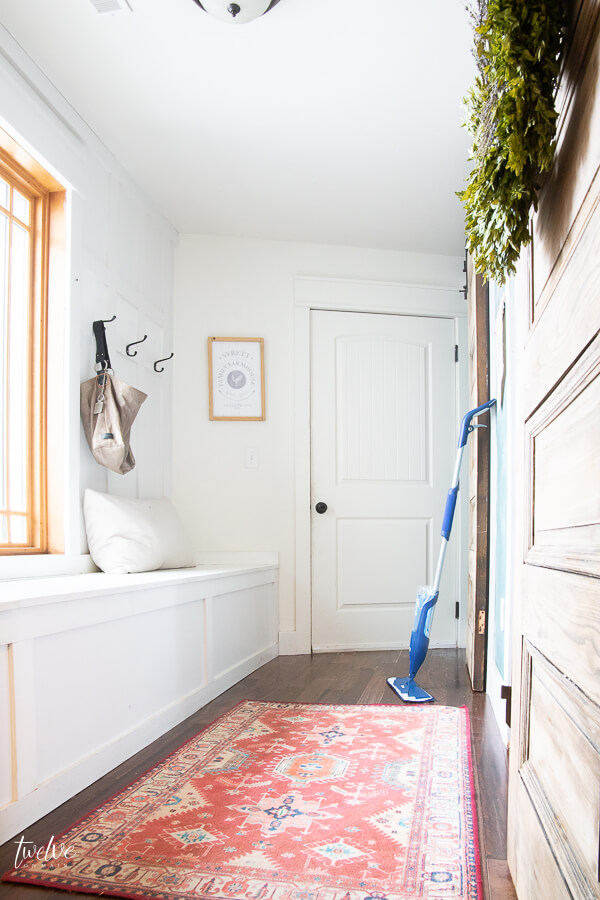 Having beautifully and clean hardwood floors are truly hard to come by and I would know! This is the best mop for hardwood floors! This mop is such a great addition to my cleaning routine. I love how it aided me in doing some deep cleaning. I cant wait to use it on my tile floors! In my opinion for me, this is the best mop for hardwood floors.
But for now, just enjoy this pretty space…
See how my friends are cleaning their homes and getting organized in 2019.
Laundry Organization on a Budget
Easy Tips to Clean Your Home this Winter
Keep Your Floors Clean the Easy Way
Simple Cleaning Habits for Tile Floors
Make sure to PIN IT for later and share this post with your friends!
If you like this post, check these out!
10 Ways Cleaning and Organizing Tips to Save Your Sanity
Litter Robot Review | Why It Saved My Sanity
Tips for Organized Farmhouse Style Closet Design
GET YOUR FREE GUIDE to 30 DIY projects that can be done over the weekend!
By subscribing, you will gain access to my FREE guide with 30 DIY projects that can each be done in a day, or over a weekend!
You will also receive a weekly email with some of my favorite tips, tricks, and design ideas.