Okay, so I have a minor obsession with chalkboards. Surprising to me since the old green ones form school used to give me the heeby geebies. Nails on a chalkboard ring a bell?
We all know that chalkboards have become super popular as of late, and I for one am in love with them. What a better way to change the artwork in your home seasonally or just depending on your mood. I have a chalkboard on my front porch which right now says sweetly, "Welcome Summer", but if I was having one of those days….maybe it would say, "go away", or "warning, she's in a mood."
I mean really. That is probably the best thing for me to do. I know my husband would appreciate it. I will leave it for now, but you never know when it might change. Thus the luxury of chalkboards! Besides the fact that they are black and white which are two of my favorite colors, they are so versatile.
Not only are the versatile but they're incredibly easy to do yourself! You can create a chalkboard out of almost anything! An old tray, a thrifted framed painting, a wall, a plate, the possibilities are endless. Here a few of my favorites from my home…
I think I have a problem…… I need to go to chalkboards anonymous.
But guess what. Not one of these was bought at a store as is. Each one was created right here in my garage, or sometimes, in my kitchen. Hey! A ladies gotta cook dinner sometime! Multitasking.
One of my most favorite ones is my large wall chalkboard in my dining room. Ive decided to put a quick and easy tutorial on how I did it. No I did not just paint the wall and no its not a gigantic wall hanging.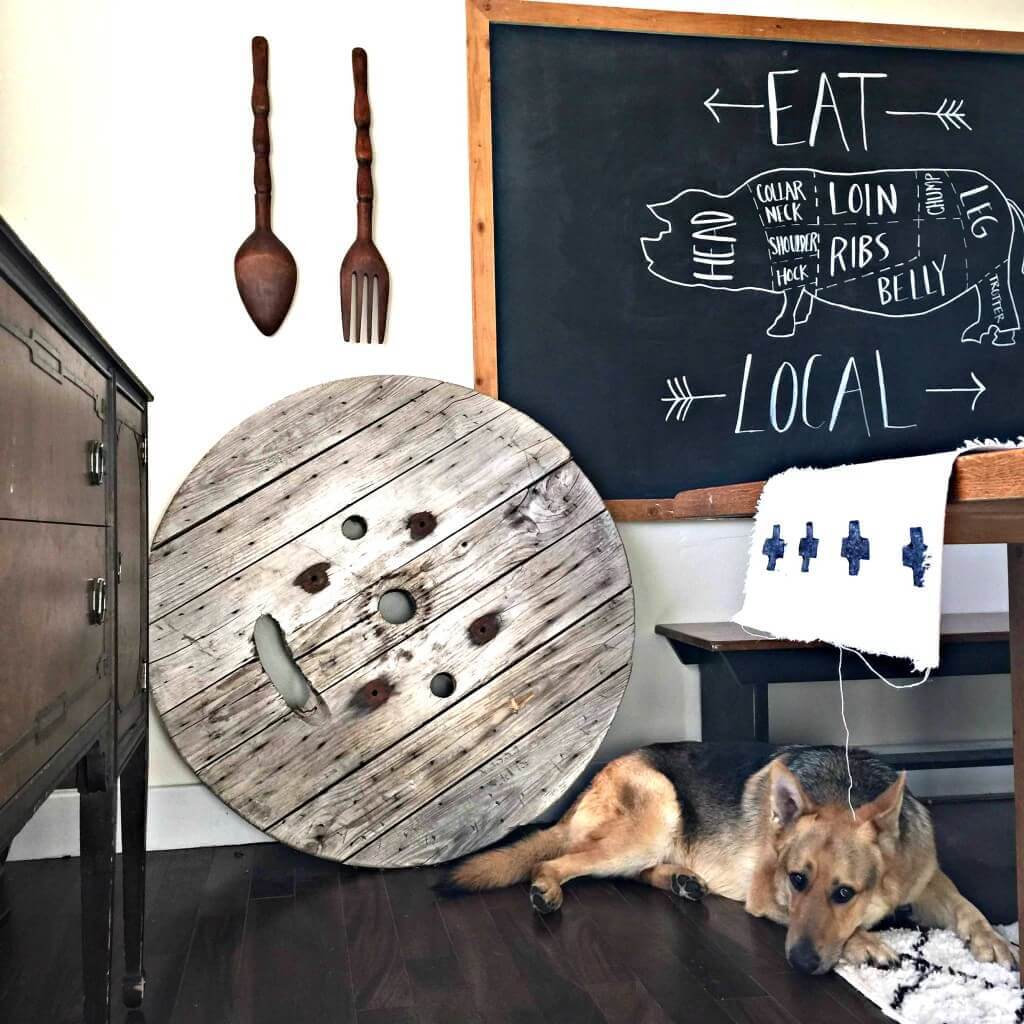 I purchased a thin 4 by 8 sheet of smooth MDF type board from Home Depot. Truthfully, I looked for the least expensive option, 14 dollars to be exact.
With the help of my hubby we screwed the board to the wall making sure we connected to studs. We contemplated gluing it as well, but decided of I ever wanted to take it down, glue would be a real butt to deal with. Once it was screwed in I started painting. I did 3 coats of chalkboard paint. You can find this just about anywhere. I got mine at Home Depot. I keep it on hand, you never know when you need to turn something into a chalkboard:)
You can also make your own chalkboard paint at home! Check out this post here.
Once I had the board painted, we built the frame around it. We used left over boards we had in our garage from previous projects. Once again, I like to have stuff like that on hand. I'm kind of a spur of the moment project type of girl. That does not bode well sometimes when you live in a small town. It does force you to get creative though!
Once you've painted the chalkboard and it has sat for about 12-24 hours to cure, it needs to be seasoned.
I have to admit, I didn't do this to the first few boards I made. But it makes a huge difference. Seasoning is simple.
Take a piece of chalk, lay it on its side and color the whole board with said chalk. Once you've done that, take a towel and rub it in to the board. Then I like to take paper towel or another clean rag and wipe the board clean. Sometimes it takes a few rounds to get it clean. It will have a hazy look to it. That's about right! I use a lot of elbow grease to get a cleaner look. I don't love to haziness.
And you're done! Now to draw whatever your hearts desire!
For the pig drawing on this board, I actually used
chalk markers.
I like to use these sometimes when I am wanting to keep a design for a while. I purchased mine on Amazon
This large piece was going to stay. For something this big, I decided to draw a grid on the chalkboard with regular chalk, making the same grid on a drawing of a pig. Then, I was able to draw each square to make sure my proportions stayed accurate. Nobody likes a pig with a large head and small body!
I am extremely happy with the outcome. I am completely obsessed with chalkboards. If anyone hears of a support group, please let me know!
Thanks for stopping by! I'd love to hear any comments or questions!
Have a great Monday!
Sara
Make sure to check out these other great posts:
How to Make Chalk Paint with 3 Household Items
How to Distress Furniture Like A Pro!
Easy Way to Update an Old Dresser with Hickory Hardware
GET YOUR FREE GUIDE to 30 DIY projects that can be done over the weekend!
By subscribing, you will gain access to my FREE guide with 30 DIY projects that can each be done in a day, or over a weekend!
You will also receive a weekly email with some of my favorite tips, tricks, and design ideas.