Cheese Tortellini Pasta Salad With Asparagus, Peas, Artichokes, and Parmesan Cheese
Hey there friend! I am here today with another great recipe. This one is a spring inspired salad. At our house, we love cheese tortellini and I am often looking for new great ways to use them in a recipe. I wanted to create a cheese tortellini pasta salad that embraced the fresh veggies of spring, like asparagus and peas.
Usually in the next couple of months, wild asparagus begins growing along our fence lines and irrigation ditches. This is the highlight of spring around here. With winter lasting a little extra long this year, I have a feeling our wild asparagus will be a bit late. I sure hope we get some!
But, that still wont stop me from using this great vegetable. I love asparagus and eat it as often as I can! I make a warm 5 ingredient pasta salad using broccoli and asparagus you can get the recipe here!
This cold cheese tortellini pasta salad with asparagus, peas, artichoke hearts, basil, and a lemon parmesan vinaigrette is a fresh take on pasta salad and has amazing flavors.
Lets talk about how to make this easy spring inspired pasta salad.
This pasta salad takes about 15 minutes to make. Seriously. We use the fresh cheese tortellini, but you can also used frozen or dried, but I find I prefer the fresh overall.
In a large pot, you want to add water and a lid and bring it to a boil. Gran a second smaller sauce pan and fill it about halfway with water. Bring it to a boil as well(this will be for your asparagus and peas.
While the pot is heating, you can prepare your other ingredients. Wash and cut your asparagus into 1 inch pieces, omitting the woody ends of the stalks.
Open one can of artichokes. You can use marinated artichokes but I usually use plain canned artichokes.
Drain the artichokes and put them in a large bowl.
When the small pans water comes to a boil add the asparagus and peas to the pan and make sure they are covered in the water. cook the peas and asparagus for about 4 minutes.
Remove them from the water and add them to an ice bath.
While they are cooling, add your pasta to the second pot of boiling water and let them cook according to the package directions. Fresh pasta usually only takes just a few minutes to cook.
Once the pasta is done, drain it over your sink and then let the cold water run over your pasta for a couple of minutes. This is an quick way to get your pasta cold quickly. You can also toss it in the fridge to cool down as well.
Now its time to whip up your salad dressing.
In a medium sized bowl, you want to add your dijon mustard, apple cider vinegar, minced fresh garlic, fresh basil, fresh grated parmesan cheese, lemon zest, lemon juice, honey, freshly ground black pepper, and salt. Give this all a good stir with a whisk and then add your olive oil and mix until it become emulsified.
Add your pasta, asparagus, artichokes and peas to a large bowl. Pour the dressing over the pasta and veggies and mix until it is all combined. You will want to let this sit for a bit and then give it a good stir because some of the dressing will sink to the bottom and we want the pasta and veggies to absorb this dressing.
Eat this right away or put it in the fridge and let it soak up that dressing.
This is a great side dish for some grilled chicken, steak or even a burger. Its a nice compliment to any protein you are planning to cook up.
Cheese Tortellini Pasta Salad with Asparagus, Peas, Artichokes and a Parmesan Lemon Dressing
This is a great spring inspired pasta salad using fresh spring ingredients such as asparagus and peas. It is an amazing new take on pasta salad with the freshness of lemon and a touch of acidity from the apple cider vinegar. This is a great pasta salad.
Ingredients
3/4

lb

asparagus

trim it of its woody ends and cut it into 1 inch lengths

1

cup

frozen peas

1

lb

cheese tortellini

frozen or fresh

1

can

artichoke hearts

quartered

1/2

cup

fresh basil

chopped
Dressing Ingredients
1/2

cup

extra virgin olive oil

1/2

cup

fresh grated parmesan cheese

1

tsp

lemon zest

2

tbsp

lemon juice

1

tsp

fresh minced garlic

1

tsp

honey

2

tsp

dijon mustard

2

tbsp

apple cider vinegar

salt and pepper to taste
Instructions
Fill a large pot with water and cover. Heat up to boil the water.

Add another small pot and fill it half with water and bring it to a boil as well.

When the small pot comes to a boil, add your asparagus pieces and frozen peas and let them cook for 4 minutes. Add them to an ice bath and let them cool. Drain and set aside.

When the large pot comes to a boil, add your cheese tortellini and cook it according to the packages directions.

Drain and rinse them with cold water to help cool them down.

In a large bowl add your can of quartered artichoke hearts, asparagus, peas, and tortellini.

Mix up your salad dressing ingredients. Add all the ingredients but the olive oil to a bowl and give it a good whisk. Add the olive oil last and whisk to emulsify.

Pour the dressing over the other ingredients in the large bowl and toss it to combine so that the dressing covers all the veggies and pasta.

Serve cold alongside your favorite protein.

Store leftovers in an airtight container in the fridge.
Make this tortellini salad for your next get together or on that first barbecue of the season! If you are looking for a new pasta salad recipe this one is it! It is a fun twist on a side dish that we all love.
Make sure to check out these amazing spring salad ideas below too!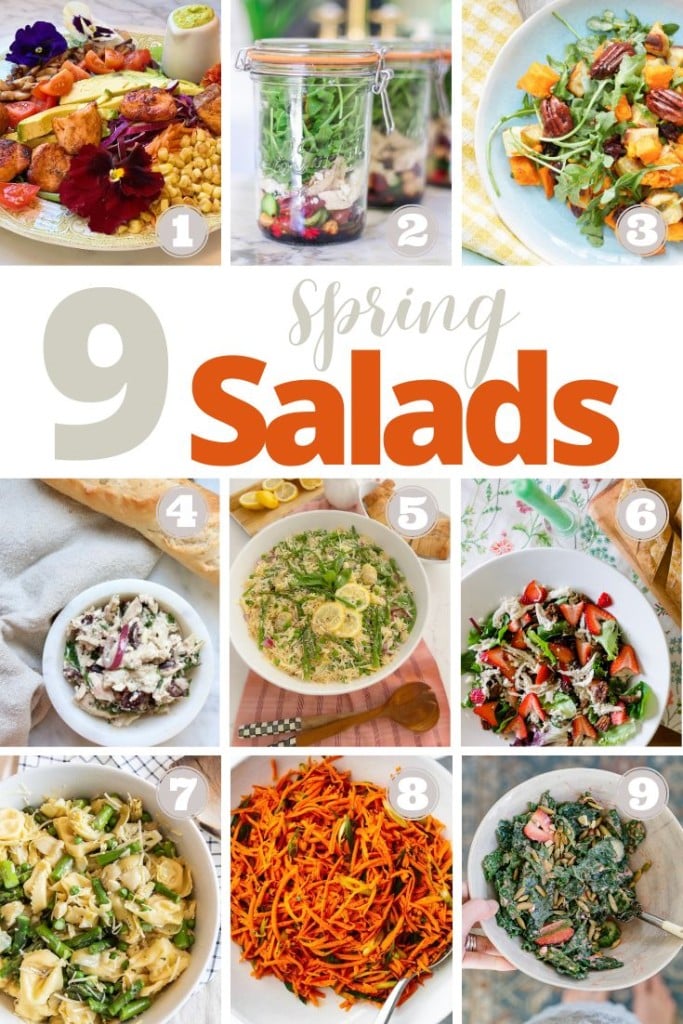 Blogger's Best Spring Salad Recipes