Have you considered buying the new Cricut Maker but were unsure about what it could do and what materials it could actually use? Well today I have a huge comprehensive list of Cricut Maker Materials for your convenience.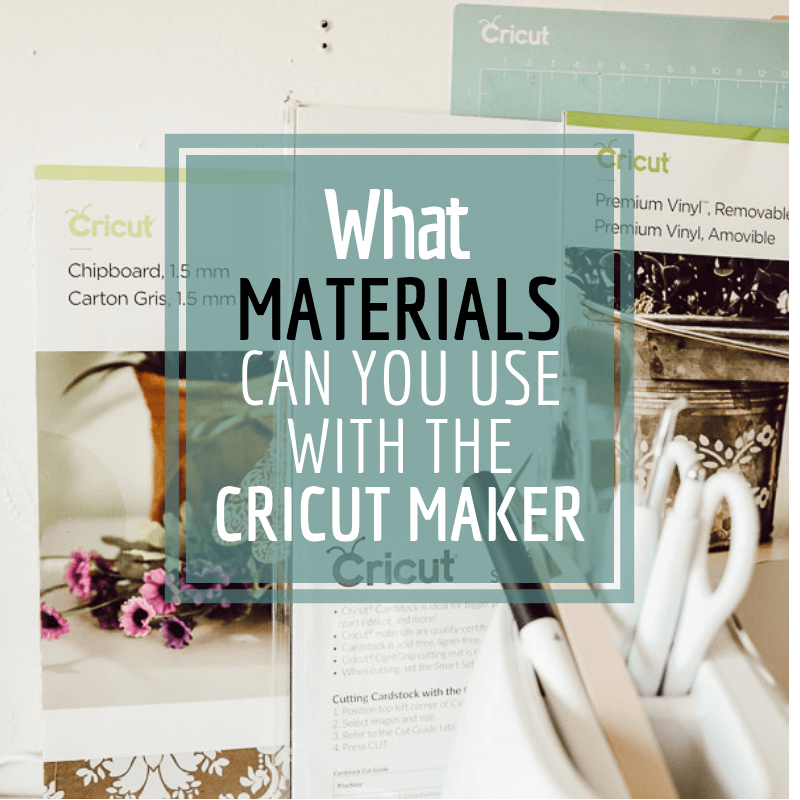 When I got my new Cricut Maker, I knew that it could do so many things. I wrote a full review on it, which you can read here. I knew it could cut all the papers, and even tons of fabric including leather, and of course it could cut vinyl. It was easy to become confused with all the things it could do and what you could use with this machine. I was curious how many Cricut Maker materials it actually could use.
Now also, each type of material may need to use a different cutting tool. I will make sure to touch on which cutting tool would be best for each type of Cricut Maker materials.
PAPERS
Paper is an obvious choice…since it was the main material used for so long… but did you know that there is a huge list of different kinds of paper it can actually work with? Check out this huge list of papers that can be used on the Cricut Maker.
For papers you will want to use the Premium Fine Point Blade. You can also use the scoring wheel or double scoring wheel on paper.
Adhesive Cardstock
Cereal Box
Construction Paper
Copy Paper
Flat Cardboard
Flocked Paper
Foil Poster Board
Freezer Paper
Glitter Paper
Kraft Board
Kraft Paper
Metallic Cardstock
Metallic Paper
Metallic Poster Board
Notebook Paper
Paper Grocery Bags
Parchment Paper
Paper Board
Pearl Cardstock
Pearl Paper
Photographs
Photo Framing Mat
Post Its
Poster Board
Rice Paper
Scrapbook Paper
Shimmer Paper
Solid Core Cardstock
Wax Paper
White Core Cardstock
VINYLS
Now of course, Vinyl is another obvious, and boy did I have NO idea that there were so many. I have kept my use of vinyl pretty simple until now, only using regular classic vinyl. But I cannot wait to try out so many of these vinyl options below.
For Vinyl Cricut Maker material, you will want to use the Premium Fine Point Blade.
You can also use the Deep Cut Blade for thick cardstock and cardboards.
Dry Erase Vinyl
Glossy Vinyl
Matte Vinyl
Metallic Vinyl
Outdoor Vinyl
Printable Vinyl
EVERYDAY IRON ON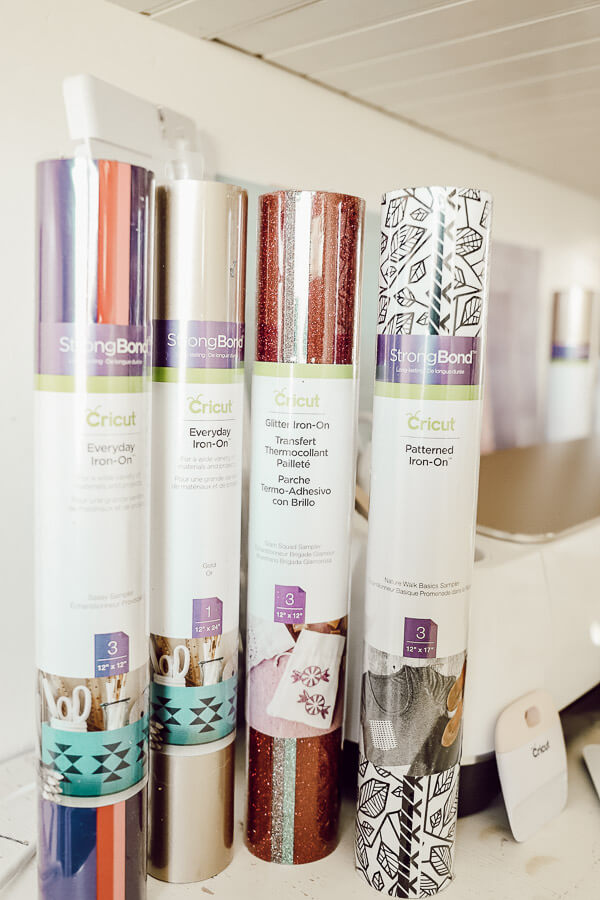 Iron on is the ultimate Cricut Maker material. It is something I have used a lot. It has been fun learning how to use different vinyls. I have made fun exercise tanks, funny sweatshirts, and cut t shirts for my kids. This week, I am making a set of shirts for them for an upcoming trip. I cannot wait! Using the Cricut vinyls for my projects has been a real learning experience, and there is a huge list as well of ones that can be used with the Cricut Maker.
For Everyday Iron On you will want to use the Premium Fine Point blade. This is the most versatile blade and can cut many of the most commonly used items.
Flocked Iron On
Glossy Iron On
Matte Iron On
Metallic Iron On
Neon Iron On
FABRIC AND TEXTILES
Now, this was super exciting to me. Being able to cut fabric on the Cricut Maker is a game changer. With the addition of their FabricMat, you can easily cut so many different kinds of materials including faux suede, cotton duck, burlap, and leather! Check out the full list below.
Depending on the material will depend on the type of blade.
For fabric you can use the Deep Point blade but you will be more likely to use the Rotary Blade. This makes cutting fabric easy.
Burlap
Canvas
Cashmere
Chiffon
Cotton Fabric
Denim
Duck Cloth
Faux Suede
Flannel
Fleece
Jersey
Jute
Knits
Linen
Metallic Leather
Moleskin
Muslin
Oil Cloth
Polyester
Printable Fabric
Seersucker
Silk
Terry Cloth
Tulle
Tweed
Velvet
Wool Felt
ADDITIONAL MATERIALS
This is the coolest part in my opinion. So many different materials that you can use including birch wood, balsa wood, cork board, magnet sheets and so much more! If you are wondering if the material you have is able to be cut, check out the list below.
Since this is quite a list, I will attempt to list the specific blades for these kinds of materials. For woods, stiff fabrics, thicker materials such as magnet chipboard, stiffened felt, foam sheet, and cardboard you can use the Deep Point Blade.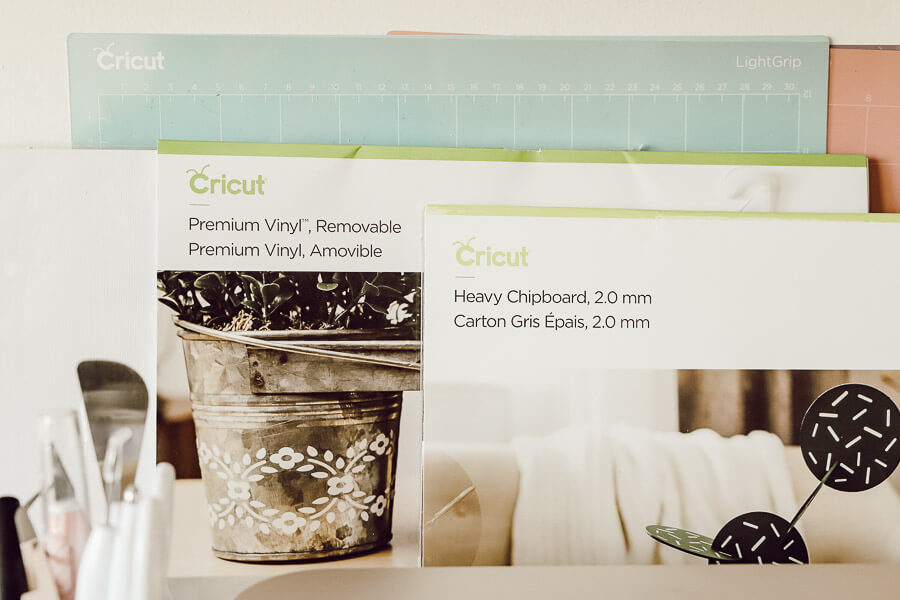 For lighter Cricut Maker materials such as tissue paper, light cardstock and acetate, you can use the Rotary Blade. You can also use the rotary blade for Cork board and tissue paper. In terms of the mat, you will want to use the FabricGrip Mat for these.
You can also use the Knife Blade for Balsa Wood, mat board, and chipboard. Use the FabricGrip Mat or the StrongGrip Mat for this.
Adhesive Foil
Adhesive Wood
Aluminum Foil
Aluminum Sheets
Balsa Wood
Birch Wood
Cork Board
Craft Foam
Duct Tape
Embossable Foil
Glitter Foam
Magnet Sheets
Metallic Vellum
Paint Chips
Plastic Packaging
Printable Magnet Sheets
Shrink Plastic
Soda Can
Stencil Material
Tissue PaperTemporary Tattoo Paper
Transparency Film
Vellum
Washi Sheets
Washi Tape
Wood Veneer
Wrapping Paper
As you can see, these lists are long! This means that quite possibly, any material you are looking to use is probably able to be used easily. There are so many amazing things you can do with these Cricut Maker materials, and I hope that you use this page as a resource and a reference when you are unsure what materials you can use.
Also know that if you have any questions, you can easily hop onto Cricut.com and get all your questions answered.
Make sure to share this post with your crafty friends and save it to Pinterest! I have a whole board dedicated just to Cricut stuff!
Now, are you looking for more great posts including more Cricut? Check these out:
How to Use the Cricut Easy Press 2 Like a Pro!
How to Use Cricut Pens to Make Custom Printable Artwork
The Perfect Super Soft T-Shirts for Iron-On Transfer Projects
Wrought Iron Beds You Can Crush On All Day
40 Inexpensive Farmhouse Style Wrought Iron Beds
MAKE SURE YOU PIN IT FOR LATER!
GET YOUR FREE GUIDE to 30 DIY projects that can be done over the weekend!
By subscribing, you will gain access to my FREE guide with 30 DIY projects that can each be done in a day, or over a weekend!
You will also receive a weekly email with some of my favorite tips, tricks, and design ideas.