Calling all cheesecake fans! I love cheesecake. I love everything cheesecake. There is nothing better than a fresh slice of creamy cheesecake, except maybe a big bowl of homemade no churn cheesecake ice cream! I have died and gone to heaven. No need for an ice cream machine either!
ice cream maker to create creamy, smooth ice cream." width="683″ height="1024″>
A lot of time is spent in the kitchen creating sweet treats centered around cream cheese. It makes some of our most favorite desserts. We are kind of obsessed with it at our house. I have an amazing cheesecake mousse that I love to make in the summer and fall topped with fresh fruits, especially peaches. Want a strawberry cheesecake ice cream recipe as well? Click here!
We are a big ice cream family, and I love making my own, but I often find that preparing the ice cream maker(I always forget to freeze the bowl), is just too much for me. That is where this no churn cream cheese ice cream or (cream cheese ice cream) comes in for the win.
This cheesecake ice cream is so stinking easy, you'll wonder why you haven't been making ice cream all these years. It has only 4 ingredients, and even the most beginner ice cream maker can whip this tasty treat out.
You can use this simple cheesecake ice cream as a base for so many different ice cream options! You can add fruits to it before freezing, my favorites are strawberries and raspberries. You can also mix in some crushed graham crackers as well and lightly mix them into the cream before freezing.
This is also so good just plain. You can top the plain cheesecake ice cream with fresh fruits, caramels and fudge sauces and so much more!
How do you make this no churn cheesecake ice cream?
Watch this video, or read below!
First, whip 14 oz of heavy whipping cream until it has stiff peaks in a stand mixer or using a hand mixer. Don't whip too much or it will become butter~
Second, combine cream cheese vanilla extract(you could also use vanilla bean paste), and 1 can of sweetened condensed milk until well blended.
In a large bowl, mix the whipped cream into the cheesecake mixture by hand until all combined well.
Now, pour the mixture into a dish or loaf pan and freeze it for about 4 hours. You can cover with saran wrap to protect it. I use a baking dish that allows it to freeze quite quickly.
Before serving, let it sit out for about 5- 10 minutes to soften a bit. Store it in an airtight container in the freezer.
Looking for great kitchen items to make ice cream and so much more? Here are some of my favorites!

ice cream maker to create creamy, smooth ice cream." width="683″ height="1024″>
I love serving this plain but it is also amazing with some fresh fruit on top, or some mixed in before freezing!
ice cream maker to create creamy, smooth ice cream." width="683″ height="1024″>
This no churn cheesecake ice cream is so, so creamy! This is perfect for those cheesecake lover. You could also add graham cracker crumbs to the ice cream mixture prior to freezing. I like it simple. It is my favorite ice cream, I swear by it.
There are no ice crystals in this ice cream. I love the sweet and tangy cheesecake flavor. It is a family favorite, such a simple recipe, and so good!
You could also use this as a base and add chocolate to it, or swirls of caramel and salt and make a salted caramel ice cream. Oh gosh wouldn't that be dreamy. This creamy ice cream has so many different options!
Try this no churn ice cream recipe today! It is amazingly easy and the creaminess is out of this world.
My kids love it topped with fresh raspberries and strawberries. This cream cheese ice cream cannot be beat.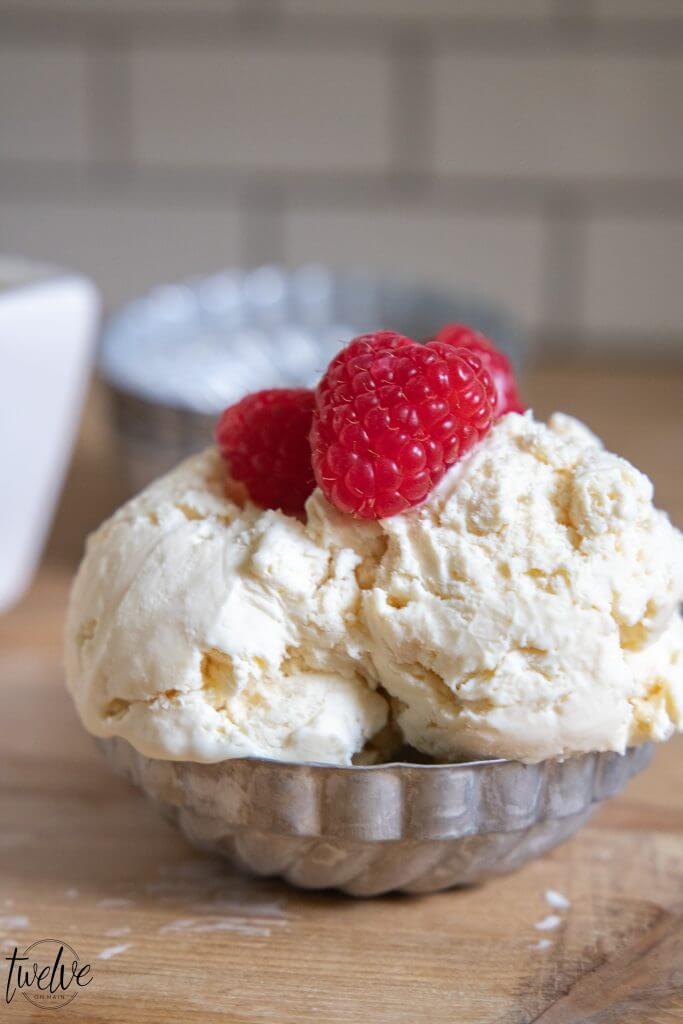 Try out these amazing summertime treats too!
Sweet and Sour Strawberry Pina Colada Popsicles
Non-Alcoholic Strawberry Mojito Popsicles for Kids and Adults!
Sweet and Tasty 2 Ingredient Pina Colada Popsicles for All Ages
5 Ingredient Creamy Grape Salad
No Churn Cheesecake Ice Cream
How to make the creamiest, dreamiest no churn cheesecake ice cream. This cream cheese ice cream is so easy to make and tastes amazing! You do not need an ice cream maker to create creamy, smooth ice cream.
Ingredients
8

oz

cream cheese

room temperature

14

oz

heavy cream

1

tbsp

vanilla

1

can

Sweetened condensed milk
Instructions
I use my KitchenAid to make this ice cream

Whip your heavy cream in the mixer until you have formed stiff peaks. Set aside

Now, mix your cream cheese, vanilla, and sweetened condensed milk until it is completely smooth

Fold the whipped cream into the cream cheese mixture until completely combined. If not, you will get frozen ribbons of whipped cream. Trust me on this.

I like to pour mine into a baking dish or bread pan and let it freeze for about 4 hours or more.

This is the lightest and creamiest cream cheese ice cream!
ice cream maker to create creamy, smooth ice cream." width="683″ height="1024″>
Trust me, you will be making this again and again. It is the easiest and best homemade ice cream.
Want more great ice cream and popsicle ideas? Check these out my some of my most favorite bloggers!
The Best Summer Ice Cream and Popsicle Recipes

Creamy No Churn Cheesecake Ice Cream
Strawberry Yogurt Popsicle Recipe

Super Antioxidant Cherry Ningxia Creamsicles
Dalgona Coffee as a Topping for Ice Cream

Pineapple Coconut Mango Sorbet
GET YOUR FREE GUIDE to 30 DIY projects that can be done over the weekend!
By subscribing, you will gain access to my FREE guide with 30 DIY projects that can each be done in a day, or over a weekend!
You will also receive a weekly email with some of my favorite tips, tricks, and design ideas.