Hey there friends! I am excited to share one of our most favorite recipes. There is nothing better than a ig bowl of pasta. It is so comforting, and often times it's the only thing my kids want. This is the best homemade alfredo sauce recipe. It is super easy to make, and is to die for! I love this stuff and my kids are always thrilled when I actually get around to making it. With only a few ingredients you can make restaurant quality alfredo sauce. Let me share with you how I make it with ease!
This creamy sauce is perfect for fettuccine alfredo, on chicken and veggies, or with breadsticks, just like we used to do at The Olive Garden. I love this thicker American style alfredo. The addition of heavy cream makes this the most decadent sauce.
This family favorite gets made every so often. I try not to make it too often because it is a very rich dish and a little does go a long way, but gosh we love it so much. With simple ingredients such as fresh garlic, heavy whipping cream, parmesan cheese, and butter, it does not need to be over thought and complicated.

What is alfredo sauce?
Alfredo sauce is basically a sauce made with butter, parmesan cheese and cream. Alfredo sauce has a nice nutty flavor which lends itself to be amazing on pastas (the most popular being fettuccine noodles), meatballs, veggies and as a dip for bread.
Standard Alfredo Sauce Ingredients:
I would like to day there is one main ingredient, but these all work together to make a wonderful cream sauce. These are all basic ingredients that when combined make something magical.
Garlic- You need to use fresh garlic for this recipe. I like to use the already minced garlic from the store. It makes it so much faster to whip this classic alfredo sauce together
Parmesan Cheese- I like to use a combination of fresh grated parmesan cheese and the grated parmesan cheese in the bottle. They both lend themselves to different flavors. It also helps with cheesy consistency to how the powdered parmesan cheese.
Heavy Whipping Cream- You can't make classic alfredo sauce without heavy cream. It is what gives it that thich creamy texture. You cant get it with regular milk.
Butter. I have seen people use some cornstarch to thicken their alfredo sauce if you want it thicker, so if you can use that. This is an option if you cant or dont want to use heavy cream
Salt and Pepper- Another staple of my alfredo sauce is black pepper. I need to have that black pepper in my homemade sauce. It adds a bite of heat otherwise to it.
Homemade alfredo sauce is super easy to make. I think people often are intimidated by something like this because it can seem temperamental. Also, I think since this is such an indulgent sauce that is often had at restaurants it seems unattainable. But thats all wrong. This is super easy to make and can even be reheated out of the fridge if you do it right!
Can you reheat homemade alfredo sauce?
Have leftover sauce and not sure if you can reheat it? Yes! You can! But there is only one way to do this. For best results, DO NOT MICROWAVE IT! This will cause the sauce to separate. Put the refrigerated sauce in a small saucepan. Turn the heat on low- medium heat and let it slowly warm up. Make sure to stir it with a whisk to make sure everything blends back together. If you think it is still too thick you can add a bit more cream to it.
What is alfredo sauce good with?
Ooh this homemade sauce is great on so many things including your linguine or favorite pasta, chicken and veggies, zucchini noodles, meatballs, breadsticks and so much more.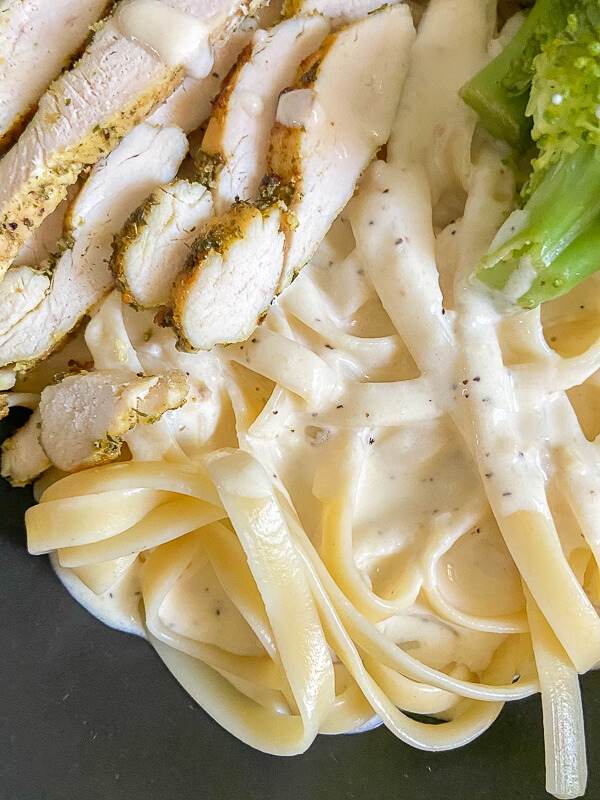 How to make this easy alfredo sauce:
On medium-low heat in melt the butter in a skillet or medium saucepan. Add the garlic to the melted butter and let the garlic cook on low for a couple of minutes. Slowly add the cream and stir it together with a whisk. Now its time to add the cheese. I like to add half fresh parmesan and some bottled grated parmesan cheese to the creamy alfredo sauce.
Use a whisk to slowly mix in the cheese. It will start out stringy as the cheeses melt, but as you continue to cook it and stir with a whisk it will get creamier and less stringy. Add salt and pepper to taste ( I generally like a lot of pepper)
Now you can pour this over hot fettuccine pasta. Save the leftover pasta and the leftover alfredo sauce separately in the fridge in an airtight container.
This alfredo recipe has the perfect consistency. It is creamy and flavorful and is something you really need to make!
Get the full recipe below!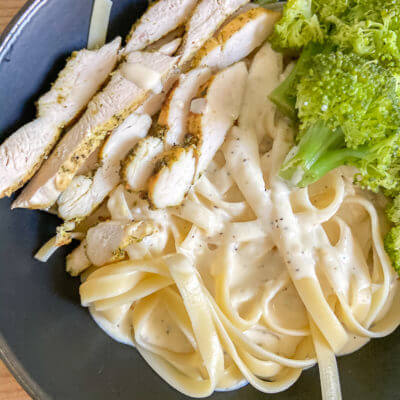 Homemade Alfredo Sauce
Make this easy homemade alfredo sauce today! It is so easy to make and tastes like the kind from the restaurant.
Ingredients
3

TBSP

Butter

1

CUP

Heavy Cream

4

Cloves of Garlic minced

1 1/2

CUP

Parmesan Cheese

Salt and pepper to taste
Instructions
In a medium skillet, heat butter until melted. Add the garlic and let them sautee for about 3-4 minutes.

Add the cream to the butter/garlic mixture and use a whisk until it is all well blended. Bring it to a simmer.

Once it is at a simmer, add the cheese and whisk it into the sauce. Keep whisking until the cheese is no longer stringy, but creamy.

Add salt and pepper to taste.

Serve over your favorite pasta, top with some of your favorite toppings and enjoy!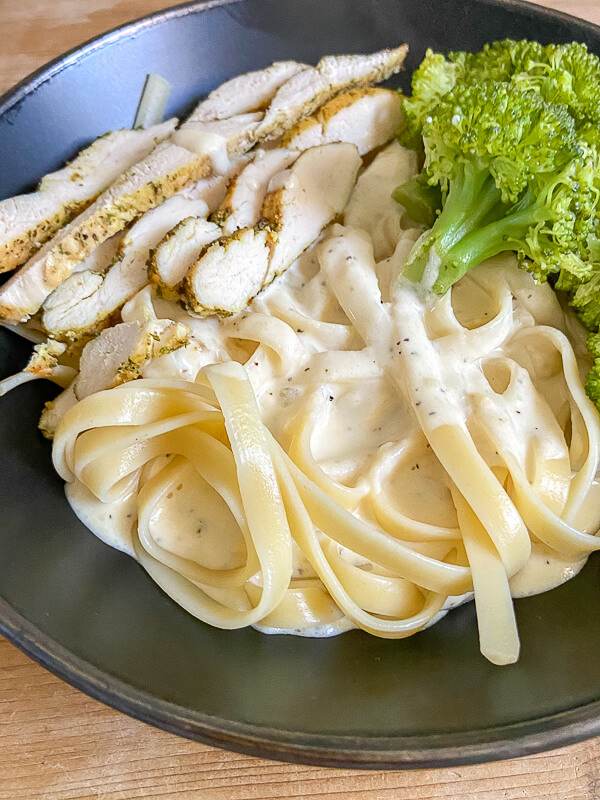 So what are you waiting for? Get some hot pasta, whip up some of this easy homemade alfredo sauce and enjoy every last bite. This is one of my kids most favorite things. I promise this delicious alfredo sauce recipe will not disappoint.
Get more delicious recipes below:
GET YOUR FREE GUIDE to 30 DIY projects that can be done over the weekend!
By subscribing, you will gain access to my FREE guide with 30 DIY projects that can each be done in a day, or over a weekend!
You will also receive a weekly email with some of my favorite tips, tricks, and design ideas.