Finding the perfect curtains for a room in your home can be difficult. But, if you have a bit of a creative side, or even if you don't, you can easily create your own. My favorite kind to make are drop cloth curtains, and you will not believe how easy it is to make them! Keep reading to see the easiest project EVER.
I often find that curtains say a lot about the space that they are in. You can create a trendy or classy look depending on what you use. There is one product that can stand between it all if you just think outside the box. I love using dropcloth for many different projects. It is so versatile! I may need to round up all my drop cloth projects for you, but for now, lets check out these amazing no sew drop cloth curtains!
Here is what you will need for your drop cloth curtains:
What kind of dropcloth should you use for your drop cloth curtains:
Lets talk about the best drop cloths for curtains. Not all drop cloth fabric is made the same and using the correct one for your drop cloth curtains can make all the difference in the way they look and they way they hang. Drop cloths come in different weights. Believe it or not, I have a favorite source for my drop cloths. I love buying mine at Walmart. They have a really great drop cloth that comes in 2 different weights, a 6oz and and 8oz. I use the 6 oz drop cloth fabrics. They are a bit lighter and are quite soft. I love the way they hang when using them for drop cloth curtains.
Some drop cloths can feel still and wont hang well. Finding a drop cloth with a good texture and weight is key. It will make all the difference, so make sure you take that into consideration when you purchase them.
I've bought my drop cloth, now what:
Now its time to get to work and have some fun! You want to make sure you have at least 3-4 packages of the curtain clips for your drop cloth curtains. These are what you will use to hang your curtains, and since there is not sewing involved, this makes it rally easy to hang them.
Okay, so lets get down to how to turn a plain old painters drop cloth into drop cloth curtains.
I like to buy a 9 by 12 inch drop cloth. This size is perfect for most curtain jobs. Its size is versatile enough to fit most window sizes. My ceilings in my living room are 10 foot tall, and I like to hang a curtain that is 9 foot long, since I have tall windows. Have you ever tried to purchase 9 foot long curtains? They are first, hard to come by, and second, super expensive.
I like using the 9 by 12 inch drop cloth for this reason. I can get 2 really decent sized curtain panels out of one drop drop cloth, and that's just for my windows. If you have smaller widows you will be able to get more. And that is not mentioning the extra fabric you will have to make a dropcloth pillow or fabric sign.
The easiest way to cut a drop cloth:
You may be afraid to cut such a large piece of fabric, but it doesn't have to be that hard. Most drop cloths are easily cut. All you have to do is make a small cut where you want to the fabric to be divided. Then all you need to do is grab a hold of both sides of the cut and tear the fabric. The fabric will tear in a straight line, so as long as you continue to tear evenly, it will tear a straight line all the way down the fabric.
Once you have the fabric cut, you will notice that the drop cloth has been hemmed on the top and the bottom, which means that you do not need to hem it yourself, unless you need to cut down the length of the curtain.
Now that you have the fabric cut, what's next?
This is where your fusing hem tape will come into play. If you know how to use a sewing machine and would rather do that, its as easy as hemming the raw edges, sewing them up with a 1 inch inseam.
If you have no desire to sew it, don't know what a sewing machine is, or just want to learn a new skill then try this out.
Using fusing hem tape is pretty easy. I have used it to hem my husbands work pants in a pinch. You will want to use the directions on the package. But, I will break down the general process. You will lay the hem tape on the edge of the fabric. You want to inset it the width of the hem tape, which is generally 1 inch. You will then want to get out your iron and let it heat up.
Once it is hot, you will fold over the fabric, and place the iron on top of the fabric. You will want to hold it on there for a minute, making sure to move it around a bit, and some hem tape says to use the steam setting or spray the fabric with water. Once again, refer the packaging to see what they specify.
Do the vertical sides first, and then hem the bottom if you need to.
Once you have the drop cloth curtains hemmed, its time to hang them!
Hanging your canvas drop cloth curtains:
Now comes the fun part…hanging your drop cloth curtains! You should have chosen a curtain rod of your style. Use the directions on the curtain rod to hang it. We will be hanging the crop cloth curtains with curtain rod clips.
Divide the curtain rod clips evenly among the curtains you have to hang. You want approximately 10 clips for each curtain, but can adjust according to how many you want.
Hang your curtains with the clips, and you are done! I simply gather a small amount of fabric at the top about 2 inches below the hem and clip it. This creates the illusion of pleats in the curtains, which gives them more dimension.
You can actually see that these curtains never actually got hemmed and are still raw edges. So, you really do not have to even hem them if you don't want to. Hemming them gives them a nice finished edge though.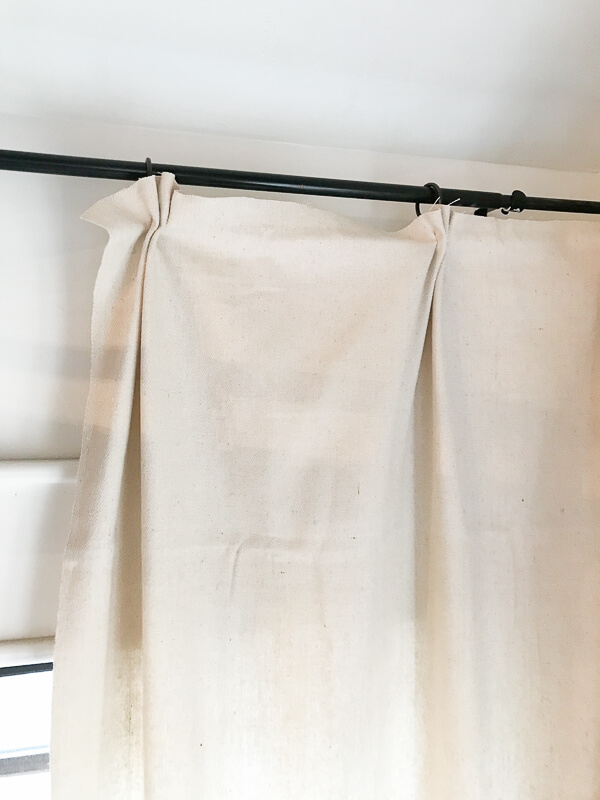 An easy way to install your clips is to start by adding one on each end, and one in the center of the curtain. Then begin dividing up the two sections evenly with the rest of the curtain ring clips.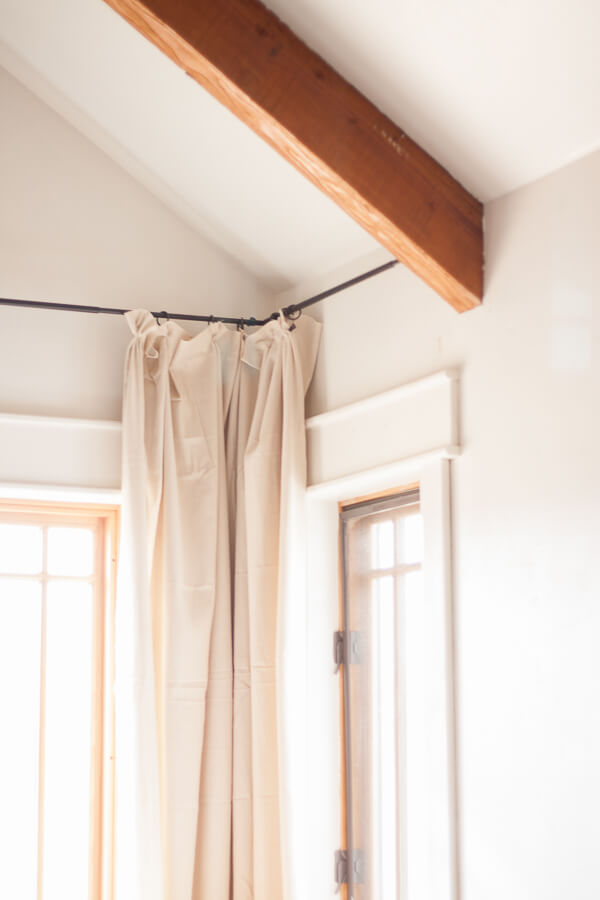 I have used drop cloth curtains in our family room upstairs, and it has been a really cozy spot for us to hang out and watch movies. These curtains work so well with different colors that when I change the decor in the room, I don't necessarily need to change up my curtains. These will last!
I have also installed drop cloth curtains in our living room downstairs. I just love them too much! They are so very versatile and so inexpensive to make!
They simply frame the windows, while adding softness and texture to the space.
So, are you going to make some drop cloth curtains for your home? The great part about these curtains is that when you get tired of them, you can use the drop cloth curtains to make pillows, decorative flags, and so much more!
GET YOUR FREE GUIDE to 30 DIY projects that can be done over the weekend!
By subscribing, you will gain access to my FREE guide with 30 DIY projects that can each be done in a day, or over a weekend!
You will also receive a weekly email with some of my favorite tips, tricks, and design ideas.