BuHey friends! I am so excited to be here today to share some of my favorite ways to decorate this fall season! Today I want to show you my easy porch decor for fall. So keep on reading if you want to see some amazing fall decorations, including some of my absolute favorite bloggers sharing their homes decked out for fall as well!
Today I am so thrilled to be taking part in the Seasonal Simplicity Fall Series, joining up with some heavy hitting bloggers. I feel practically giddy being on the same tour as them. If you are here visiting from Aniko from Place of My Taste, welcome! Isn't her home gorgeous? If you are here, I am so glad!
Welcome to my home for fall!
I practically ignored my front porch all summer. I was feeling uninspired, and wasn't really loving it at all. It was time for a change. And so, like I do when I have no time to do anything, I whipped out my miter saw, nail gun, drill, and sander and began building a primitive style bench for the front porch….because it's what you do when you have so much to do already! And when I say I built it….I built it. My husband wasn't even in the same state!
I decided this bench was going to be the jumping off point for my fall decor. And this fall, I am going simple. The colors are simple, the decor as well. I wanted each piece that I brought into the space to have purpose and a reason. I really struggled with editing down…and I find when I finally do, I love a space so much more.
So, if I can give you any advice when decorating and you get that stuck feeling….edit down. Take out some of the items. Move them and rearrange what you have. It can be incredibly difficult but it is also so satisfying when you get to that sweet spot.
My new bench. I painted it black. My first inclination was to paint it white, but I have been wanting to add a few touches of black and grey/green to my home and this seemed like a great way to do it.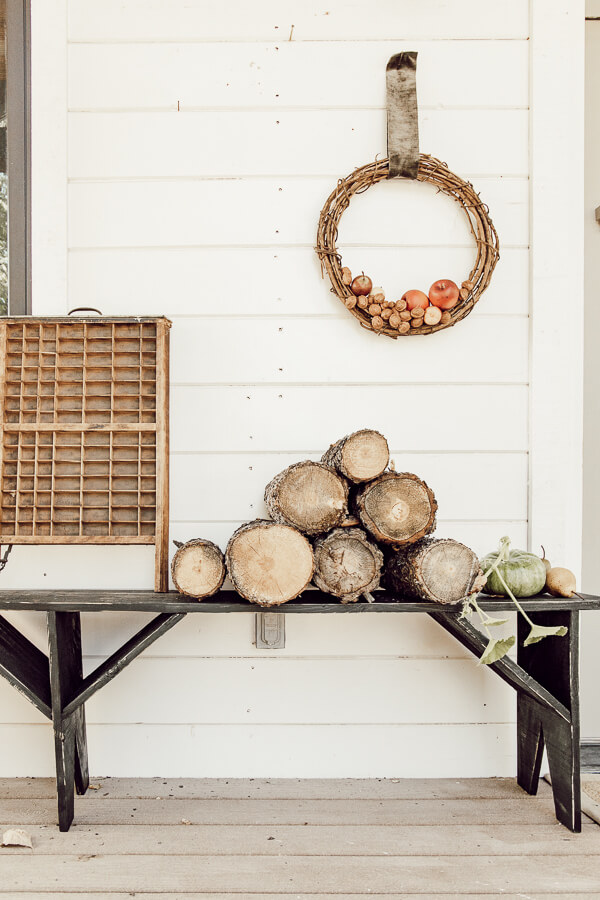 I painted it and then sanded it with my orbital sander, giving it a bit of a aged finish. You can see my method here.
Once I had my bench in place I created these cute apple and walnut wreaths. These were so easy to make and they are just perfect for what I was going for this year.
As the weather gets colder, we are getting ready to start using our fireplace once again. Having a pile of wood is very important to us and I like to use them as a decorative and functional piece in my decor.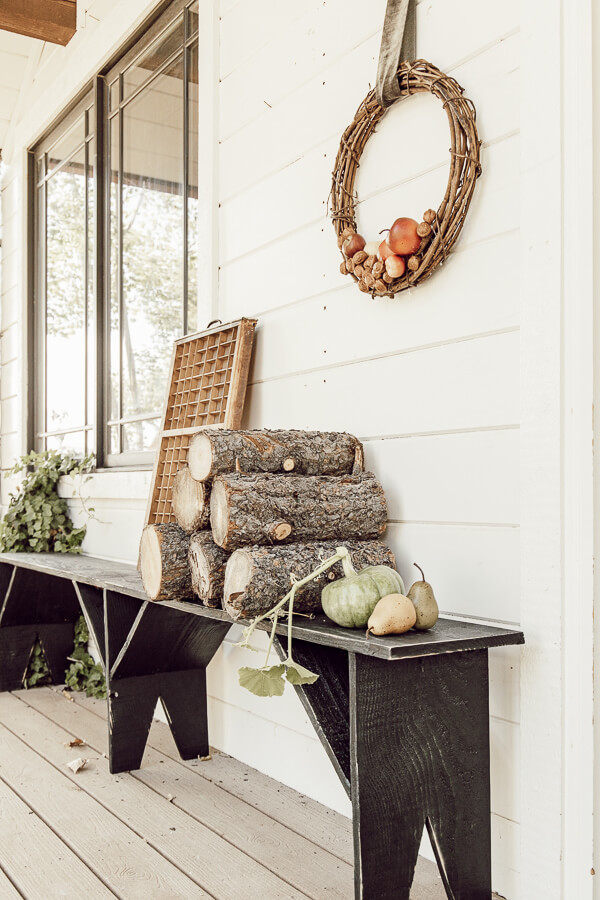 Can you believe this little green pumpkin is the only one I had that survived the pumpkin massacre of 2019? Well, if you haven't heard, all my pumpkins were gobbled up by the local deer. And they didn't even eat the whole pumpkin, they were considerate enough to just take a bite out of each and make sure there was some for us……..sigh.
He's a cute little pumpkin, though thats for sure!
And once again as the weather gets chilly here, we begin to have a plethora of leaves. And I do believe that they make a most gorgeous decoration in my favorite woven basket. Those colors and textures, oh my.
Opposite the door I added my favorite old chair, a cozy plaid blanket and my favorite leather pillow.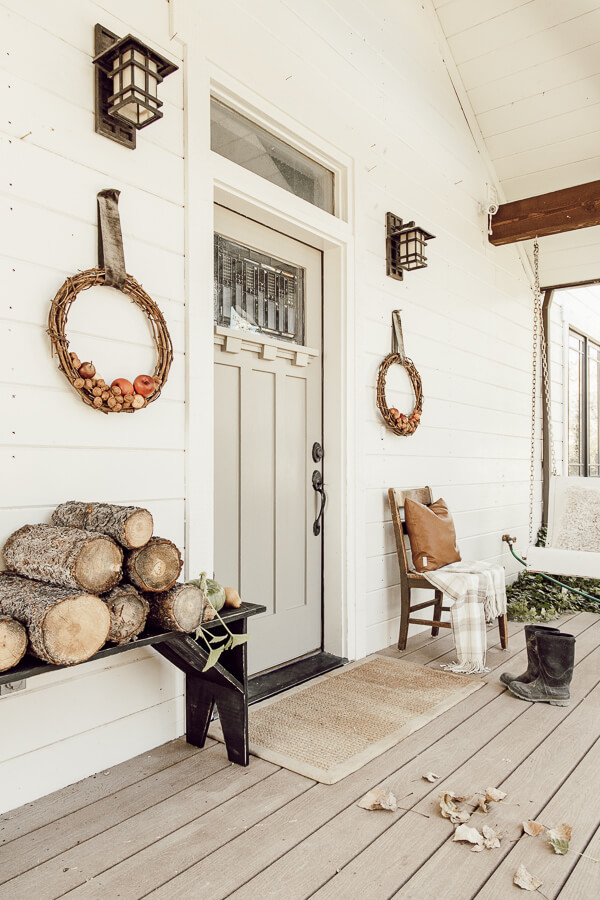 My very loved mud boots are at the ready for feeding goats, working in the garden and cleaning up the rest of those leaves.
And speaking of goats…..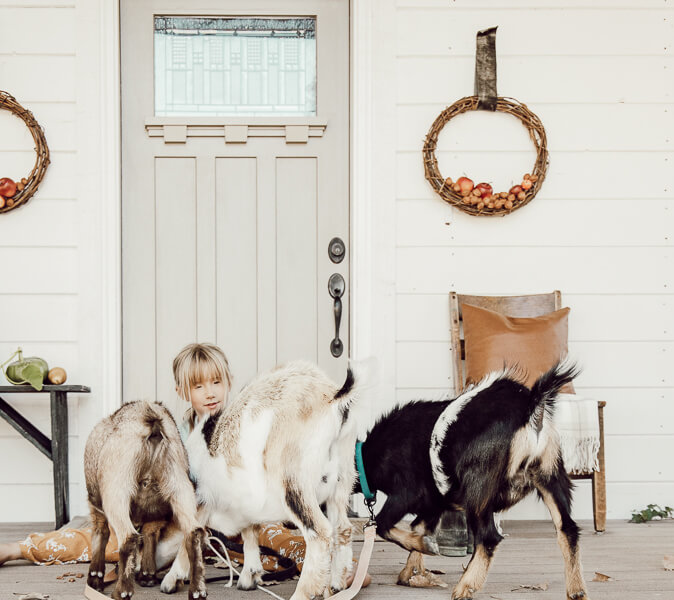 I had to share a few cute shots I got while I was taking pictures. My daughter was walking the goats around and decided to bring them to the porch. Nice bum shot don't you think? Haha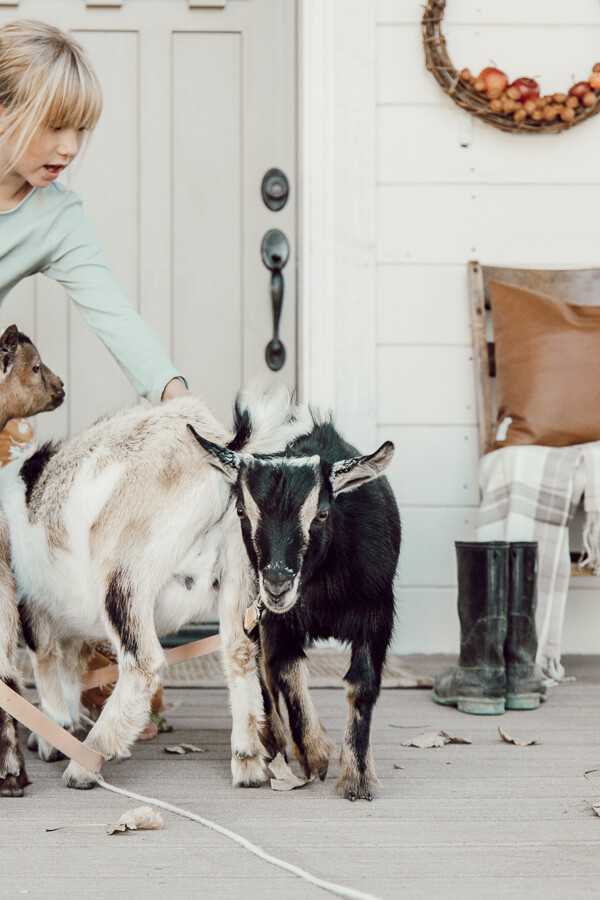 Even they love fall!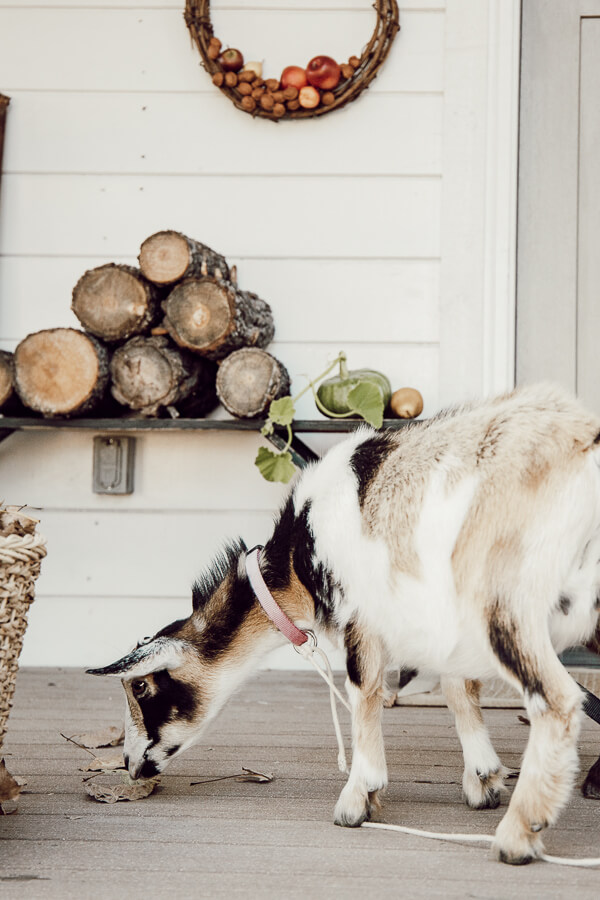 These dead leaves are like gold to these guys.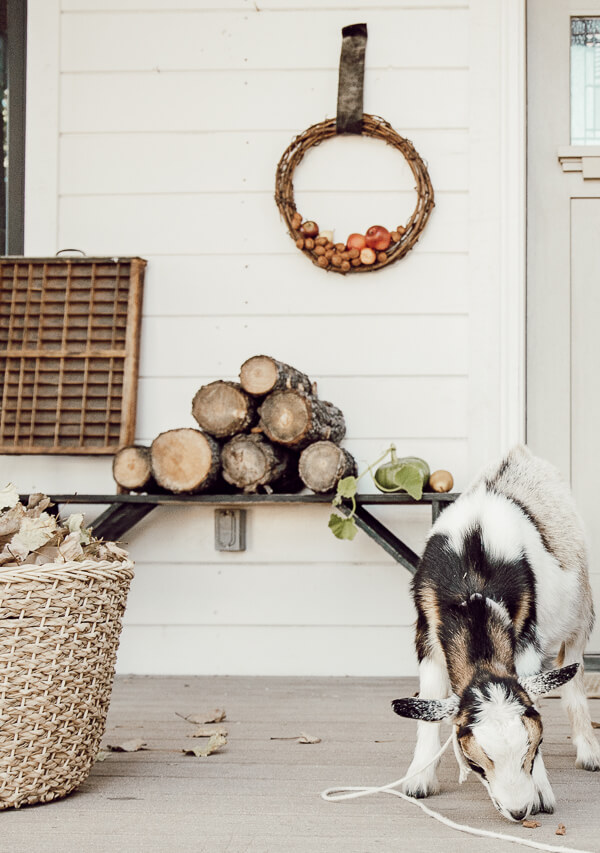 This is our sweet Cali. She's is so friendly, sweet to the kids and the best lap sitter.
But, we cant always have goats on our porch…sooo let's look at it again with them back in their pasture.
The entire space is inviting and simple. Its fall, yet it doesn't scream fall, if you know what I mean?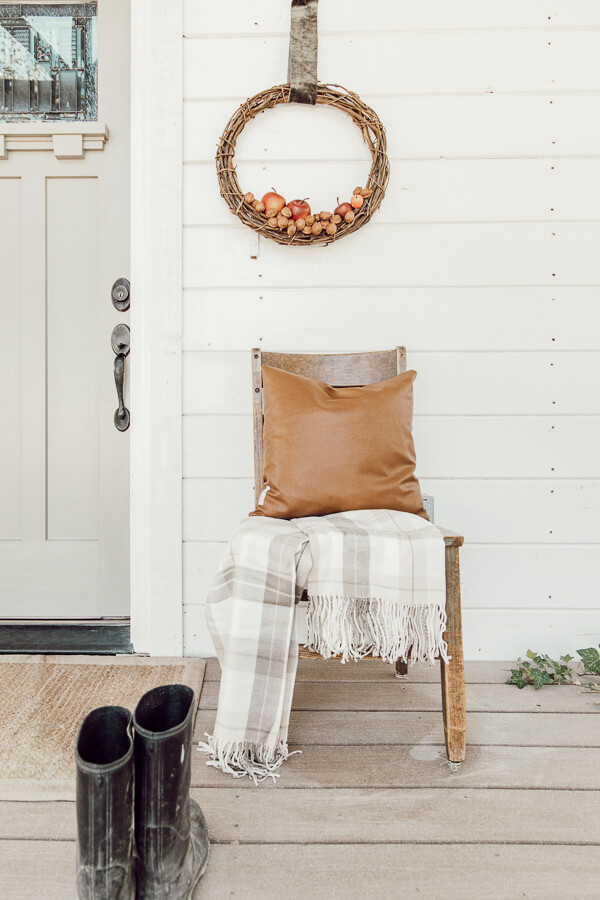 It's rough and it's refined. I think it is a nice combination of the two.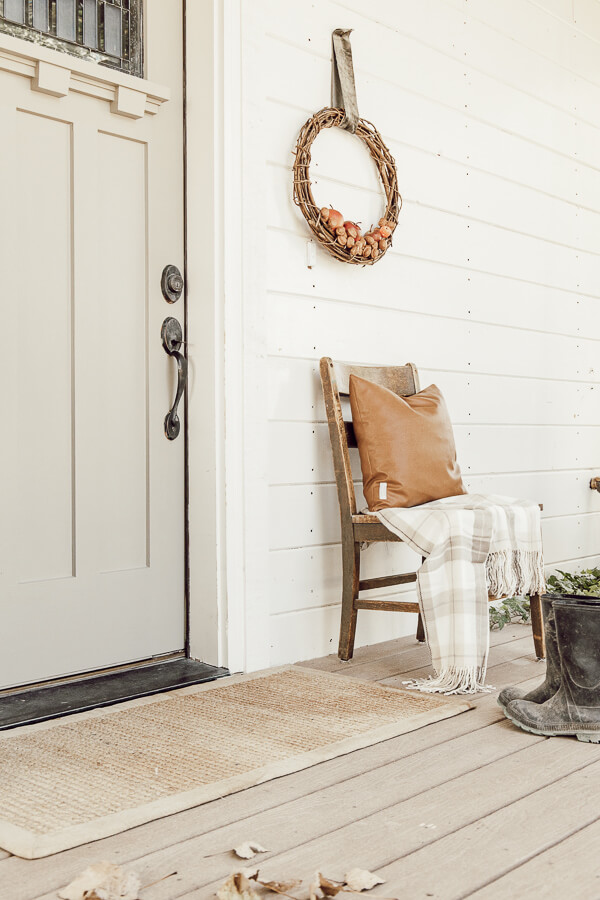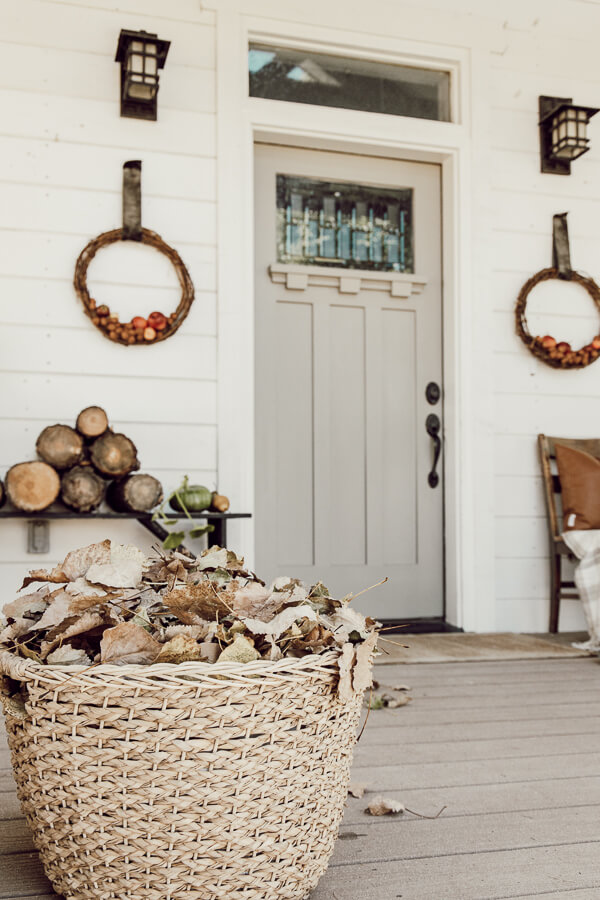 The colors and mood speak to me. I love using unloved items, and items thought of as meant for the trash can, such as my gorgeous leaves.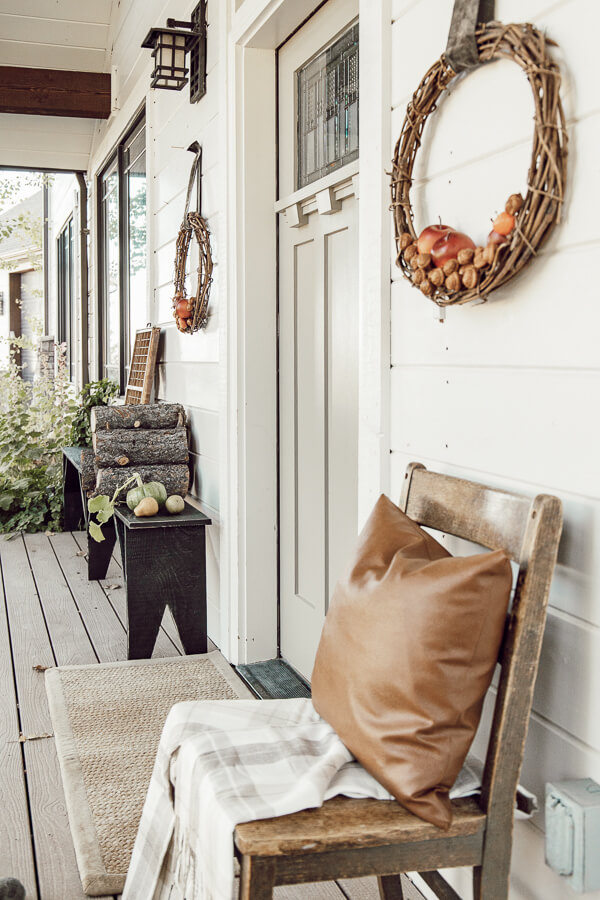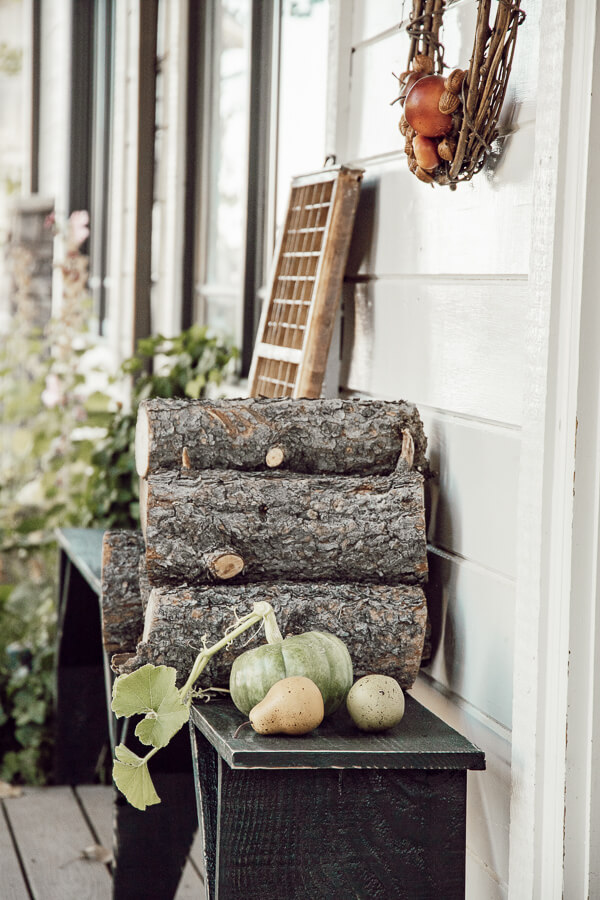 It's all I need this fall. I want the colors all around me to decorate the rest.
Now make sure you check out all the other AMAZING homes in this fall home tour! Head over to Zevy Joy and see what she's doing for fall!
This week is Fall Home tour week! All week long talented bloggers are sharing their homes dressed and ready for fall to help inspire you with all kinds of ideas for your own fall decor. Just click on the links below the images to see more…
Sharing with me today…
Thursday
Sincerely, Marie Designs // Rooms FOR Rent // Shades of Blue Interiors
Stacy Risenmay // Hallstrom Home
Place of My Taste // Twelve on Main // Zevy Joy
The Turquoise Home // Doreen Corrigan
And sharing the rest of this week…
Monday
The Happy Housie // Modern Glam // She Gave it a Go
Inspiration for Moms // In My Own Style
Cherished Bliss // Grace in My Space
My Sweet Savannah // All Things With Purpose // Just a Girl and Her Blog
Tuesday
Clean & Scentsible // Two Twenty One // Love Create Celebrate
Rambling Renovators // Life is a Party
Lemon Thistle // Cassie Bustamante // So Much Better With Age
The DIY Mommy // Taryn Whiteaker
Wednesday
Home Made Lovely // Craftberry Bush // The Tattered Pew
Town and Country Living // Shabyfufu
A Pretty Life // Amber Tysl // Jenna Kate at Home
Kim Power Style // Summer Adams Designs
And don't forget to share this with your friends!
Check out these great posts as well!
How to Make Faux Brick Panels Look Like Real Brick
Amazing Boho Decor Available at Walmart!
How to Distress Furniture Like A Pro!
Hand Painted FREE Feather Wall Art Printable
10 Home Decor Collections to Start Today
GET YOUR FREE GUIDE to 30 DIY projects that can be done over the weekend!
By subscribing, you will gain access to my FREE guide with 30 DIY projects that can each be done in a day, or over a weekend!
You will also receive a weekly email with some of my favorite tips, tricks, and design ideas.