Friends, I have been in a flurry this week getting my home ready for the holiday season. My goal is to have it all done before December 1 so that we (mostly I) can actually spend some time enjoying the season instead of rushing around to do all the things that we are supposed to. Don't get me wrong, I love decorating for Christmas and I love sitting in the middle of my home, enjoying it all. With all the Christmas decor being added, there have been quite a few simple DIYs and crafts. Today I want to show you how to make the most adorable mason jar Christmas scenes.
I love doing mason jar crafts, and have even used them to make custom spice jars in my kitchen. Making mason jar crafts for Christmas is even better! I have been wanting to make these cute mason jar Christmas scenes for quite a long time, and only this year finally decided to just make them!
This mason jar craft is soooo very easy to make.
Here is what you will need to make these cute Mason Jar crafts for Christmas:
Assorted sizes mason jars (with lids)
White powdery substance such as flour, sugar, or even some left over flocking, which is what I used!
These easy mason jar Christmas scenes are really so easy. So let's talk about how I made mine using some left over tree flocking. I decided to use my flocking because if I added a bit of sprayed water to the outside of the mason jar, I could get the flocking to stick and add a bit of a snowy feel to these cute mason jar Christmas decoration.
So start by gathering up your assorted sized bottle brushes.
I got mine on sale at Joann's for nearly nothing!
I poured about 1/4 cup of the flocking powder into the mason jars. The flocking powder is really fluffy and I liked the look of it in the jars. You could easily use sugar or flour for this and then use some canned snow to get that wintery effect on the jars. I sprayed a bit of water to the jars exterior and sprinkled more flocking around the outside.
The last thing you will do is put the lids on and set them out as the cutest mason jar Christmas decorations!
What do you think? Aren't they cute as can be?
I love how simple they are and I love that I can use them all around my house. I also love that it was an inexpensive Christmas project as well! We all know its not fun spending extra money in December!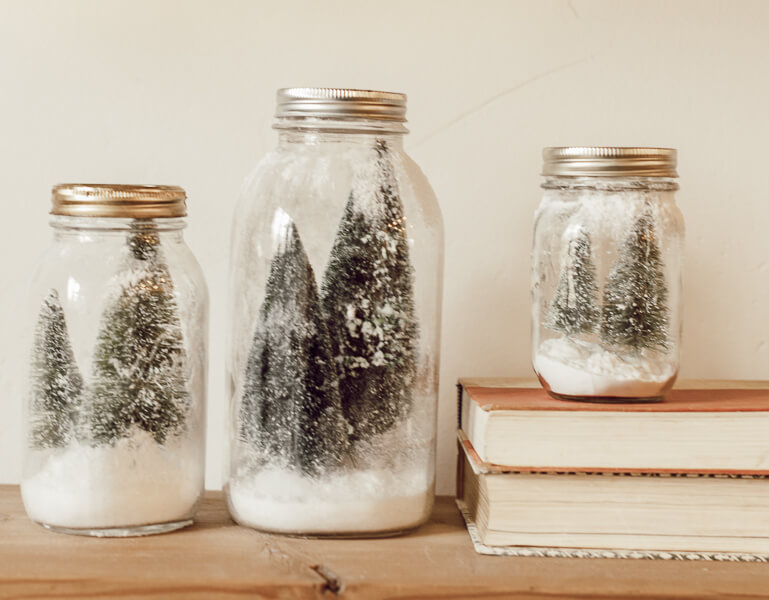 They are just the cutest, I cannot get enough of them!
They look particularly special when they have dancing Christmas lights behind them.
Definitely make some of these adorable mason jar crafts for Christmas!
Can you imagine a whole shelf filled with these Christmas scenes? I would love that!
Now I am off to make more fun Christmas crafts to share with you!
xx
Sara
Check out these other great Christmas decor posts:
Scandinavian Inspired DIY Advent Calendar
Simple Scandinavian Farmhouse Style Christmas Bedroom Decor
My Scandinavian Christmas Home Tour
Personalized Christmas Gifts Using My Cricut Maker
My Cozy and Stylish Living Room at Christmas With Mohawk Home
GET YOUR FREE GUIDE to 30 DIY projects that can be done over the weekend!
By subscribing, you will gain access to my FREE guide with 30 DIY projects that can each be done in a day, or over a weekend!
You will also receive a weekly email with some of my favorite tips, tricks, and design ideas.