Hey friends, it has been a while since I have done a post just to swoon over decor and the feel of a space. I love fall and I really like changing things up in my home to give it that cozy fall feel. My kitchen is ever changing and I sometimes do not give it the credit it deserves. Let's talk about my fall kitchen decor for a bit.
I am really good at looking at the mess, the flaws and the things I do not love. And then sometimes, I see it with new eyes and it seems to just speak to me. This year, as I re-worked the decor in the kitchen, taking things out and adding some new things, it just felt right. So, I want to show it to you and share what I love about it.
Thee first thing I added to my kitchen this fall is my newest fall printable. I am really loving this pumpkin printable and I am happy to share it with my readers.
With an antique gold frame it gives it a vintage look.
Recently I came across some really nice faux eucalyptus branches that were a pretty gold/peach/orange color and I really wanted them to be the focal point of the kitchen.
My daughter says that the kitchen looks so much more fancy with these simple branches on the kitchen island. I cant argue with her. I do think that they look pretty gorgeous in the space.
There is a lot to be said for keeping things simple. I tend to focus on pieces in my home that can be relevant all year, but that can also be pulled into seasonal decor when the time arises.
As the fall season becomes full swing, I have a lot to do including harvesting in the garden, picking peaches and apples from our trees and more!
I feel incredibly lucky to be able to use my own grown items as decor in my home as well as to be able to enjoy them in some of my favorite recipes. Check out some of my favorite apple and peach recipes below:
The Ultimate Cream Cheese Peach Cobbler Recipe
Roasted Peach Dessert with Cheesecake Mousse and Basil
Simple Summer Fruit Crostata With Lemon Cream Cheese Filling
Easy Cream Cheese and Spiced Apple Dessert with Homemade Caramel Sauce
How to Make Delicious Spiced Sauteed Apples in Minutes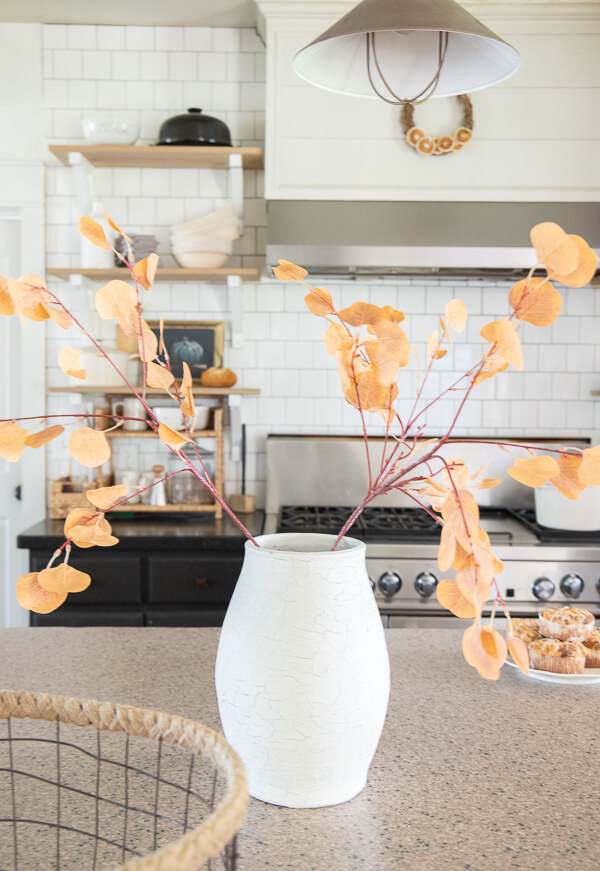 I love to combine my black dinnerware, white serving dishes and wood accents on the open shelves.
FALL KITCHEN DECOR

You can also check out the products below! Click on the image to be taken directly to that product!

I think they create a nice cozy combination that is making me love my kitchen this fall. My kitchen is a workhorse. I am constantly baking, creating new recipes as well prepping food for the winter and so much more. It is important to me that my kitchen also looks beautiful along with being uber functional.
Sometimes it takes taking a step back to see things through new eyes, and these eyes are pretty happy with what they see this fall season.
Its not a necessity to have fall kitchen decor, but I really love adding just a couple of touches to my own kitchen. Really the only things I added was a printable and some fall eucalyptus branches. A few home grown peaches, pumpkins and some yummy spiced muffins and its' got all those cozy fall vibes.
GET YOUR FREE GUIDE to 30 DIY projects that can be done over the weekend!
By subscribing, you will gain access to my FREE guide with 30 DIY projects that can each be done in a day, or over a weekend!
You will also receive a weekly email with some of my favorite tips, tricks, and design ideas.