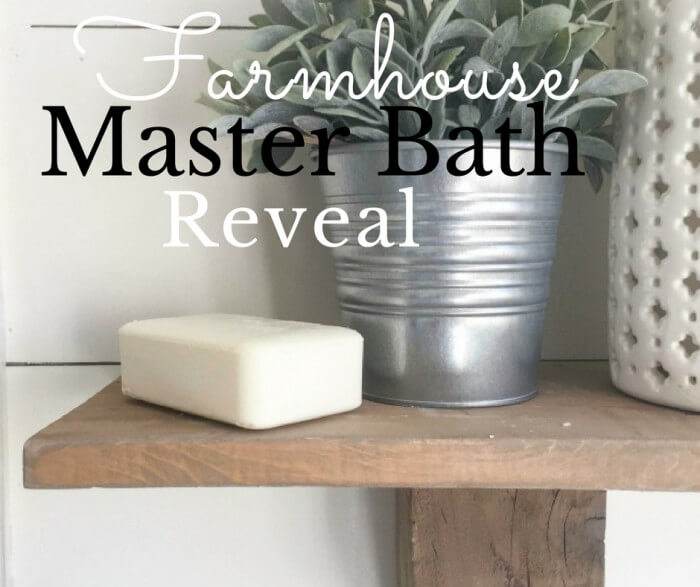 Oh my gosh.  I can't believe it has been 6 weeks since I started this monster of a project.  My farmhouse master bathroom.  6 weeks of constant working, often fighting, and putting out fires when something didn't go as planned.
But oh my gosh.  This bathroom.  It is my dream.  If I could conjure up exactly what I wanted it to look like, this is it baby.
If this is your first visit here, I participated in The One Room Challenge hosted by Calling It Home.  I have spent the last 6 weeks with my partner in crime(my hubby) creating my DREAM master bathroom. The elements in this farmhouse master bathroom are the perfect balance between vintage and modern, rustic and chic.
I focused on a few important elements that would be consistent throughout the room.
I wanted to combine a few different metal finishes.  I wanted to introduce chrome, and a little bit of oil rubbed bronze.  I feel the two compliment each other……you'll see what I mean.
So, before we get to the good stuff, here is what my bathroom looked like prior to the remodel.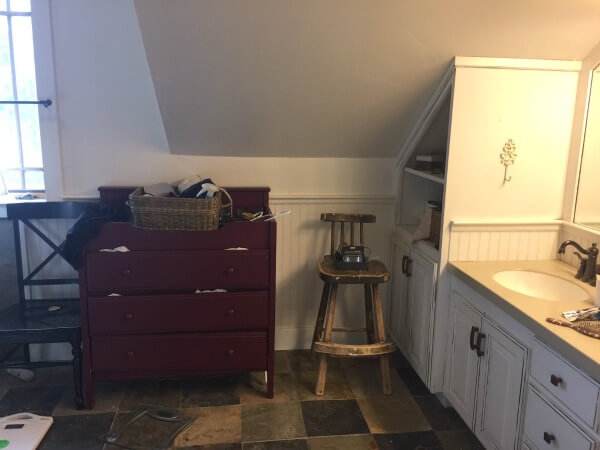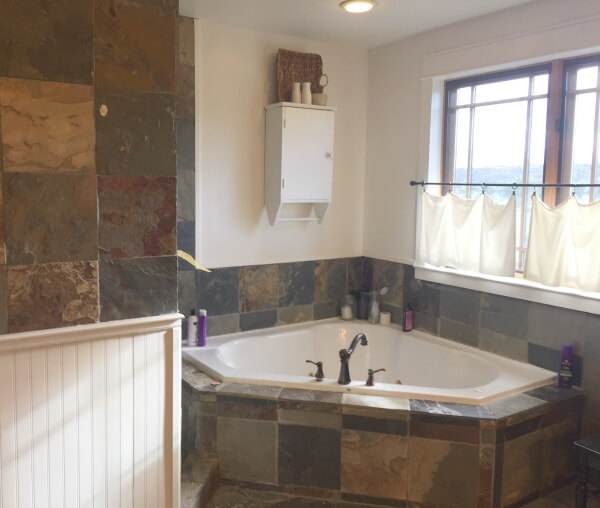 Not bad, but not great.  If you want to see the previous 5 weeks worth of work, check out these links below:
Week 1 | Week 2 | Week 3 | Week 4 | Week 5
When we built our home 10 years ago, I really wanted slate tile.  Ten years later, I found a handful of problems with having slate tile in the shower and had grown frustrated with layout.
Looking back now, I cannot believe it is the same bathroom.
I could not have done any of this if it weren't for my wonderful sponsors!  If you are intereste din any of the products in this post, I will have them listed at the bottom for convenience.
Lowes | American Standard | Fabric.com |Bellacor | RugsUSA
I will talk more about them as we go.
We chose some very classic farmhouse finishes.  Shiplap, vintage fixtures, subway tile, and raw, rustic wood.  These are the key elements to this room.  Each space flows into the next.  Its is my dream farmhouse master bathroom.
I cant really decide which part of this room is my favorite part, but I am going to start with the biggest labor of love.  The Vanity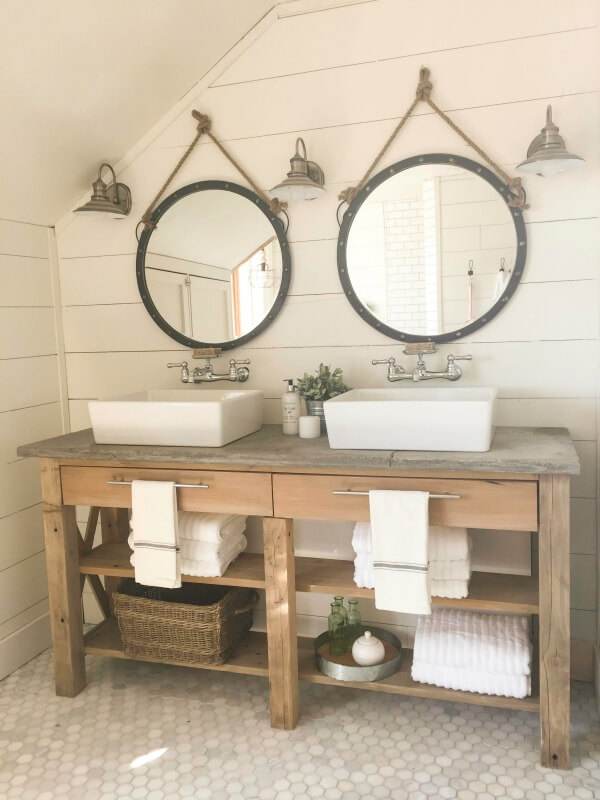 This baby right here.  It was the crux of the whole room.  Me and my husband fought more about this than we have about much else in our marriage.  I know, I call myself lucky. Bottom line, he wanted many cabinets and drawers, and I wanted an open shelf vanity.  With a little compromise we were able to create something that we both love and still have a lot of storage in the room.
Off to the left of the vanity is some built in cabinets that my husband built.  He also built the vanity.  He is an incredibly talented man.  I show him what I want and he makes it happen.   Incredible right?
He was able to create exactly what was in my head…and what was on my many pages of drawings…..it will also be in a post soon.
There is an interesting thing that happens when you combine rustic wood with simple chrome bar pulls.  I love the way the modern bar pulls look with the vanity.  I picked 12 inch pulls so that I could use them as a towel bar as well.  Multipurpose all the way.
We installed a set of beams in the space.  They are completely decorative, but they are real and they are fantastic.  The were part of my beam collection I had sitting out in my yard.  I am all about re-purposing.
I love the built in cabinets.  Something I never loved about this room was the angle wall.  I felt like it was wasted space.  Now, it is the prefect place to store all our necessities, and maybe a few Christmas presents.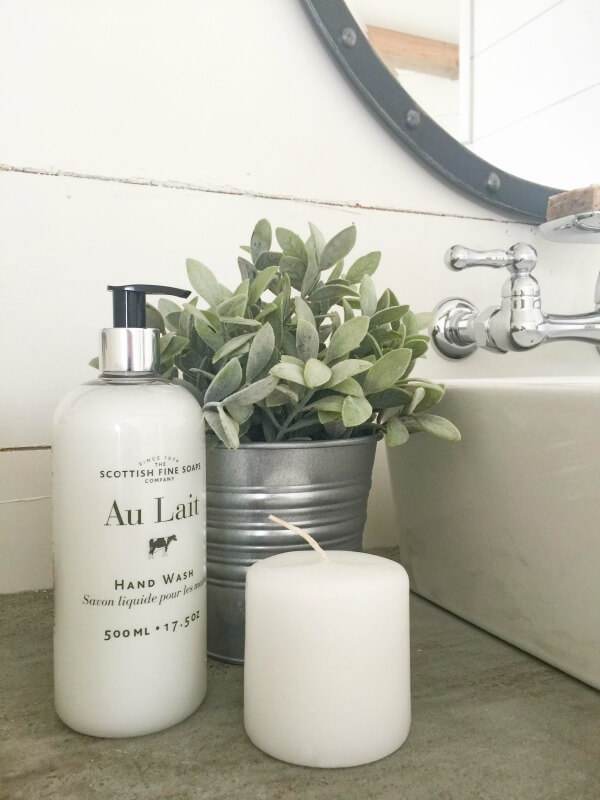 I really, really wanted concrete counter tops and these counters are exactly what I wanted, except for one awful thing.  The countertop BROKE when we took it out of the mold.  It broke in a weak spot next to the hole for the drain.  So, as of right now, we are using this as a temporary fix, but will be re-pouring a new countertop soon and will replace the broken one.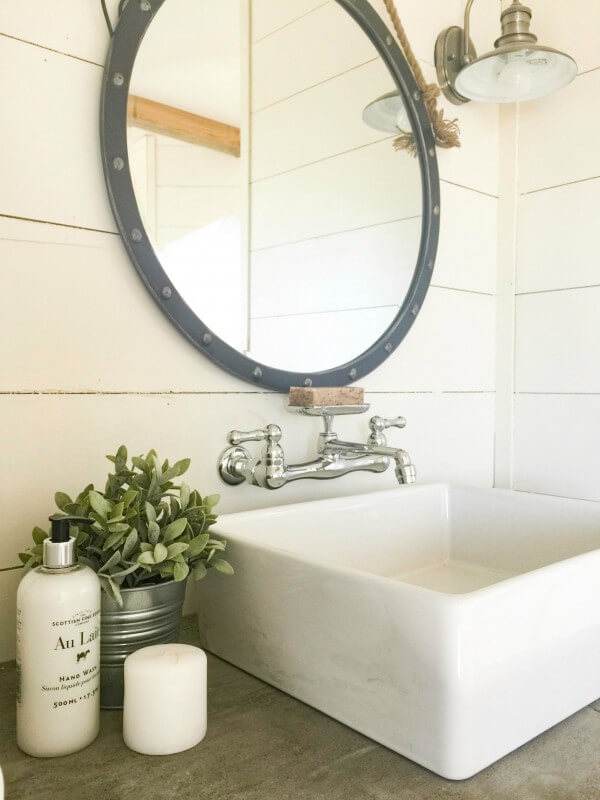 On top of our broken concrete countertop, is our awesome sinks from American Standard.   These white vessel sinks are amazing, and I am completely obsessed with my faucets.
These faucets.  They are what my dreams are made of.  End Of Story.
This faucet is also from American Standard and it is a commercial wall faucet.  The lines of it…..oh my.
It is so sexy…can a faucet be sexy?  Oh my, and the soap tray on the top…I am obsessed!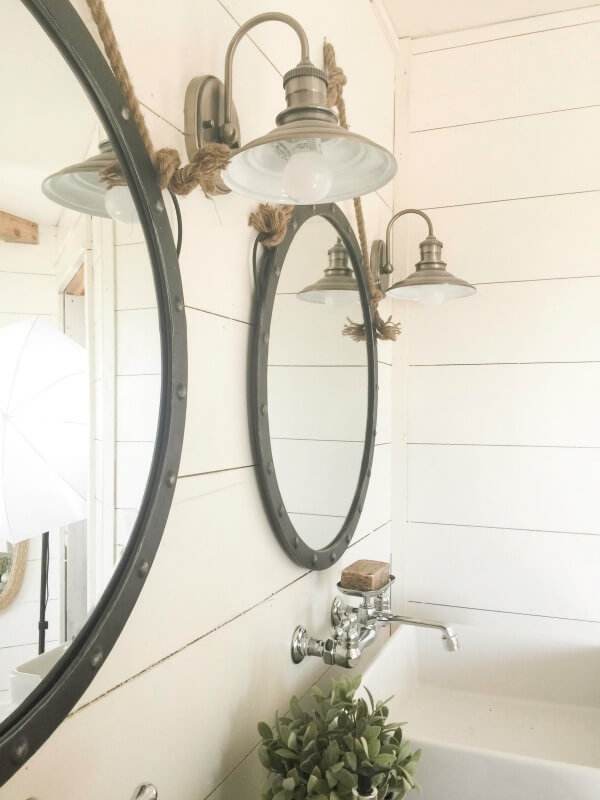 My round nautical mirrors are icing on the faucet cake.  I tell you, I cannot get over it all.  Its like a dream.  One that I lives through the nightmare first.  These mirrors are from Bellacor.  They have an amazing collection of stylish mirrors.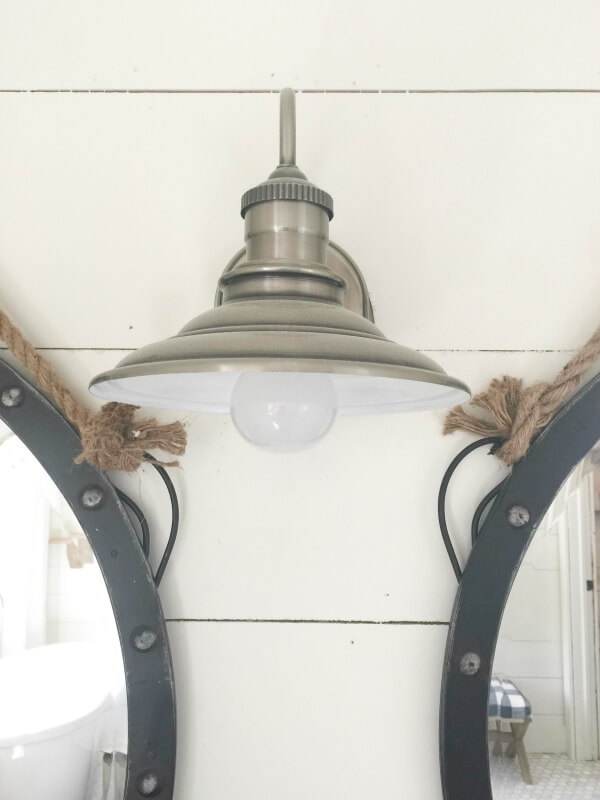 The light fixtures are from Lowes.  I chose to do three separate fixtures and hung them a bit lower than a traditional bathroom vanity light.  The lighting is perfect.  We really wanted to make sure the light hit the right height and made for a good place to apply makeup(for my hubby), and for shaving faces(my hubby again).?
Shiplap, chrome fixtures, combined with rustic wood and black metal.  You see what I mean?
This floor…I was super nervous about it at first.  It doesnt look the same in person, but somehow, once its grouted, it has the perfect amount of white, grey, and some earthy colors once in a while.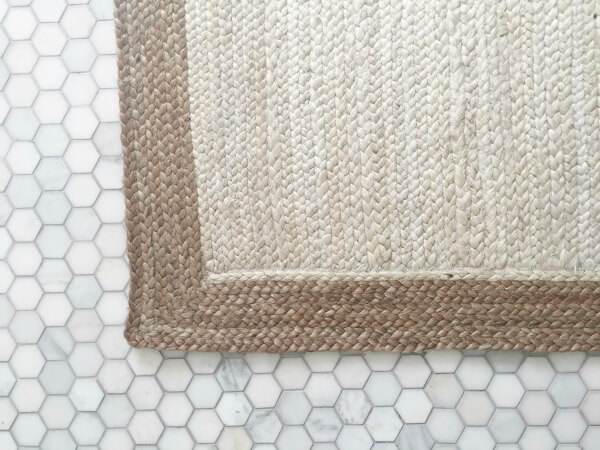 The rug.  This lovely sweetie is from RugsUSA.  I have purchased many rugs through them, and I have always been really pleased with the product I received.  This is a white and neutral jute rug.  It is so soft under foot and I love it in this room.
I think its been established that I love this room….
And now its time for the tub.
This is the Cadet Freestanding bathtub by American Standard.  It is perfect.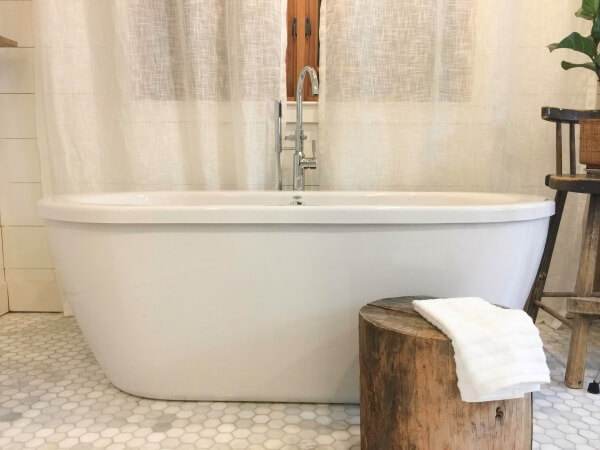 I used one of my tree stumps as a place to set your drink or book while relaxing in the bath.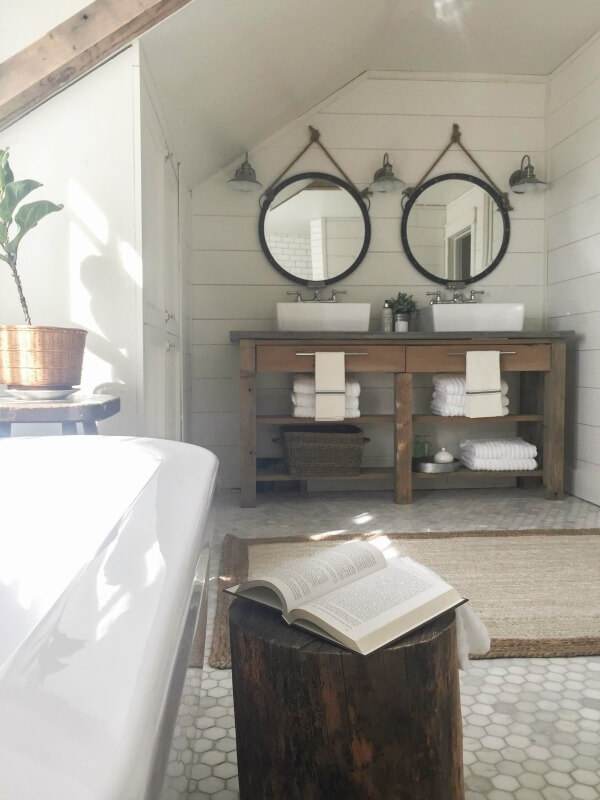 I have always been really big on baths.  I love them. I find them to be my stress relief.  This bathtub not only looks pretty but it is really comfortable.  The tub filler faucet is so cool!  I have always wanted a handheld shower faucet for the tub.  Makes cleaning so easy.
I really wanted to put a light above the tub, and I was able to retrofit one of our recessed lights to make it happen.  I will be doing a post on that later.  This light fixture is from Lowes.  The rustic metal frame fits the style of the room exactly like I hoped.  I did not want to go too fancy here, since I am all about understated elegance.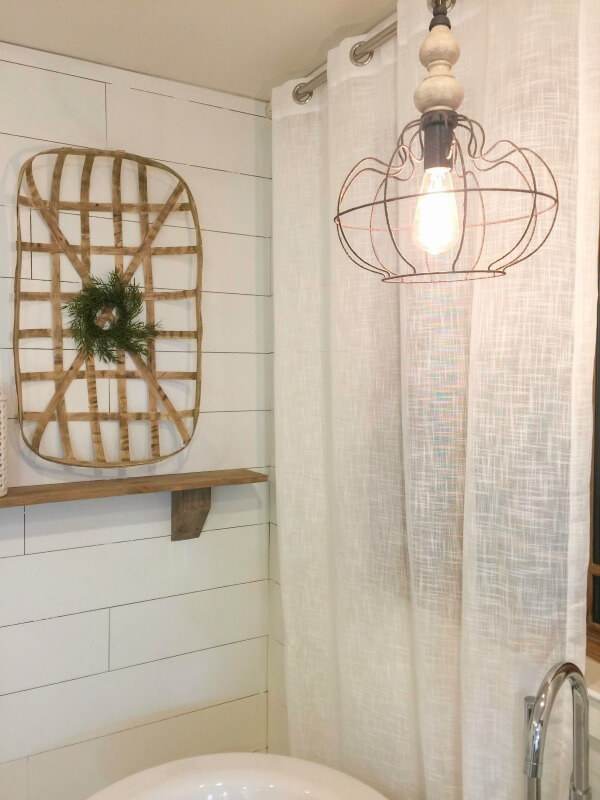 Heres a little bit of my shelving that you will also see in the toilet room. All made my myself.  No hubby involved.
My shower……
The subway tile was provided by Lowes, and my fingers literally bled from all the tiling that I did.  Beauty is pain don't you know?  This farmhouse master bathroom needed subway tile.
All of the shower faucets are from American Standard.  We ended up with two shower heads and a separate hand held shower head.
If you have kids, you know that sometimes showers are overrated, and I never feel like I have time for one.  I will definitely make time to use this space.
On the outside wall of the shower, I created a space to hang towels and relax. This space seems so spa like to me.  Simple, understated.
I found these hooks on Etsy.  They are so farmhouse style its ridiculous.
And the towels?  These are from Walmart! They are so nice.  I flipped when I found them there.
I made this bench myself, once again, without the hubby.  I was so proud of myself.  I don't like working with angles.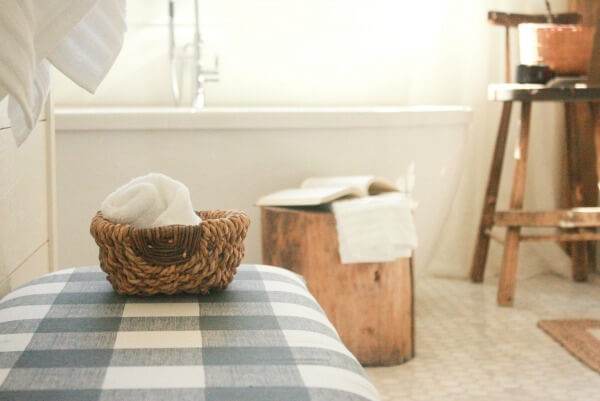 The fabric was provided by Fabric.com.  I really wanted a large buffalo check fabric and they had so many to choose from.  This is the charcoal buffalo check.  Not quite grey, not quite black, and not quite blue.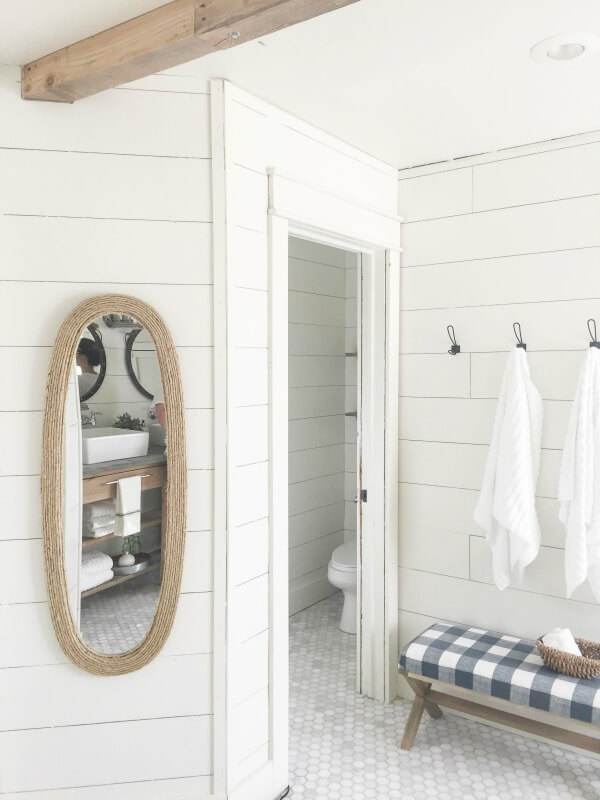 This mirror was one I found at a thrift store a long time ago.  I used rope to transform it.  I posted about it here.
I always feel like the toilet room is overlooked.  Its just a dirty smelly place right?
I created these shelves out of an old beam I had collected over the years.
What about this chicken wire toilet paper holder?  So cool right?
The last stop on our tour is to by new "old" barn door.  This door was the ugliest thing I had ever seen.  I will spare before pictures right now, since I will be posting about it soon.  But let me tell you.  Awful.
The barn door hardware is from Lowes.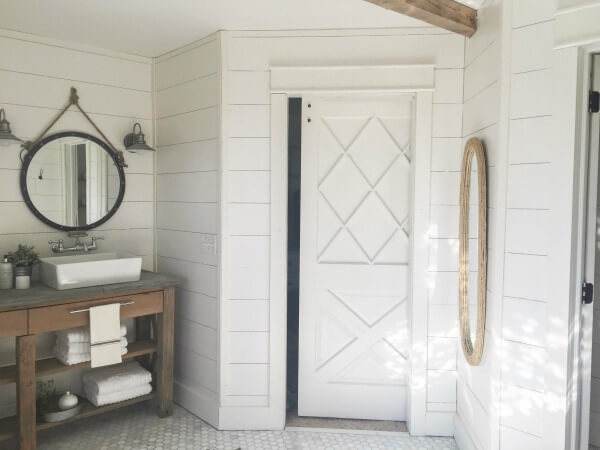 I'll just say, orangey varnish with thick yellow textured glass.  A friend of mine asked me if I wanted it, otherwise it was going to the trash. I said yes, and instantly regretted it.  I had no idea what I would do with it.  Now I know.
This farmhouse master bathroom remodel is an experience I will never forget.  I learned a lot about myself and a lot about my husband.  Even after 15 years I am surprised.  I learned to expect the unexpected and that it is okay to fight…..once in a while.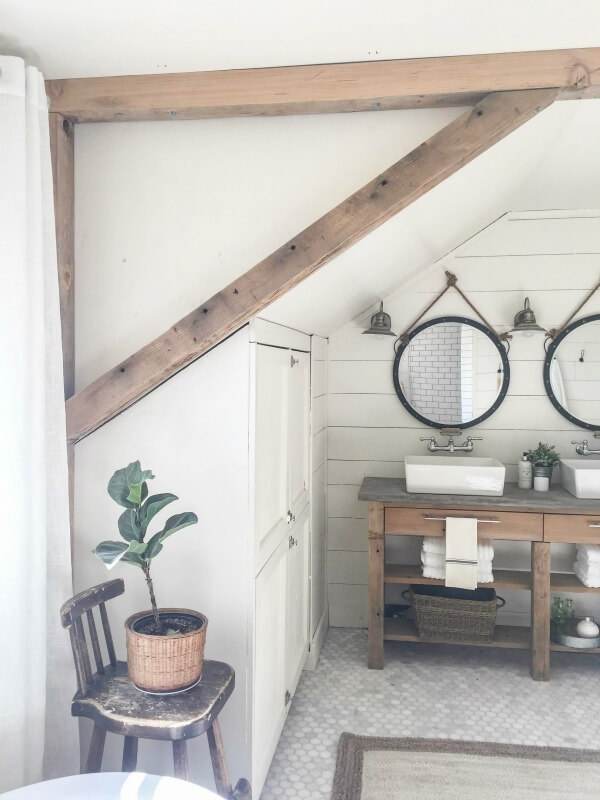 I am so very very grateful to my sponsors once again.  They were so wonderful to work with.  This has been a whirlwind.  Do I think it was a crazy project to complete in 6 weeks?  Absolutely, ridiculously crazy.  Would I do it again?  In a heartbeat.

*This post contains affiliate links for your convenience*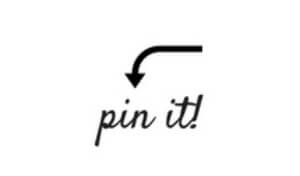 Thanks so much for stopping by to see my new farmhouse master bathroom.  It was a project I will never forget.
Have a great day and remember…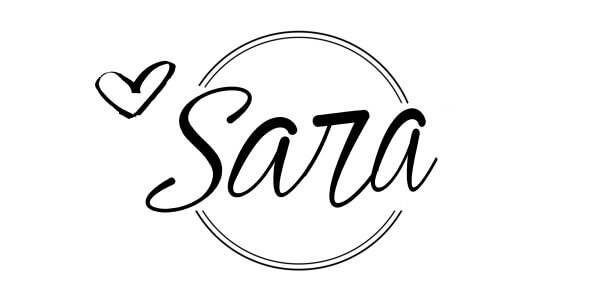 Make sure to check out these posts too!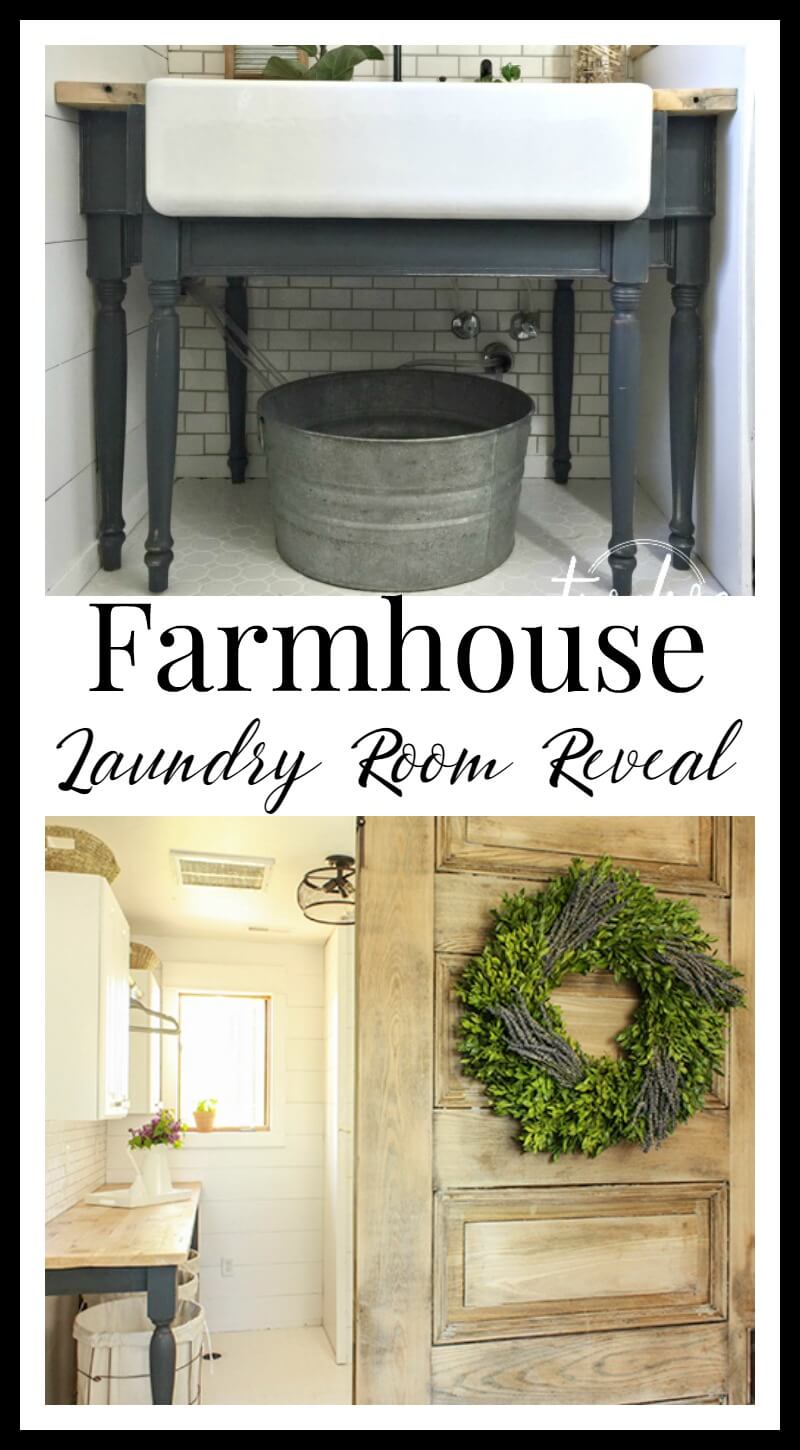 16 Bathrooms that Rock the Farmhouse Style
16 Farmhouse Style Bathroom Vanities
GET YOUR FREE GUIDE to 30 DIY projects that can be done over the weekend!
By subscribing, you will gain access to my FREE guide with 30 DIY projects that can each be done in a day, or over a weekend!
You will also receive a weekly email with some of my favorite tips, tricks, and design ideas.