Spring is a lovely time of year here at Twelve On Main. With the bulk of our cold weather finally behind us, I am finally seeing trees with little buds on them and flowers carefully reaching out of the soil, ready for some warm weather. With the warmer weather, I am finally able to open my windows, and feel a little fresh air in my home. Its is time for my farmhouse for spring.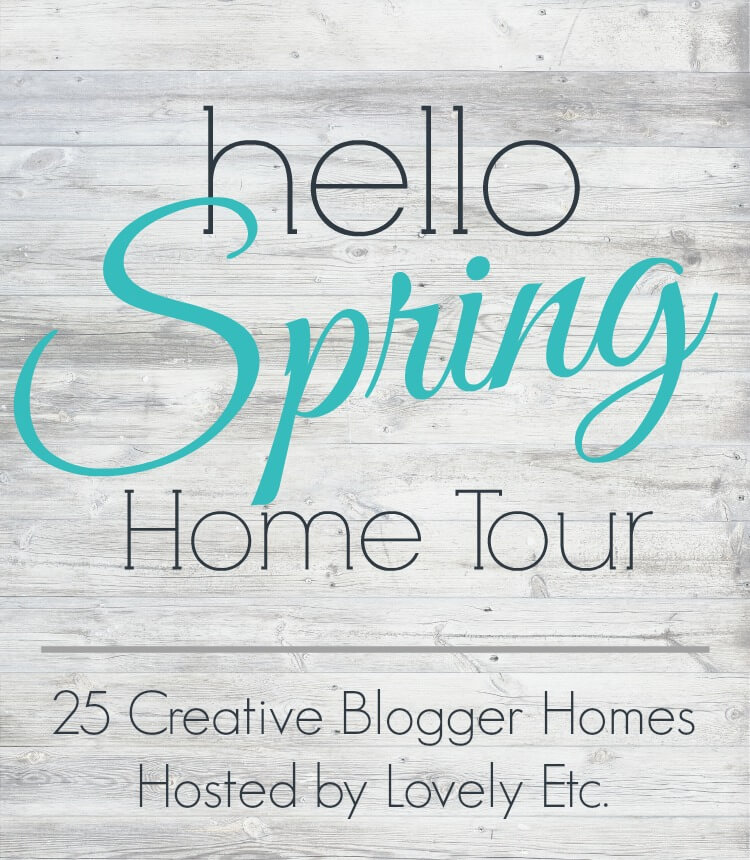 I have joined up with some seriously crazy talented bloggers to bring your our Hello Spring Home Tours. Starting today and continuing each day this week, will be new home tours every day! Make sure to check the links at the end of the post to check out all the other amazing home tours.
Welcome to my farmhouse for spring.
I don't know about you, but it becomes increasingly evident that my home needs a good cleaning, dusting, and freshening up.
Its almost as if my home starts to highlight the drab and dusty feel that so many months of cold weather and fires in the fireplace have done to my home.
I thought I would start at our entry. I have been currently remodeling our entryway for the $100 dollar room challenge.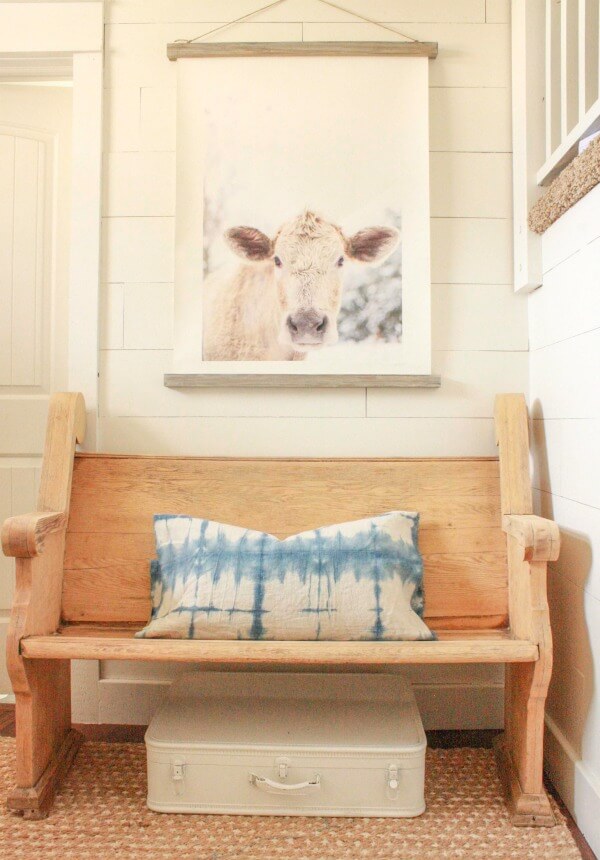 And since the whole room is not quite finished, I thought I would give you a sneak peek as to what it is looking like right now. I have chosen some bolder accents for the space. Well, bold for me at least. I think I found the perfect place for my cow print.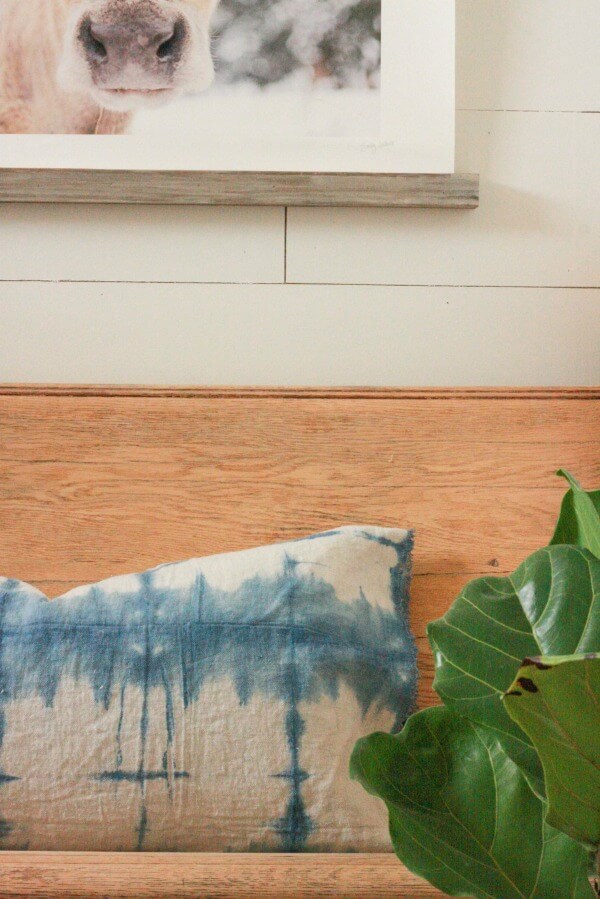 I will be finishing the room this week and revealing it this Wednesday, so make sure not to miss out. Until then, just enjoy the sneak peek!
As we wander past the entry, I have a small vignette set up in the hall. My DIY tobacco basket along with my reclaimed wood table work well together to create a simple farmhouse space.
Moving on you will find my family room.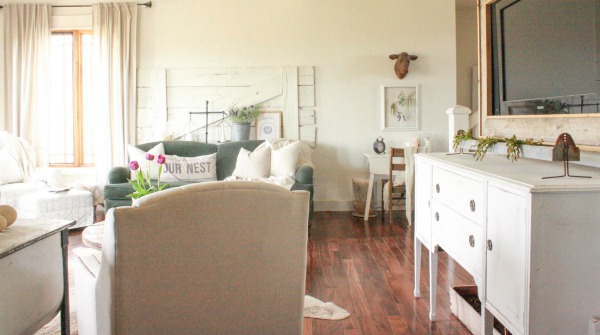 This year, I was really feeling like I needed a change. My family room is the heart of our home. We spend hours in here, visiting with friends and hanging out with our children.
I have loved having our leather couch in there, but I have wanted to switch things up as of late. My master bedroom is going to going through some changes of its own as we begin the One Room Challenge once again, and I was in need of moving a couch that has been sitting in our room. It had been covered in a slipcover, since I wanted something lighter in my room.
But, I have always loved the fabric and the lines of this couch. I wanted to add a few touches of color into my family room this year. It has been such a soft and very neutral room for so long, I thought spring was the perfect time to add this couch to the room.
The corduroy texture of the couch is lovely and the green color is muted and soft. I really love the way it looks in space.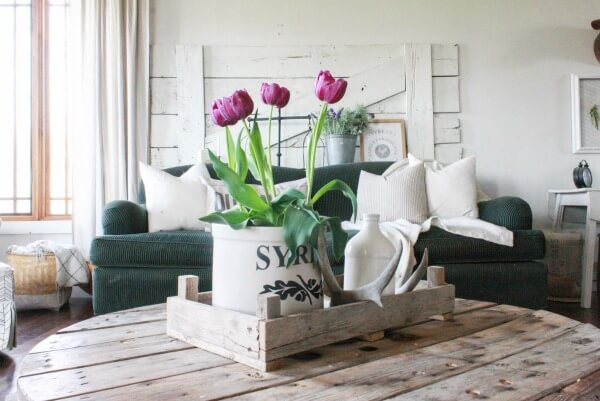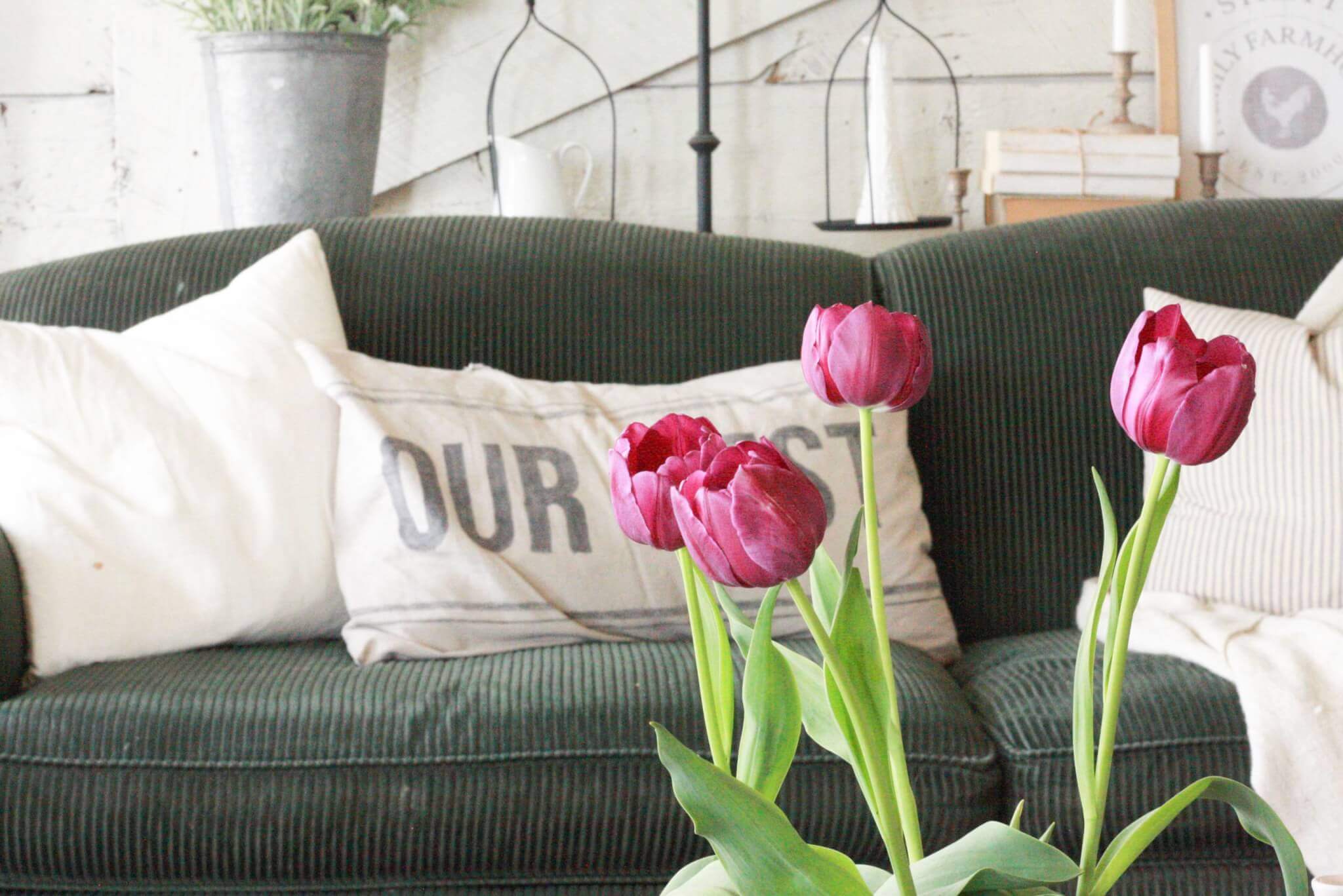 I centered my whole family room around these beautiful tulips that I found the other day. They were the perfect touch of color to the room. I kept much of everything else neutral except for a few touches in the room. These tulips were perfect for my farmhouse for spring.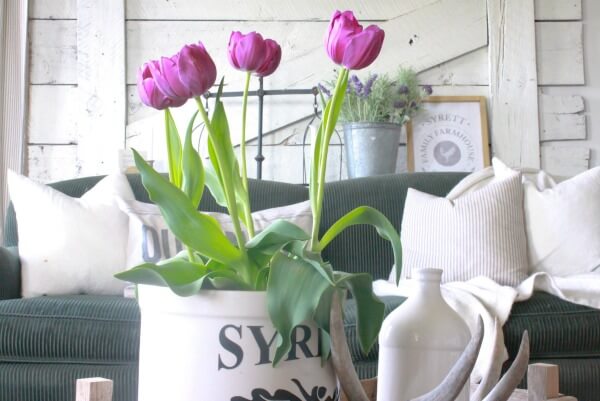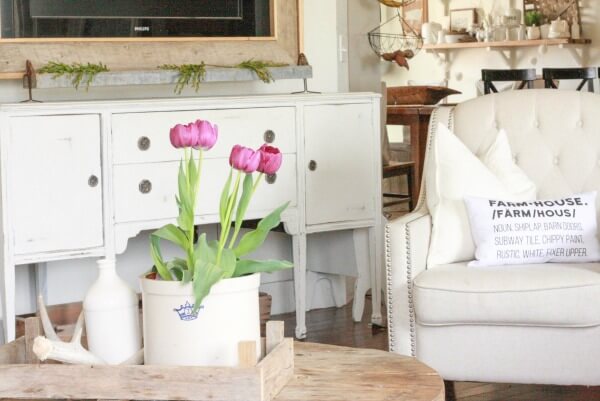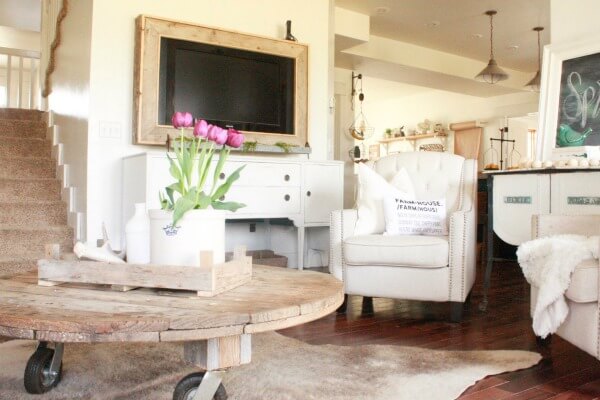 I used my DIY barn door as the backdrop above my green couch. The texture of the weathered painted wood is my favorite.

The contrast of the soft, velvety texture of the couch against the rough, painted wood are the perfect compliment. I kept the accents simple there. A galvanized bucket full of lavender and thistle. I also added my favorite farmhouse scale.
This space is one of my most favorite places to be. I should also mention that the views from this room are amazing. Out some of the windows you can see Bryce Canyon National Park, and the other windows, the Escalante Mountain. Its true I am spoiled.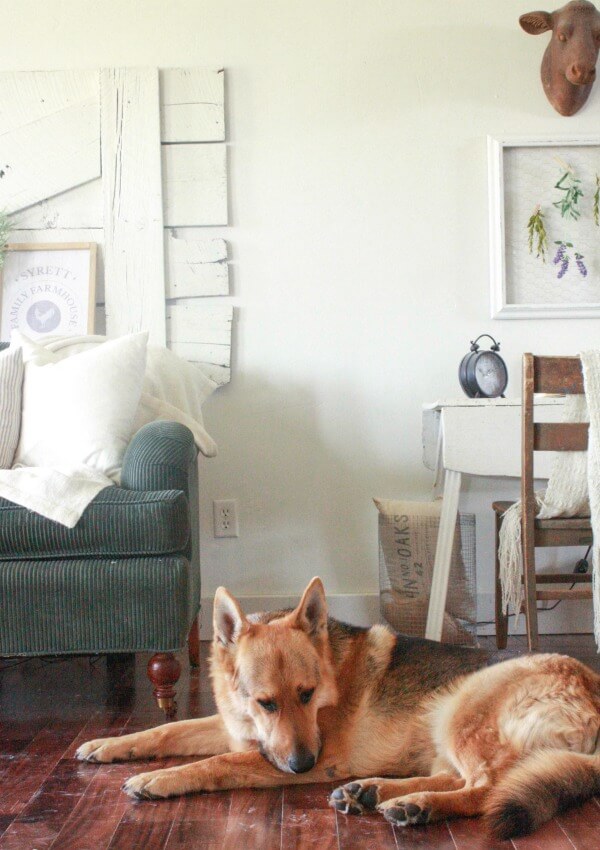 My sweet pup is never far when I am taking photos. He cannot seem to stay out of my shots. He is where I am, always.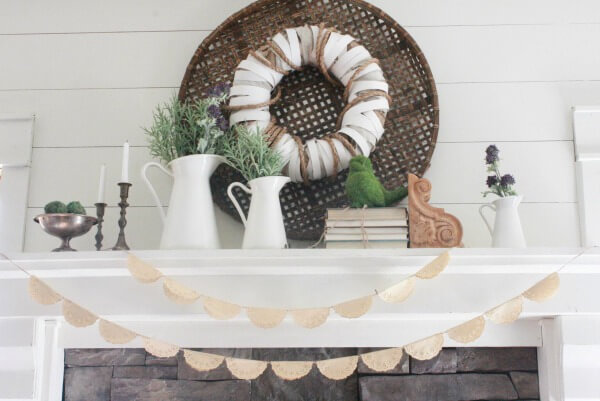 I posted about my farmhouse spring mantel decor last week, so if you want to see more of that, you can check it out here.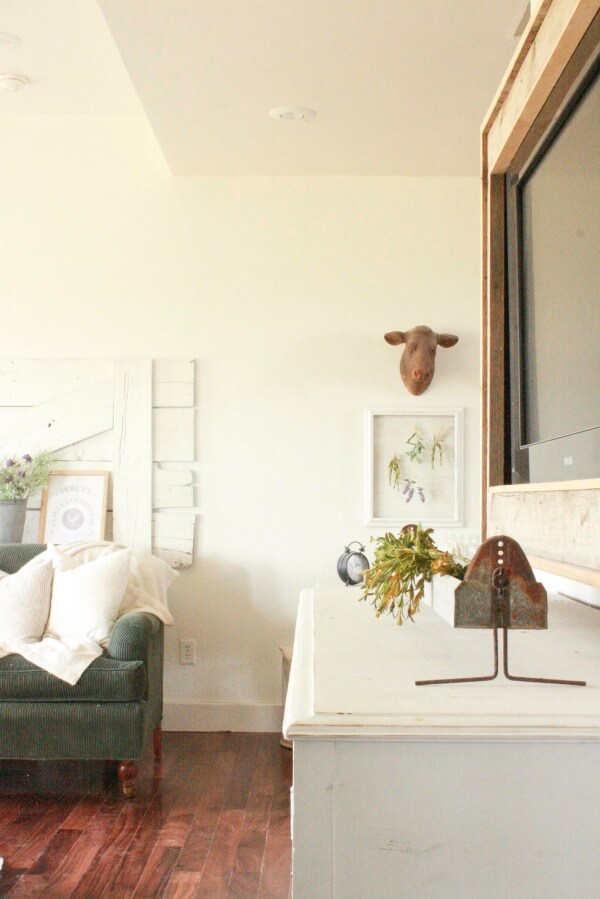 It doesn't take much to create my farmhouse for spring. An old weathered chicken feeder with some greenery is all you need sometimes.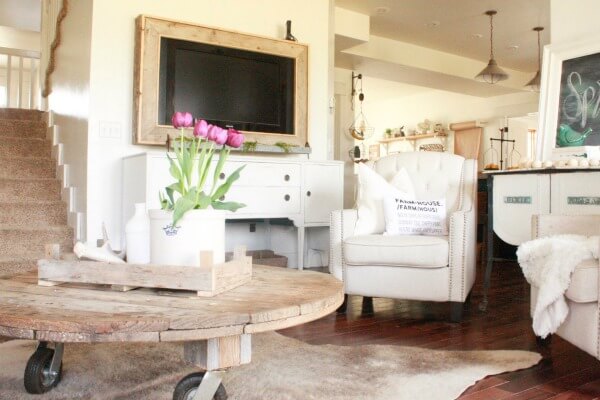 Opposite my couch is my set of chairs with my washtub as a side table. Atop the side table are a few of my farmhouse books, along with my sweet little ceramic bird.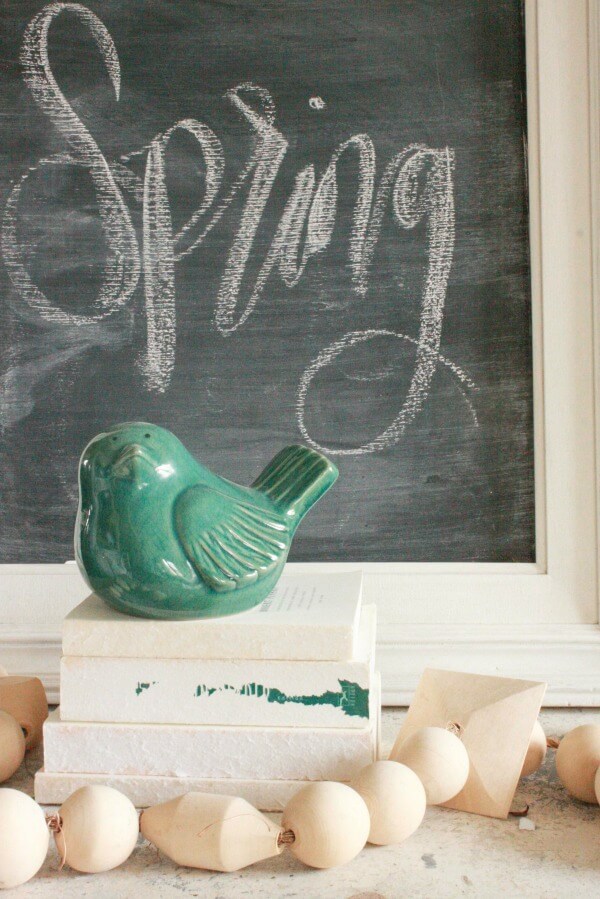 Wandering past my family room is my kitchen, which I have kept quite simple.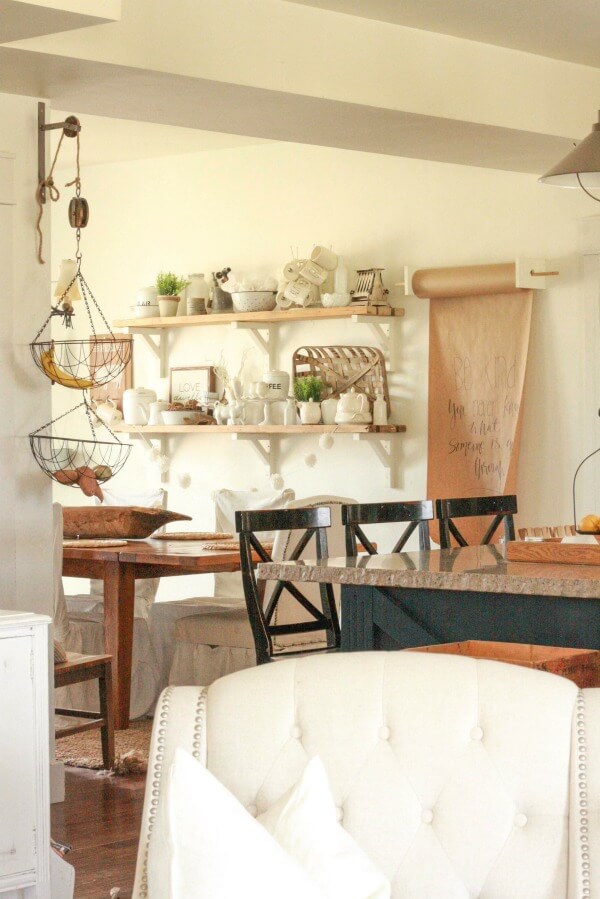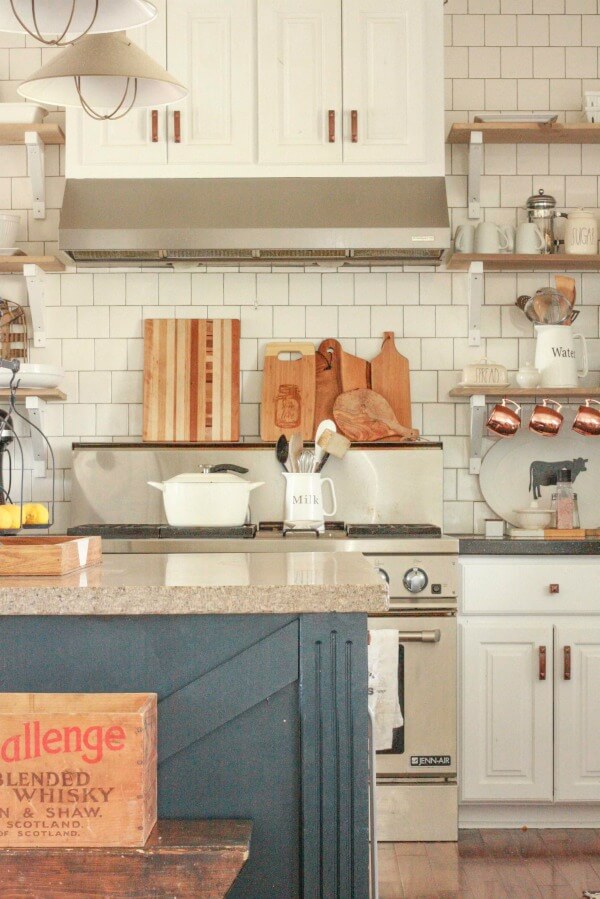 White, raw wood, and navy blue. It is where I spend most of my days. I am still in love with new kitchen.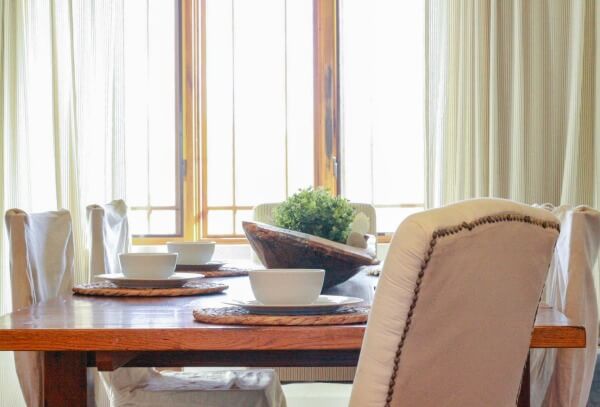 My dining room is transformed simply by adding some braided plate chargers, my antique dough bowl full of faux greenery.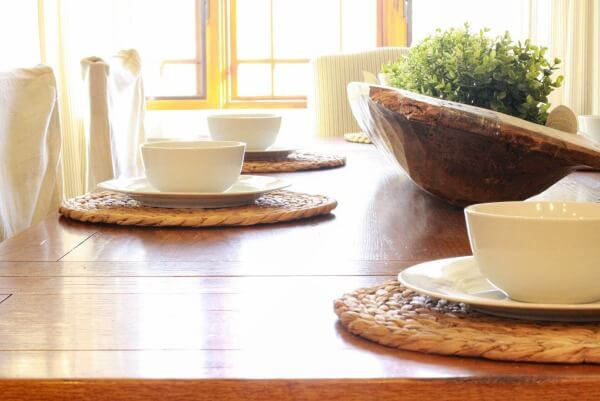 This is my favorite way to keep my dining table. It is simple and serene. The natural materials and textures along with the greenery is perfect for spring.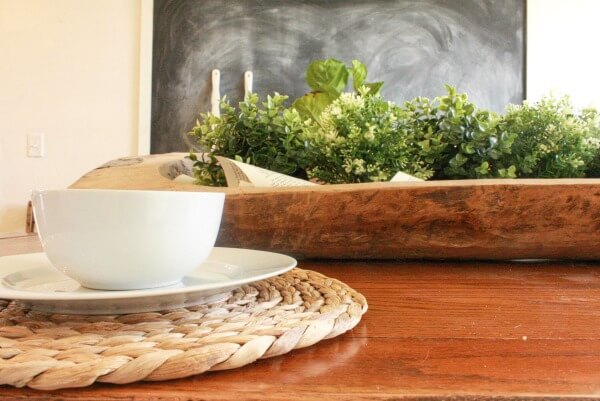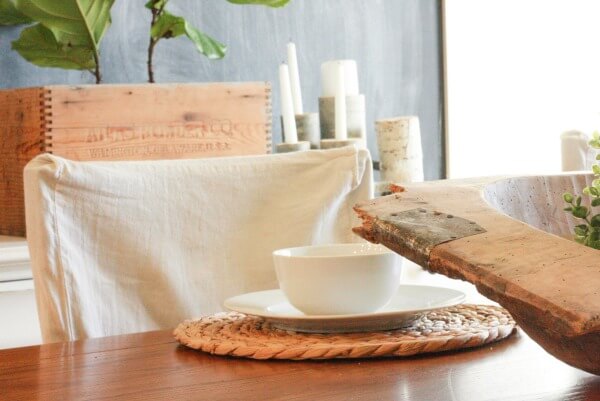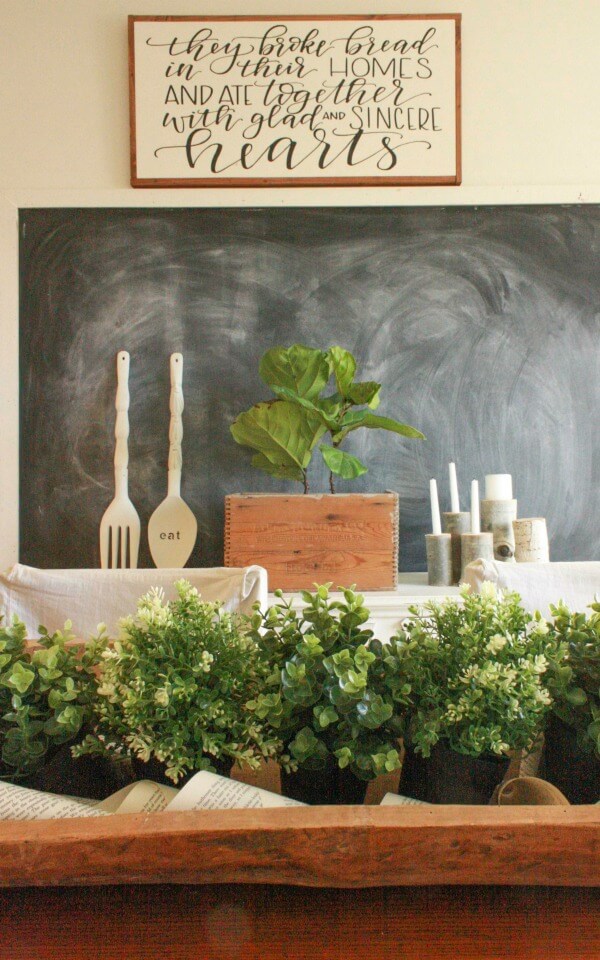 To the side of my dining table I set up my new fiddle lead fig tree in a vintage crate flanked by over sized utensils and some birch candlesticks.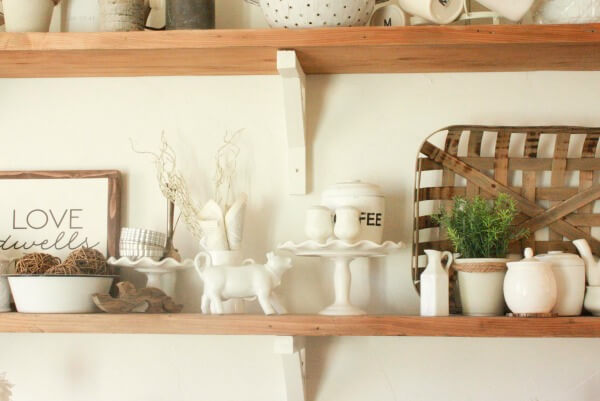 My farmhouse shelves are decorated simply with my pottery collection and some greenery.
Creating my farmhouse for spring is simple. The great thing about decorating like this is that it can practically carry your home throughout the summer as well. The greenery creates a bright space, a space that is inviting and cheery.
We always look forward to the fall, and then I really love the winter, but nothing can compare to the spring, when the world comes to life again! Watching the trees, plants, and flowers begin to show life again renews my own clock. I am thrilled to have been part of this Hello Spring Home Tour Hop, and I hope you will check out the rest of the links below. It is a great collection of diverse home styles. There is something for everyone.
Make sure you PIN IT!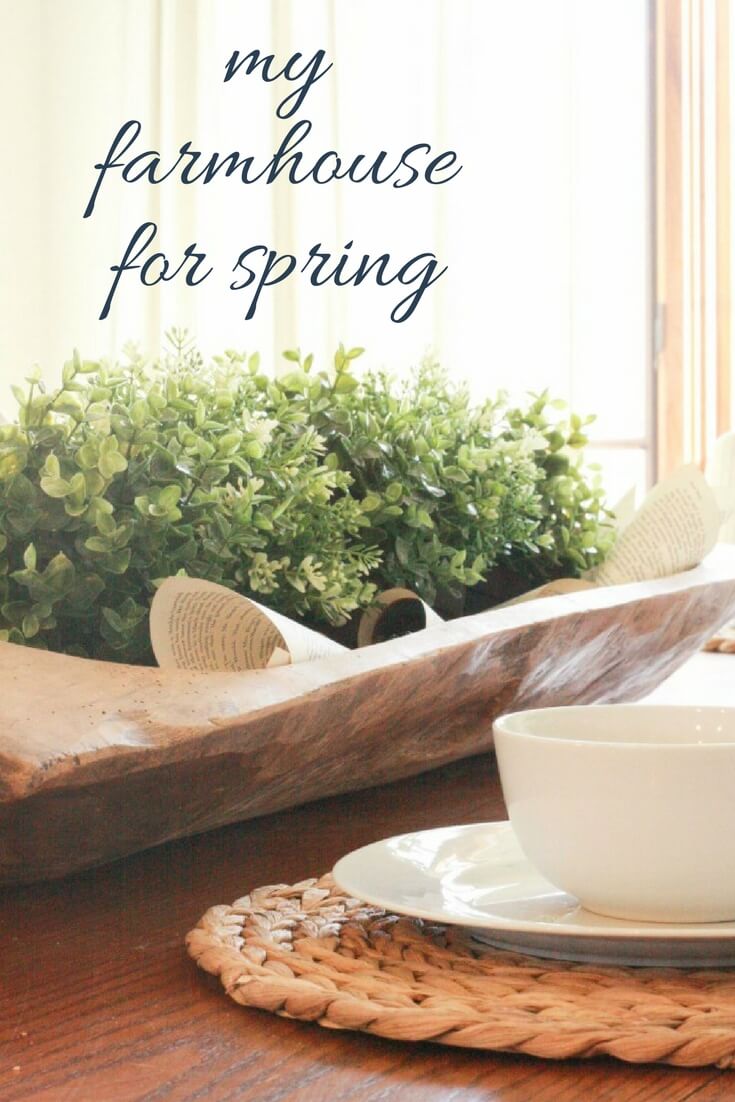 *Just a little note, that this link up is solely for the participants of the Hello Spring Home Tour. Please do not add your links. Thanks and enjoy!*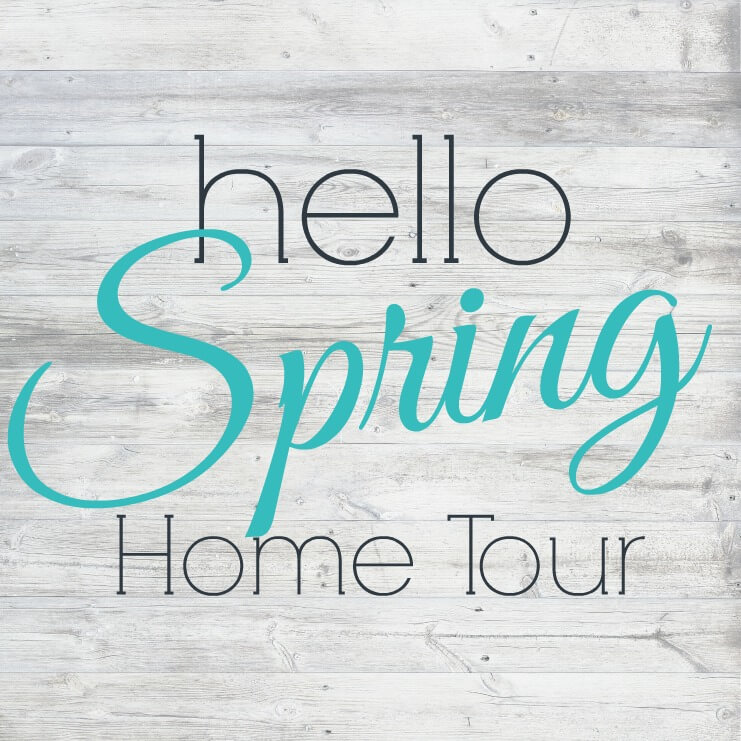 Make sure to check out my other season home tours and see how I decorate throughout the year: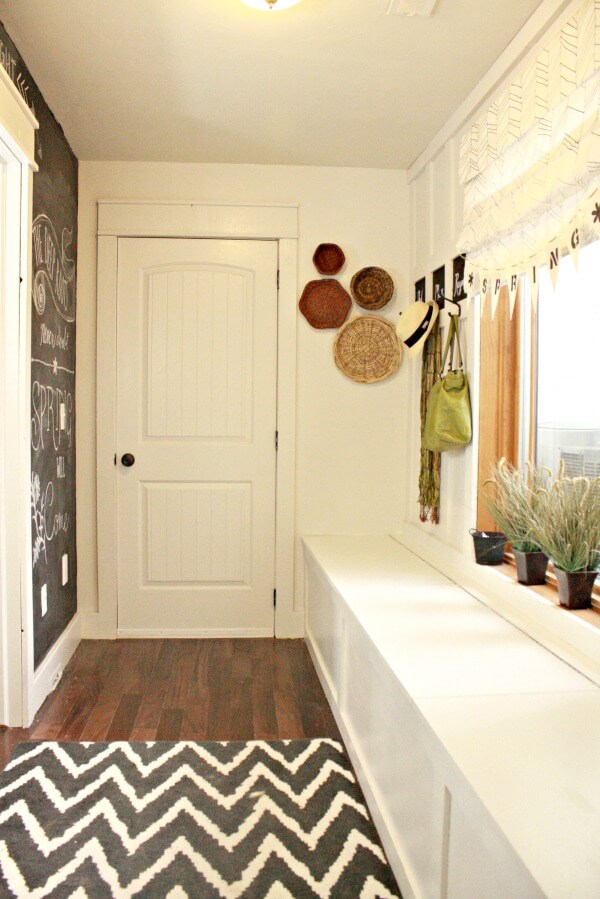 Spring Mudroom Decor Must-haves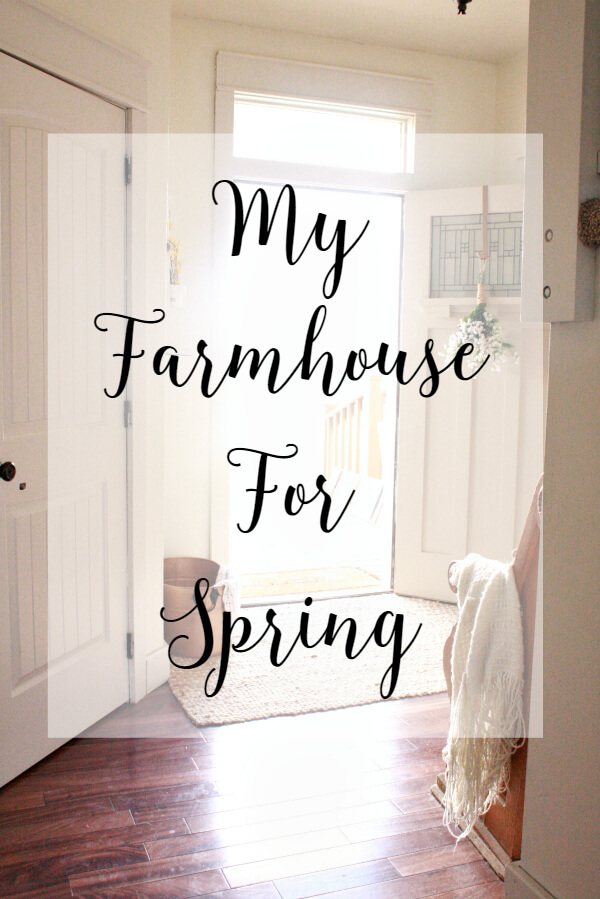 Farmhouse Spring Decor ; My Spring Home Tour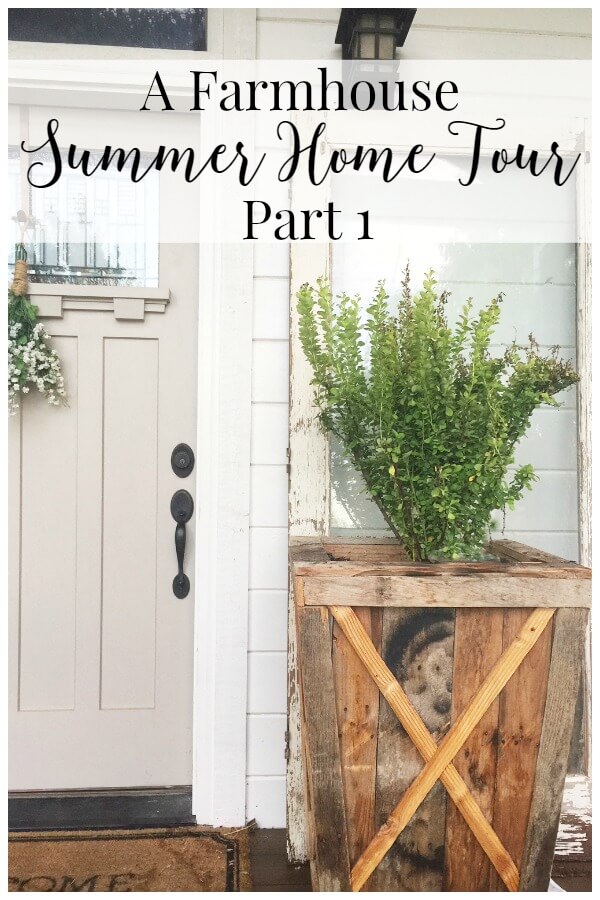 A Farmhouse Summer Home Tour Part 1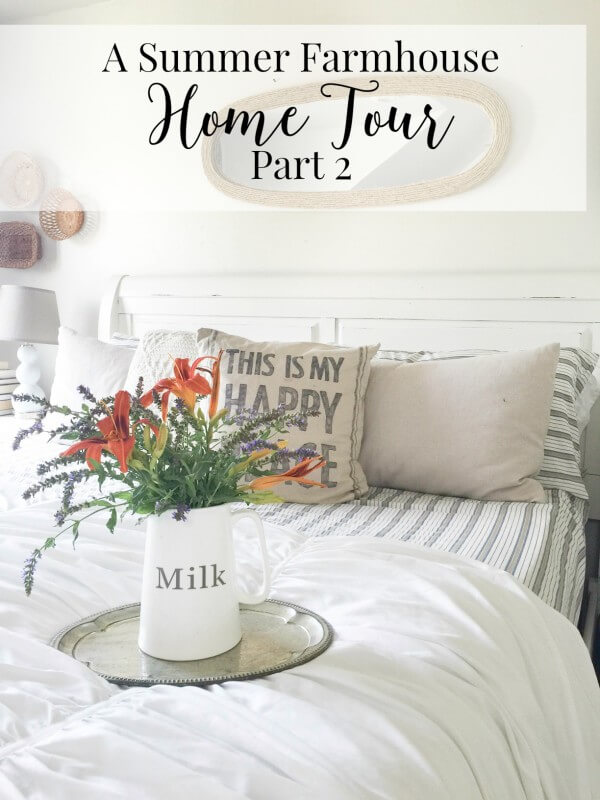 A Summer Farmhouse Home Tour Part 2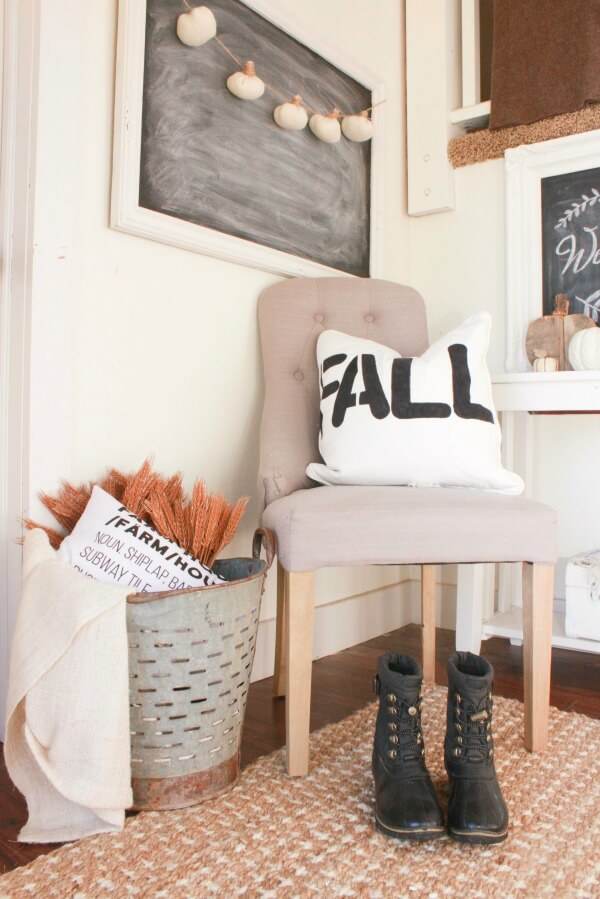 GET YOUR FREE GUIDE to 30 DIY projects that can be done over the weekend!
By subscribing, you will gain access to my FREE guide with 30 DIY projects that can each be done in a day, or over a weekend!
You will also receive a weekly email with some of my favorite tips, tricks, and design ideas.