During July, we have an influx of apricots in our town. Some years there's more than anyone can handle. This year, most of them froze with the late freeze we had. It was a big disappointment to say the least. But last week, I was able to get my hands on a box of amazing fresh apricots and I knew I needed to make the most amazing cheesecake apricot cobbler. This stuff is so good, its tart, creamy and sweet with the cake cobbler topping. It is perfect with vanilla ice cream and such a good use of the sweet fruit during apricot season.
Jump to Recipe
If you have made my peach cobbler, this is a similar recipe with just a couple changes. This fresh apricot cobbler recipe is so easy to make and using apricots makes it even easier since you do not have to peel them! Just slice in half, cut the seed out and slice them.
I am a huge fan of stone fruit and apricots are near to my favorite. I love homemade apricot fruit leather or fresh, ripe apricots right off the tree.
Lets talk about how to make this simple and refreshing apricot dessert:
First, wash the fresh fruit and heat oven to 350 degrees F. Depending on the size of the apricots, you may need more than you think. The apricots I had were the size of peaches!
Next, take the cake mix, room temperature butter and eggs and crumble it together in a large bowl.
Spray nonstick spray on the bottom and sides of a square baking dish, 9 by 13 pan or whatever you choose. Place about 1 cup of the flour mixture in thee bottom of the pan and spread it out. Press it into the pan and then bake it in the oven for 10 minutes or until very lightly browned.
While the base is cooking, slice and combine apricots with 3 tablespoons of sugar and 2 tbsp of lemon juice on the apricots to help slow the browning process and add a bit of sweetness to the apricots. They are a little tart compared to other stone fruits.
In a medium bowl add the cream cheese, sugar, vanilla and eggs. Mix them with a hand mixer or in a a KitchenAid until it is well blended and creamy.
Take your pan out of the oven and pour the fruit filling over the top of the baked base. Next, pour the cheesecake mixture over the apricots evenly. Last, sprinkle the rest of the cake mixture over the top covering all the apricots and cheesecake mixture. Bake it for 25-30 minutes until light golden brown on the top.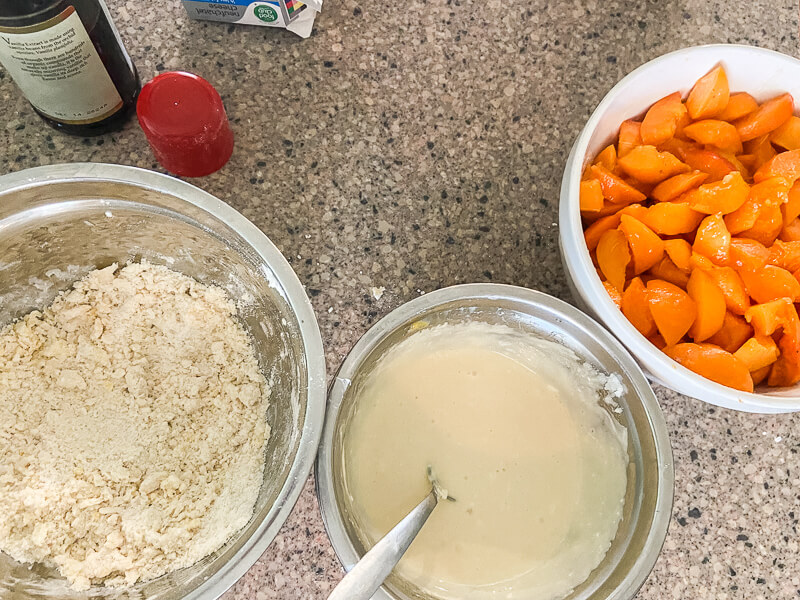 Take it out of the oven and let it cool for about 30 minutes. You can serve it hot with ice cream or whipped cream, but I truly think it tastes even better when the cream cheese mixture sets a bit. This summer dessert is so amazing and so easy to make too!
This easy apricot cobbler is so perfect with the creaminess of the cheesecake mixture and the tart acidic taste of the apricots. The sweetness of the cake base and topping compliment it all. It is such a well balanced treat and there is nothing that compares to apricots when they are cooked. They go from a mild flavored fruit to an intense tart and flavorful fruit.
I love stone fruit cobbler whether it is peach or apricot. But, this apricot cobbler is absolutely amazing. It is a delicious dessert and one that you should definitely try if you get your hands on some amazing apricots.
I often think that apricots are the ignored fruit when it comes to desserts, but oh my gosh that can make some amazing easy recipes that are flavorful and satisfying. This is definitely a family favorite! IMagine it with a scoop of ice cream, yum!
I have a couple other apricot recipes I will be sharing throughout the week including apricot fruit leather! This is by far one of my kids favorite treats during the summer. I literally have to hide them in the freezer and restrict them to only one!
Get the full apricot cobbler recipe below!
Fresh Cheesecake Apricot Cobbler
The tartness from the apricots and the creaminess and sweetness from the rest create an amazing combination. This is the perfect dessert to use those fresh apricots for. It is great with ice cream or all on its own.
Ingredients
4-6

cups

sliced fresh apricots

1

pkg

White cake mix

1/3

cup

room temperature butter

2

large

eggs

8

oz

room temperature cream cheese

1/3

cup

sugar

for cheesecake mixture

2

tbsp

sugar

for apricots

1

tsp

vanilla
Instructions
Begin my preheating the oven to 350 degrees F

Wash and slice your apricots

Take one egg, butter and the white cake mix and mix using a fork or your hand to create a crumble.

Spray your pan with nonstick spray

Reserve 1-2 cups of the mixture and take the remaining and press into the bottom of your pan. I like to use a casserole dish.

Bake in the oven for 10 minutes.

While the base os cooking, mix the cream cheese, egg, sugar, and vanilla with a hand mixer or KitchenAid. Make sure that it nice and smooth.

Take the pan out of the oven, add the apricots. Top it with the cream cheese mixture and then the remaining crumble mixture.

Bake it in the oven for 25 minutes. The top should be light golden brown.

Let it cool for about 210-30 minutes before serving. You can serve it warm or cold, however I like it cold! Its great with ice cream or whipped cream as well!
Want more amazing summer dessert ideas? Check these out:
The Ultimate Cream Cheese Peach Cobbler Recipe
Roasted Peach Dessert with Cheesecake Mousse and Basil
Easy Strawberry Banana Cheesecake Salad
Creamy No Churn Cheesecake Ice Cream
Easy and Decadent Cheesecake Mousse Recipe
GET YOUR FREE GUIDE to 30 DIY projects that can be done over the weekend!
By subscribing, you will gain access to my FREE guide with 30 DIY projects that can each be done in a day, or over a weekend!
You will also receive a weekly email with some of my favorite tips, tricks, and design ideas.