How to Choose a Kitchen Backsplash
How to choose a kitchen backsplash? Believe me, I have spent many hours researching, a lot of time at the stores staring and changing my mind, only to be back at square one, and be afraid I made the wrong choice. Let me help you choose a kitchen backsplash that is right for you!
First, lets talk about the different options for kitchen backsplashes:
I think it is important to dial down your decision first to what material you want to use. This will help you narrow down your options. Here are the most popular materials used.
Porcelain Tile
Ceramic Tile
Metal
Natural Stone
Glass
Wood
Porcelain Tile
Porcelain tile is one of the most popular materials to use for backsplashes. Porcelain is a strong clay that is fired in a kiln. It is stronger than Ceramic tile and there are less chances for chipping. These simple square tiles were porcelain and were actually quite affordable.
Ceramic Tile
Ceramic tile is a great option for backsplashes because of the unlimited options. It is generally less expensive than porcelain tiles. There are so many options available These mini subway tiles were ceramic and were very affordable and easier to cut than the porcelain tiles we used for our kitchen.
Metal
Metal backsplashes can be so gorgeous, and can give either a streamlined and modern look, or with metal tiles you can add texture and a rustic edge. Here are some examples of metal kitchen backsplashes.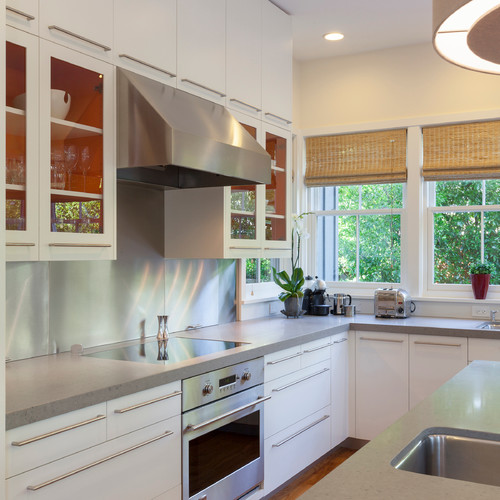 Concrete
You can find beautiful concrete tiles which generally have more design and pattern to them, and look more painted than machined. Here is am example below.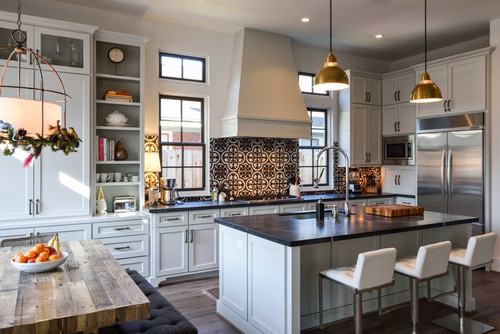 Natural Stone
Natural stone is a very popular option for kitchen backsplashes. How to choose a kitchen backsplash? Gosh, you cannot go wrong with natural stone. Tumbled marble, travertine marble, slate, granite, soapstone and more. There are so many gorgeous options for natural stone backsplashes.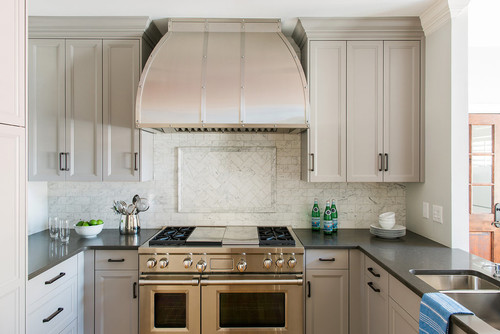 Glass
If you are wanting to add a more modern or clean look to your kitchen, a glass backsplash is perfect for you. There are a couple things to consider such as if the glass tile is transparent, you might see the thinset marks behind them, so make sure to paint or be aware of that.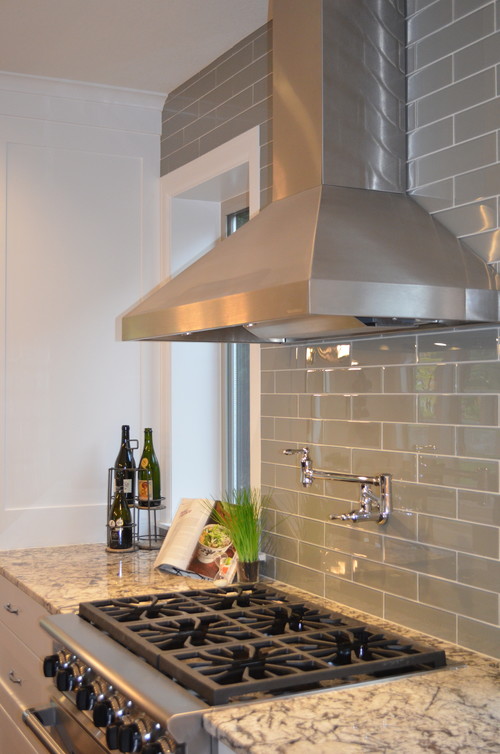 Wood
I have seen many beautiful backsplashes made with wood. Whether you use rustic paneling or a machined streamlined piece of wood, or even wood tiles, you can add so much warmth to your kitchen!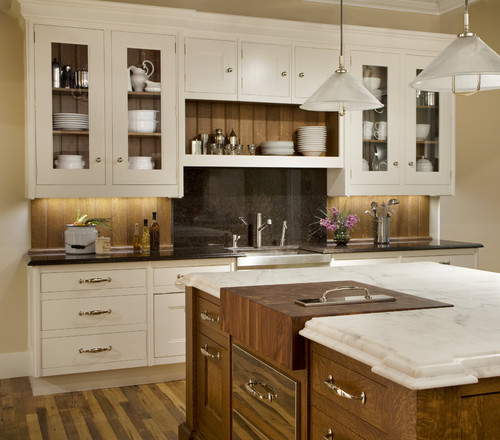 Form or Function?
Now, if you are looking for a material that is highly functional and easy to install, ceramic tile is your go to. Glass, natural stone and porcelain tile are harder to get a clean cut when cutting your tiles on a saw(i know this from experience) but well worth it because of their beautiful options. Metal is harder to keep looking clean because it is a shiny surface, as well as glass. This is good to keep in mind depending on how much maintenance you want to put into cleaning.
If you want to use wood, make sure to seal the wood with a poly-acrylic to protect it when wiping down. No matter how careful you are, you will have to clean your backsplash occasionally. Make sure that you are using clean and asbestos free wood no matter what.
Go Simple or Use a Design?
This is where I sometimes scratch my head and feel like I am not sure what to advice to give. Adding a backsplash with a pattern or design is a great way to add style, interest and texture to a kitchen. It is also something to be mindful of. If you dive in and add a patterned tile that is very trendy at the moment, you may tire of it soon, and it might also date your kitchen sooner.
My advice is to find something with a timeless design that can stand the test of time. Simple designs, or patterns that hearken to the past as well as the present are safe bets.
Going simple is also a great idea, a simple stone backsplash can add texture and design to a kitchen without being too busy.
In the end, install the backsplash what you love..
With all the changing trends and designs that come in and out of fashion, one thing is more important….do what you love and what makes you happy. What is the point of installing a tile backsplash just because it's what you are supposed to like or it is what will be the most timeless. I have changed out my backsplash as my tastes have changed, you can see how I removed a backsplash here.
I hope to always be a source of inspiration for my readers and if you are looking for more information on how to choose a kitchen backsplash, make sure to follow me on Pinterest and check these posts out below as well:
Amazing Kitchen Backsplash Ideas
Over 50 of the Best Farmhouse Tile Backsplash Ideas
20 More Incredible Modern Farmhouse Tiles with Sources!
18 Incredible Farmhouse Bathroom Floor Tiles