Our winters are harsh. Our outdoor areas pretty much get packed up, covered up and used as a storage space for firewood, and other winter necessities. So when the weather warms up finally, and we are able to break out of the winter slump, there are a few things we like to do to clean a patio so we can enjoy it throughout the summer while easily washing off the dreary winter leftovers.
Usually May is the time when we tackle our outdoor patios and porches. This year we were a bit behind for many reasons….one being the weather did not cooperate for about an extra month. Another being we have been planning a bit of an update on our outdoor back patio and We needed to do a few things before we could do a deep clean.
There are a few things we like to do every summer to clean our patio and get it in shape for entertaining and enjoying.
No matter the surface you have on your patio or porch, there are important things you will want to do.
How to clean a patio to prepare for outdoor enjoyment:
Clean up any debris, trash or other items that do not belong
Spray outdoor facade of home and patio with a pressure washer( I like the Greenworks Power Washer) to give everything a good cleaning
Caulk or repair any areas that are in need of help
Add entertaining items including seating, dining, or whatever you like to have.
As you can see our patio was in dire need of some freshening up.
We started by cleaning off the entire space.
I then used my pressure washer to first, clean the outdoor siding. You will not believe how dirty your siding can get in one season. We have white siding so I feel like you can see the dirt a bit more predominantly.
Heres a before
And here's an after using my electric power washer:
Really amazing!
I sprayed the windows and the doors as well, making sure to give everything a good cleaning.
Having a good pressure washer is key for this. I recently acquired the Greenworks 1950 PSI Pressure Washer with the Open Frame. It is a really great machine!
Have you tried Greenworks products? Greenworks provides battery powered outdoor tools and equipment that rival gas powered tools. Greenworks tools deliver the power and performance of comparable gas-powered tools without the mess, noxious fumes, stamina-reducing vibration and noise associated with gas products. I was very intrigued by their power washers.
This pressure washer is electric, not gas. I have had gas pressure washers before, so this was a new experience. It is a pretty fabulous pressure washer. I love how quiet it is. Honestly, at first I thought it wasn't on! Haha! It has really great pressure. I really wanted something that I could clean my outdoor beams with as well and the Greenworks pressure washer did an excellent job.
Once I spray the outside siding, windows and doors, I move on the the patio. I start closest to the house and work outwards to the rest of the patio.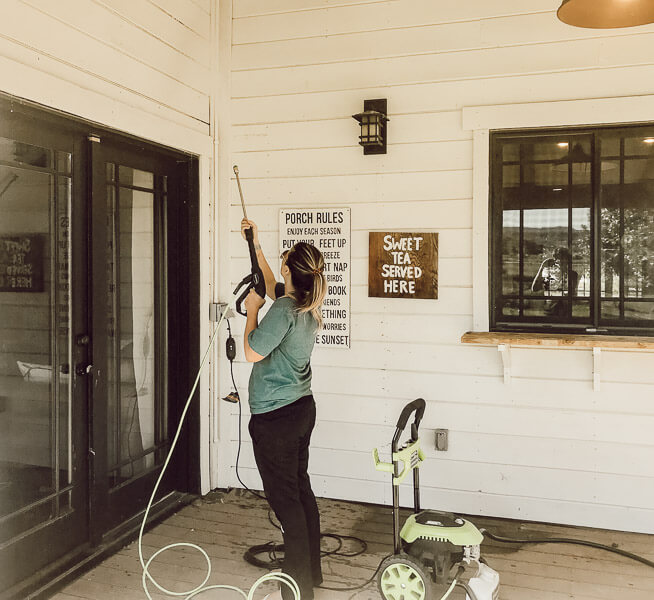 Once everything has been sprayed clean, I let everything dry.
My cat doesn't seem to care that I am in the middle of cleaning. What a surprise. He will just ignore the Greenworks power washer since its so quiet when not being used even when its on!
Now it is time to decorate! I am still waiting on a bunch of outdoor decor items before I can set it all up, but now I am ready!
It feels so good to give your outdoor areas some love and using a pressure washer is a great way to accomplish it easily and effectively. I would highly recommend trying out one of Greenworks pressure washers. They have many to choose from.
Want to see other great ways to use pressure washers to freshen up your exterior? Check these out:
Is Battery Powered Lawn Equipment Better? | The Handmade Home
Power washing Tips | Salvaged Living
Small Porch Curb Appeal | At Home With the Barkers
The Easiest Way to Clean a Concrete Patio | My Creative Days
Summer Curb Appeal | Seeking Lavender Lane
WANT SOME MORE GREAT POSTS? CHECK THESE OUT
50 Gorgeous and Cozy Outdoor Sofas Perfect for Your Patio
Find the Perfect Outdoor Dining Tables For Your Patio!
13 Summer Inspired Outdoor Planter Ideas
13 Important Elements to Consider Before Doing an Outdoor Wedding
GET YOUR FREE GUIDE to 30 DIY projects that can be done over the weekend!
By subscribing, you will gain access to my FREE guide with 30 DIY projects that can each be done in a day, or over a weekend!
You will also receive a weekly email with some of my favorite tips, tricks, and design ideas.