Last week, I revealed my new modern farmhouse dining room and I was so thrilled to show you my new artwork that I had hung on one of the walls. Well, I got them from my new favorite picture frame shop, Frame It Easy. Lets talk all about how to create your own affordable framed artwork artwork and how easy it can be!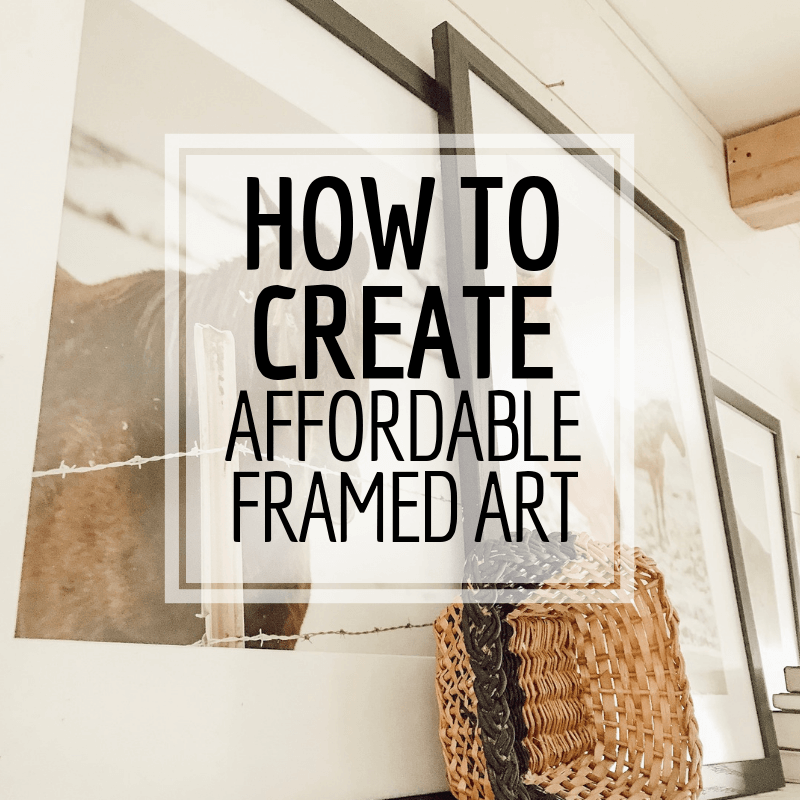 With as often as I change out my wall decor, I think it is important to have a great resource when looking to frame your artwork or family photos.
Raise your hand if you have ever has family pictures taken, and once the digital file has been given to you, you post it on Facebook or Instagram and then forget to actually print them off and put them on your wall? What about that gorgeous art print you ordered, and then it sat there, rolled up in the corner because you weren't sure how you wanted to display it, or maybe you found out how expensive it can be to get it custom framed.
I don't know about you, but I do not have the budget to custom frame everything I want. That is where Frame It Easy comes in. I have blogged about them before, when I used them in my modern farmhouse dining room. I also posted a Facebook Live where I un-boxed all the framed artwork I have ordered through them. They have been so easy to work with and I have loved everything I have received from them.
Check out what I got from this fantastic picture frame shop:
Finding the right picture frame shop to handle the framing of your precious artwork or family photos is a daunting task. I want to take the hard work out of the equation for you. What if I told you there was a company that step-by-step helps you choose the right size, style, and glass for your framed artwork and was affordable? I know, exciting right?
I want you to know that I do not ever endorse a company or product that I do not truly believe in, so when I tell you that Frame It Easy is the perfect picture frame shop for me, I am not lying. Why would I anyways?
There are so many options out there, I just want to show you one that I really love and one that works for me.
Lets talk about the process of creating your own affordable artwork:
When you are ready to bite the bullet and get some stuff framed, Frame It Easy makes it so easy to do.
Here is how it works:
First, you decide what size you want your artwork to be. Now, keep in mind the size that you pick at the beginning is the size of the artwork , not the size of the frame. The frame and matting will be added in later to give you a total size. You can choose whatever size you want and customize it down to the inch.
Once you choose the art size, you can choose to upload your own artwork to be printed and framed during the framing process. This works great if you have a digital file of the image you want to be framed. They will let you know if the file is high enough resolution for the size you chose. I really like this, since nobody wants a grainy, low quality print, when you really wanted something nice.
You do not have to have them print your photo if you do not need it though. You can order just the frame if you already have the print in your hands.
Once you have uploaded the file, you can then choose what frame you want. They have options from wood frames, black and white frames, metal and so much more! I love the amount of options that they have.
After you have picked your frame, you can then choose your matting option. You can choose none, one or double matting. You can customize the thickness and the color of the mat. I love that they give you all of the control and you can choose different sizes and see how it will look in real time on your artwork.
The last thing you will do is choose your cover. Frame It Easy uses non-glass alternatives that are safe to ship. You can choose from clear or non-glare which has a matted finish. I chose non glare for mine.
Once you have done all these steps, you can add it to your cart. What I love it that you can see the piece of artwork in real time as you are editing it, and if something doesn't look right, you can change it up right then.
The one thing I want to let you know is that you will not see the finished size until it is in your shopping cart, then you can see the exact size.
I really like that they list every thing that you have chosen so that you can see it all listed out and there are no questions.
And now, lets check out some of the amazing artwork I had framed at my favorite picture frame shop.
Here are some of my horse prints hanging out in my family room:
Well hello there horsey….
These pictures were some of my favorites that I have taken…and they will be available on my art site soon!
I finally got some family photos framed and hung in my dining room:
Aren't they pretty? On the ones in my dining room, I choose to do offset these photos. Frame It Easy has a really great tutorial on how to do this. I really love this set of three photos. I was shocked at how affordable it was for all 7 photos I has done. They were all really large too!
If you are looking for a great picture frame shop, you should definitely check out Frame It Easy! I have been so happy with all of the artwork I have had framed from them. Everything is made in the USA which is even more awesome to me!
And guess what? My favorite picture frame shop Frame It Easy is giving all https://www.frameiteasy.com/blog/format-photos-online-framing-matting/my readers 10 percent off their order!
USE CODE: TWELVEONMAIN
Now, if you are looking for some unique artwork to frame, check out some of my artwork here!
You can also get access to my FREE Printables Library by clicking here! If you already have access, you can use some of my FREE artwork and frame it!
Now, make sure you share this post and save it for later by PINNING IT TO PINTEREST!
GET YOUR FREE GUIDE to 30 DIY projects that can be done over the weekend!
By subscribing, you will gain access to my FREE guide with 30 DIY projects that can each be done in a day, or over a weekend!
You will also receive a weekly email with some of my favorite tips, tricks, and design ideas.