Do you love the look of linen bedding but just can't swallow the price tag? Do you yearn to have that simple bedding full of texture and style that farmhouse style bedding can offer? Well, look no further! I have the insanely inexpensive farmhouse style bedding hack that you will not believe!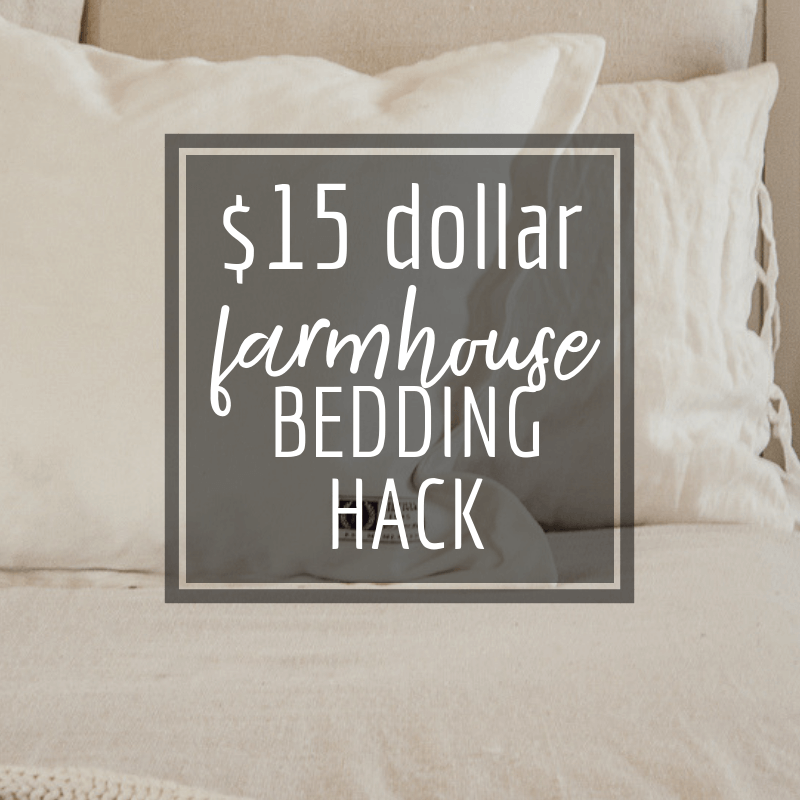 It all happened by accident. Believe me when I say, I love linen bedding. I even have white linen bedding on my bed right now….well, its under my "secret weapon". There are so many farmhouse style bedding options out there in stores today. Sometimes it can be super overwhelming to choose between them all.
I find that I like that change mine up, a lot. I like to update it throughout the seasons, but I cannot in my right mind justify buying a different set every couple of months.
What I have resorted to instead is using a "coverlet" to add a bit of texture and color to my otherwise white bedding without breaking the bank.
The best drop cloth fabric out there!
Now, when I say coverlet…I mean…..DROP CLOTH. Now, this is not your ordinary drop cloth. I found the most fantastic drop cloth at Walmart! It is so soft and way less rigid and sturdy than the throwback painters drop cloth. Those are not soft!
Let me explain a bit more before you think I am crazy. When I remodeled my master bedroom, I bought some euro size pillows to go up against my headboard. I ended up sewing 3 dropcloth pillow covers in my envelope pillow cover style for these pillows and instantly fell in love with the soft muted beige color. It was so nubby and the texture was really nice. Once again, I used this Walmart's painters dropcloth for this project.
I wasn't too worried about whether or not they were super soft though, because I really never planned on laying or sleeping with them. They were off limits. They were to look pretty! If you wonder why they were off limits, check out this post about how I have been able to keep my bed pillows looking fabulous by investing 10 dollars in them!
But the great thing I found was, those pillows were actually really soft and comfortable!
Now I mentioned I have white linen bedding on my bed. I really do love it, but I worry about the amount of dirt that gets on them and I also worry about someone spilling something on it. (yes I have to worry about that with 4 kids a dog and a husband).
I also find that sometimes I wanted something just a bit warmer and darker, but not too dark. I had been looking online for a nice duvet cover that I could make work, but I was coming up short on things I really loved enough to spend money on that were also in my price range.
That is when I remembered I had a large unused painters drop cloth sitting in my closet in my art room. I always have one on hand for projects. I thought there was no way it would work. I assumed it would have a seam down the middle or something. But guess what…it didn't.
I threw it on my bed, just to get an idea of if I would have to hem, and change anything on it. You guys, it fit perfectly. I have a California king sized bed and it right to the end of my mattress and met up right where my pillows sit.
It hung down the sides of my bed the perfect length! I often have a hard time finding bedding that hangs low enough to conceal my entire mattress. This one hangs considerably lower than my linen duvet.
It actually hangs exactly where I wanted my linen bedding to hang! So, now, I have a top "coverlet" that matches my drop cloth pillows. The slight wrinkly look of the fabric is very reminiscent to a linen type duvet.
And, ummmm did I mention that the large drop cloth cost me only 15 dollars? Yep…don't die of shock.
So, lets talk a little bit about the drop cloth I used for my farmhouse style bedding hack:
This is a 6 oz weight drop cloth. Did you know that drop cloths come in different weights? For home projects like this, you will want to use a lighter weight one. Its' lightweight enough that it's easily sewn if needed. If you use the heavier drop cloth, it will be thicker, more stiff, and more difficult to work with, especially in a bedding situation.
Can you believe that is just a drop cloth? If you wanted to add more style to your farmhouse style bedding, you could sew on drop cloth ruffles to the bottom. I, however did not want them.
I would recommend washing and drying your drop cloth to make sure it is clean. It will also help to soften the fabric a bit more too.
This is the only drop cloth I use in my home anymore. It is so versatile and I love that it does not have a seam down the middle. Some brands do, but I have found that these do not.(if you get one that does….sorry I cannot promise that they always do)
But, even if it does have a seam down the middle you could use it for another project or you could use it anyways!
I will often buy 2 or 3 of these dropcloths at a time. I buy the 9 ft by 12 ft size. They are perfect for curtains…like I used them in my living room, or tablecloths as well! The color is so great. Its not grey, its not beige, its something all its own. I wouldn't even call it greige! It's just so unique.
I have used drop cloth for so many projects other than my farmhouse style bedding, including:
As you can see, drop cloth fabric can be a wonderfully useful material for so many different home decor projects. Obviously I love using this fabric for so many items including my farmhouse style bedding hack.
Check out my favorite comforters for under the coverlet!

The benefits I have seen from using this dropcloth for my farmhouse style bedding are these: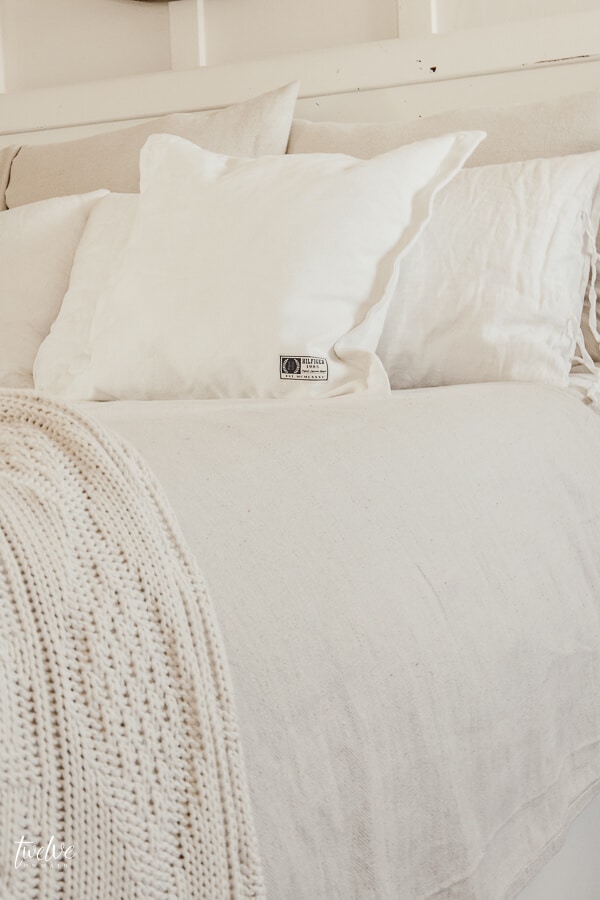 It protects my blanket underneath. You do not have to use this to sleep, it can be considered a coverlet that you take off at night.
If you have a or cat that sleeps on your bed, this is a wonderful way to add that protection between your animal and your bedding. I love not having dog or cat hair on my bed.
It immediately updates your bedding without spending much money.
It is a small investment for big impact.
You can easily wash this dropcloth fabric in the washer instead of washing your giant duvet or bedspread.
If you tire of using it, you can repurpose it into something else…think pillows or curtains!
The edges of the dropcloth are already finished, which makes it effortlessly easy to use without a sewing machine.
(peekaboo..do you see me?)
What do you think of using a dropcloth for my farmhouse style bedding hack? I have used it for the past few months and people are always commenting on my bedding and wanting to know where I got it from! Well, there you go! My farmhouse style bedding hack is now in the books!
Check out all my favorite master bedroom decor items here:

Make sure to PIN IT for later!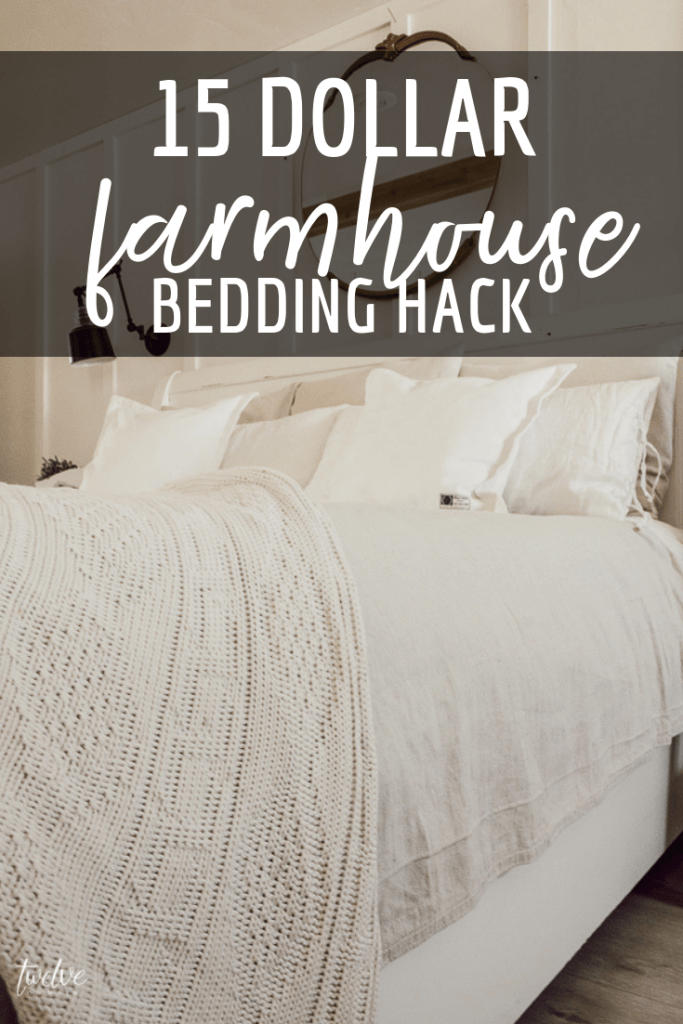 Do you like what you see here? Check out more of my posts:
40 Inexpensive Farmhouse Style Wrought Iron Beds
Wrought Iron Beds You Can Crush On All Day
DIY Wedding Backdrop with Dropcloths for Budget Friendly Style
Easy Way to Update an Old Dresser with Hickory Hardware
GET YOUR FREE GUIDE to 30 DIY projects that can be done over the weekend!
By subscribing, you will gain access to my FREE guide with 30 DIY projects that can each be done in a day, or over a weekend!
You will also receive a weekly email with some of my favorite tips, tricks, and design ideas.