Once again this year, I am sharing some more of my journey with organizing my home! Today I want to share my linen closet organization tips, tricks, and how to purge some of that stuff that has been sitting around just a bit too long. Let's talk about what my linen closet looked like before, and now what it looks like as an organized linen closet.
My linen closet has to be the scariest place in my home. Usually about every three months, I will address the big monster in the house and try to clean it up, get things back where they need to be, but within one day, my kids have it torn apart and everything is falling down.
I needed help with my linen closet organization!
I have a large linen closet, which is good because we have a ton of blankets. And you see, my husband has convinced my kids that they need ALL the blankets when they sleep at night. Not only that, but they like to have sleepovers in our family room, which they cannot use their own blankets for(apparently). All they have to do is to take one blanket out of the closet and they take three or four down with them. And then, instead of folding them up and putting them back, they shove them into the shelf, hoping they will stay.
Now, yes, my parenting could be better I am sure. But, I feel like I have to pick my battles carefully and yes, we are working on having them own their messes and be more responsible for themselves. Honestly, it takes all 6 of us to create this madness in the linen closet, and I just could not take it anymore. I needed to organize it in a way that helped the kids be able to help keep it clean.
So, I went on a quest to become a pro at linen closet organization. There were some steps I needed to take in order to create the linen closet of my dreams.
Here is a list of things that can be helpful when getting started with linen closet organization:
First thing: Take an inventory of everything you have. Pull everything out! I took everything out and laid it all out in the hall.
Separate it into groups. I made a couple different groups including donation, keep, trash, camping, sheets, often used blankets, and collectible blankets that need to be stored. I chose to use all our old unloved blankets for the camping trailer. They will get tons of love in there and be put to good use. My donate pile got larger and larger and included sheets from when I was in college….oh my yes! Also, I donated window treatments and tons of top sheets(we do not use them in my house). I did keep some and added them to my painting supply storage(they will come in handy when painting rooms!)
Measure the space. I measured the closet, and measured the height of my shelves. I am able to easily adjust my shelves but liked where they were so I kept them.
Once I measured the space, it was time to decide what I needed to store and how I was going to do it. Now that I had a good idea of how many sheets, blankets, pillow cases, and more I had, I could more accurately purchase linen closet baskets and storage containers to keep everything neat and tidy.
Let me tell you, I went the rounds when trying to get the right baskets and storage solutions for my linen closet.
My first step….I needed to break down what I needed for my linen closet storage. Here is what I came up with. I needed to store:
Extra Bed Linens were the main source of organization. I broke them down into different sections.
King size sheets
queen size sheets(guest room sheets included)
twin size sheets (this was for fitted sheet and flat sheet sets)
standard pillow case
king pillow case
decorative pillow covers
extra pillows
throw blankets for everyday use
rarely used blankets
duvet covers
heirloom quilts that needed long term storage options
smaller items such as toilet paper, extra towels, and more
My next step for my linen closet:
The bottom line was that I wanted to create an organized space, but also one that looked nice. I wanted it to be something that looked like it belonged in my home, and wanted to add wicker storage bins as a way to warm up the space. I had an ample amount of shelf space and floor space and I wanted to use ti the best way possible while being affordable.
Since I had the measurements of the closet and knew what I needed to store, it was much easier to narrow down my search to linen closet baskets and storage containers and some specific items to store bulky items. This is the best way to get a baseline for what kind of space you will have to work with.
I chose to get a wicker storage chest to store all my extra pillows. It was important that I had something I could put them in and hide away, keeping them out of the dust. I had considered laundry hampers as an option to keep things put away, but ultimately decided on the storage container for this available space.
There are so many great wicker basket options from TJ Maxx online, as well as Wayfair and Amazon. I found some great canvas totes from Wayfair that I added iron on names with my Cricut Maker.
You can watch this video on how I organized my linen closet here:
I started with all my sets of sheets. I got them all organized and folded and then put them in their canvas storage containers. They took up a whole shelve on their own, but now I have it all where I want it to be!
The shelf above them became the storage for our often used blankets. I got tall baskets that I could store many blankets in and added those to the shelf. I also kept some often used throw blankets to the middle, where they could look pretty and be within reach.
The top shelf was used to store blankets and items rarely used. I got some blanket storage bags from Amazon that I put the heirloom quilts and baby blankets. I used some more shallow baskets as well to store duvet covers that don't get used as often.
One of my goals was to be able to store my vacuum in this closet, which I hadn't been able to do for a long time.
So what do you think? Do you think I was able to take that crazy messy linen closet and line it out? Well I did!
All my sheets are organized and in one place. The labels I made with my Cricut were a great idea and they keep things where they should be. They were labeled by bed size which made it easy to grab exactly what is needed. My kids cannot tell me they don't know where they go. My vacuum finally has a place! I used wicker baskets to store smaller items
I was even able to store a chair that we often use to grab things off the top shelf!
The blankets are all hidden away in baskets now, which means even if they aren't folded perfectly, they are still hidden! It is also easy access for the kids for when they get a bit of a chill at night and need an extra blanket or two.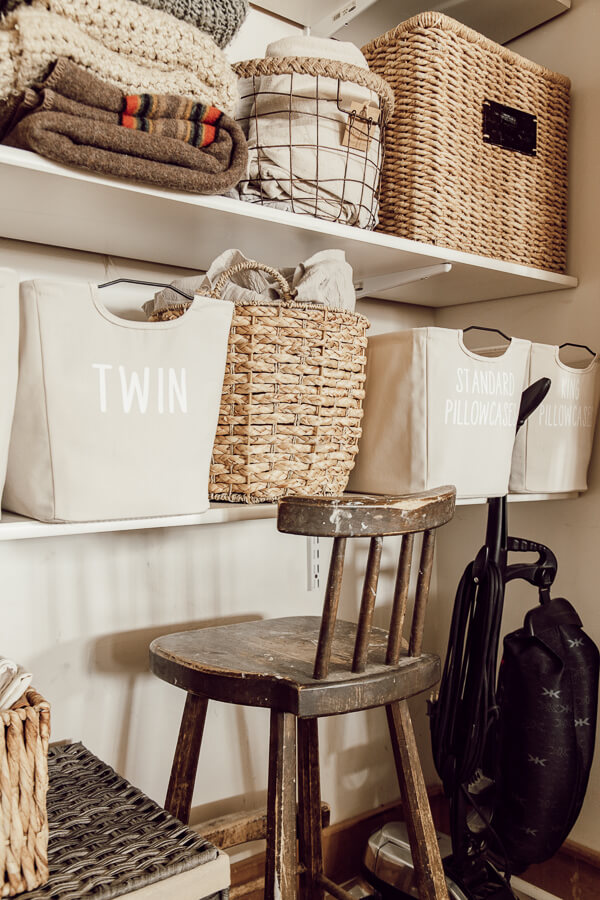 The pillow storage is probably my favorite. I can store all our extra blankets on my linen closet shelves and make sure they are out of sight and that they wont get dusty. I am able to store so much stuff compared to before!
The top shelf is also one of my favorites.
I am able to keep all our important items safely stored away, out of arms reach. I have my kids baby blankets, blankets my grandma made them, and a coupe that my mom made. I stored them in these storage bag sets. It is an important thing to me that these get stored safely.
Overall, I am thrilled with this linen closet organization. By breaking things down and dealing with groups, I was able to eat the whole elephant, slowly, and not all at one time.
Do you have any organizing tips for me? I would love to hear them.
long time with these linen closet organization tips!" width="683″ height="1024″>
I hope you will check out these other great posts:
Tips for Organized Farmhouse Style Closet Design
Make an Easy Over the Toilet Towel Storage Ladder
15 Affordable Farmhouse Essentials for Your Home
5 Inexpensive Ways to Update Any Bathroom Decor
My Budget Friendly Bathroom Makeover | Reveal
This post contains affiliate links for your convenience**
GET YOUR FREE GUIDE to 30 DIY projects that can be done over the weekend!
By subscribing, you will gain access to my FREE guide with 30 DIY projects that can each be done in a day, or over a weekend!
You will also receive a weekly email with some of my favorite tips, tricks, and design ideas.