Lets just say that from the title, its very clear that I am having a hard time tying down exactly what type of decor my new patio is. Is it mid-century farmhouse, but what about a bit of a boho farmhouse style? All I know is that I love it, and I want to share with you my outdoor decor ideas and how I came to create this cozy, inviting outdoor space to entertain with, quietly enjoy a moment, or serve as an escape for my kids and family.
*I partnered with Overstock.com on this post. All my opinions are my own. I only endorse items I truly believe in*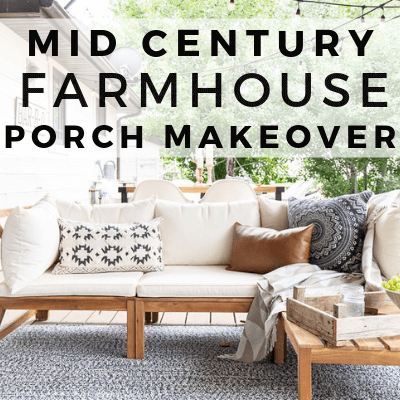 I have to thank Overstock.com for being amazing partners on this project. All my opinions are my own, and I only endorse products I truly love. Overstock is a company that I have purchased from many times in the past and plan to in the future as well. All the furniture featured in this post came from Overstock.com and I will be linking to all the products I received.
My Mid Century Farmhouse Patio with Boho twist:
My back porch had seen better days. Over the past winter it had turned into a functional place. A place to store our wood, hoses, and the like. It was not pretty, and I knew it needed a facelift. We had been getting by with a few old teak chairs we got out of a junk pile, but they weren't all that comfortable and they needed some love.
I knew I wanted to create an inviting space, one that would transform my otherwise unloved back patio. We were in search for a few important and key outdoor decor elements. It was important to have a place to sit out and enjoy out view of Bryce Canyon, and I also needed a place to eat with the family. This is where we have all our charcuterie dinners. We have an old picnic table that hangs out in the grass by the fire pit and thus the need for an eating area by the house. I know this may seem excessive but let me tell you how wonderful it is to have a few different places to entertain or eat as a family.
Honestly, I planned for the new table to be the "adult area" and the picnic table in the grass to be geared more toward the kids. In reality, when we are out roasting hotdogs or marshmallows, having a place to eat right by the fire makes it so very convenient. When we are preparing inside and eating outside, the new patio table would be perfect.
When thinking about what outdoor decor ideas you want to think about how your space will be used. We spend a ton of time out in our backyard. Good reason for that, since we have a wonderful view of Bryce Canyon National Park as well as of the farms adjacent to our home.
Since we have great views I wanted to make sure I laid out my outdoor decor to take advantage of this. This is something to keep in mind when planning out your space. Think about what you want to get out of it. Are there things about your space you want to capitalize on?
I really wanted to incorporate some midcentury farmhouse decor into the mix. I find that I am so drawn to hairpin legs, molded plastic chairs and clean lines of mid century decor. It's obvious that I also love farmhouse decor and the natural ease of boho decor. So lets see if we can combine them all and create something magical and inviting.
The first thing I chose was some new rugs. I wanted a large area rug that would be in the sitting area. I also needed one for under the dining table. Since I have a large patio, it's important to create some separation and break up the space a bit, allowing for individual "rooms" as you might want to call them.
The rug that I chose for the seating area is gorgeous! Its a braided rug with the coolest fringe! Its a NuLOOM indoor/outdoor area rug.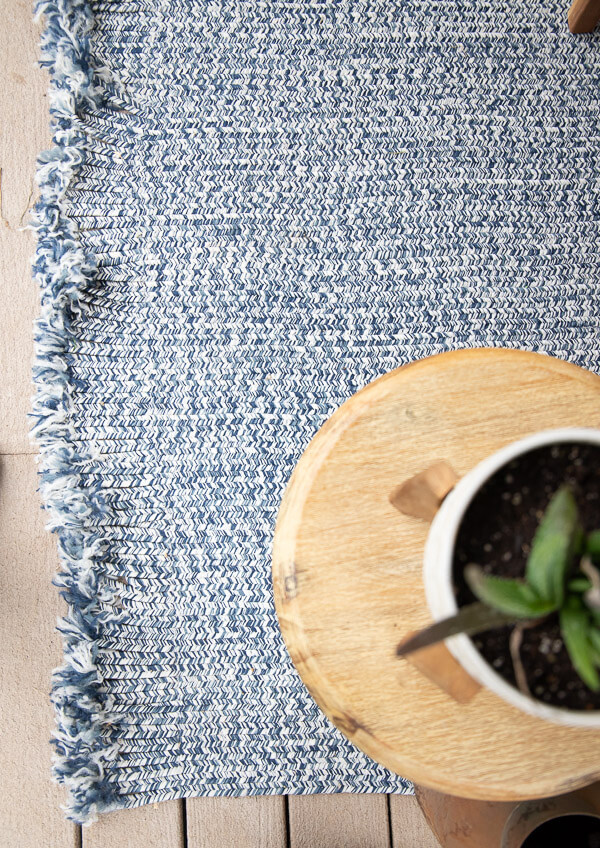 I chose to add some blue hues to the space and started with the rugs.
For under the dining table I chose another blue rug, but this one had a bit of a design to it. The Curated Nomad Delmar Moroccan Diamonds Blue Indoor/Outdoor Area Rug is perfect for under my dining table.
This geometric design is perfect for the style of the table and chairs. Plus it goes really well with the other rug.
Now that I had the bases of my outdoor spaces, it was time to outfit it with furniture!
Lets talk about my seating area: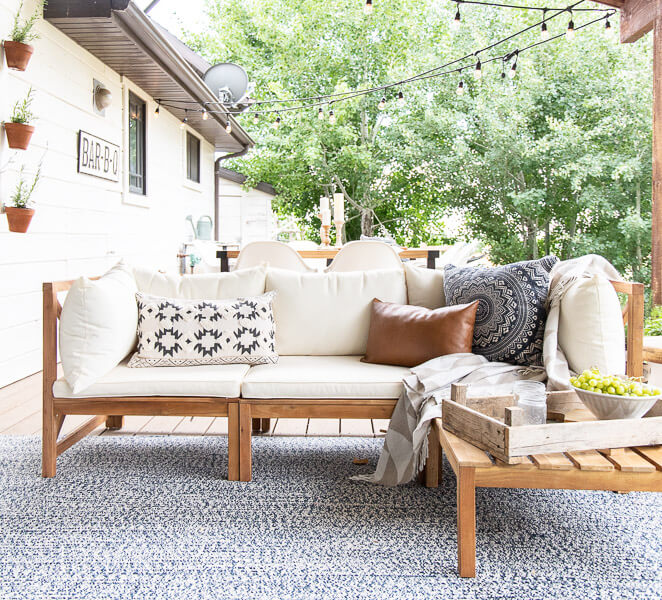 I chose this wood sectional from Overstock made by Safavieh.
Actually, I have many of their rugs and my dining chairs in my home are also Safavieh, so I knew I was getting some great products. I am a big fan of their decor. Its reasonably priced and so very pretty! This couch sits a bit lower to the ground, but I really love that about it.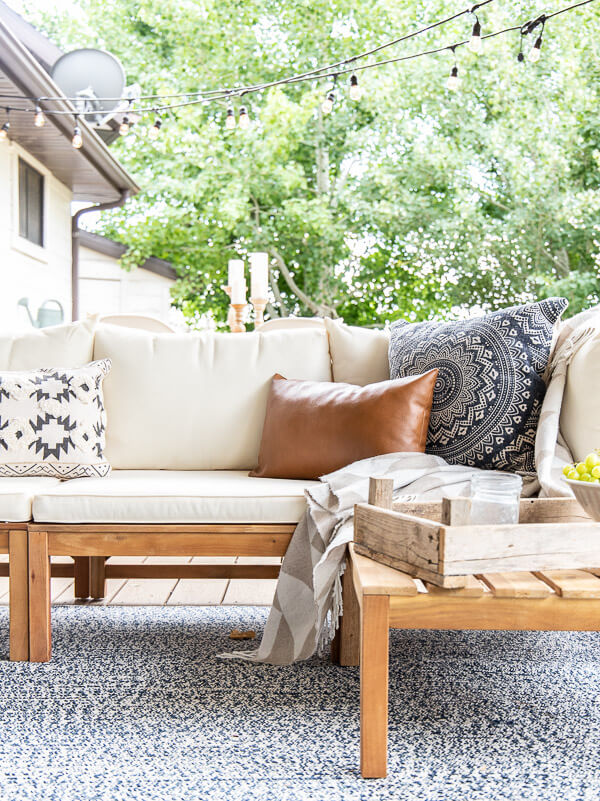 By adding a few unique pillows I was able to add a bit of a boho flare to the space.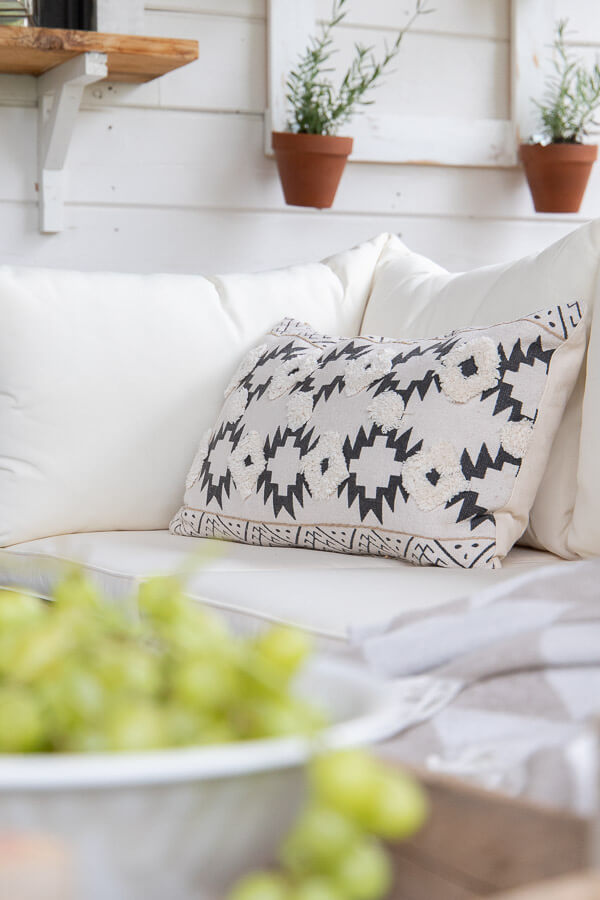 In the background, you can see the window shelf I installed a few years ago. It has been a wonderful addition. Its a great place to put snacks, drinks, and more. I often use it for herb gardens, as well as a place to keep my seeds safe before planting. To the right of the shelf you can see my farmhouse style wall planter. I made this a few years ago, and still love using it! Right now its housing some lavender that I will be transplanting soon.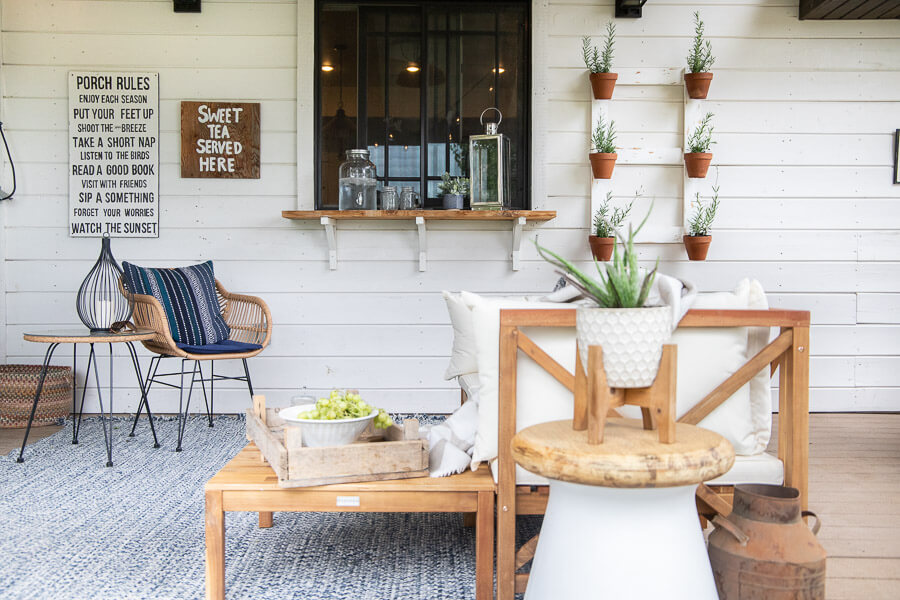 I flanked the couch with a set of hairpin leg chairs and table by Safavieh. This set is one of my most favorite pieces!
This is the set I was over the moon about getting! I loved the lines and style of the pieces. Simply adding some more unique pillows gave it that boho/mid century farmhouse decor that I wanted.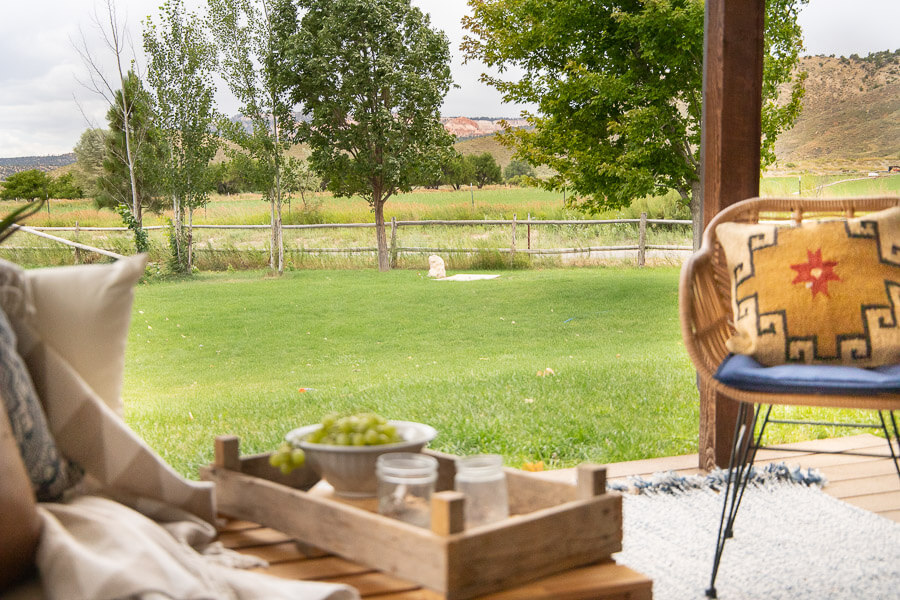 As you can see, we love our views and I made sure to arrange the seating area so that we could enjoy it all. What I can see of Bryce Canyon, I want to be able to enjoy from my porch. The smaller hairpin leg chairs could be turned around as well, but they make a really nice conversation area.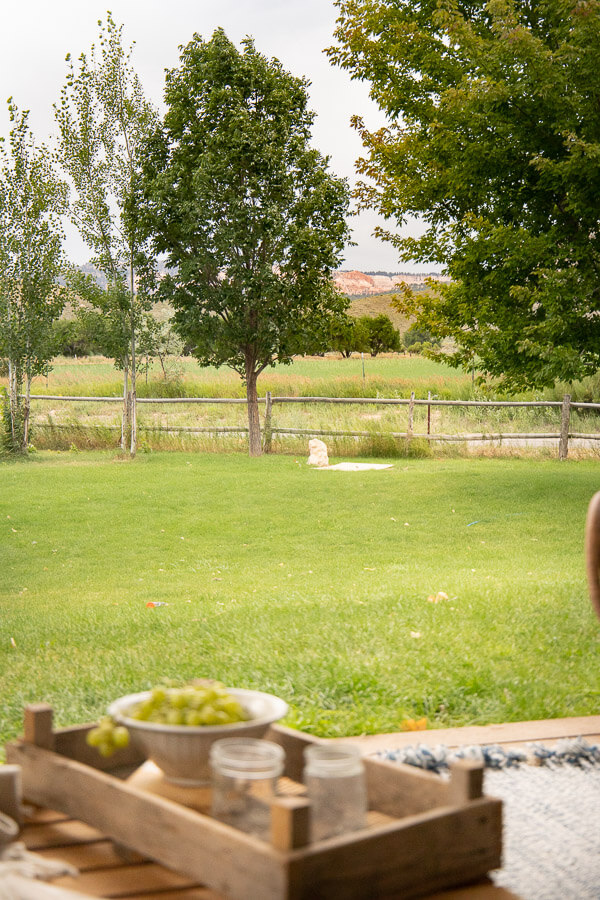 I love being this close to a National Park. Its truly a treasure to have this in our backyard.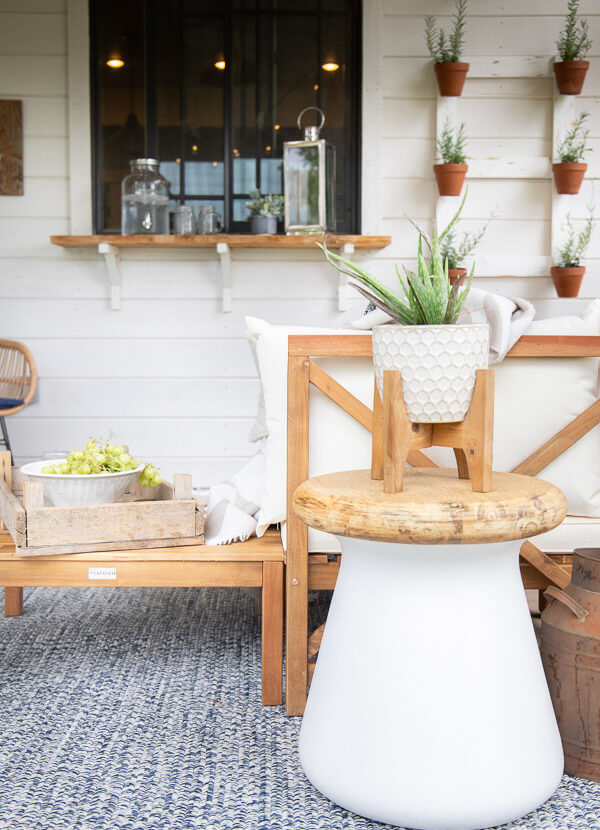 What do you think of this amazing concrete side table? It can also be used as a seat if we need extra seating. I love the lines of it and the wood top looks so perfect with the rest.
How cute is the mid century style planter atop it? I really wanted all my planters to have things in them that served a purpose. I have grown tired of watering flowers that, yes are beautiful, but really provide nothing else….that is why this has a great little Aloe Vera plant in it.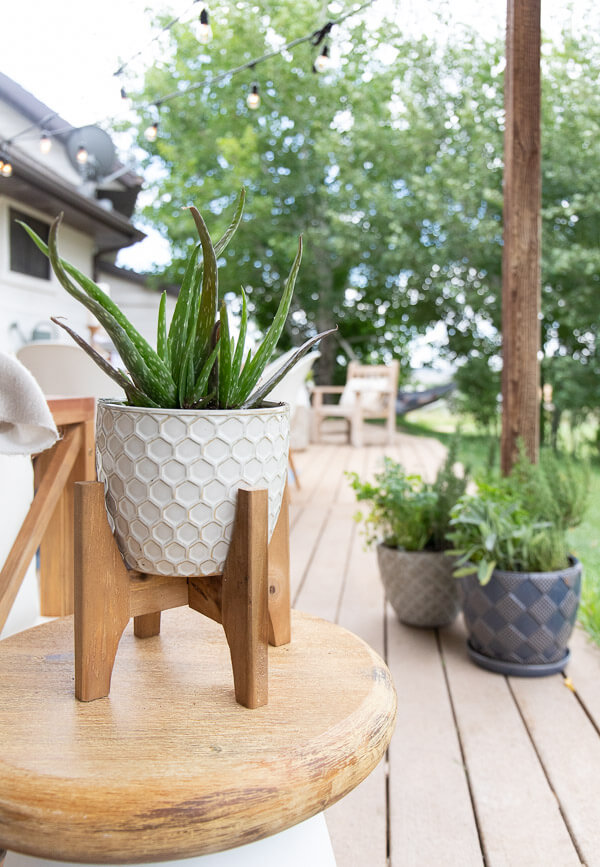 The two planters in the background are chock full of herbs. From Rosemary, Thyme, and Basil…to Sage, Cilantro, and Parsley, it has it all. I love using it for all my cooking needs. Just today I used it three times!
Up next lets talk about my dining area: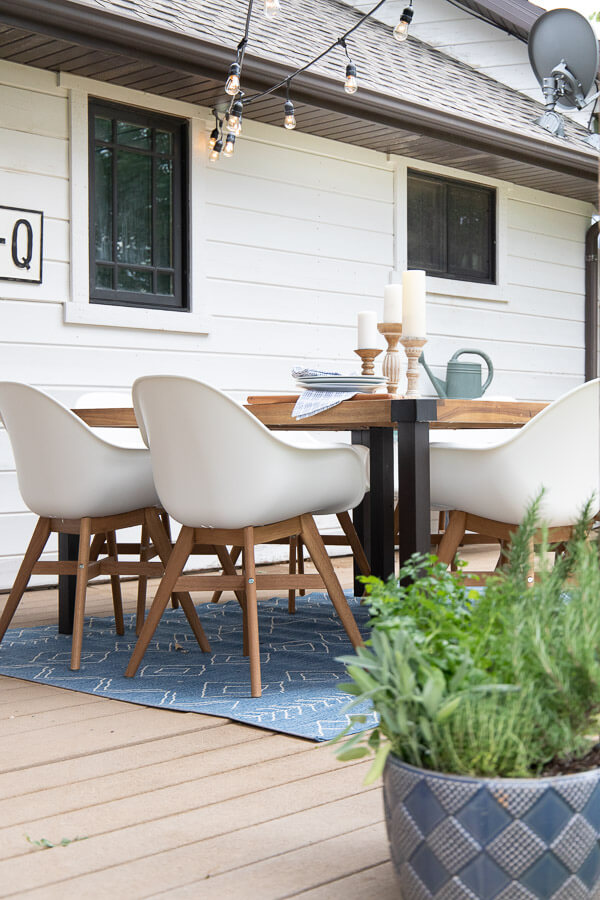 This table is what dreams are made of! Oh my gosh I love it so.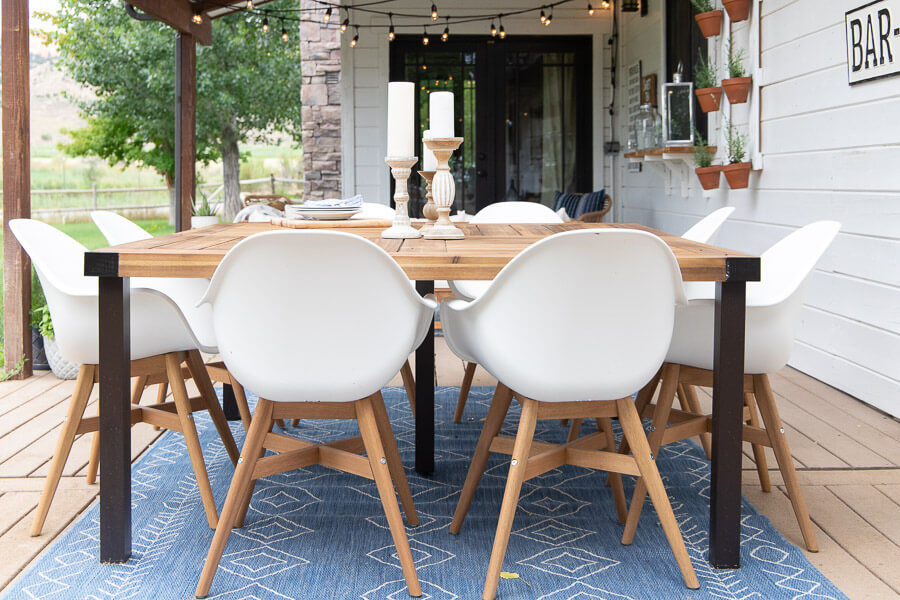 Its a giant! I have wanted a square table so for long! I knew exactly what I wanted and the square table along with the mid century molded plastic chairs, it can seat a crowd! It was important to be able to host tons of friends and family with this thing!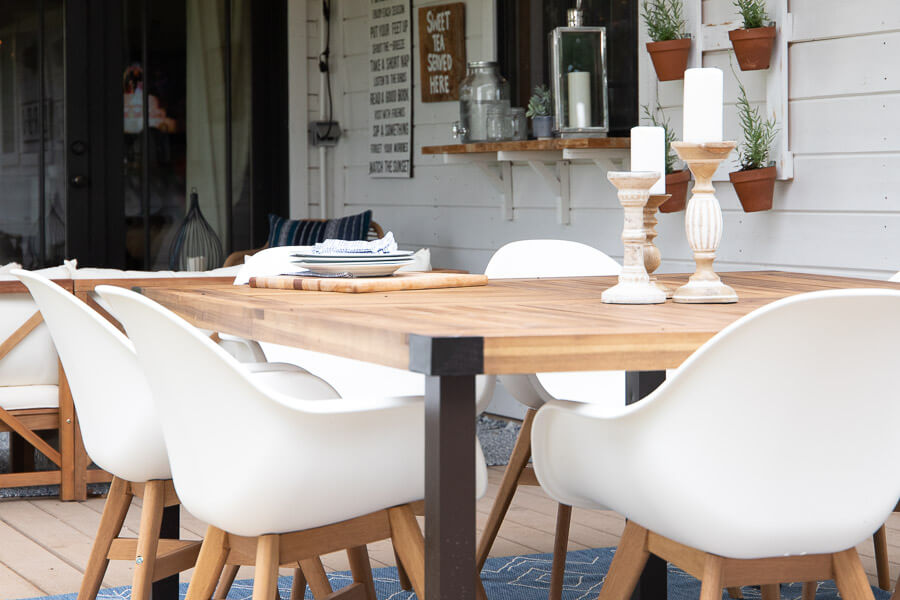 You may notice a theme with the wood. I have struggled with wicker in the past….naughty little kitties that use it as their scratching posts. So, I decided to go with sustainable wood furniture that is appropriate for outdoors. I love, love this space so much.
And look at it with that view! That pink cliff is called The Sinking Ship. The combination of the fields and the cliffs are pretty great in my opinion.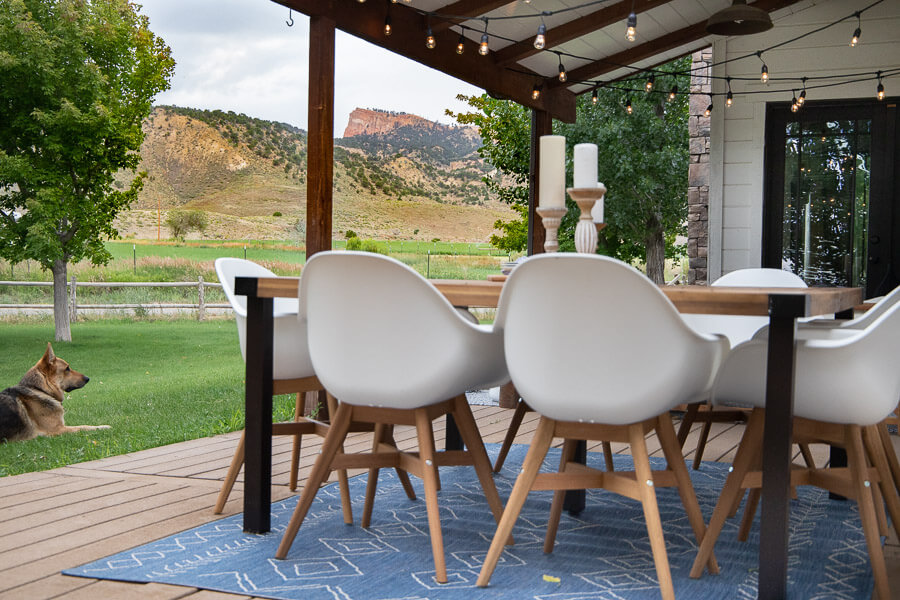 Can you see my little buddy to the left? He doesn't stray too far away!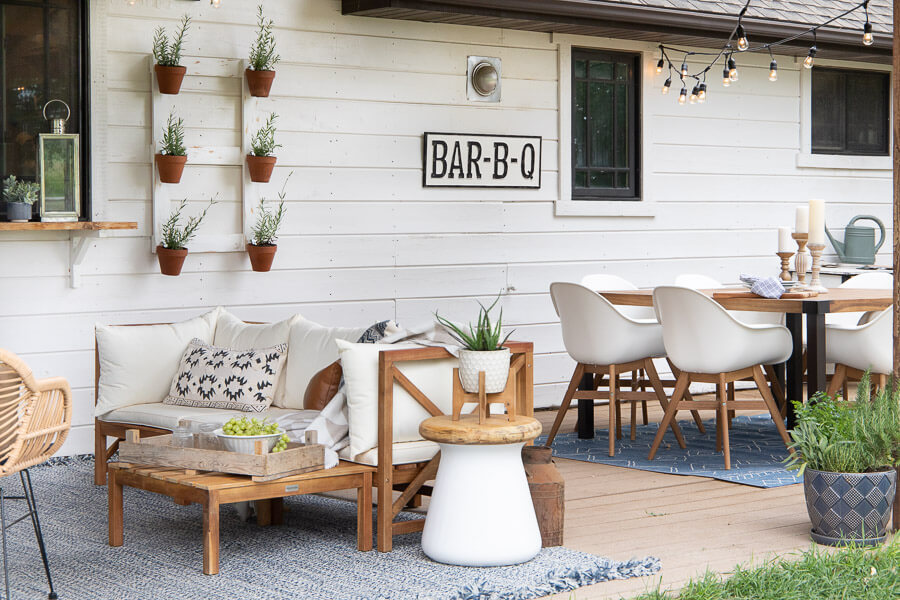 I feel like I just need to move out here! Between the gorgeous wood, the lines of the furniture, and the setting, I cant get enough. It's just the perfect balance of mid century farmhouse decor.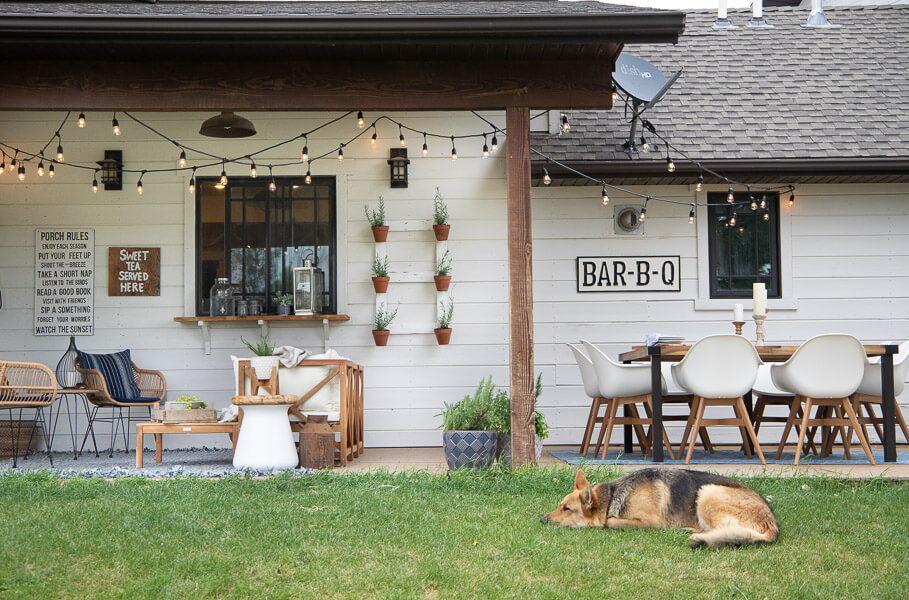 Once again my little buddy is not far!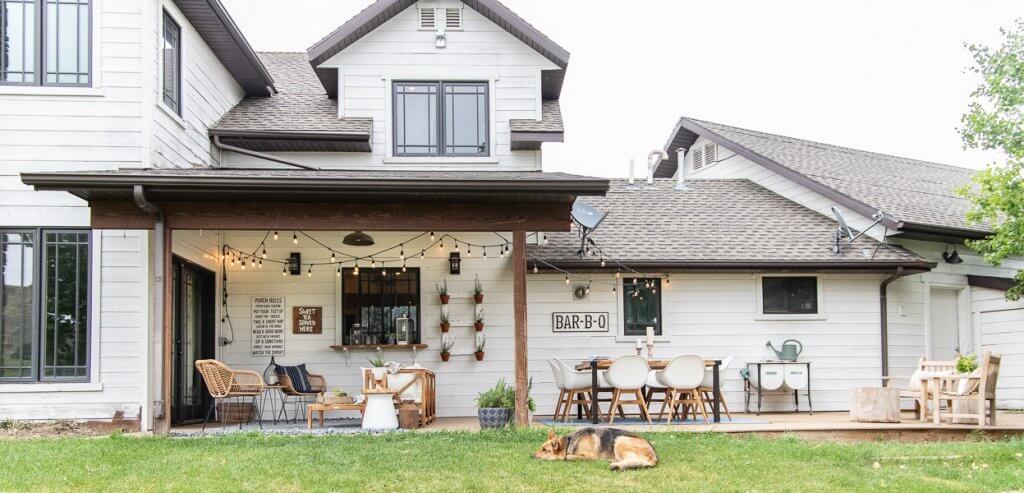 We added some cute hanging outdoor lights for a little ambiance. You really have to see this space at night! Oh, did you want to see it? Well, here it is!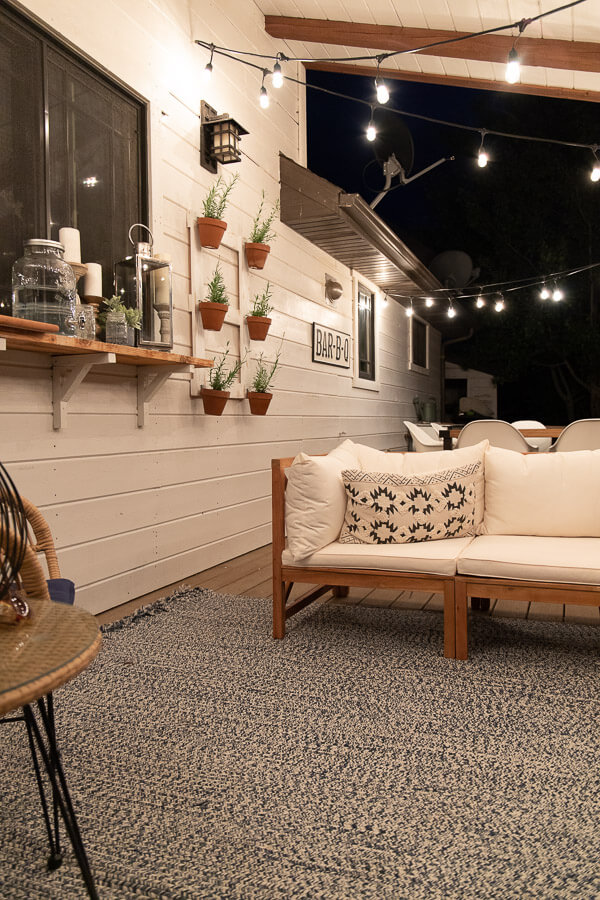 These lights make it wonderful for entertaining.
LAST! There was this small space at the end of our porch that needed something. I ended up adding our old junked teak chairs to this space with some pillows I made with antique flour sacks! This is where I added a bit more of that farmhouse to the mid century farmhouse porch decor.
Behind them you can see another one of my favorite spots….another hammock.
As if relaxing on the patio isn't enough, you can hide out in the trees in the hammock.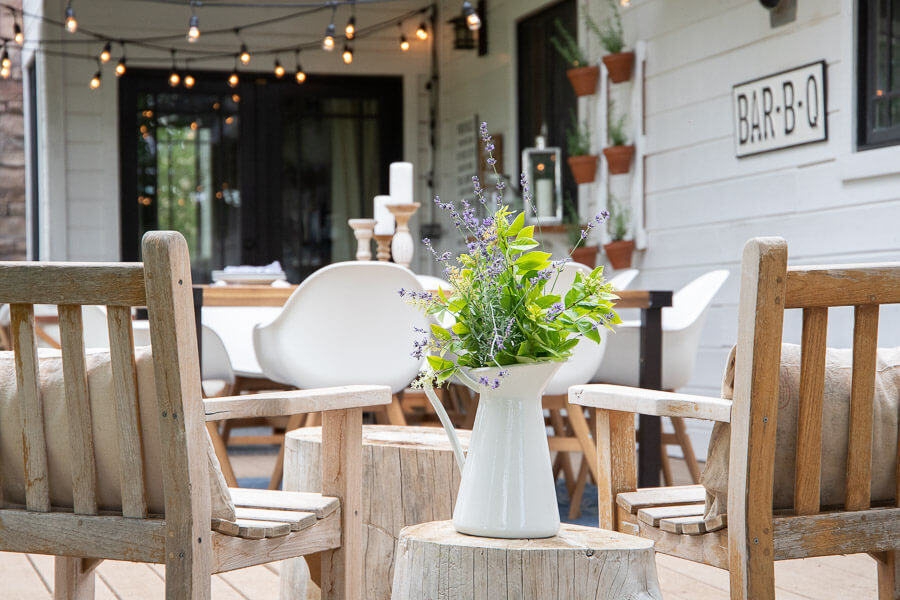 This views not all that bad either!
Find something you love? Want some of these outdoor decor ideas? I have rounded up all of my favorites below. Simply click on the image to be taken there!

Whew! Between building out goat house, finishing up the treehouse and now finally getting my patio back together, I am wiped out! It has been a crazy summer with tons of projects. Funny enough, I feel like now I am finally able to enjoy the summer.
Now, excuse me while I go and enjoy a yummy dinner with my family and finish it off by maybe hanging out with our goats for a bit….you know, because its summer!
So, what would you call this decor? Mid century farmhouse boho chic? Well, its just rolls off the tongue now doesn't it?
What is your favorite part of my mid century farmhouse style patio? Are you looking for outdoor decor ideas?
You have to check out Overstock.com's outdoor furniture! They have so much to choose from!
Want to see more of my recent projects? Check these out!
My New Modern Farmhouse Dining Room Design
A Treehouse Design Perfect for Kids and Adults!
GET YOUR FREE GUIDE to 30 DIY projects that can be done over the weekend!
By subscribing, you will gain access to my FREE guide with 30 DIY projects that can each be done in a day, or over a weekend!
You will also receive a weekly email with some of my favorite tips, tricks, and design ideas.