Nature Inspired Twig Wreath for Fall
There are so many fun things about fall. From the fall leaves, crisp mornings, and all the pumpkin things to the fall decor, cozy days and more. I love decorating for fall. The muted color pallet is my soul mate. I love creating new fall decor every year. One thing I love to create are wreaths! I love creating new and unique wreaths for my front door or for inside my home. This fall, I decided to create a simple twig wreath using branches from a tree and some dried flowers and eucalyptus I had in my craft room. Keep scrolling to see how I created it!
Today I am sharing my twig wreath along with some other amazing bloggers who are all sharing a fall wreath! I seriously am so floored at how gorgeous they all are! Make sure to check them out at the end of this post.
I love natural twig wreaths. For the most part, I use a grapevine wreath for most of my wreaths. They are just lovely. I decorate my front porch for every season and fall is on of my most favorite seasons to decorate for, the winter season just beating it out! A good Christmas wreath is key as well! But, let's get back to this rustic twig wreath.
Do you like unique and inexpensive wreaths? Make sure to check this out. Watch the video below!
Make sure to follow me on Youtube as well!
Craft projects are in my blood, and this new front door wreath made of twigs is my most recent craft.
Here are the supplies you will need for this twig wreath:
First, I cut my twigs to the length I wanted to use for my wreath. Depending on the wreath size you want, you can cut them longer to make a larger wreath or shorter to make a smaller wreath. I chose to make mine in a triangle. This is a fun shape that I have never used and thought it perfect for the fall, since it can be Halloween inspired too! How cute would a witches hat wreath be using a triangle twig wreath.
Once I had my twigs cut to length, I tied the corners together, overlapping them. I tied the twine to around the two twigs and then wrapped it tightly rotating which way I wrapped the twine to make it nice and tight. I used a lashing technique. After that, I tied each of the corners using the lashing technique and made sure they were even and everything was lining up.
Once all the corners were connected, I started to design my fall florals. I had a ton of dried eucalyptus as well as some dried field grasses. Next, I cut my eucalyptus to size and then layered it with the dried grass behind. I added some simple dried flowers to the front to add a pop of color.
Once you have the flowers arranged the way you want you can either hot glue them to the wreath or, like I do, wrap them with twine and then hot glue it to the wreath. I chose to add a swag of flowers to the entire base of the wreath, but you can do whatever you want!
I hot glued the flowers in place onto the wreath and then I wrapped the center with some more twine to secure it to the wreath form. You could use floral wire as well!
The last thing I did was tie a piece of twine at the top to hang it from the door or hook on the wall. Now to hang it on the front door. Add a couple of pumpkins to the porch and I am good to go.
This is such as fun holiday wreath for fall. I love the simplicity of it. Minimal wreaths are so popular right now and I love how unique this one is. It has a rustic look while also having clean lines. I could have added pine cones to the front of it, and maybe later I will but I think its the perfect fall wreath for my home. Many people ask me where I get my dried flowers: Hobby Lobby, Michaels stores and Joanns are all great sources for all your wreath making needs.
Want more fall wreath ideas? Check these out!
Make Your Own Fall Twig Wreath
Pine Cone and Eucalyptus Fall Wreath DIY
10 DIY Fall Wreaths to Make Today!
Make a Fall Wreath; Its Easier Than You Think
Simple and Stylish DIY Wreath for Fall
This wreath can be used for outdoor use or indoor use. Since it has more delicate dried flowers it will need to be somewhere out of the harsh elements and in a dry place. I plan to use this rustic wreath on my front door.
Since I only tacked these dried flowers to the form with hot glue, I could easily repurpose this and create a rustic winter twig wreath. I may even make a new one using a square shape. The natural elements of this wreath and many of the wreaths I make are exactly what I love to use in my home decor.
This elegant wreath will hang on my front door well into the fall. It is something anyone can make. It can be as elaborate or as simple as you want. If you choose to not make your own twig wreath base, you could easily use one of the wild birch wreath bases that can be found on Amazon.
This is not necessarily a designer wreath, but it is exactly what I want for the fall. It was super easy to make and with a little experimenting you can create one as well!
Now make sure to check out all the other amazing fall wreaths below!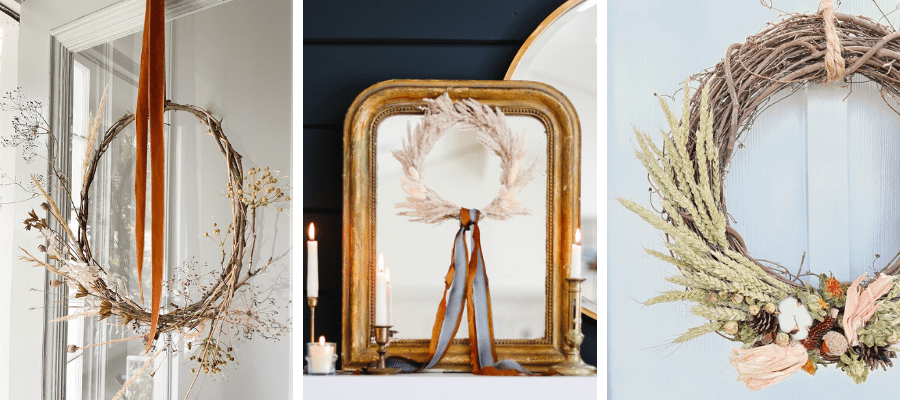 Gathered Fall Wreath // Finding Lovely
Mini Pampas Grass Wreath // Modern Glam
DIY Fall Wreath With Dried Florals // The Happy Housie
Felt Leaf Wreath Tutorial // Happy Happy Nester
Fall Metal and Leaf Wreath // My 100 Year Old Home
Dollar Store Pumpkin Fall Wreath // Tatertots & Jello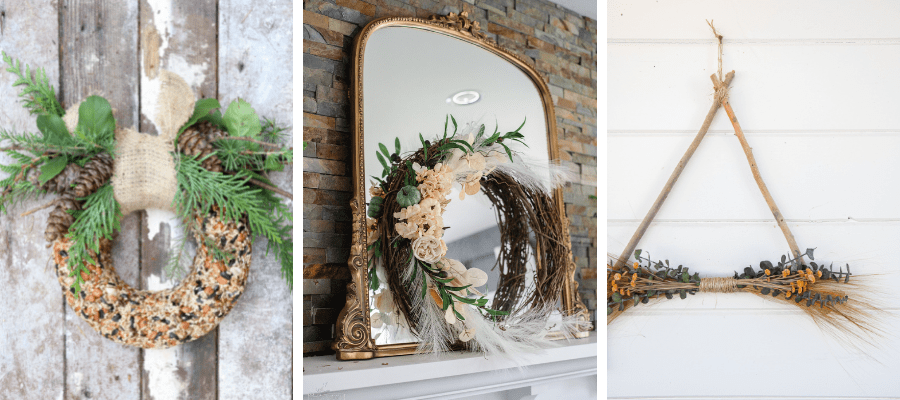 Bird Feeder Wreath // My Sweet Savannah
Romantic DIY Grapevine Wreath // The DIY Mommy
Nature Inspired Twig Wreath for Fall // Twelve On Main