Well its day 3 of my popsicle party this week! Today I am excited to be joining up with some amazing bloggers to bring you a fantastic assortment of summery popsicle recipes! Make sure check them out at the end of this post! If you missed my earlier popsicles you can see my pina colada popsicles here, and my mango mojito popsicles here. Today I am sharing my strawberry mojito popsicles! These can be made with or without alcohol. Since I do not drink and since my kids absolutely love these popsicles, I do not add any alcohol in mine.
Strawberry mojitos are something my sisters and I make when we are together on a girls trip. We often mix up our own tart drink, and often add a few extras to the drink. Strawberries are so good in this. We have also switched out mint for basil when making them, but I find it tastes really good with the mint in these strawberry mojito popsicles.
The key to getting the full flavor in the popsicles is to use an immersion blender to break up the strawberries and mint. Since this only has a few ingredients its pretty easy to do.
How to make strawberry mojito popsicles:
These popsicles are super easy to make. First let's talk about the popsicle mold I use. This popsicle mold is really great. It's a silicone mold, which makes it easy to remove the popsicles once they are frozen.
It also comes with individual wrappers for your popsicles to store them in as well as a big bag of popsicle sticks. Its great!
This popsicle recipe is super easy.
I use frozen from concentrate limeade as the base to this because it has the perfect tartness. You can either blend up and puree your strawberries before you mix them into the limeade or you can use an immersion blender along and blend up the mint and strawberries together. Its nice to have it be a little chunky.
The only other thing I add to my strawberry mojito popsicles is some simple syrup.
If you don't know how to make a simple syrup, here is the low down:
You simply need to use equal parts water and sugar. Heat it in a saucepan until the sugar is dissolved. I like to take mine to almost boiling. There are a few reasons why I use simple syrup, but the main reason is to give your popsicle a smooth texture. I didn't want undissolved sugar granules in my popsicles.
Add 1 tablespoon on syrup at a time and taste to make sure I get the correct ratio. Sometimes it can change a bit depending on the ingredients.
If you want the my Strawberry Mojito popsicle recipe, here it is:
Strawberry Mojito Popsicles
These refreshing strawberry mojito popsicles can be made for kids and adults! They are easy to make with only a few ingredients. They are tart and sweet and are perfect for summer!
Ingredients
2

cups

limeade

I use the frozen from concentrate and mix it with water before using.

5-6

strawberries

5-6

mint leaves

2-3

tbsp

simple syrup

You can use whatever sweetener you like!
Instructions
Combine the limeade, mint, simple syrup, and strawberries by using an immersion blender to break them up. You could use a regular blender but I find it create too much foam on the top of the mixture.

Pour into a popsicle mold, and freeze for at least 4 hours. Enjoy!
These strawberry mojito popsicles are one of my kids favorites! I think they just think of them as a strawberry limeade popsicles. They are tart and sweet…perfect for summer.
You definitely need to make these! They are so divine. I love how easy they were to make. I am going to have to keep these stocked up in the freezer. Try them and let me know what you think!
Make sure to PIN IT for later and share with friends!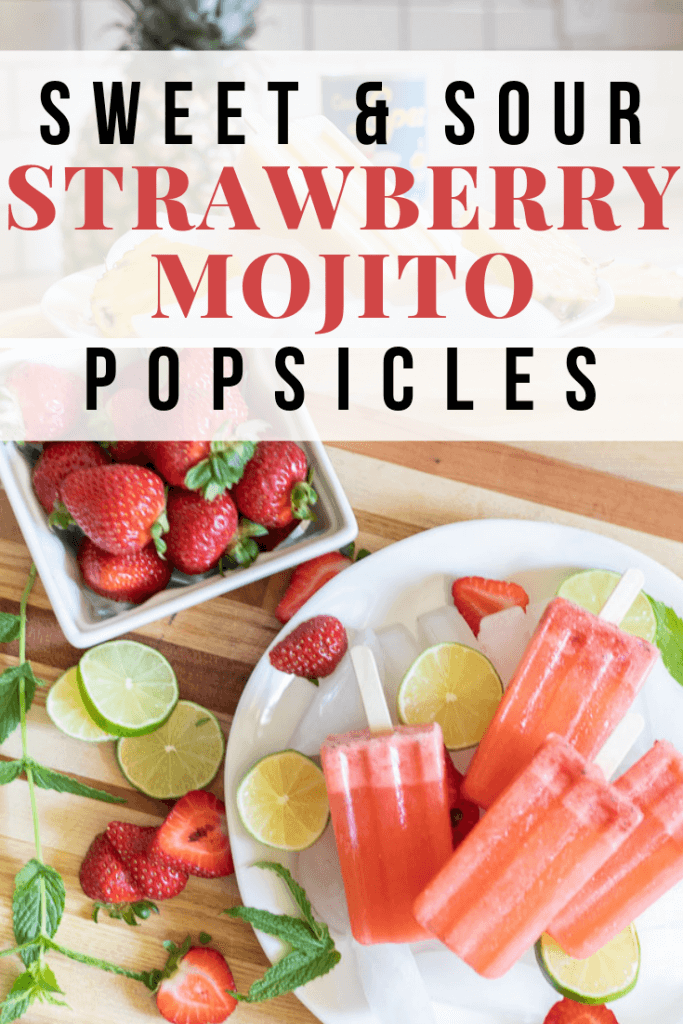 Now make sure to check out all these other yummy popsicle recipes from my blogging friends:

Homemade Popsicles at Happy Happy Nester
White Cranberry Raspberry Popsicles at The Happy Housie
Healthy Iced Coffee Popsicles at Modern Glam
Strawberry Mojito Popsicles at Twelve on Main
Raspberry Blueberry Popsicles at My 100 Year Old Home

Blueberry Cashew Creamsicles at Finding Lovely
Easy Yogurt Popsicles with Fruit at Your Marketing BFF
Mint Cookie and Cream Popsicles at Inspiration for Moms
Aperol Spritz Popsicles at Doreen Corrigan
Raspberry Lime Popsicles at The Homemade Home
Want some more yummy recipes?
Strawberry Throw-up, Our Favorite Strawberry Dessert
Homemade Mango Mojito Popsicles that are Kid and Adult Friendly
Summertime Charcuterie Board Ideas for A Crowd
What about some summer decor ideas?
The Ultimate Guide to Outdoor Decor for the Summer
Find the Perfect Outdoor Dining Tables For Your Patio!
30 of the Most Stylish Outdoor Rugs for Your Home
GET YOUR FREE GUIDE to 30 DIY projects that can be done over the weekend!
By subscribing, you will gain access to my FREE guide with 30 DIY projects that can each be done in a day, or over a weekend!
You will also receive a weekly email with some of my favorite tips, tricks, and design ideas.