If you have the space for a mudroom in your house, this is the perfect space to have. I love having a mudroom area where my kids can keep their shoes, backpacks, and jackets. There are so many different ways to create an organized mudroom and having a mudroom bench with storage is a great way to do that. I want to show you 30 mudroom bench ideas that create an organized and stylish space.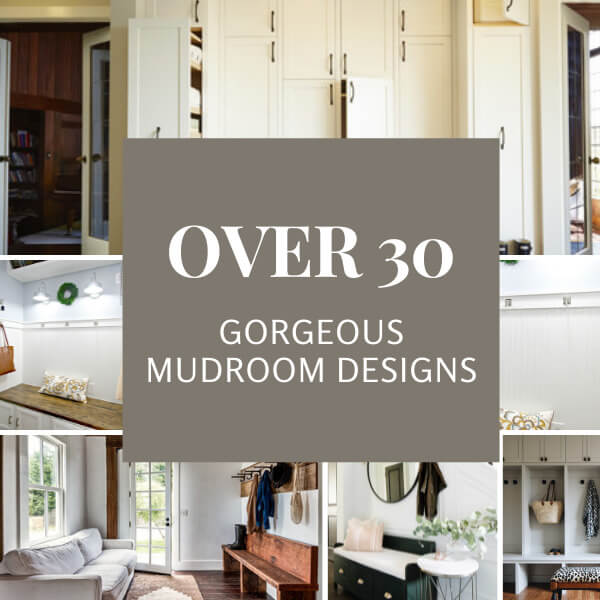 Often times if you have a laundry room, this is also a good place to create a mudroom bench area. You can however create one wherever the most functional place for your family is. It could be in the entryway, the garage, or maybe you have a dedicated space in your home for a mudroom such as a breezeway or separate room. We call ours the breezeway. This is the hallway/room that connects the house to the garage. Our pantry and laundry room come off of this "hallway". It has a large window that brings tons of light inside. Its the perfect place to create a landing spot for our kids and ourselves.
Whether you have a large space or are working with small spaces, you can create a space that is functional for you. Sometimes you may have to think outside the box in terms of where or how to build it. One of the most unique ways is too turn a coat closet into a mudroom space. You can build a small bench as well as cubby spaces and hooks for people to hang their jackets and store away their shoes.
When we decided to create a built in mudroom bench, I wanted a long bench that extended the full length of our mudroom. I also did not want to disrupt the large window. We chose to build a large bench that has 6 separate cubbies. The bench top lifts up and the storage space is below. This works amazing for my kids, as they can store their shoes out of sight without much thought.
I chose to create spaces where we could all hang our coats and backpacks above the bench to keep those things off the bench. I added 6 coat hooks, one for each family member.
The most important thing to think about when creating a mudroom area is how many people will use it and what do you want to use it for. In our home, I wanted a space where all 6 of us could hang our coats/purses/backpacks and store our shoes. I wanted everyones shoe storage to be separate. I had used some other kinds of shoe storage prior to building our mudroom bench and found that it was kind of a nightmare when we all threw our shoes in together. By separating the out, it has solves arguments, and I can see who are the messy ones and and who is not.
I also did not want to use storage baskets in this area because we had used them in the past and they did not function very well for my kids. lets just say they could not get their dirty shoes inside the basket….
Our DIY mudroom bench is extremely functional while looking stylish. I wanted something that looked built in, with some details such as board and batten. I used the paint color Gettysburg Grey from Benjamin Moore to keep it cohesive with the rest of the home.
The top of the bench is MDF and we painted the tops the same color as the wall so it would all look like one piece of furniture.
This mudroom design works well for our family and we all have plenty of space to store our gear. The wall hooks I installed are heavy duty and can hold my kids heavy backpacks without any problem.
There are so many different mudroom ideas, and in addition to my mudroom I wanted to share some amazing mudroom designs. Lets have a look:
With so many different options of mudroom bench and mudroom space ideas, I am going to share so many different styles as well as small spaces and large spaces.
DIY Mudroom/Entryway Bench | Crafted By the Hunts
Here is a simple mudroom or entryway bench that you can build yourself. This is such a great use of space.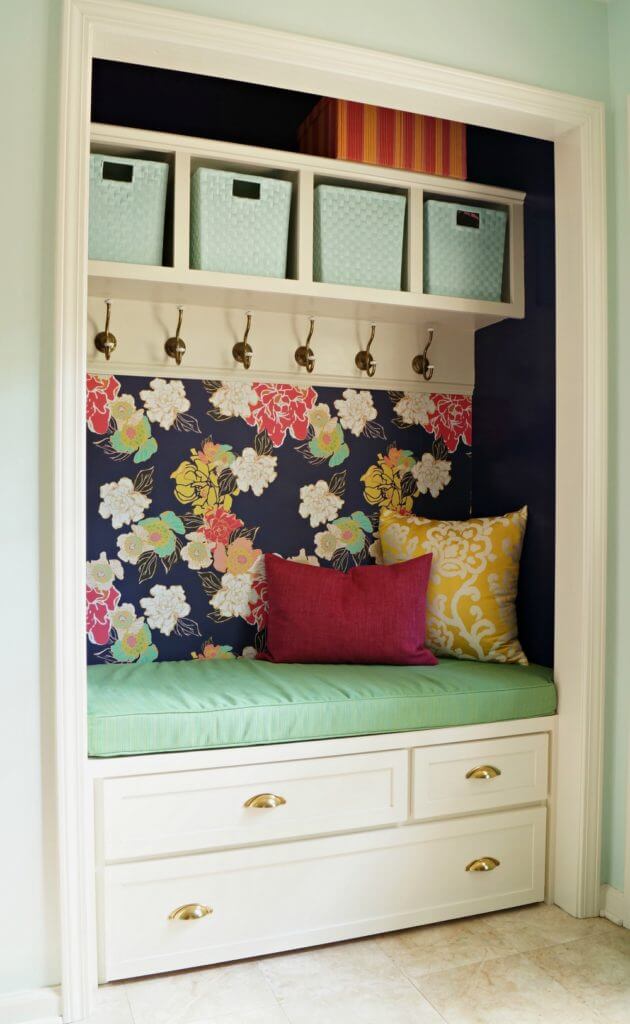 Mudroom Makeover | Maggie Over By Studio
This mudroom makeover by Maggie Over By Studio is so pretty. It is a great use of space. I love how functional it is in this smaller space.
DIY Mudroom Storage Bench | DIY Danielle
The great thing about my blogger friends is that they all have such great ideas and share those with their readers! I am now sharing some of them with you. Check out this great build by DIY Danielle.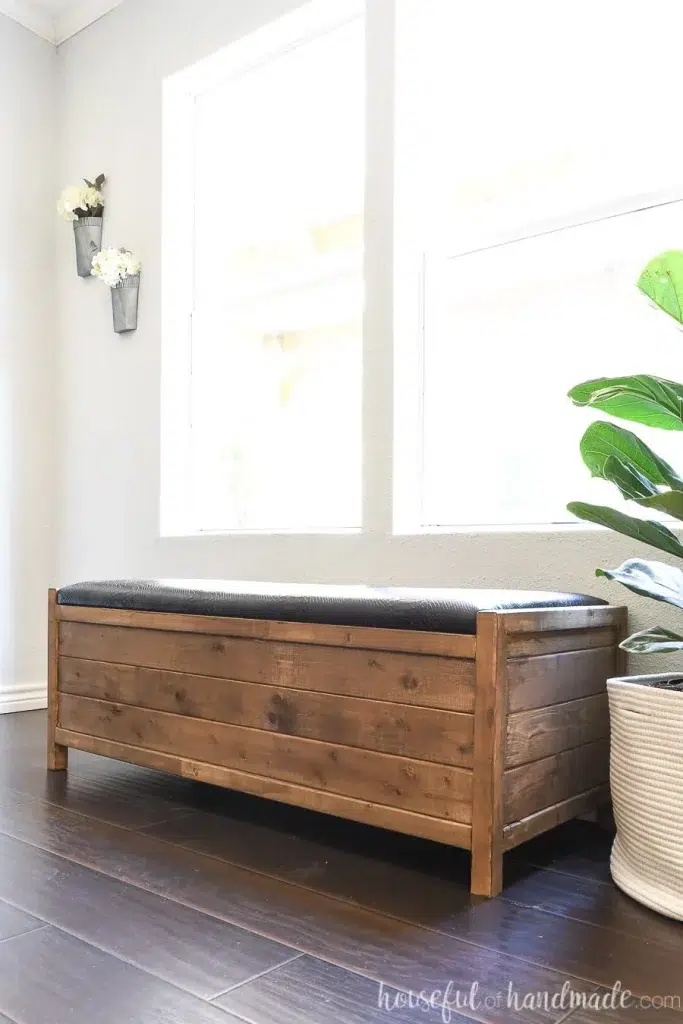 Storage Bench DIY | Houseful of Handmade
If you have a small space, this storage bench by Houseful of Handmade is perfect!
DIY Barnwood Bench with Building Plans | Lazy Guy DIY
This bench by Lazy Guy DIY is gorgeous. It would look amazing in a mudroom or entryway. I love the rustic look. It would look great in a new build or an old house. You can get this mudroom bench plan as well!
Mudroom Makeover | Designed Decor
Check out this mudroom makeover by Designed Decor. Each home has specific needs and creating those unique areas is something everyone can do.
Mudroom Makeover | Thrifty Decor Chick
This makeover is gorgeous. The storage under the mudroom bench is functional and the use of the vertical space is another great way to use all the storage spaces.
Mudroom Makeover | The Vanderveen House
Mudroom decor does not need to be expensive or fancy and there are so many ways to be creative in creating a functional and stylish space.
DIY Mudroom Bench | H2o Bungalow
This is the perfect spot for someone to take their shoes off and rest their legs. I love the simple design of it.
Photo by Renaissance Homes – Browse entryway ideas
This is a gorgeous example of a fabulous mudroom. I love this mudroom and all the open storage
options. There is a place for shoes jackets and more. The closed storage cabinets help conceal unsightly items.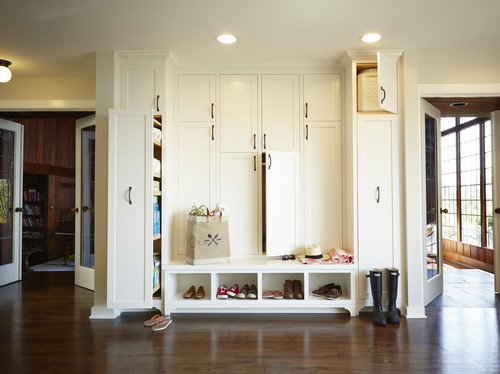 Photo by ROM architecture studio – Browse entryway photos
I love all the cabinets in this mudroom area. The first thing I notice is the amount of storage. I love this and I can imagine this making it so much easier to keep things cleaned and organized.
Photo by peter c quinn architect – More entryway ideas
Once again, another full wall of cabinetry along with another mudroom bench. Having a seating area
in a mudroom is vital.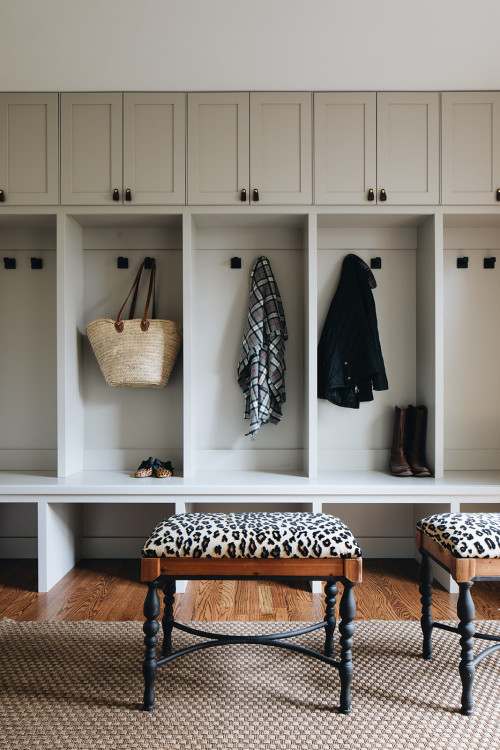 Photo by Ash Street Interiors, LLC – Search entryway design ideas
This is what dreams are made of! I love these mudroom lockers. The paint colors on these cabinets is absolutely perfect. There is so much storage here and tons of seating!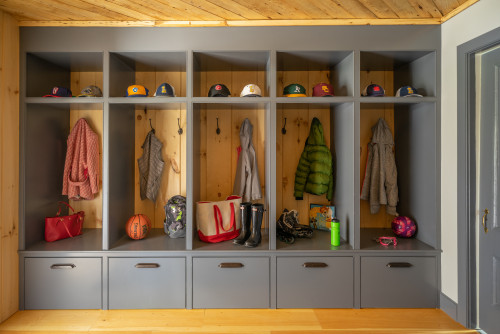 Photo by Kaminski Construction Management – Browse entryway ideas
This mudroom does not have a dedicated bench but these lockers create a functional mudroom.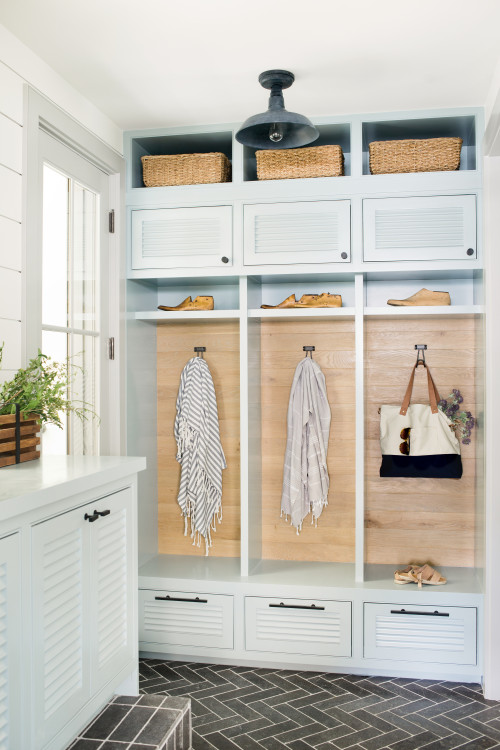 Photo by RJ Smith Construction – Discover entryway design inspiration
I feel like I am swooning over all the gorgeous. The cabinet doors are especially awesome here.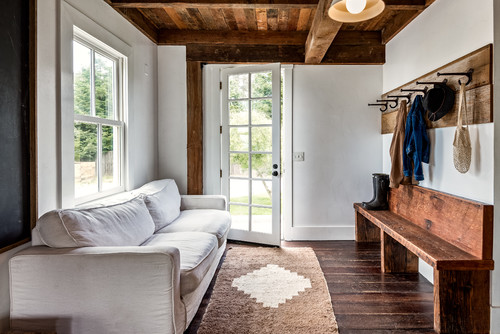 Photo by Bart Edson Photography – Browse entryway photos
This mudroom bench seat is absolutely gorgeous and the couch adds a touch of softness. I love this space.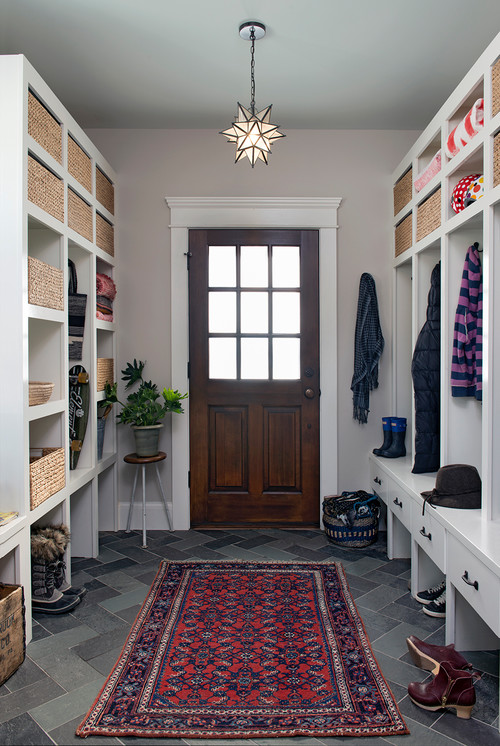 Photo by Tina Levinson – Discover entryway design inspiration
Oodles of wicker baskets, cubbies and lockers. I love this mudroom.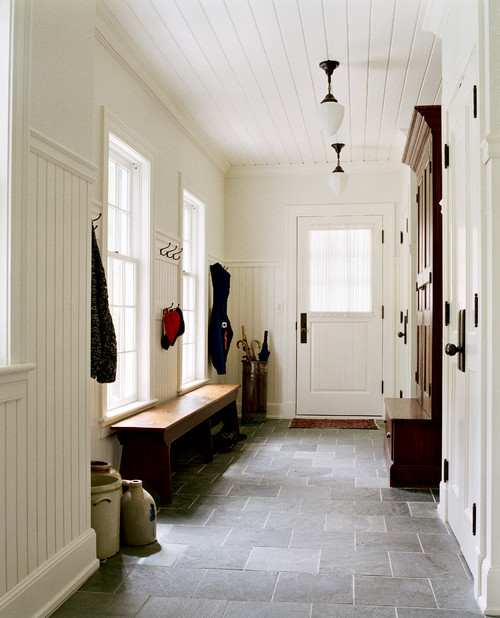 Photo by Jan Gleysteen Architects, Inc – Discover entryway design ideas
Here is another gorgeous mudroom with a simple mudroom bench. The beadboard panel is an extra touch of charm.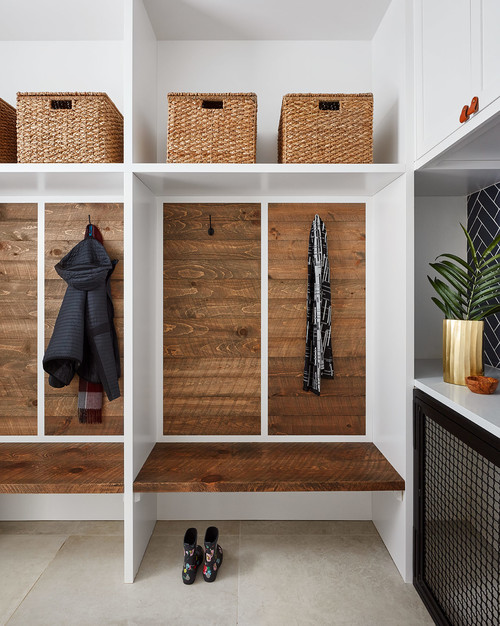 Photo by Devon Grace Interiors – Look for entryway design inspiration
Can we talk about the beautiful wood on these mudroom lockers? Its the perfect place to store items so that the rest of the house can remain uncluttered.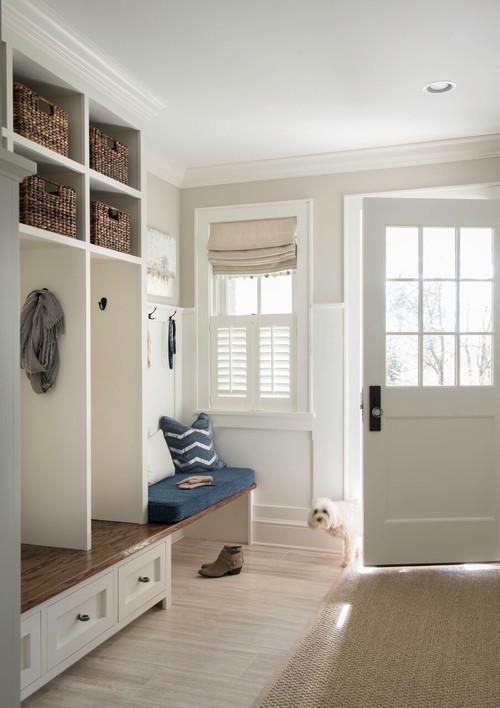 Photo by Dalia Canora Design, LLC – Search entryway pictures
Having a mudroom bench near the front door is also a great idea. Its easy to add elements to create a stylish space while also being functional.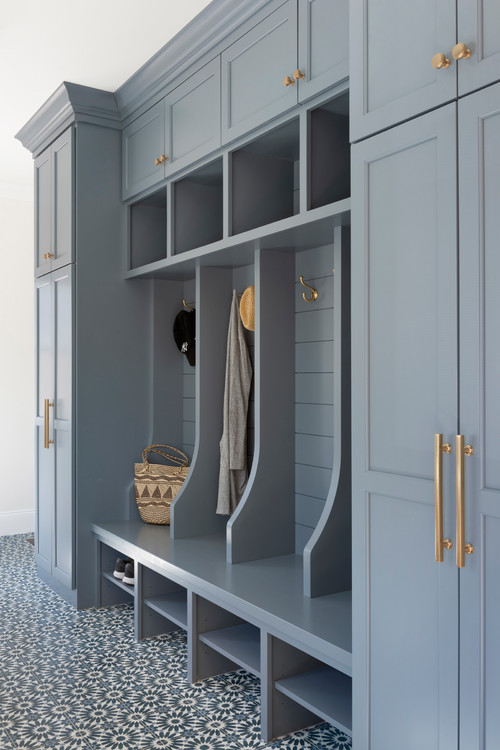 Photo by Tucker Thomas Interior Design – Browse entryway ideas
Now this is epic. There is nothing wrong with this space.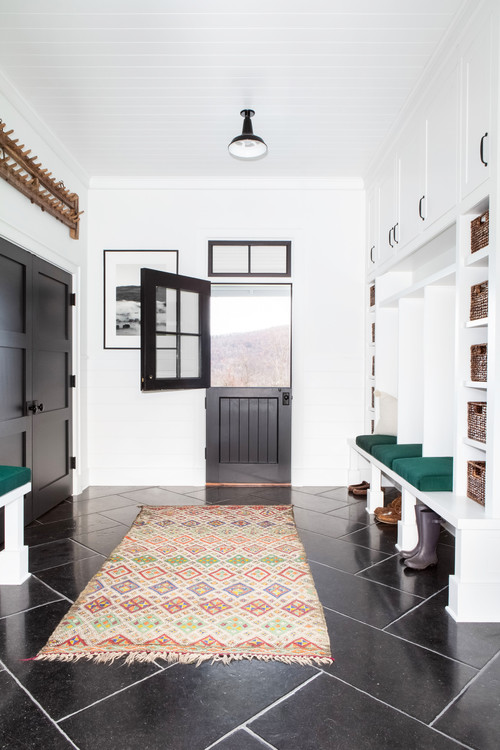 Photo by Chango & Co. – More entryway photos
Another gorgeous and functional space.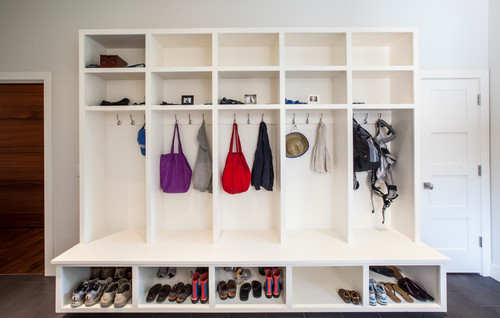 Photo by Venture Architecture – Browse entryway photos
This would be a great garage mudroom option. You can store sports equipment and would work great in a narrow hallway as well.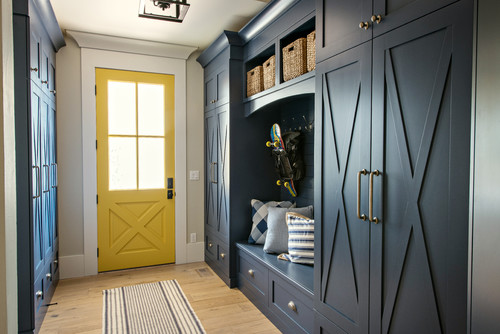 Photo by All About Home Design – Search entryway design ideas
I wonder what is behind those beautiful doors? I love this mudroom space.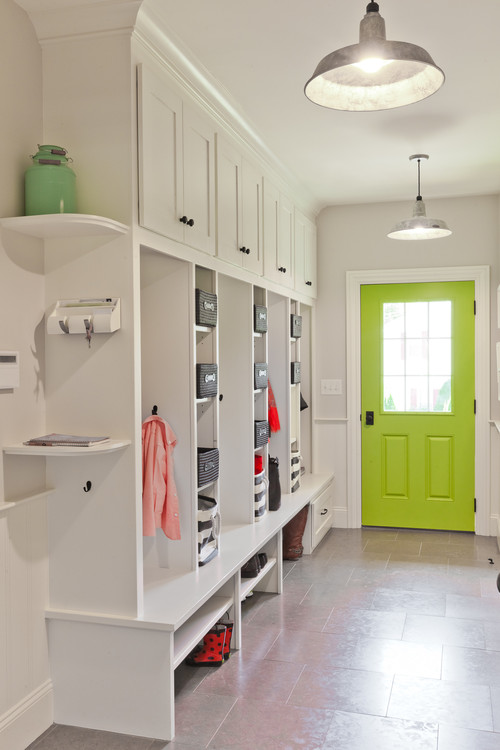 Photo by ASB Architecture – Discover entryway design inspiration
Shoe storage, key hooks and so much more. This is a great space.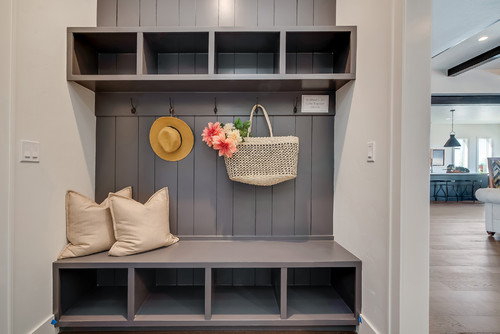 Photo by Solitude Homes – Search entryway pictures
Shoe shelves, and storage hooks make a mudroom very functional.
,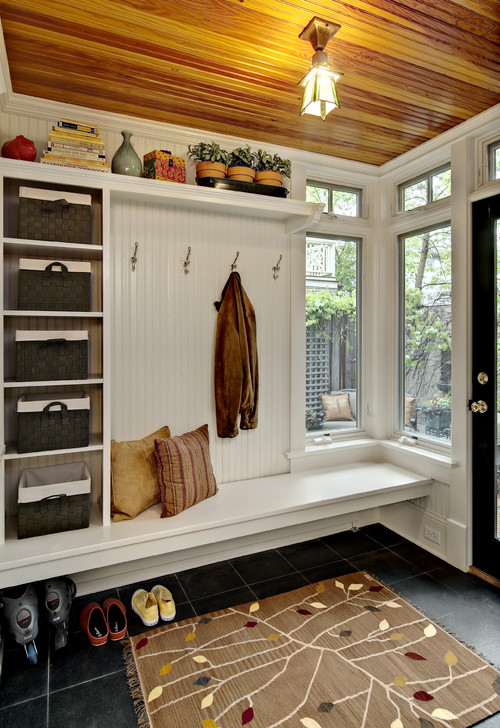 Photo by – More entryway photos
Why not add a decorative shelf to the top of your mudroom?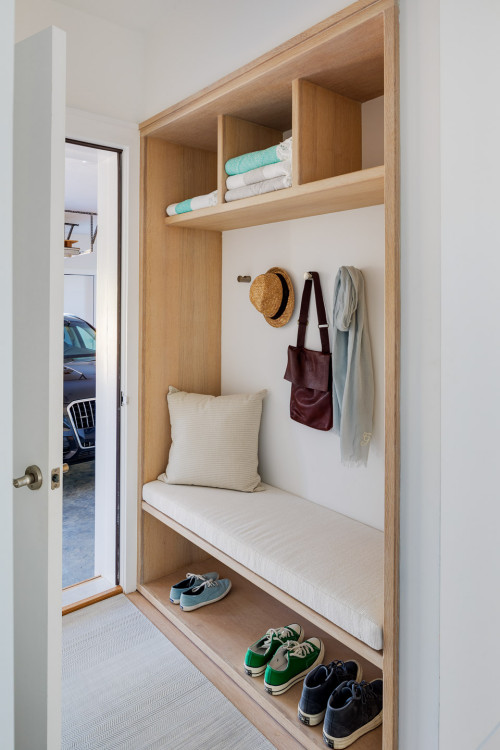 Photo by ZeroEnergy Design – Search entryway design ideas
The perfect bench for small space off the garage. The upholstered cushion makes this space a more comfortable space to sit and take your shoes off.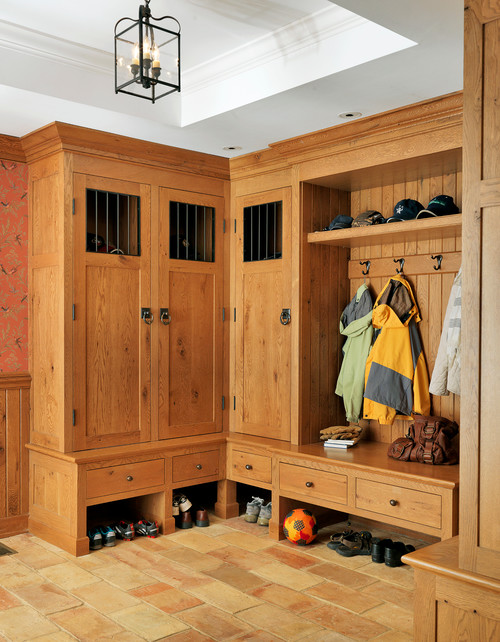 Photo by Jan Gleysteen Architects, Inc – More entryway ideas
If you love wood, this is the mudroom design for you.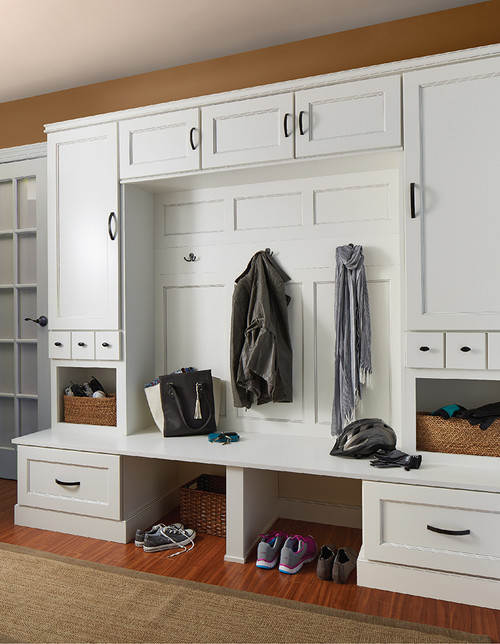 Photo by Colorado Classic Cabinets – Look for entryway design inspiration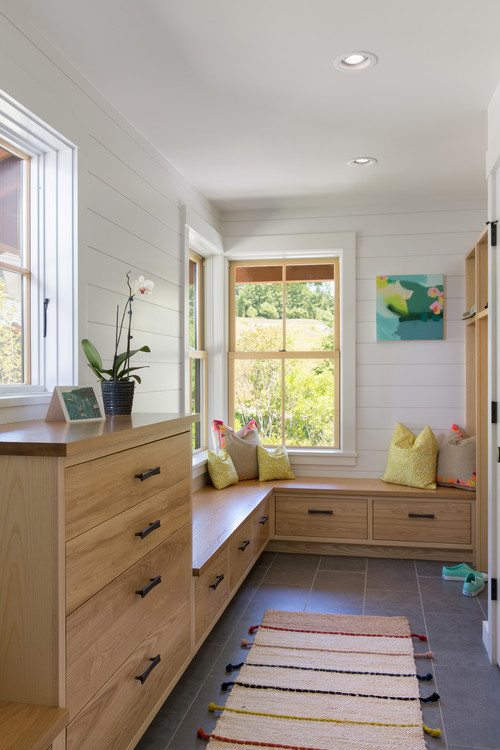 I hope you enjoyed these mudroom bench ideas. I have a big love for these spaces as a mom. Ours is like the heart beat of the home. It is a space we use every single day, and many times a day at that.
GET YOUR FREE GUIDE to 30 DIY projects that can be done over the weekend!
By subscribing, you will gain access to my FREE guide with 30 DIY projects that can each be done in a day, or over a weekend!
You will also receive a weekly email with some of my favorite tips, tricks, and design ideas.