Something I love to do is to decorate my walls with artwork, pictures, and more. I often hear comments from people that get a bit confused and overwhelmed. I want to help break down the stigma of hanging up a collection of frames on the wall. It does not have to be difficult. I've got over 40 different way sot hang picture frames on the wall.
Hanging an arrangement of picture frames on the wall can seem daunting but I have some really great tips to help you. I also have over 40 mock up frame ideas for you to look through!
If you are wanting to hang a group of framed art, family pictures, or cute wall decor items that you have acquired, the first thing you need to to is to choose where you want to hang them.
I like to use them as a focal point in a room. Hang them above a couch, make a gallery wall in a hall, hang them above the fireplace, or create a collection in the staircase.
I decided to use the idea of hanging them above a couch as my basis for my mock up ideas. Since pretty much all of us probably have a couch, its a more universal way to show you all the amazing ways that you can hang picture frames on the wall.
Once you decide where you are hanging your framed artwork, I have some tips to hang them the way you want the first time!
How to hang a gallery wall like a pro:
Here are my secret tips for getting those frames to hang perfectly on the wall.
First, make cutouts with old wrapping paper or craft paper of each of the frames. Make sure to cut them the exact sizes. These will act as a practice run for you. Once you have them all cut out, you can hang them on the wall with a bit of tape. Arrange them as needed either using your eye to decide if you like it, or use on the of the mock ups that I have made to create something fun.
Second, to get them to hang in the right spot, take a piece of scotch tape, and tape it across the back of the frame, right over the hanging hardware. Make sure to tape from end to end to get an accurate measurement.
Next, take a marker and mark the center of the hanging hardware(where the frame will be hung from). After you have done this, take the tape off and transfer it to the cut outs that are hanging on the wall.
All you have to do now is to hang your nail on that dot on the tape. Before removing the tape and the paper, I like to hang them all, making sure they are all in the correct spot. Last, I will take all the paper and tape off the wall carefully making sure that I do not move or remove the nails.
Now rehang your frames on the wall and you have a wall arrangement that looks like a pro did it…and lets face it, you are a pro!
How high should I hang my framed artwork?
There are some general rules of thumb when hanging pictures or artwork on the wall. To keep it simple, you need to have them just at eye level if not lower. Something I often see is pictures, artwork or other wall decor being hung way too high.
As a general rule, between 56-64 inches is about the right height for most items. This also works for items hung above a sofa as well. I would recommend hanging it approximately 6 to 8 inches above your piece of furniture.This works for side tables, book shelves, and sofas. Above a bench you may want to stick with the 56-64 inch zone. You want to be able to enjoy the items you are hanging. You may think this seems too low, but I promise, try it out and you will find it looks and feels so much better.
I say "feel" because part of design and decor is the feeling it gives you. When I see something that might be a bit off or a bit too high, I can actually feel that odd proportion. It feels a bit unnatural.
How far apart should I hang my framed artwork or photos for a gallery wall?
This is something that can be chosen according to your preference but I will tell you what I prefer. I prefer them to be 3 to 4 inches apart. I also recommend keeping them all at a consistent width if hanging multiple sized framed items. It should also fill 2/3 of the width of the piece of furniture you are hanging it above.
These aren't hard and fast rules. You can definitely go outside of these guidelines if you have a specific look you are wanting to achieve. You can keep things symmetrical or asymmetrical. It all depends on what you are looking for.
I have address all these kinds of gallery wall ideas in the images below. Take a look at these and see if they give you some inspiration for your next gallery wall.
Make sure to click the navigate button at the right to see all the gallery wall ideas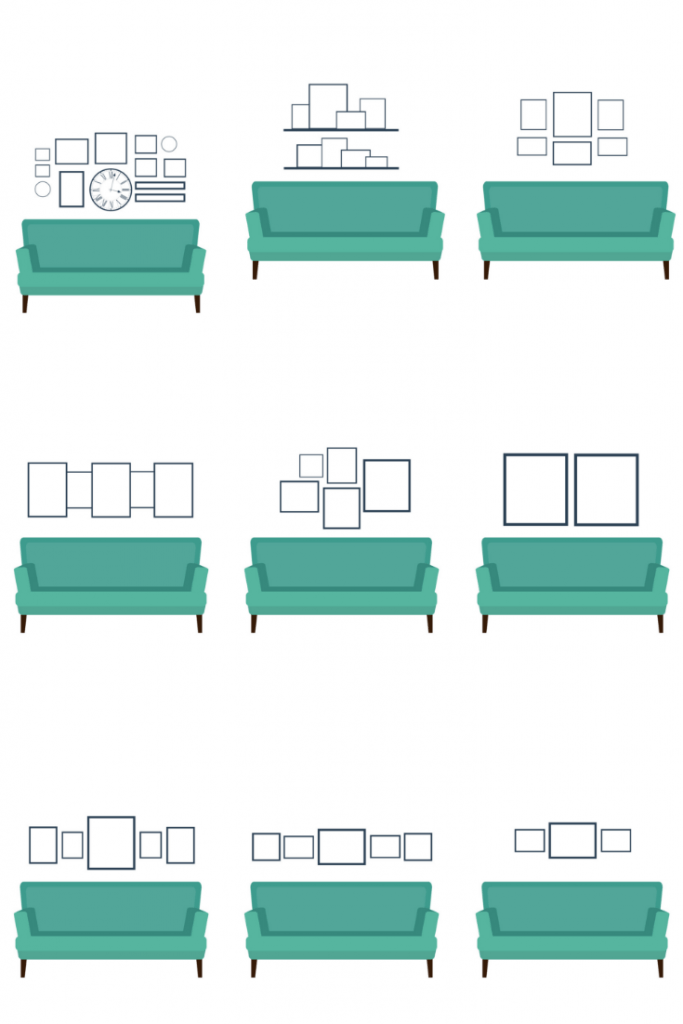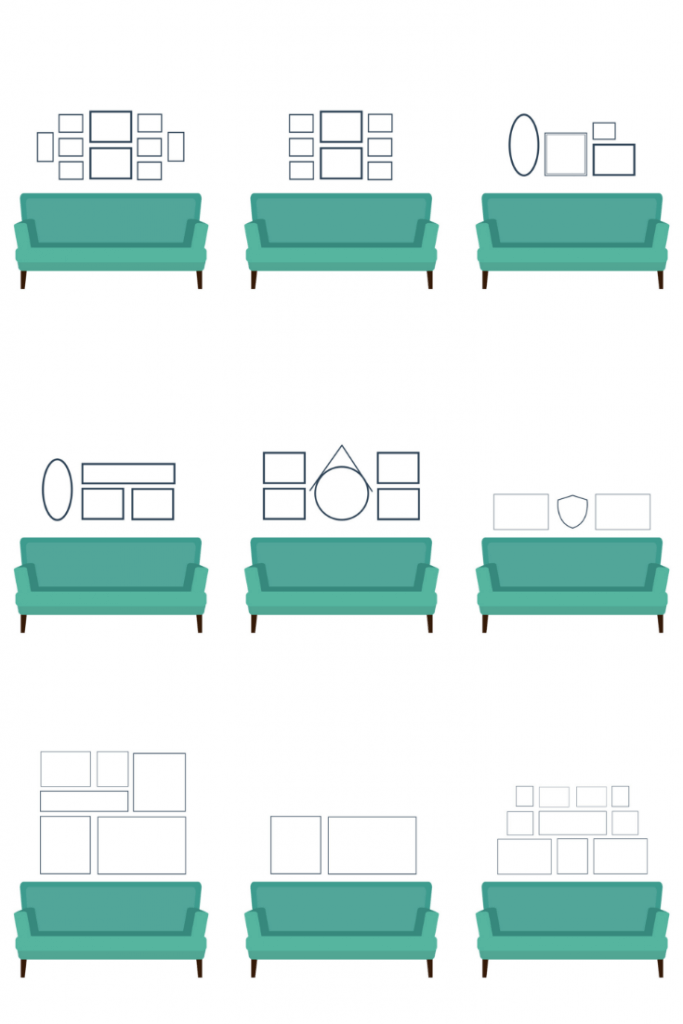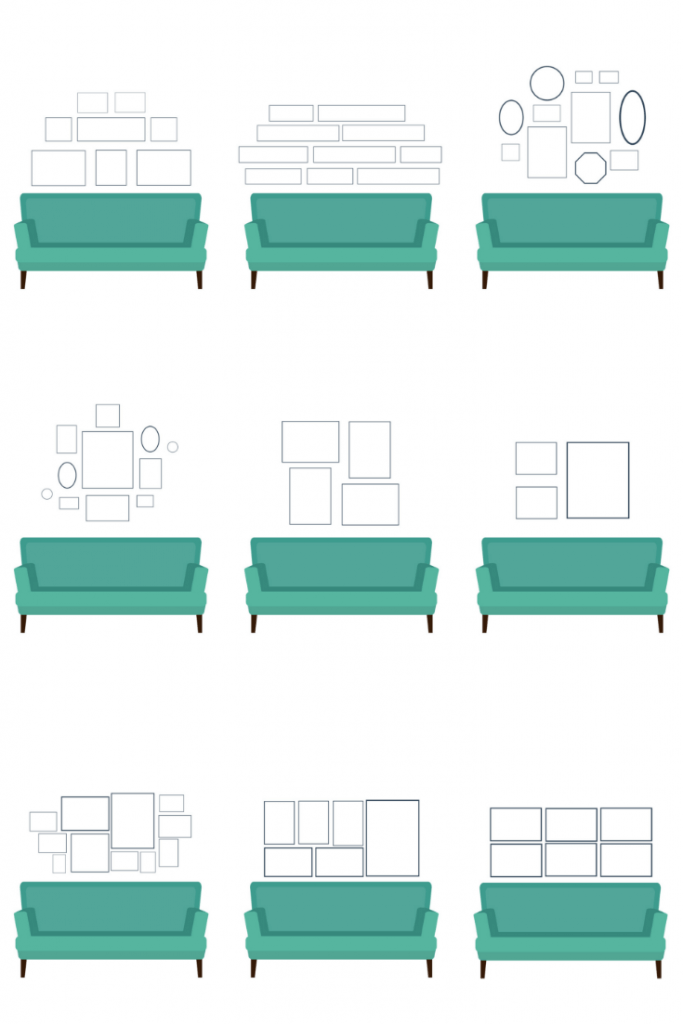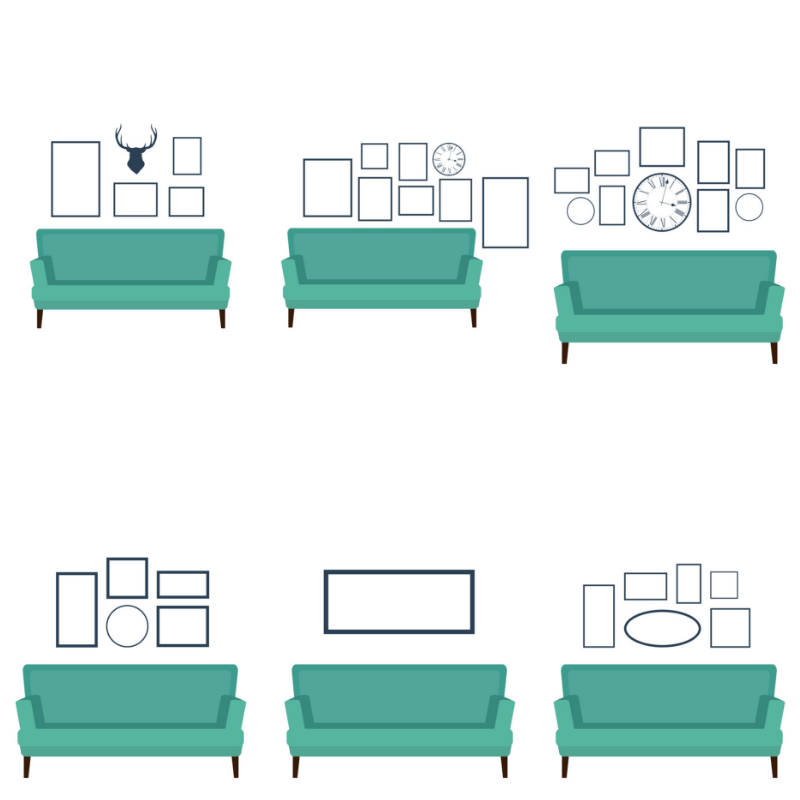 [/tps_title]
[tps_footer]
With so many different gallery wall ideas, you may wonder how you will ever be able to choose a design that is right for you! Let's talk about that for a minute.
Its easy to get overwhelmed when looking at all these options. Here are a few things I would do first before deciding what gallery wall idea you want to choose.
Take inventory of the framed artwork you already have
Take inventory of any wall decor pieces you want to incorporate including clocks, signs, mirrors, and antlers/horns, etc.
Choose your location.
Have a budget in mind so that you will know what you are willing to spend
Begin by cutting out the shapes and sizes of the frames and wall art you want to use. Begin laying it out, or choose one of these designs above as a template and lay it out on the wall prior to hanging the real thing.
Once you choose the layout, and have tested the shapes on the wall, hang the frames according to my tips at the beginning of this post. It makes life so much easier I promise!
Items to include in a gallery wall:
family photos
gallery wall art
framed art
framed drawings
canvas art
clocks
antlers/animal heads
mirrors
signs
baskets
wreaths
chalkboards
The list can go on and on! These are items I like to keep in mind when coming up with a gallery wall idea.
I hope this post on gallery wall ideas and how to hang framed wall art has helped give you some direction if you are trying to decide what to to on that blank wall!
There are so many options when design a gallery wall. Make sure to check out my very own art website, where I sell prints of my own custom artwork.
I am always adding more including digital printables that you can print off right in your home.
Make sure to save this resource for later by pinning it! Make sure you are following my Pinterest account as well where I share tons of decor tips, yummy recipes and more!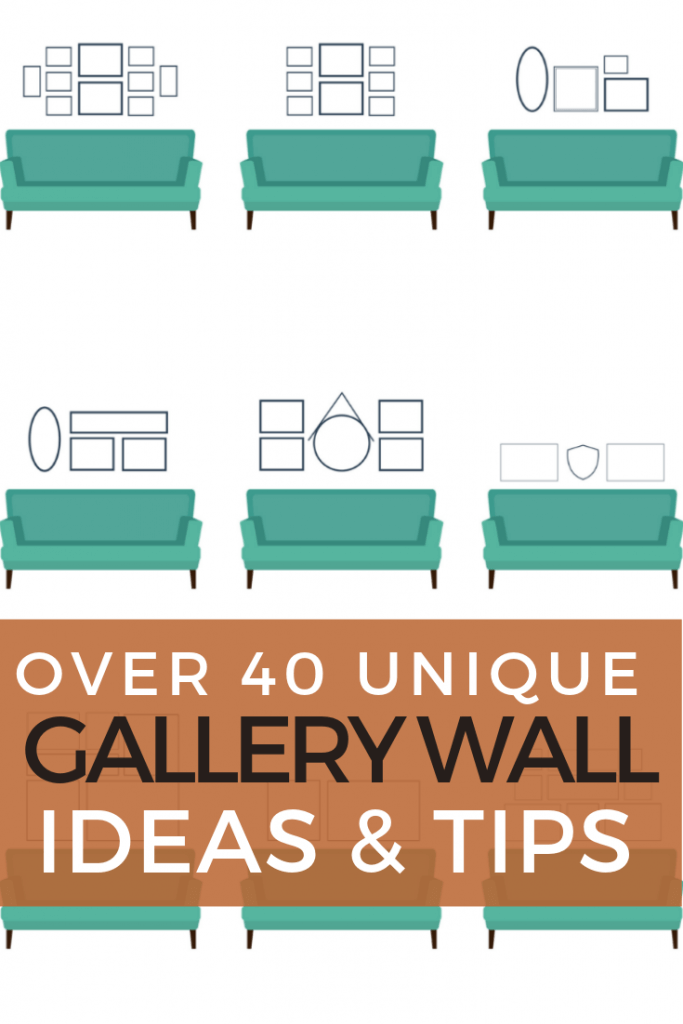 Maybe check out some of these posts as well:
How to Use a Chalkboard In So Many Different Ways
DIY Wedding Backdrop with Dropcloths for Budget Friendly Style
Hand Painted FREE Feather Wall Art Printable
How to Create Affordable Framed Artwork
FREE Spring Inspired Hand Painted Watercolor Plant Printables
GET YOUR FREE GUIDE to 30 DIY projects that can be done over the weekend!
By subscribing, you will gain access to my FREE guide with 30 DIY projects that can each be done in a day, or over a weekend!
You will also receive a weekly email with some of my favorite tips, tricks, and design ideas.