There are so many great outdoor lighting options and I am kind of obsessed with trying to find just the right ones for my house if I choose to change them out. Today we are going to talk about stylish black outdoor lighting fixtures. If you are looking for lights that might be just the right option for your home, keep scrolling and check them all out!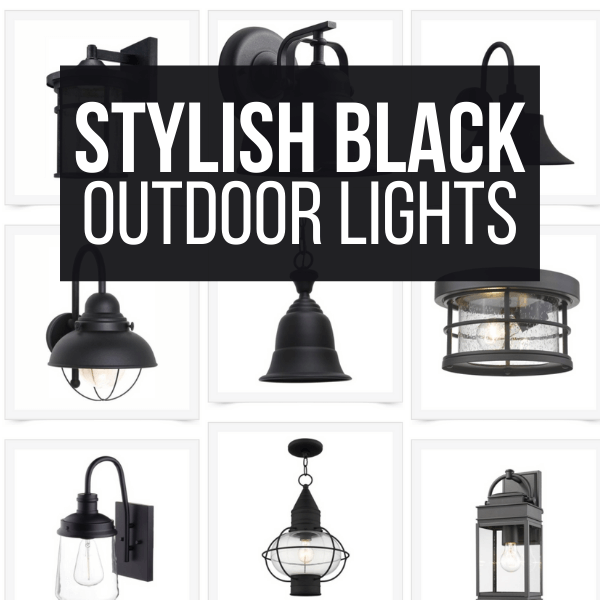 We all know that there are certain styles of homes that are popular right now, and while I love the styles that are out there, I think it is important to make sure that when you are choosing decor items for your home, that you choose ones that will stand the test of time and not go out of style even if the current styles change.
Decorative exterior lighting for your home can be an expensive investment, but they can also be quite inexpensive too. Exterior light fixtures are not something you want to change out often, so I want to share my thoughts on some classic and stylish outdoor lighting options.
I want to share some gorgeous black outdoor light fixtures that will be timeless and classic styles. But first lets talk about the many different types of outdoor lighting available.
Lets break down the different styles of outdoor light fixtures:
There are so many different outdoor fixtures to choose from and you can find them in any style you want. Be it for a minimal design, with clean lines or a modern farmhouse look you can find something to suit your aesthetic.
Outdoor Wall Lights: These are very popular on the exterior of homes. They are also called outdoor wall sconces. Generally you will see these type of wall lights flanking a front door(or entry door) or garage doors. They are probably the most popular type of outdoor lighting. The rest of these lighting options are often forgotten about. There are literally so many options it can be hard to narrow down your choice. There are also so many different price ranges you are guaranteed to find one you love and can afford.
Outdoor Pendants: These types of lights are the kind that hang from the ceiling and either have a solid top or clear glass that the light shines through. We have one of these on our back porch. They give us more of a task light option and the light shines down instead of off the walls. These are a great option to add style and an additional source of light. Get an outdoor pendant light and add style to your space.
Outdoor Ceiling Fans: Outdoor ceiling fans are super popular for the obvious reason. They allow more air movement to an outdoor space, and are extremely popular in more hot areas.
Outdoor Chandeliers: Get a little bit fancy with an outdoor chandelier. I love the idea of getting an outdoor chandelier. Make sure to consider where you plan to install it and make sure that it is protected from wind and harsh weather conditions. Hang one over a collection of outdoor furniture to create a cozy and intimate conversation and lounge space.
Landscape Lighting: This is a great source of task lighting that should not be ignored. Landscape lighting adds so much curb appeal to your home and can highlight architectural elements on your home as well. Install them aside an outdoor walkway to add safety to your outdoor areas. You can highlight landscaping as well. Don't sleep on landscape lighting, it can add so much to your homes exterior.
Outdoor Ceiling Lights: These easily describe exactly what they are. They are installed flush or semi flush to the ceiling. These are great along a corridor, under a porch or overhang.
All these lighting options provide a welcoming atmosphere to the space they inhabit. It is always good to have more than one lighting option outside. Consider adding a pendant light as well as some wall sconces under a porch.
One word of caution. Make sure to check that the light you choose is for outdoor use. This will guarantee a longer lasting light and it will be safer.
Outdoor lighting is not only decorative but functional. It is important to use lighting for safety issues, including lights for pathways, entrances, and to illuminate entertaining areas.
Black outdoor lighting is a very classic and timeless way to go. There are so many different options and I wanted to narrow down some of them to show so me of my most favorite black outdoor lighting options for you porches, front doors, and so much more.
BLACK OUTDOOR LIGHT FIXTURES:
Simply click on the images below to be taken directly to the light. Its that simple~

What kind of light do you like? Is it traditional, transitional, modern, mid-century, farmhouse, arts and crafts, or minimalist design? There are so many different styles and outdoor lighting options available and I am sure that you will be able to find something that catches your eye and fits perfectly with your homes decor.
So whether you are building a home, planning to, or simply want to update the outdoor lighting on your home, there are so many inexpensive options to choose from.
Make sure to PIN IT for later and also follow me on Pinterest to see what I am pinning!
MAKE SURE TO CHECK OUT THESE GREAT POSTS TOO:
40 Stylish Solar Lighting for Outdoors
Mid Century Farmhouse Outdoor Decor Ideas With A Boho Twist | My Patio Reveal
How to Clean a Patio to Prepare for Outdoor Entertaining
50 Gorgeous and Cozy Outdoor Sofas Perfect for Your Patio
Find the Perfect Outdoor Dining Tables For Your Patio!
30 of the Most Stylish Outdoor Rugs for Your Home
GET YOUR FREE GUIDE to 30 DIY projects that can be done over the weekend!
By subscribing, you will gain access to my FREE guide with 30 DIY projects that can each be done in a day, or over a weekend!
You will also receive a weekly email with some of my favorite tips, tricks, and design ideas.