Painters canvas drop cloth is one of my most favorite materials to use when I am working on home decor projects. You may wonder why I love it so much. Basically, its for its versatility. There are so many ways to transform this material. Over the years I have created many projects. I thought it would be a great idea to share what I have done in the past and I have 8 super easy painters canvas drop cloth project ideas that anyone can do!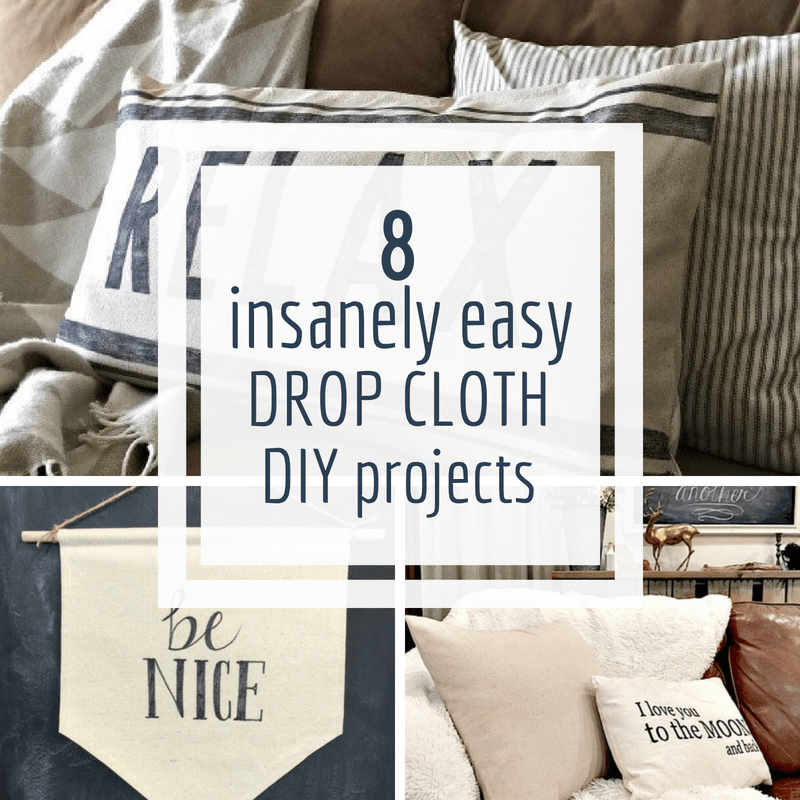 Sometimes I get an idea in my head about a project I want to do, and often times it involves some type of fabric. I live in a small town where we do not have access to stores where I might be able to purchase anything I might need. Because of this, I have to be creative and flexible when I am working on a project, especially if it is a spur of the moment project. So, I have to dip into my project stashes at my home. And something I always have in my stash is painters canvas drop cloth.
The first thing you want to do before using drop cloths for your next project, read this post about how to choose the right dropcloth for your project.
I have used my painters canvas drop cloth for so many different projects, that I feel like it has become second nature to use it whenever I am looking for material for a project. The color and texture of the painters canvas drop cloth allows itself to be very versatile in my home, which centers around a more neutral pallet. However, if you keep reading, you will see that it can be used in a more colorful environment and transform into practically anything.
Make Your Own Grainsack Fabric- When You Cant Get Your Hands On The Real Stuff
I love grainsack fabric, but I often find it to be quite expensive to buy the real stuff. So, with this project, I created my own grainsack fabric by using painters canvas drop cloth and a little bit of paint! Click the link or image above to see the full tutorial.
Make Your Own Fabric Flag for Fall with Dropcloth
I made this drop cloth flag one evening while watching Jimmy Fallon. Jimmy Fallon makes everything more fun. This was really easy to make. I made this sign for fall, but have thought about making more. Maybe one for Christmas and another for the summer or spring! They hold up well outdoors because I used paint and a fabric medium to paint the painters canvas drop cloth in order to protect it. Click the link or image above to see the full tutorial.
Now, make sure you keep scrolling, there is so much more to see!