About a month ago, I was privileged to work with Lowes Home Improvement on my master bedroom farmhouse remodel. If you havn't seen the final reveal or the weeks leading up to it, check them out here:
Week 1 | Week 2 | Week 3 | Week 4 | Week 5 | Final Reveal
One of the biggest changes that happened in our farmhouse master bedroom was replacing our carpet with new Pergo Laminate flooring. This post today is all about the process I took from choosing my flooring to installing them.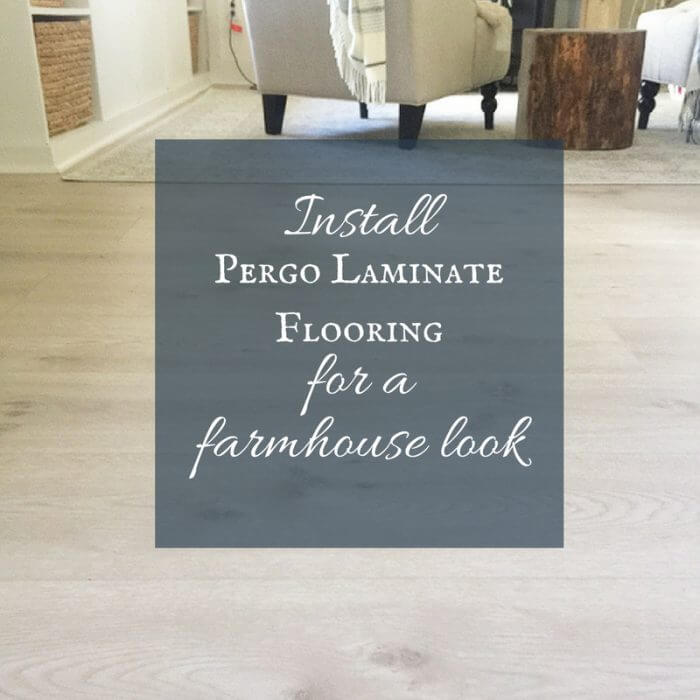 When choosing a flooring there are so many things to take into consideration. Here is a list of things you may want to keep in mind when choosing a flooring for your home.
Durability
Material
color
plank widths
ease of installation
installation on subfloor or concrete
price
look and feel
I have hardwood floors throughout the main floor of my home, and while I love them dearly, there are a few things I do not. The number 1 problem being that I have a dog. A big dog. Lets just say the floor has shown a lot of wear and tear from their sweet little claws. Number 2, I have children, and they are almost worse than the dog! I cant count the amount of times my son threw his heavy metal Thomas the Train off the side of the counter top or couch. Number 3, has a dark glossy finish, which does not bode well for any kind of dust, dirt, and it is very difficult to keep clean.
Wow, I really am not selling hardwood floors am I? No, really I do love them anyways. But, for my upstairs, I wanted desperately to get rid of my carpet and replace it with a flooring that would eliminate a lot of those problems. I chose Pergo Laminate Flooring.
Once I decided what kind of flooring I wanted, I needed to choose a specific style. Lowes has a huge selection of Pergo Laminate Flooring to choose from. I bounced around from a more rustic, look, to a softer lighter color, which I ultimately chose.
I chose Pergo Modern Oak Laminate Flooring to install in my master bedroom and adjoining hallways. Now, I will tell you, I was initially a little shocked when I saw the product, almost a little "buyers remorse" just because it was something totally different from what I would usually choose. But, I had decided that most of my initial choices, I usually regretted. So I forged ahead, trusting that it would look amazing.
The Pergo Laminate Flooring is an 8 inch wide plank, which I absolutely loved Not only for the look, but for installation. I think an 8 inch wide plank will take half as long to install as a 4 inch wide one. Don't you think? It had warm beige tones, with knots visible. It uses a tight locking joint for installation, and has a nice satin finish.
The feel of the floor under foot is absolutely wonderful. M y mom described it as walking on raw wood. Not rough cut raw wood, but the soft, velvety feel of worn, raw wood. I thought it was a pretty great description. Not slippery at all, and just a little texture to it.
The floor does not compete with the rest of the room. It has a warm feel to it, and a subtle pattern. It is a great choice id you are looking for a farmhouse style or look, but want a more updated and modern feel.
Before we were ready to install our flooring we had a few steps to take, and we needed to make sure we had all the correct corresponding pieces for the flooring.
We needed:
Pergo® Modern Oak Thresholds
Pergo® Modern Oak Stair Molding
unfinished quarter round or Pergo® Modern Oak quarter round
We used the thresholds in the doors between rooms, and the stair molding goes around our stair opening where the floor comes flush with the stairs.
We used quarter round around the whole room once the flooring was installed. You will see later on in the post why.
Before we installed the Pergo® Laminate Flooring, we had to prepare the subfloor for installation.
The first step was to remove the carpet. Here we are in the middle of the tear down mode. Once the carpet and the carpet pad was removed, I had to go through and pull out the tack strips and the carpet staples that were throughout the room. Once those were all removed, I used my shopvac to clean up all dust and debris from the wood subfloor.
Whether you have a wood subfloor or concrete floor, it is recommended that you use the underlayment/moisture barrier. It was super easy to install.
You only install as you lay the flooring. Do not install all the barrier and then the floor. We worked in small groups. Install some barrier and then the laminate flooring. This will prevent damage to the underlayment/moisture barrier.
The underlayment lays directly on the subfloor and each length has a piece of underlayment tape that is connected that will allow you to connect it to the next piece of underlayment.
It can be easily cut with scissors to customize the fit.
Once we had some of the underlayment installed, about half of the room, we started to install the Pergo Laminate Flooring.
This flooring requires 18/ inch space between it and your walls. Since we had removed our carpet, we had baseboards still installed and did not want to take them all off, and found that we did not have to. We were able to install the laminate flooring and leave a 1/8 inch space between the flooring and the molding and used the quarter round to finish it off.
We started our flooring installation from the far left corner of the room.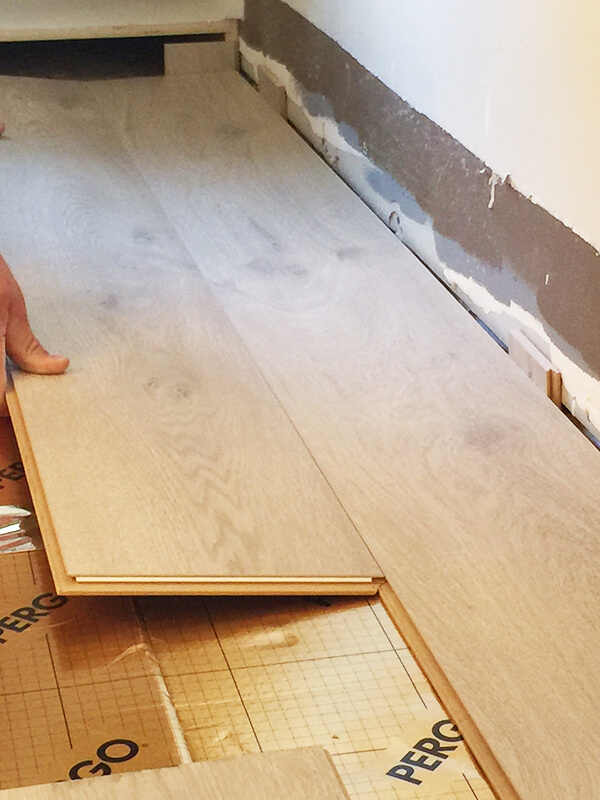 This flooring has a tight lock technology that keeps the planks tightly connected to each other. We found it easy, but had to get the hang of it at first. There is a groove on the front side of the plank that connects to the piece in front of it. There is also a separate groove on the short sides, which have to connect to the piece next to it.
The method is this. You lift the piece you are attaching at an angle and join the ends together, leaving a space of about 1/4 inch between that plank and the once you are connecting it to. You then pull the plank down, interlocking the two pieces. Now, you lift the piece up towards the plank behind it that you will be connecting it to and with a few taps of your hand, you can move the plank down to lock with the piece behind it. Now you gently push the planks down to the floor, and everything should be connected nice and tight. If not, just repeat the process, making sure to keep them as tight as possible.
We like to rotate our flooring with a pattern like this
short long sort
long short, (whatever is the rest of the rooms measurement)
medium, short, long
short long medium
etc, etc
We like to keep the pattern varied and not have any lines repeat row after row.
Make sure you use a block that is 1/8 inch thick at the ends of the rows and along all the walls so that there is room for the flooring to expand and contract. This space will be covered by the quarter round.
When we got to the thresholds, we installed a wood strip where the threshold will be installed. Then once the room is finished we installed the thresholds in place where the strip was.
Once you get to the last row of the floor, it is helpful to use a laminate floor crowbar that you can use with your hammer to secure the last pieces into place, since there is really no way to get the right leverage on the laminate flooring otherwise.
After the flooring was all installed, we finished off all the baseboards with a piece of quarter round to conceal the 1/8 inch space needed for the laminate flooring.
This floor took us an evening to install not including the tearing out of the previous floor….and the feeding and putting to bed of our 4 kids. They tend to take up a lot of our time:)
But, gosh, I sure do love this Pergo laminate flooring. It feels so good to walk on! The color is spot on and blends so well with all of my master bedroom farmhouse design elements. It is wonderful to be able to see the dog hair and dirt and get it cleaned up right away.
I cringe at what I could not see or get in my carpet. I am convinced that I need to tear out the carpet in all the rooms in my home, but my hubby is another story. I'll win him over though, I always do!
Another great feature of this Pergo Laminate Flooring is the durability. I can tell you from a little bit of experience that they are up to the challenge of large dogs, hammers, and nail guns.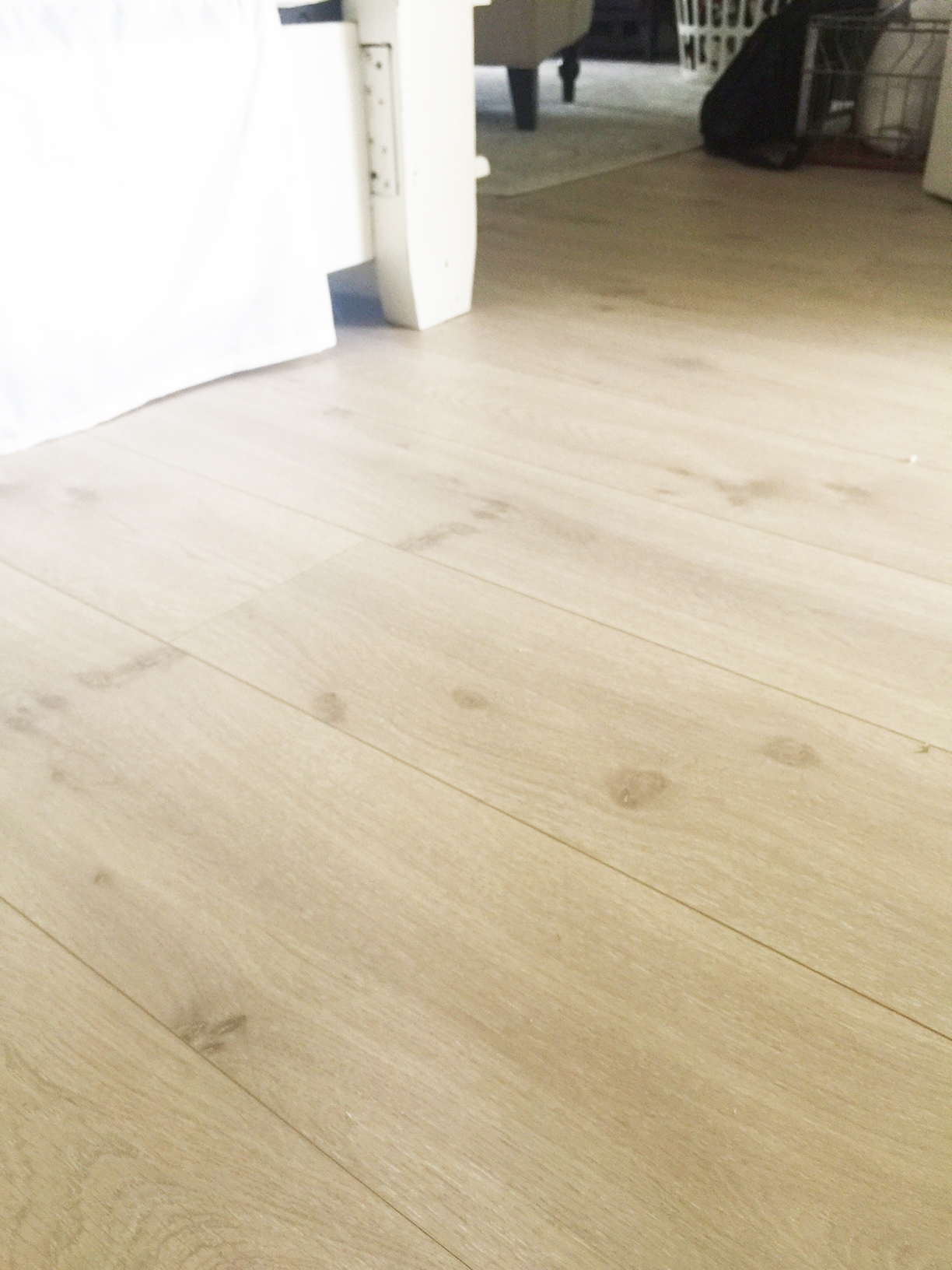 Are you looking to change up some of the flooring in your home? I highly recommend installing one of the Pergo laminate flooring options They are all so great, and the price is pretty darn great too! So very budget friendly! The installation was super quick and it was very forgiving.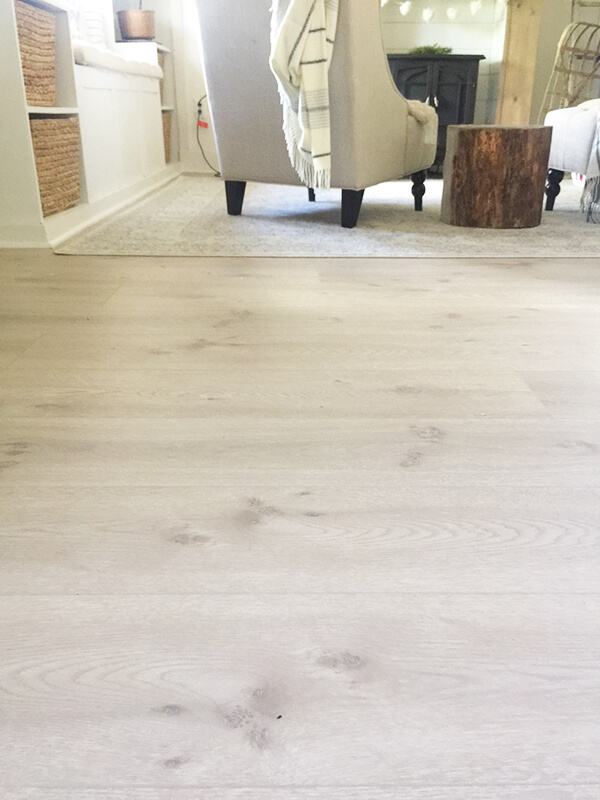 I would recommend checking out Lowes Home Improvements large selection and take a few samples home and play around with them. Stick with something timeless like the modern oak, and you will be so happy with them.
I would truly appreciate it if you would share or save this post for later! PIN IT!
What do you think? I'd love to hear from you.
Thanks so much once again for stopping by my little corner of the web I hope you find something here that inspires you in some way. That is my goal after all.
Have a great day!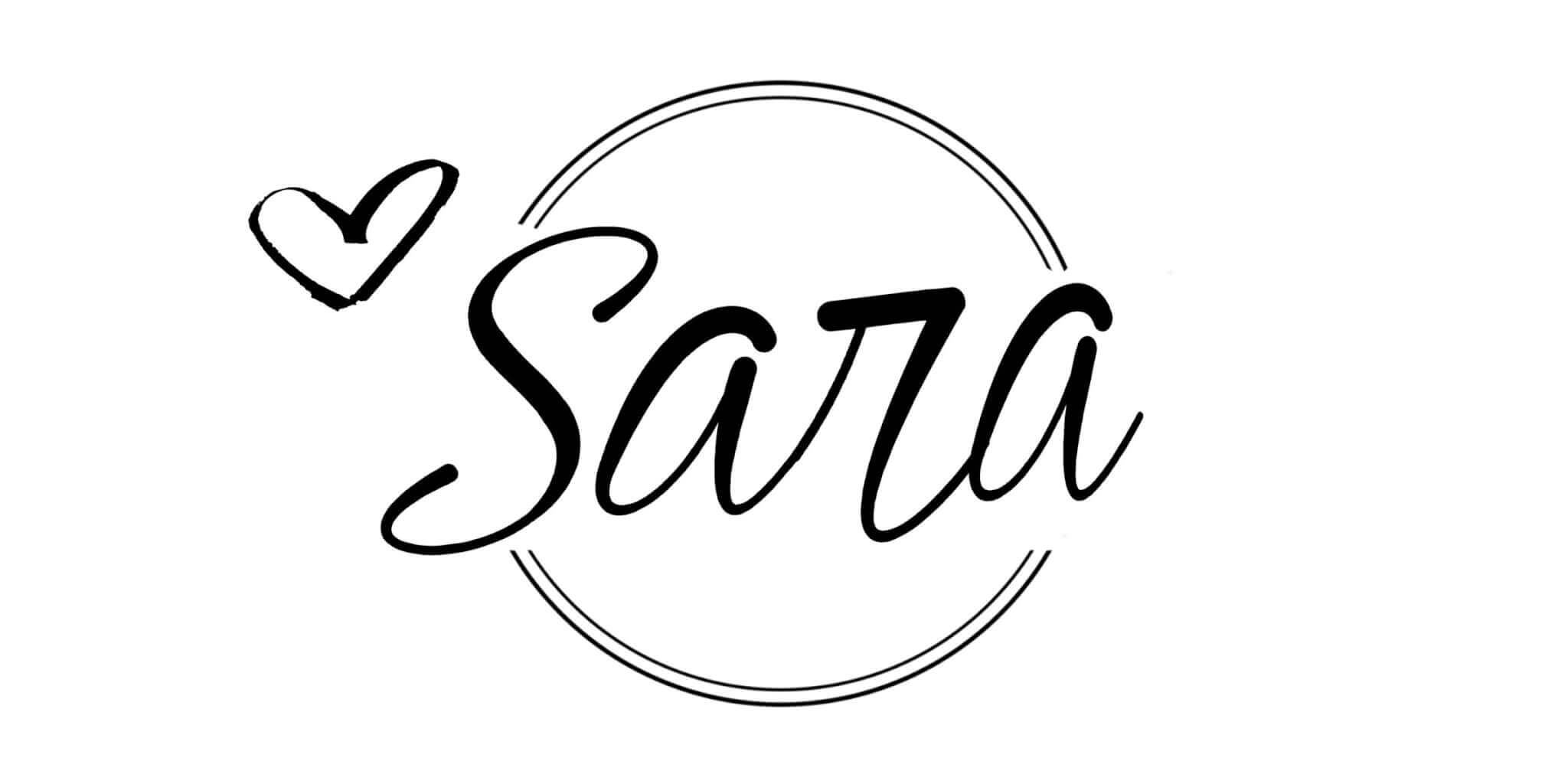 Check out these other room makeovers and DIY projects: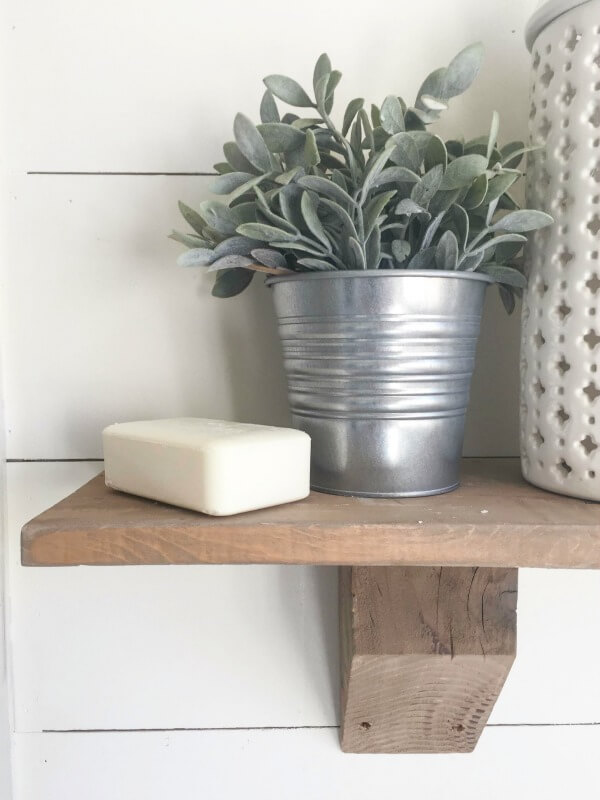 Farmhouse Master Bathroom | Final Reveal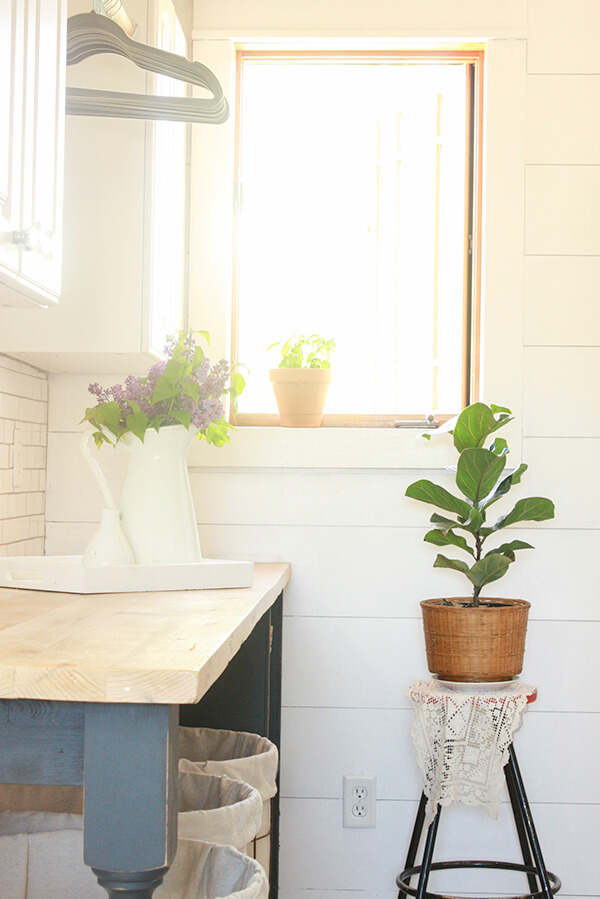 One Room Challenge- Farmhouse Laundry Room Reveal!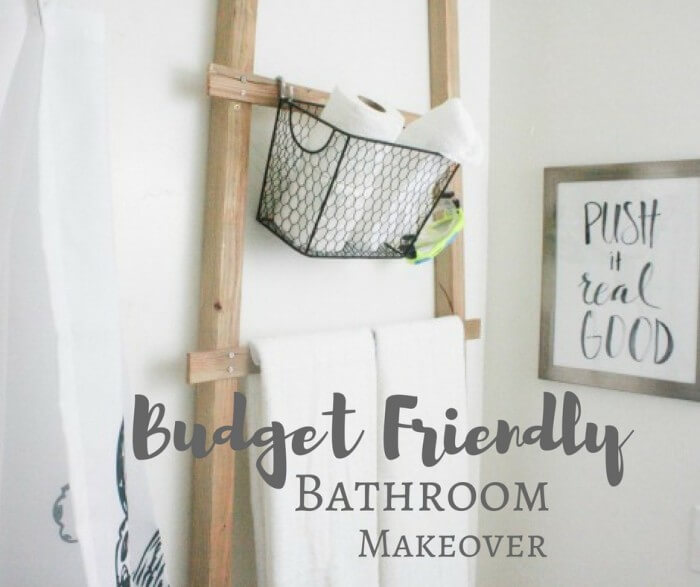 My Budget Friendly Bathroom Makeover | Reveal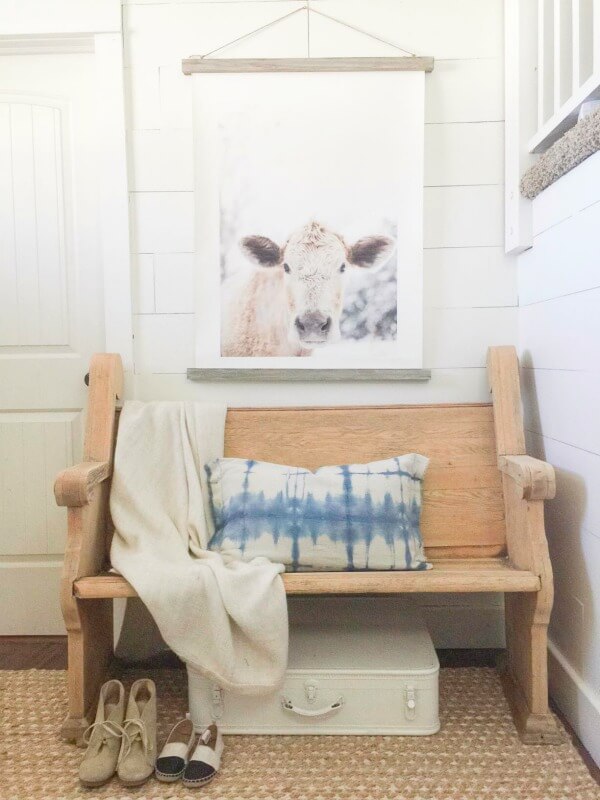 Farmhouse Entry Makeover for Under $100
GET YOUR FREE GUIDE to 30 DIY projects that can be done over the weekend!
By subscribing, you will gain access to my FREE guide with 30 DIY projects that can each be done in a day, or over a weekend!
You will also receive a weekly email with some of my favorite tips, tricks, and design ideas.