*This post contains affiliate links. This means that by clicking on these links I might earn a few pennies to put toward my kids college fund, if you purchase something. My opinions are my own, and you will NOT be charged anything for clicking on them.
We all have those weeks, when you feel like every external force is pulling at you, trying to drag you down. I had one of those a few weeks ago. To put it simply, there are some people that focused on seeing me and my family unhappy and uneasy. While I will never give these people the satisfaction of ruining us, the stress is creates in myself is overwhelming. Little did I know that this kind of angst gives me such a creative push. So I thank you for that. I have discovered one very important thing about myself lately. When I am overly stressed, pushed to the limit, I have an unreal burst of creativity. If I act on it, I can accomplish so much, and in the process, I am able to work through those things that are dragging me down. This project was one such burst that I had. Well, it was involved with a larger scale project. You know, when you want to clean out a room and organize it, and you end up repainting because you could no longer stand the look of the walls. You tear down the window coverings, because that burst of energy gave you another idea on how to change them up. You know, a simple project that ends up taking days instead of hours. That was me. Don't you worry. When I get the whole room finished, I will definitely have a reveal!
So, here is the before of this little chair…..
I purchased this chair Deseret Industries for 8 dollars. When I purchased it, I actually loved the color, and it was in really good condition. Leave it to my 6 year old to fix that problem.
That little stinker had found a small tear in the fabric and went to town. I wasn't too sad about it given the screaming deal I got on it. But. it gave me the motivation to finally reupholster it. There was one catch it my plan though. The whole chair was made out of metal. So, staple gun was a no go. I had to get creative. Each upholstered piece was removable, so that was helpful. Here is a list of everything I used for this project.
Hot Glue Gun

Glue Sticks

drop cloth

Scissors

Latex paint

Textile Medium

Painters Tape

Grey Paint

Screw Gun
Optional Items:
Spray Paint
Sandpaper
The reason I am listing some optional items is this: I did not spray the frame of my chair. I liked the aged look it had, so I kept it as is. You, however, might want to paint yours so I have provided a link. I also thought that if you didn't want to paint a stripe, you could use a fun stencil on the chair to add some farmhouse flair.
The first thing I did was unscrew the pieces from the chair base. This is so much easier with a screw gun
. Once I had all the piece off I started to reupholster the pieces. Here is the odd thing I did. I used my glue gun instead of a staple gun. Since the frame was completely metal, that was not an option. I have to say, the glue gun worked fantastic. Except for that time I burned my finger. Oops.
Here are the arms. I wrapped my drop cloth around it and secured it with hot glue.
Here is the corner of the seat. I overlapped the fabric and glued the edges.
Here is the back of the top piece. Once again, hot glue, baby.
Bottom of the seat. All that metal!
Here is the seat all done. Make sure to pull your fabric taught. I start on one side and secure a spot, then I go to the opposite side and pull tight and secure that side. I then work away from those areas until I reach the edges. I then do the same process to the other sides and end at the corner, where I overlap the fabric and secure that.
My upholstering was all done. But, that didn't seem like enough, right? I decided to paint the fabric before I secured it to the chair frame.
I used Sandpaper
, white paint
, and textile medium
for this part of the project. I painted each piece with the white paint and textile medium mixture. The instructions are on the back of the bottle. Its really simple, I promise. I would paint a layer, let it dry and then sand it down. I learned this from my first experience painting upholstery. It softens the fabric and loosens it up. I ended up putting three coats on all the pieces.
I then added my stripe design with painters tape and once I had it where I wanted it, I added one coat of grey paint. It only took a minute to dry, and I was eager to take that tape off and see how it looked.
Viola! I I had to do now was screw everything back into place.
Done and done!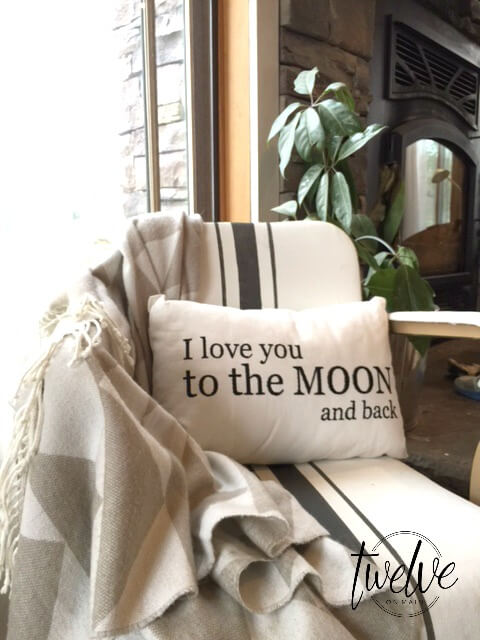 It took my oh, about 3 seconds to find a home for this baby.
See that aged goodness on the metal? I couldn't cover that up!
So, what do you think? I am so extremely happy with it I could do a little dance. It might have happened. It is amazing that someone bringing bad energy and stress into my life helped me create something so fantastic and satisfying. I can't believe that it has taken me so long to realize that I can turn these things around and have a great outcome. I am happy, we are happy.
I would love to hear from you! I would also love it if you would follow me on social media!
Have a great day!
GET YOUR FREE GUIDE to 30 DIY projects that can be done over the weekend!
By subscribing, you will gain access to my FREE guide with 30 DIY projects that can each be done in a day, or over a weekend!
You will also receive a weekly email with some of my favorite tips, tricks, and design ideas.