Set of Vintage Fall Printables for You Home!
You guys, I can hardly contain my excitement for today! I am thrilled to be bringing you some new fall printables. These vintage botanical fall printables are so very adorable and they can carry their style throughout the year!
Today I am so very thrilled to be part of a very fun fall printable blog hop! Fall is the perfect time of year to change things up and add a few new pieces of decor into your home. I have been feverishly working on new printables both for FREE and for purchase. This post contains a bit of both, and I will get to that in a bit.
Right now I wan to talk about what you will see in this awesome printables blog hop! With 9 different bloggers participating, you can find 9 different fall printable designs a the end of this post that you can check out! There are links and images for each one so make sure to check them out at the end.
But for now…lets get to the printables I am offering here!
Vintage botanical fall printables:
For such a long time I have been wanting to create some vintage style botanical printables, and this year, I was finally able to get some fall printables in that style.
What I wanted to create were a set of botanical fall printables that were soft in color, that would look like a simple piece of artwork. I have this wall in my living room that I am always trying to decorate in just the right way.
It has always been a hard spot to decorate. It lands just at the foot of our stairs and is one of the main traffic patterns in our home. With so much coming and going, it can be difficult with sofa tables or any other kind of furniture, and I gave up on that a little while ago. This wall needed some artwork. I have been playing around with some of my floral paintings, and I have also tried rearranging the room to allow it to take on more of the room.
This is where these printables needed to go. I also realized that I needed to create a full set, in order to create the idea I had in my mind. And that is why I create 8 different fall printables in the vintage botanical style.
I decided to create a gallery wall with 6 of them. I could possibly add 2 more, but I really liked the way that the 6 looked together. Plus, I can always add the other 2 in different places in my home.
Today, I am offering one of these vintage botanical fall printables FREE to my readers! This, I think is my most favorite of all 8 of them.
This is available in many sizes, and those will all be available for download. I took this printable and added into my kitchen as well in a small print of 4 by 6inches.
For someone like me who wants my fall decor to not be throwing up all over my house and to look more delicate and flexible. This print could easily stay here all year around. I got this adorable unfinished frame a few years ago, and never knew what I could do with a small 4 by 6 picture frame with such a large frame. It was time to stain it with my go to DIY weathered wood stain.
I love the color of the wood with the printable.
And I think its quite adorable small like this as well!
Simple. So so simple and yet perfect for the fall!
Get this FREE fall printable by clicking here to sign up for my newsletter! You will not just get this one printable, you will have access to my entire FREE PRINTABLES LIBRARY.
If you so desire to purchase the entire set of 9 vintage botanical fall printables, click here!
I have mounted my printables this way:
I really love the way they all look! If you want some, don't hesitate!
You can also check out directly below:)
Now, make sure you check out all these amazing fall printables by all my sweet blogging friends!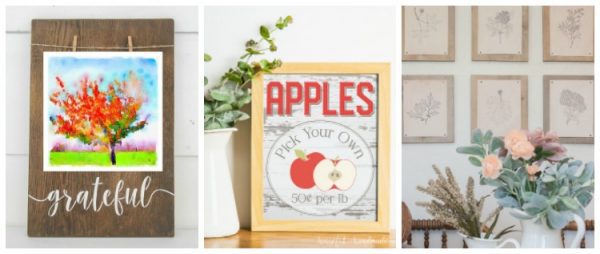 Fall Watercolor Printables from Lovely Etc.
Apple Picking Fall Printable from Houseful of Handmade
Set of Vintage Fall Printables from Twelve on Main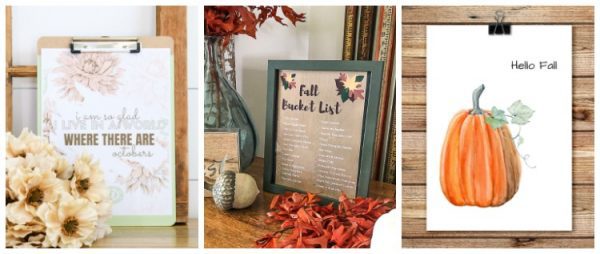 Fall Printable from A Fresh Squeezed Life
Fall Bucket List Printable from My Creative Days
Hello Fall Free Printable from Domestically Speaking

5 Free Fall Printables from Happily Ever After, Etc.
Free Fall Gallery Wall Images from All Things with Purpose
Beautiful Free Fall Printables from The Navage Patch
Make sure that you pin this for later!! And check back tomorrow to see how I mounted these amazing printables in my gallery wall!