Het there friends! I am excited to share a fun post with you today. I think its pretty clear that my family loves a good charcuterie board. I have shared a summer charcuterie board and a winter charcuterie board that my kids and husband cant get enough of. Today I want to share my bagel and brunch charcuterie board. And not only that, but I am joining up with some amazing bloggers who are all sharing their charcuterie board ideas! Make sure to check out them all at the end of the post!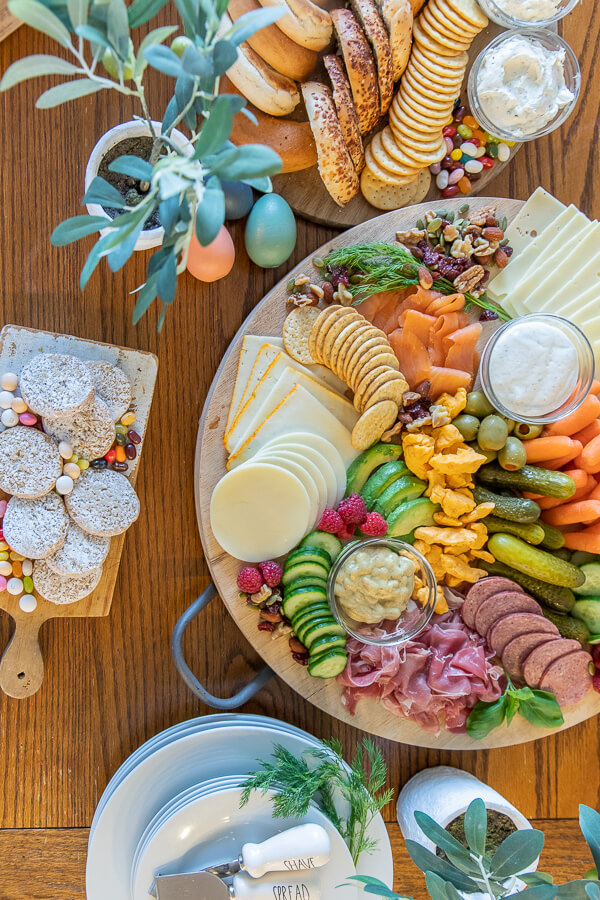 If I could feed my family a charcuterie board for dinner every night they would be thrilled. They love the options. Everyone can get what they love and avoid the things they don't. There is something for everyone to enjoy and everyone gets full! Also, the fun of picking out your food and eating it the way you want to is a winning way to get your kids to eat! I wish I had started making them sooner.
So today I want to share one that is a huge hit for my kids as brunch or as a weeknight dinner. My kids love bagels and so anything with bagels is a hit. Thus came about my brunch charcuterie board with bagels and all the springy fixings.
Since this is a spring inspired brunch charcuterie board, I wanted to incorporate some of my favorite things about spring. Fresh herbs, fresh veggies, bagels, and all the fixings. I even created a sweet charcuterie board to go along with it, as well as hid some treats around the other boards.
So, lets talk about what makes up a charcuterie board. I like to add specific things and then add other fun items.
I always start my charcuterie boards with:
sliced meats
sliced cheeses
some sort of cracker or bread
For this spring brunch charcuterie board I wanted to incorporate some smoked salmon and some prosciutto to my board. My husband is a huge fan of smoked salmon and my kids love prosciutto. And for some reason, smoked salmon says spring to me. Plus, that and some cream cheese are perfect with a bagel.
Once I have my meats and cheeses, I add the bread or crackers. I chose bagels for this brunch charcuterie board.
I found some of my kids favorite cream cheeses and add them.
I decided to put certain things on different boards. Bagels and crackers together, toppings and sides on another, and some cookies and treats on the last one.
Its a full meal all laid out for your eyes to enjoy as well as your tummy!
I have the cutest Rae Dunn charcuterie utensils and the kids love using them.
This is the perfect way to feed kids, I swear it is. Everyone goes away happy!

What kids wouldn't want a party laid out in front of them to choose and eat what they want. When you provide a bunch of great and healthy options, you can also add a few treats.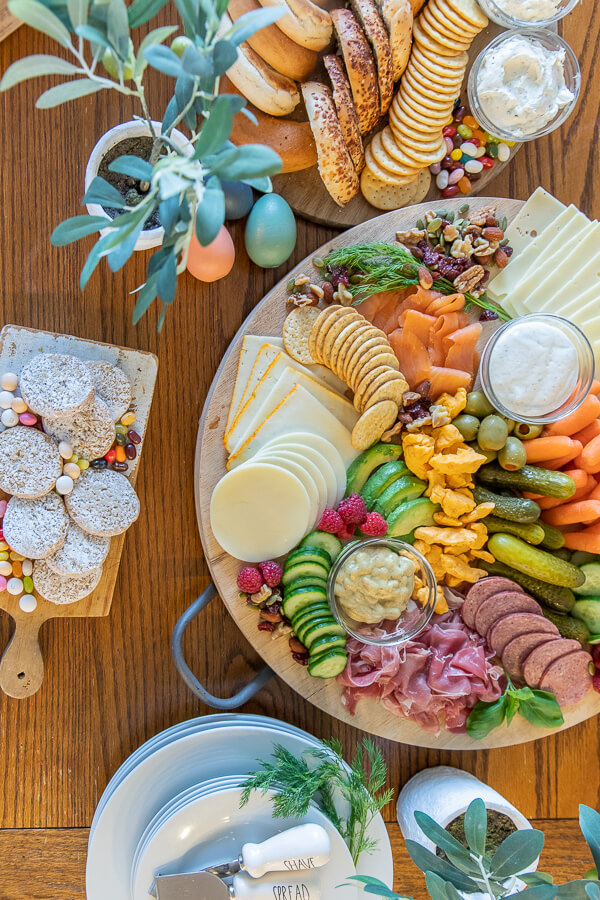 Fresh veggies, fresh fruits, delicious meats and all the fixings you could need. Its the perfect brunch charcuterie board.
Now, make sure you check out all the other amazing bloggers that are sharing their charcuterie boards!
20 Fabulous Charcuterie Boards!

Hallstrom Home | A Blue Nest | My Sweet Savannah | Cassie Bustamante

Happy Happy Nester | Inspirations For Moms | Art of Everyday Living | Twelve On Main

Craftberry Bush | Jennifer Maune | Zevy Joy | Modern Glam

My 100 Year Old Home | Tatertots and Jello | Two Twenty One | Today's Creative Life

Sanctuary Home | She Gave It A Go | The Design Twins | Pink Peppermint Design
GET YOUR FREE GUIDE to 30 DIY projects that can be done over the weekend!
By subscribing, you will gain access to my FREE guide with 30 DIY projects that can each be done in a day, or over a weekend!
You will also receive a weekly email with some of my favorite tips, tricks, and design ideas.