Hello friends and happy summer! We are officially on the last day of school here and then summer is going to hit hard! I am looking forward to it. I love not having to run around with a gazillion different schedules. We can now take a breath before all the crazy summer camps hit. Today I want to share a new decor piece in the house, a fun take on a summer wreath! In addition to mine, I am sharing this project with some of my favorite bloggers and we are all sharing summer wreaths for front door ideas!
From floral wreaths and decor mesh wreath ideas, to nautical wreaths, greenery wreaths and more, there are so many different options that you could create for a nice summer door wreath. I love having a patriotic wreath during the summer, but I wanted something a bit bright for right now. I also wanted something that was a bit unique too and I had this idea to use one of my woven beach bags.
I found this woven bag at TJ Maxx on clearance for 4 dollars because it was missing a button. I was okay with that! I love it and I have used it tons of times to go to the beach. Now it is serving a different purpose. I find that sometimes I feel stagnant sharing wreaths over and over using the same grapevine wreath base, and similar styles. I want to share inspiring ideas that you can take your own ideas from. Now only do I want to share projects that are inspiring, I also want projects that are super easy to make. We are all super busy these days and I love adding decor to my home that doesn't take hours to create.
On top of being super easy to make, this summer door wreath was very inexpensive to make. All I had to get was some pretty floral pieces that I liked. I chose to keep the floral all one kind because I like to keep things a bit simple. This is something you could customize perfectly to your own colors and home decor. I found these adorable little faux flowers at Joann Fabric. I thought they looked nice and summery but were so sweet and simple.
There were only a couple of steps to making this cute summer wreath. I needed to weight down the bag a bit so I added some canvas drop cloth to the bottom. This also served to kind of hold the flowers down in the bag. You could use any kinds of bag you have, one that has a little bit of an organic look to it really makes this look nice.
After I placed the dropcloth in the base of the bag, I placed the bunched of flowers on opposite sides of the cloth so that when I pull the handles together the combination of the drop cloths weight and the tension between the handles pushing against the cloths. I have tested this out, by hanging it on my front porch to see if it would all stay and even with our ridiculous winds lately, the wreath and the flowers stayed put! So, I did not need to glue or wire anything, but you totally could if you wanted to.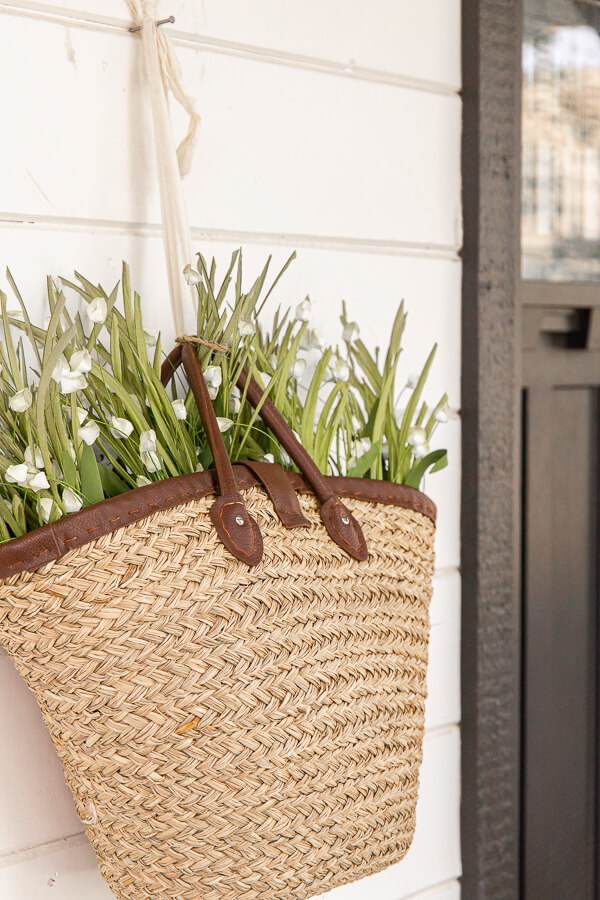 I used a piece of muslin to hang this DIY summer wreath on my front porch. I chose not to hang it on my door. It was nice to change it up a bit.
With the warm weather making itself known at our house(finally!) it was finally time to break out some of my summer decor. I think this is the perfect wreath for my front porch this summer. It gives a splash of color to my otherwise simple and neutral space (what can I say, it's what I love). You could do this same kind of wreath with a hanging basket or something similar.
I am a big fan of natural elements and by using the woven basket along with the simple flowers, I have created something I love.
This would be so pretty on the door of a beach house or really any home. I think this adds so much to my front door decor. So whether you are wanting themed wreaths, or a simple front door wreath, I think you can create whatever you desire.
My porch is ready for summer. I plan to add more summer decor throughout the coming days.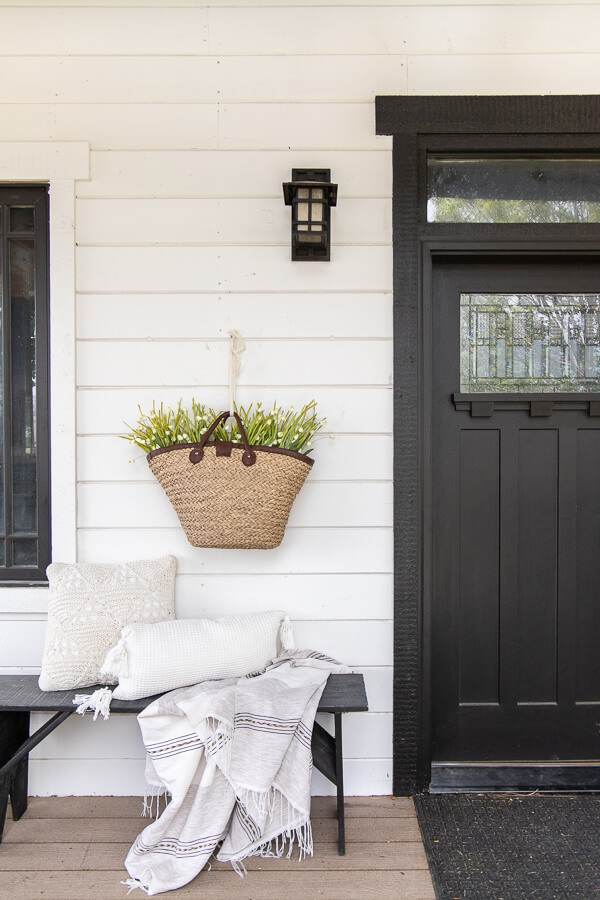 Make sure to check out my other DIY wreath Ideas:
Easy Lemon Slice and Boxwood Summer Wreath
Over 35 Gorgeous Summer Wreaths for 2022
Check out these other amazing summer door wreaths from some amazing bloggers below!
8 Spectacular Summer Wreath Ideas

Easy Summer Wreath DIY // My 100 Year Old Home
White Daisy Wreath DIY // Happy Happy Nester
Lilac-Filled Basket Wreath // Modern Glam
Gorgeous and Unique Summer Wreaths // Twelve On Main

Easy Summer Fabric Flag Wreath // Tatertots & Jello
Summer Wreath DIY // Craftberry Bush
Simple Coastal Wreath // Most Lovely Things
Tangled Rope Wreath // My Sweet Savannah
GET YOUR FREE GUIDE to 30 DIY projects that can be done over the weekend!
By subscribing, you will gain access to my FREE guide with 30 DIY projects that can each be done in a day, or over a weekend!
You will also receive a weekly email with some of my favorite tips, tricks, and design ideas.