I recently gave my dining room a makeover, and one of the big items I wanted to replace was my dining room chairs. While I still love the farmhouse style, I have really been yearning for a bit more of a clean and modern style. So, I began my search for some modern farmhouse dining chairs in hopes I would easily find what I was looking for.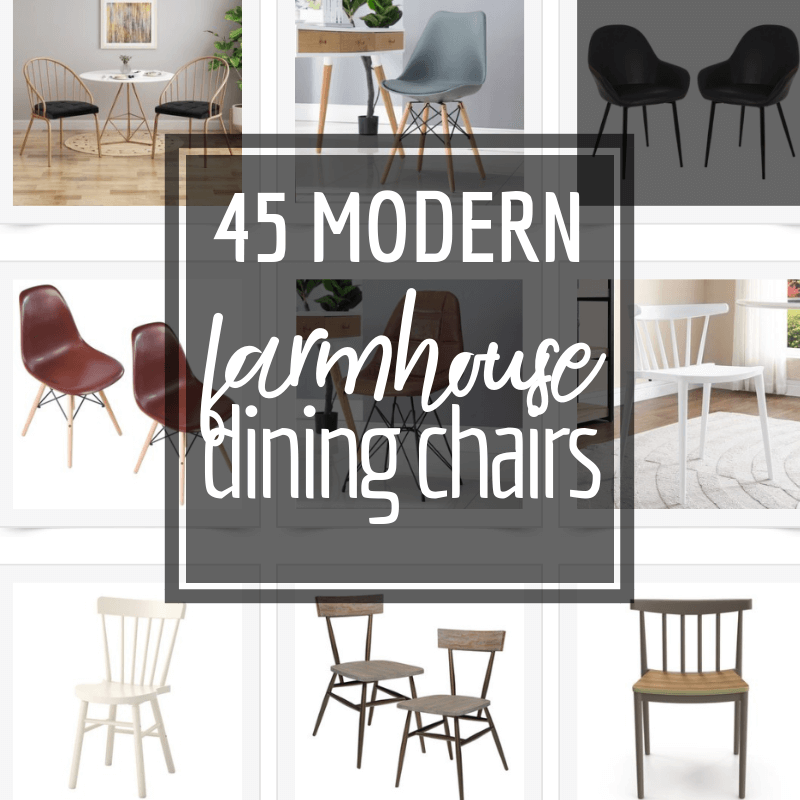 Little did I know how many options I would find online! Amazon alone was crazy! I was soon down a rabbit hole of farmhouse dining chairs and could not find the end. I would find one I loved, only to fall in love with another there soon after.
When I finally found the chairs I could not live without, I hurried up and purchased them, for fear I would find something else a few minutes later. But the ones I chose were a style I kept going back to and could not get them out of my mind. And boy am I happy with them!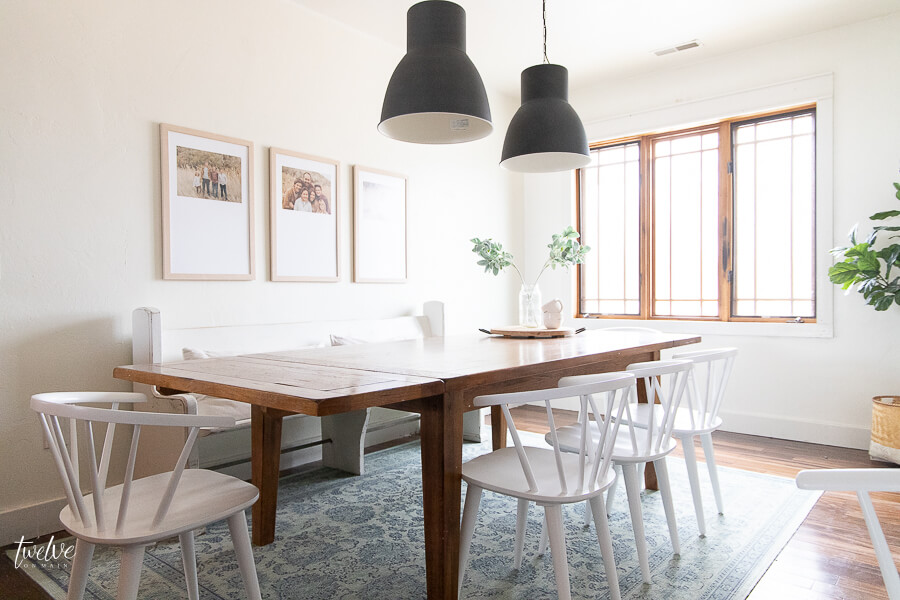 I think they are the perfect compliment to my wooden farmhouse table. The cleaner lines from the chairs against the organic lines of the table cannot be denied.
Shortly after ordering my modern farmhouse dining chairs, I wondered if it was just as hard for others to choose dining chairs for their home. I thought maybe if I created a round up of some of my favorite farmhouse dining chairs, it would be useful to others. Sometimes having a nice collection that has been narrowed down and carefully curated can make the decision process so much easier.
So I went back and researched all those other dining chairs that I had fallen in love with and started to make a collection of stylish modern farmhouse dining chairs that would look beautiful in almost any home!
I think the key to the chairs I have chosen are that they are pretty forgiving and can be used it many different decor styles. Some of the dining chairs have a somewhat mid-century modern feel to them, while others are definitely all farmhouse style.
How to Choose the right modern farmhouse dining chairs for your home:
I really think the key to choosing dining chairs for your home is to find chairs that are both comfortable and have something about them that you love.
For me and my new chairs, I LOVED the lines of the chairs. I initially was looking for chairs that had a higher back, but as I brainstormed and thought about what I really wanted, I could envision these chairs around my dining table and knew that they were what I was looking for.
You don't have to go with the crowd and choose something just because its "the style". The chairs I have chosen aren't necessarily stuffed into one category. While the vertical white spindles may exude farmhouse style, the rounded back and tapered legs are another story. They are a nice combination of a mid century/farmhouse style.
This is what I was going for. Something that did not fit the cookie cutter mold. I would say that is a very true statement whenever I choose anything for my home. I find that if I start seeing something everywhere….say a certain style rug, I tend to shy away from it, and look for something a little bit different.
There is something to be said about originality.
Before choosing dining chairs for your dining room consider this:
You want to make sure to take measurements! One thing many people forget to do is measure your dining table. You want to take a few specific measurements. First, you want to measure from the ground up to the underside of the table. You need to know what kind of clearance you have to work with. This will effect whether or not you can use chairs with arms or with higher sides. Our table has a cross piece that comes under the tabletop which lowers the clearance of our table.
Measure the width of the sides and ends of the table. You want to do this to make sure you know how much room you have for your chairs.
Next make sure to cross check these measurements with the measurements you took of your table. If the table only measured 28 inches high but the chair you are looking at has 29 inch arms(just an example) you will not be able to tuck that chair under the table. If that is okay with you, its not an issue. But if space is an issue and you need to make sure they can be tucked away you will want to remember to do this.
Also check the width and height of the chairs. I found that could actually put 3 chairs along the long side of my table instead of 2.
Last, make sure to take the design of your table into account. Some design elements will effect the placement of your chairs as well. Our table has extension leafs that are always on, and the table legs are more center to the table, so we cannot fit as many chairs along the sides because of this design issue. I would be able to fit 2 more chairs if it was designed a bit differently.
All these tips are great to take into account when looking for new dining chairs and if you are looking for modern farmhouse dining chairs, make sure to check out the collection below:

Now, you tell me that you didn't find about 10 sets that you need in your home! I am currently brainstorming about how I could do a rental service where I could trade out my chairs about every 6 months, so that I could try out all the ones I love! Sounds dreamy right?
I personally think that adding a unique set of dining chairs to your table is a great way to add some personality. If you love vibrant, adding a bright colored mid century chair with a subdued table would be awesome! I just think there are so many great ways to use these modern farmhouse dining chairs.
Make sure you save this post for later and share it with your friends!
If you like this post, you'll love these ones:
Find the Perfect Farmhouse Style Rug
The Ultimate Guide to Farmhouse Bedding and Bedroom Decor
How to Make A Tree Stump Coffee Table
Over 30 Simple Wood Projects You Can Do in a Weekend
My New Modern Farmhouse Dining Room Design
Have a great day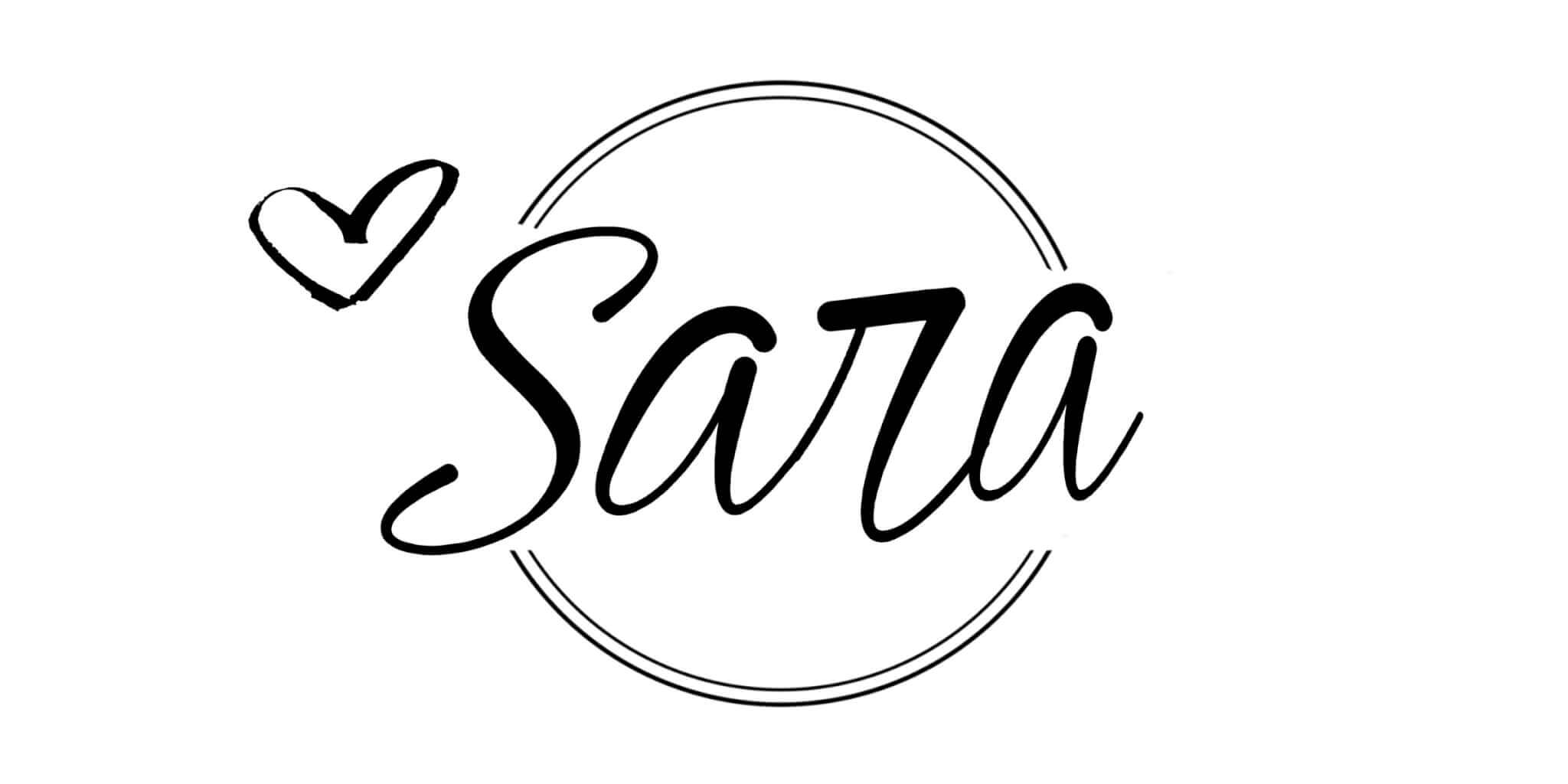 GET YOUR FREE GUIDE to 30 DIY projects that can be done over the weekend!
By subscribing, you will gain access to my FREE guide with 30 DIY projects that can each be done in a day, or over a weekend!
You will also receive a weekly email with some of my favorite tips, tricks, and design ideas.