*This post is sponsored by Bona. I do not promote or endorse any product I do not 100 percent truly love, use and believe in.*
Living with 4 kids, a dog, and a husband keeps our home busy and bustling. Adding some farm animals and winter weather to the mix and you can be guaranteed some messy, dirty floors. Honestly, the biggest challenge in my home is keeping my floors clean. Especially this time of year, when we have oodles of mud and snow, there are always mysterious muddy footprints, be them dog, cat or human. I have been on the search for the best floor cleaner for wood and tile and after a couple years of using the same product, I think I have found it!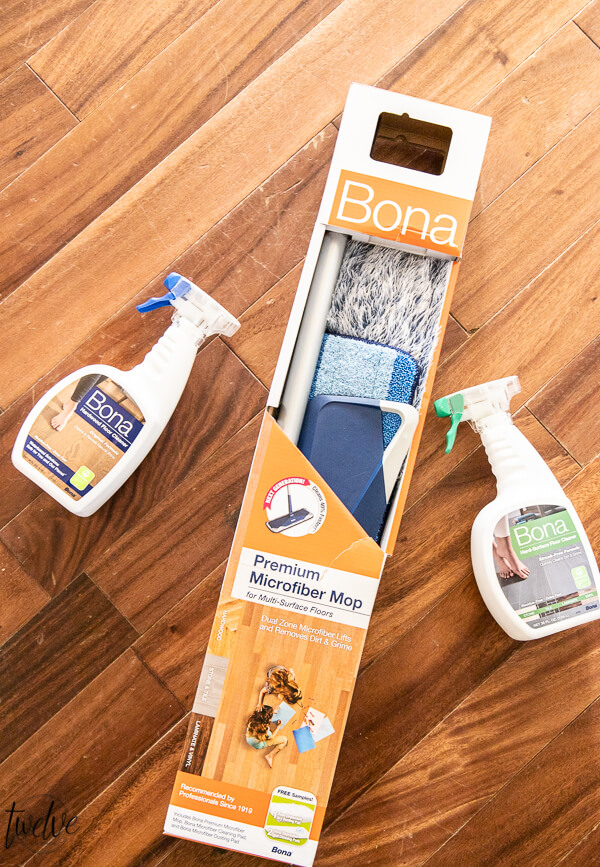 I have been using Bona floor cleaning products for quite a while now. They have been the best hard floor cleaner as well as tile floor cleaner in my home! Bona floor cleaners provide a complete clean by gently and effectively removing dust, dirt and
grime. Its water based cleaning formula dries fast, is residue-free, and safe for people, pets and the planet. I have all those things, and I love that I can feel good about using them in my home with all the busy souls running around.
Bona has a great collection of floor cleaners for both hardwood floors as well as tiles, laminate, stone, and more. I love having both in my home so that I can easily clean all of our floors without thinking too much.
Lets talk about their floor cleaner for wood:
Bona Hardwood Floor Cleaner is designed to be safe and effective for use on hardwood floors and is not meant to be used for other flooring. I make sure to only use this on my sealed hardwood floor on my main level.
This is where we get the most traffic. And often this time of year, there are muddy boot prints dotting my floors.
I wish I could say I staged this photo, but when I ask my children to go gather eggs and feed the goats, they think that they can wander through the house with their boots, forgetting that there is mud or gunk on the bottom of them.
I try not to get too mad about this, since it is part of living on a backyard farm, and we are constantly working on keeping shoes and boots out of the house and off the floors.
My floors have been well lived on, and it shows. They may not be the brightest and scratch free floors, but I can guarantee I can tell you what each dent and ding is from. It may not look like much, and some days, there are dog tracks scattered all through the main level of our house, I just wanted to give you a taste of the day to day. Shoes scattered and dirty traffic patterns.
But, between my Robot vacuum and my Bona Dust Mop and Hardwood Floor Cleaner, I can easily keep up on it without taking over my day. I find this incredibly important since I work from home and need simple cleaning solutions so I can focus on the work and not the house.
This is one of the worst traffic areas in my home, but I love how easy it is for me to keep it clean.
Another room in my home that gets a ton of traffic is our laundry room. With white tiles I have my work cut out for me, but I can easily keep up on the mess with my Bona Hard Surface floor cleaner. This stuff it perfect for cleaning the tile in my laundry room and bathrooms. With our cat and dog spending a lot of time in this room as well, I can worry less because the Bona Floor Cleaner has the GREENGUARD GOLD certification which confirms it is safe for use in your home and around your family and your pets.
To be brutally honest, I have used many DIY floor cleaners and all of them have left a hazy layer on the top of my hardwood floors. I have found this Bona hardwood floor cleaner leave no residue. I love that.
Now, lets talk about their floor cleaner for tile:
Most days it is littered with cat food and dog water splatters. This floor is constantly being cleaned, but I cant help it, I love the white tile, and I am willing to work to keep them clean. I just needed a good floor cleaner for tile.
The Bona Hard Floor Cleaner is perfect! Its the perfect choice for tile. I love how easy it is to use! These cleaning pads are machine washable and I keep a couple extra on hand so I always have one to use.
Bona really does help me relieve stress, making cleaning my floors easy. Bona Hard-Surface Floor Cleaner uses a specially designed degreasing formula. It effectively removes dust, dirt and grime and is safe to use on hard surface floors such as
stone, tile, laminate, vinyl, and LVT.
Listen up, your floors just are clean until they are Bona clean. I can attest to this. I have two of these mops. One has the reservoir on the mop that makes it easy to spray and clean at the same time. I love them both! I keep one on my main floor and one on the second floor. This makes keeping my floors clean so much easier.

Whether you are looking for a floor cleaner for wood or a floor cleaner for tile, try the Bona Floor Cleaners out! I promise they will make your life easier! They will help get your spring cleaning in check and relieve a bit of that stress. Learn more at Bona.com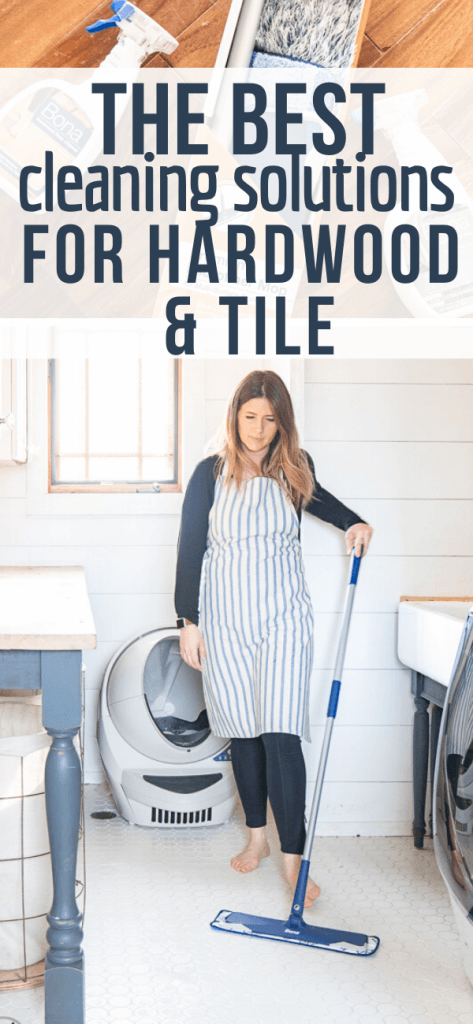 Check out these other great cleaning posts:
Keep Your Hardwood Floors Clean the Easy Way
Embrace the Mess and Clean the Dirt Too
The Best Safe and Natural Cleaning Products for Your Home
How to Organize a Cleaning Cabinet
10 Ways Cleaning and Organizing Tips to Save Your Sanity
Litter Robot Review | Why It Saved My Sanity
18 Incredible Farmhouse Bathroom Floor Tiles
20 More Incredible Modern Farmhouse Tiles with Sources!
20 Beautiful Farmhouse Style Hardwood Floors
GET YOUR FREE GUIDE to 30 DIY projects that can be done over the weekend!
By subscribing, you will gain access to my FREE guide with 30 DIY projects that can each be done in a day, or over a weekend!
You will also receive a weekly email with some of my favorite tips, tricks, and design ideas.