Looking for a fun new flavorful way to cook those sweet potatoes sitting on your countertop? Well, look no further. This sweet potato hash recipe has become a staple in my home and my kids beg for it. Little do they know they are getting something healthy and filling!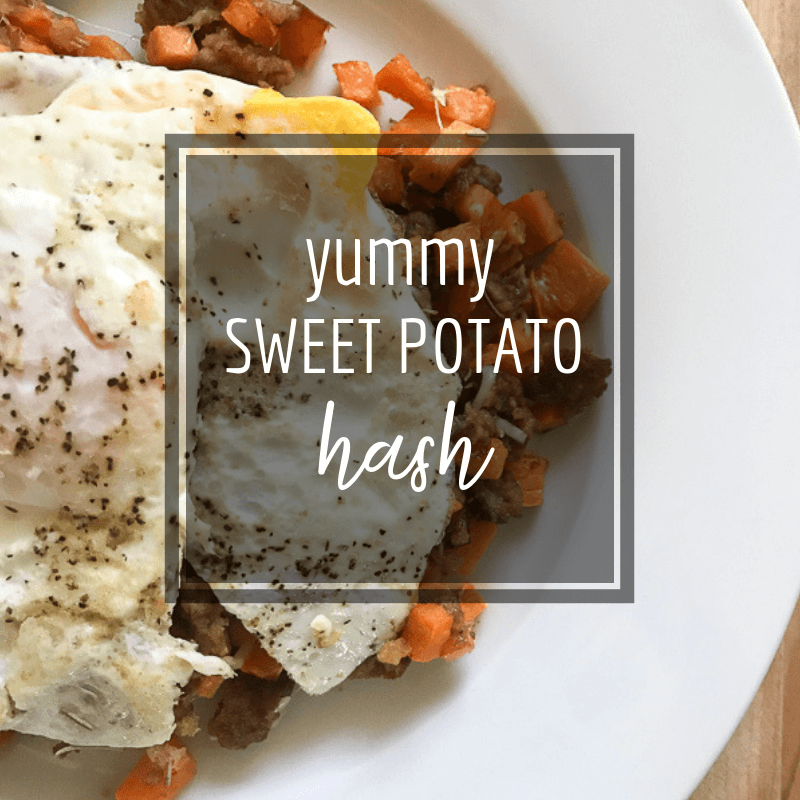 I am one of those that despised sweet potatoes as a child. I turned my nose up at them. I could not fathom eating something so squishy, with all those sweet, sugary toppings. Gah, I know you must think I am crazy right now. No, I have recently come to find, that I am just not a fan of sweet potatoes when cooked in a "sweet" way. I don't like them with brown sugar or marshmallows. And when I eat them with cinnamon, its with butter and salt. I love the savory side of the sweet potato. And that is what I am bringing you today.
I always knew I should like sweet potatoes…with all their great health benefits, I knew there had to be a way I could eat them and enjoy them. Over the past few years I have really grown to love their savory side. This sweet potato hash recipe is just about as savory as you can get. It is filling and satisfying. It ticks all the boxes for me. I find myself making it for breakfast, lunches, and dinners depending on the day.
It is super easy to make, and there is hardly any prep. Perfect on those nights you are drawing a blank for dinner. You can make this recipe just for one…or double and triple the recipe to feed a crowd.
What's in my Sweet Potato Hash?
There are a few things in this sweet potato hash recipe that really make the dish. I use Morning Star Farms Veggie Breakfast Sausages to amp up the fiber and flavor of this meal. You see, I have never been a huge fan of regular sausage. I am not a Vegan or Vegetarian. But, I decided to give these a try a few years ago and really fell in love with them. They are so good. My kids often beg for these over regular sausage.
I also use rosemary, garlic, and Parmesan cheese to amp up the flavors even more. Have you ever had rosemary sweet potato fries? Well, if not you are missing out! They are savory and sweet. So good. So I took that inspiration for this recipe.
You will feel like you are in an artisan kitchen with this sweet potato hash dish. I promise if you are a fan of sweet potatoes you will love this. I also know, from experience, if you don't like them, you will still like this dish!
Can you make this sweet potato hash if you are Vegan or Vegetarian?
Yes and yes! Now, since I use the veggie sausages in this recipe you are already there. The only things you would want to change are the Parmesan cheese and eggs at the end. I cannot do without the eggs though.
Is this sweet potato hash gluten free?
YES!!! I have been adjusting my diet these days to minimize gluten, and its been really interesting. I feel so much better. So, while I haven't gone completely gluten free, I have adjusted my diet as such. Everything in this sweet potato recipe is gluten free and you can feel confident that you can eat this, feel satisfied and not worry about getting sick! Now, I know everyone has their own sensitivity threshold so please do not rely on my advice. Know what you are able to eat and adjust accordingly.
(love these plates? Click here to get them!)
My sweet potato hash recipe:
Lets check out the recipe shall we?
Sweet Potato Hash
This sweet potato hash is a fun new way to use up those sweet potatoes sitting on your counter. This recipe is so versatile, and can be easily modified to vegetarian or vegan! It is gluten free, and so very filling!
Ingredients
1

cup

sweet potato peeled and cubed into 1/2 inch squares

1

tsp

coconut oil

1

clove garlic minced

1

pinch

dried rosemary

2

frozen MorningStar Farms Veggie Breakfast Sausage

2

eggs

1

tbsp

freshly grated parmesan cheese

salt and pepper to taste
Instructions
Prep your ingredients. Mince your garlic and peel and chop your sweet potatoes. You can cube them in whatever size you would like but I cube mine in small 1/2 inch sizes. This will create a faster cook. Otherwise they will take much longer to cook .

You can also cook your sausage right now. I prefer the flavor of the Morning Star Veggie Sausages, but you can use regular sausage if you wish. I cook 2 patties in a frying pan and then cut them into small cubes to be added to the sweet potatoes later.

Heat your frying pan over medium-high heat. Add coconut oil. When the oil is hot, add in the sweet potatoes. Add in your garlic and rosemary.

Begin cooking the sweet potatoes like you would regular hash browns. Browning them on all sides. Make sure to not burn, because you could burn the garlic which could become bitter. Turn the heat to medium so that the inside has a chance to cook before the outside burns.

If you fin the sweet potato cubes are still hard in the middle, cover the pan with a lid for a few minutes to help steam them. Don't worry, they will still have that crisp to them.

Now, it is time to cook your eggs. I like to cook mine over medium in my frying pan. You could also poach them if you prefer. I actually will wait until the hash is completely done and use the same pan I cooked that in, but you can cook them the same time so that they are all done at the same time.

When the sweet potatoes are cooked through, add the sausage and Parmesan cheese. Let it all heat through for a minute.

Place the sweet potato hash on a plate. Top with your eggs and mix together. My kids love it as is. I have added mushrooms and spinach to this as well and it has been so good.

This is so filling. I find that I can often share this. This will keep me full for hours. It is so comforting and the flavors are incredible.
There are so many things you could do to customize this sweet potato hash recipe. I love adding mushrooms and spinach to this. Try something out for yourself, or keep it as is…because its pretty dang good the way it is.
I think what makes this sweet potato hash great is the simple ingredients and methods used to make it. Cooking a meal should not be complicated and overwhelming.
I start by cubing my sweet potato into 1/2 inch or smaller cubes. Really its almost diced. This will give you a crisp sweet potato and shorten the cooking time, since they take a bit to cook the middle. I also mince 1 garlic clove. Before cooking the sweet potato I also cook up 2 sausage patties, I use the Morning Star Breakfast Veggie Sausage.
Heat a frying pan on medium high and add coconut oil. Once hot add the sweet potatoes, garlic and rosemary.
Sauté until the potatoes begin to crisp and soften. If they are still really hard in the middle, cover with a lid for a few minutes and its will help this. You can start cooking your eggs at this point. I like mine over medium.
When the sweet potatoes are cooked through, add the cooked sausage and Parmesan cheese. Let heat through for a minute or so until the cheese just starts to melt. (I will actually cook the sausages on the other side of the pan if I want to save some time)
Plate it and top with the eggs. Mix it all together for the most dreamy and savory sweet potato hash.
If you enjoy this sweet potato hash recipe, please share it with others!
Now, check out a few of my other favorite recipes:
The Best Tortilla Soup Recipe Ever for the Crock Pot, Stove Top, or InstaPot!
The Best Wheat Bread Recipe Ever
Colorful Wild Rice, Kale, and Pomegranate Salad
GET YOUR FREE GUIDE to 30 DIY projects that can be done over the weekend!
By subscribing, you will gain access to my FREE guide with 30 DIY projects that can each be done in a day, or over a weekend!
You will also receive a weekly email with some of my favorite tips, tricks, and design ideas.