Its true the weather is getting colder and the days are getting shorter! It's time for me to bust out one of my most comforting and flavorful meals that we eat all through the cold months. I say this because I have a hard time wanting to use any of my cooking appliances in the summer, and the winter gives me a good reason to keep my oven on a couple extra hours, keeping my kitchen nice and toasty. Today I want to share the most amazing beef stroganoff recipe you will ever make!
When I was a kid, my mom used to make beef stroganoff using ground beef and Lipton Onion soup mix…but I wasn't a huge fan. You see, I am not a huge fan of ground beef to begin with, and the onions were crunchy because they were only being cooked for a couple minutes. This was a quick dinner recipe. As I became a mom, I started thinking of new recipes I could make and while I loved the flavor of my moms beed stroganoff recipe, I knew there was a way I could make it more my style.
So, I combined the delicious flavor of beef stroganoff with tender pieces of beef and some sour cream and you have a winner!
Now, this beef stroganoff recipe can be made a couple different ways depending on if you have the time to cook it in the oven or if you want to make slow cooker beef stroganoff or pressure cooker beef stroganoff…its all possible!
In my opinion, being able to cook it in the oven is best. There is something that happens to the entire meal. The flavors are more intense, and the meat is so tender. It's definitely the way to go.
Jump to Recipe
The advantage to cooking it in the oven is that you only use one pan for all of it, except for the rice and sides.
This is like beef tips and rice on steroids.
Now, I understand that we cant all hang out at the house for 4 hours while it cooks. I am lucky enough to work from home, so its a non issue for my most days.
If you are a working parent, then this will also work for you! It can easily be adjusted to be made in a slow cooker or in a pressure cooker! My only disclaimer is that the sauce will not get as thick and the flavors aren't quite as intense but they are still delish.
How to make the perfect beef stroganoff:
If you want to see the full process, watch this video!
The secret to this beef stroganoff is the browning of the meat. We use London Broil for ours. You can use cubed stew meat or eye of round. There are many cuts that would work for this since meat will be cooked long enough to be tender. I like to choose a lean cut of meat and trim off the excess fat and silver skin.
We have even made this with our Elk meat from my kill last year and its amazing! Elk is so lean, it makes amazing tender little pieces of meat.
Now, back to the browning of the meat. It is the base of this beef stroganoff recipe. You want to start my cooking your cubed steak in a screaming hot pan. I use my enamel dutch oven which is large enough to make the entire recipe and I can throw it in the oven to finish cooking.
Once your pan is screaming hot you want to add your meat. The key is to get a nice brown on the meat, while getting those yummy bits and browning on the pan sides and bottoms. This will be key when adding the liquid to the pot.
Once your meat is browned, you will add the canned soups and Lipton Onion soup mix. You will also add water to each can and add that to the pan. Stir and mix, while scraping up the browned bits in the pan. This will give the beef stroganoff so much flavor!
When you are at this point, you can easily cook it in the oven for 4 hours at 290-300 degrees. When the meat is tender and the sauce is thick its time to add the sour cream. I take the pan out of the oven and let it sit for about 10 minutes. Add the sour cream and mix in well. I love this on some fragrant jasmine rice and a side salad. If you are a fan of sour cream, add a dollop on top. You will not regret it.
Now are you looking for the slow cooker beef stroganoff method?
You still need to start out the same way. Brown your meat in a pan and add your soups(you can see all the ingredients in the recipe below). Its key for the perfect beef stroganoff recipe.
Once its all mixed, you can add it to your slow cooker and cook on low for 6 to 8 hours. You can easily prep this and throw it in the fridge or freezer and add to your crock pot in the morning as well. The key is to not skip the browning of the meat!
How about in the pressure cooker?
Pressure cooker beef stroganoff is doable too! Simple start out the same way, only instead of putting your pan in the oven, pour the mixture into your pressure cooker and cook for 50 minutes on high pressure. Then add your sour cream once its done.
This beef stroganoff recipe is truly one of my kids favorites! It has become a staple in my house. Whats great about it is that I almost always have the ingredients on hand. I buy London Broil when its on sale, as well as Cream of Chicken and Cream of Mushroom soups. Also, Lipton Onion soup is an inexpensive pantry item!
Make this beef stroganoff recipe this season! You family will surely love it!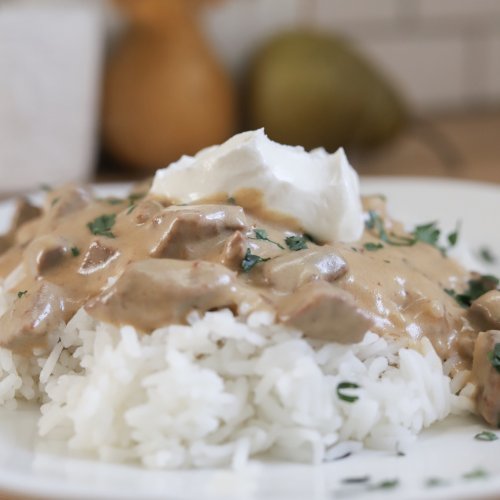 The Most Amazing Beef Stroganoff Recipe
This is the most delicious and flavorful beef stroganoff recipe I have ever had. After trial and error I came up with this amazing dish. Call it beef tips and rice or slow cooker beef stroganoff, it al works!
Ingredients
2-3

lbs

cubes london broil stew meat, or favorite steak

2

cans

cream of chicken soup

1

can

cream of mushroom soup

1

pkg

Lipton Onion Soup Mix

6

cups

cooked jasmine rice

1 1/2

cup

sour cream
Instructions
There are a couple ways you can make this beef stroganoff depending on your preference and time. I will talk about each one. You can either use a pressure cooker, slow cooker, or an enamel dutch oven in the oven(this is my preferred way).

No matter how you choose to make this the beginning is the same, so you might be better off cooking it in the oven. Its more flavorful and the sauce is thicker cooking it this way.

Oven Method(my referred):Start by heating an oven safe deep pan on high heat on the stove. I use my enamel dutch oven. Once it is screaming hot, start to add your cubed steak or london broil.

You want to sear all the steak. You want to encourage the bits and browning around the sides of the pan, this will give you tons of flavor!

Cook until the moisture is gone, there is a good amount of browning in the pan, and the steak pieces are browned. During this time, turn your oven on 290/300°.

Next, you will want to add all the canned soups, 2 cream of chicken, 1 cream of mushroom. Then fill each can with water and add that to the pan as well. Spend a couple minutes mixing and scraping the bits off the sides and bottom of pan. This is what gives the sauce its flavor and color.

Pour in the Lipton Onion soup mix and stir it in. Turn off the heat.

Put your pan in the oven and cook at 300° for about 4 hours. You will want to check on it from time to time. Give it a stir and make sure the sauce isn't evaporating. I sometimes add another can of water towards the end, once it has cooked down a bunch.

Once the meat is tender and the gravy is thick, take the pan out of the oven. You can cook your rice during this time and any of your favorite sides. We like to add a salad or some green vegetables.

Once you take the pan out of the oven, you want to mix the sour cream in to the beef stroganoff. The sauce will become lighter and so creamy.

I add my beef stroganoff to the top of some jasmine rice or egg noodles. I often sprinkle some fresh parsley if I have it. I also like to add another dollop of sour cream to the top. Its sooo good!

Slow Cooker method: Repeat the steps in the pan, cooking the meat and adding the canned soups and onion soup mix. You can then add it into your slow cooker and cook it on low for 6-8 hours. This can be done before you head off to work and it will be ready to mix in the sour cream as soon as you get home. The only difference I see when doing it this way is that the sauce does not get as thick but it is still amazing. You do have another pan to wash, but its worth it for the flavor you get from getting the browned bits off of the pan.

Pressure cooker method: Do the same steps you would do for the oven pr slow cooker method, browning the meat, and adding the soups and Lipton soup mix. I know you can brown in the pressure cooker, but I find that its more of a nonstick pan so you wont get the yummy bits and flavor. Once you mix in the soups and Lipton soup mix, you can add it to your pressure cooker. Pressure cook it for 50 minutes. You want the steak to be tender. You can then add the sour cream and finish off your dinner prep.

No matter what way you make this, it is proven to be a hit! My kids beg for this on a weekly basis. Its the perfect meal for those cold fall and winter days. It makes your home smell amazing, and if you have the time to be home, I strongly encourage that you cook it in the oven.
Want more great recipes? Follow me on Pinterest!
Try these great recipes out too!
Cozy and Comforting Crock Pot White Chicken Chili Recipe
The Best Tortilla Soup Recipe Ever for the Crock Pot, Stove Top, or InstaPot!
The Crispiest Fried Chicken Recipe with Herb Infused Batter and Sriracha Honey Sauce
The Best Homemade Ranch Dressing Recipe
The Best Banana Bread Recipe Ever!
Soft and Chewy Caramel Puffed Corn Recipe
GET YOUR FREE GUIDE to 30 DIY projects that can be done over the weekend!
By subscribing, you will gain access to my FREE guide with 30 DIY projects that can each be done in a day, or over a weekend!
You will also receive a weekly email with some of my favorite tips, tricks, and design ideas.