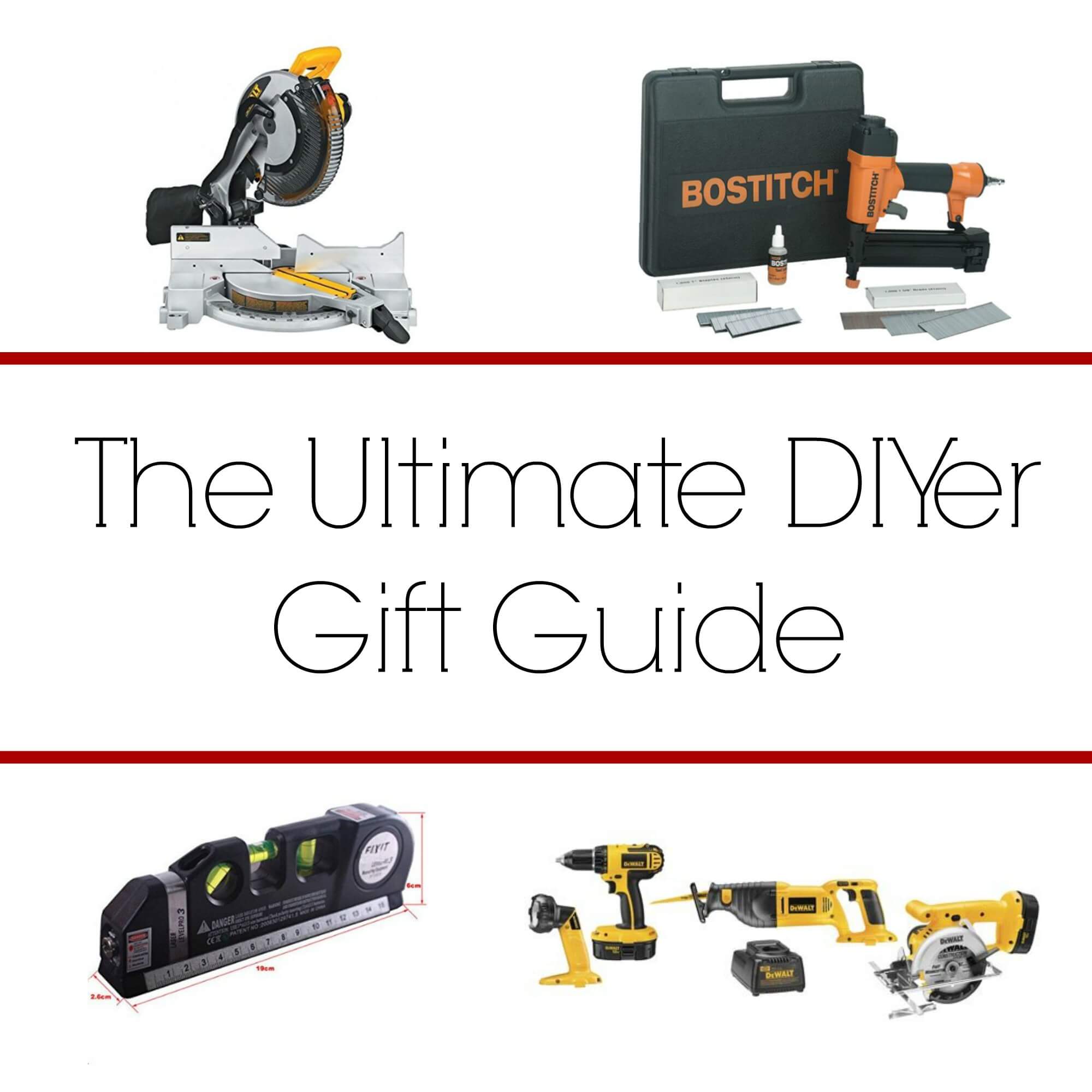 The Ultimate DIYer Gift Guide
Are you an ultimate DIYer?  Maybe you're a beginner that doesn't know where to start.  Well, I have the ultimate DIYer gift guide today to make that all the easier.
I often feel pretty lucky that I am able to do the projects that I can at my house.  I am constantly building, deconstructing, or painting something and I could not do anything without our giant slew of tools.  Now, I hope you don't think that I am just this rich person that can afford to purchased any tool I want.  Boy, do I wish that was the truth! The reality is, we have gradually added to our collection over the years.  When I was younger, I thought it was the most cruel thing to give something like a tool or an appliance as a gift!  Who wants that?!  Well, me.  I have found that Christmas and birthdays are a great avenue for both me and my husband to award each other with an awesome addition to our tool library.  I mean, I was the girl that wanted a paint sprayer for her birthday.  Guilty as charged.  So, I decided I would create a holiday gift guide geared directly towards those that love DIY projects, but might not have all the tools necessary for the jobs.  If I were given any one of these items for Christmas, I think I would do a happy dance.
*This post contains affiliate links for your convenience*
This tool is awesome!  We bought it recently to build some cabinets in our bathroom.  You cant go wrong my giving this to your DIY love.
This might not be one of the first things you might think of when growing your tool library, but I will tell you this is an awesome tool to have.  I did not realize how much I would miss it when I needed it but had lent it out to someone else to use.  I use this for multiple projects, but the one I love it for the most is when I am framing one of my chalkboards or pieces of artwork.  You cannot go wrong with this as a gift.
Okay, if I can recommend only one thing to get for someone, this would be it!  You may be wondering why you would need both of these.  Well, the drill is great for drilling holes and screwing things in.  The impact driver takes it all to another level.  It is mainly to drive screws in, and whats great about it is that it gives that extra "umph" to those of us who are small and don't have as much strength as say a 250 pound man.  As my husband says "this helps you put your back into it".  I would highly recommend this set.  They are powerful and last forever.  We just bought this set to replace our 15 year old Dewalt drill that finally broke when it was dropped off a roof.  I mean, oopsie.
DEWALT 15-Amp 12-Inch Single-Bevel Compound Miter Saw
This is an obvious choice for so many reasons.  We use this for cutting trim for doors and windows as well as for so many other project.  This was the first tool we bought when we built our house and we used it for our framing, for cutting our hardwood floor, and the list goes on!
I could not live without my table saw.  This is the table saw we have and it is great for the scale of projects I do.  Sometimes we need something larger and are able to use a friends that is built for bigger projects, but this is perfect for almost everything we do.  When purchasing tools to use, you have to consider size because of storage.
There are some great accessories to use with your cordless screw gun.  We use our drill bit set like this all the time.
Now, this is one of those tools that might not seem important but it is incredibly necessary.  You can use this to make sure shelves are level, hanging pictures, even when hanging board and batten.
Multipurpose Level/Laser Level/Measuring Tape
How cool is this?!  I think this might make it under my Christmas tree this year!  Have you ever been knee deep in a project and cannot remember where you set that measuring tape down?  What about having to carry 4 or 5 different tools for one job?  This fixes that problem!  A laser level, traditional level, measuring tape and ruler all in one!  I cannot wait to try this out!
BLACK+DECKER Mouse Sander
This is another must have for a beginner  DIYer.  This is a great sander for multiple projects.   Another great sander would be a belt sander but this is more versatile and can be used for so many things.
Another great tool to have!
I use this saw more than I thought I would.  It is an inexpensive tool to acquire and will do you good for years!
If you have ever wanted to do projects with pallets, you NEED to get this tool.  We probably use this saw the most.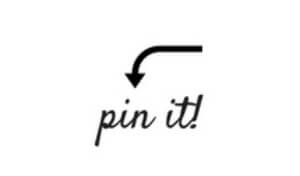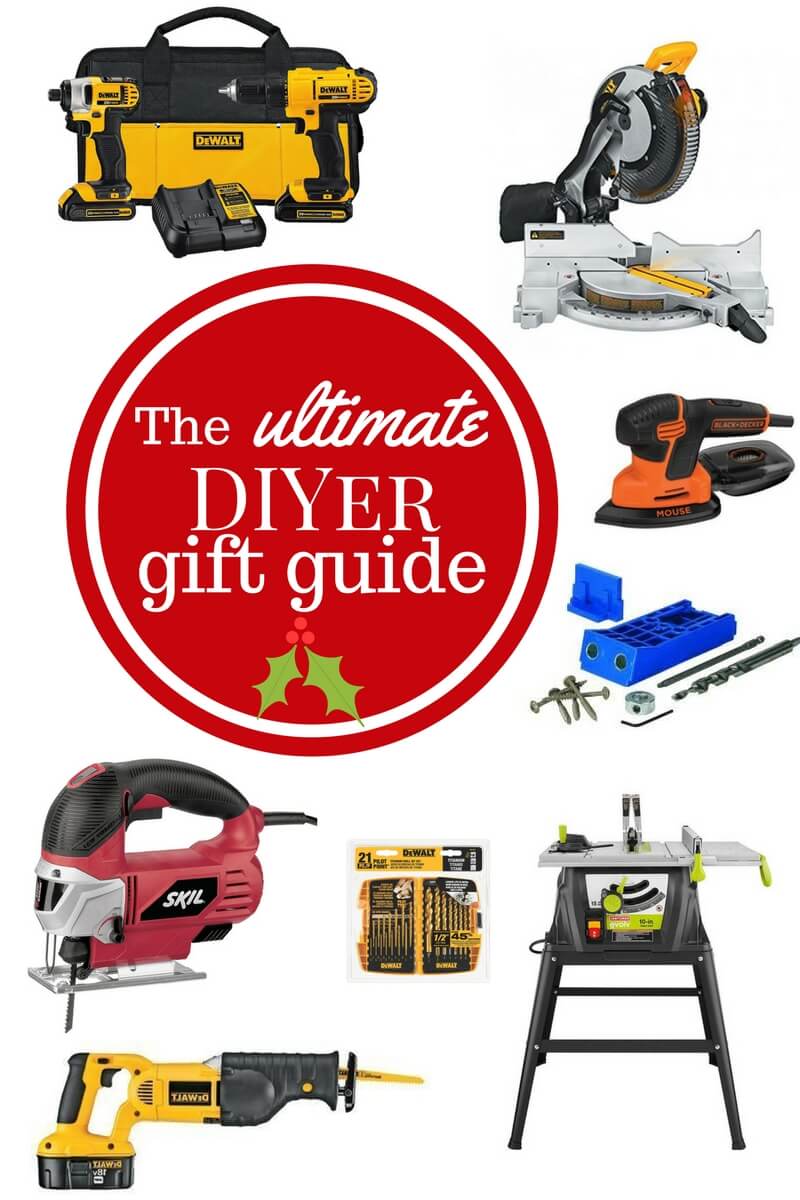 These items are all available through Amazon.  A great thing about most of these items is that they offer free shipping if you have a prime account.  They are offering a 30 day free trial right now.  I have an Amazon prime account and I love it.  Not only do you get free shipping on most items, you also have access to movies, TV shows, books, and music!  It is definitely worthwhile to try it out!
I promise if you have someone in your life that loves to create, build, and work on projects, they will be more than thrilled to receive any one of these as a gift!  I know I would!
GET YOUR FREE GUIDE to 30 DIY projects that can be done over the weekend!
By subscribing, you will gain access to my FREE guide with 30 DIY projects that can each be done in a day, or over a weekend!
You will also receive a weekly email with some of my favorite tips, tricks, and design ideas.