The Ultimate Guide to Copper Kitchen Decorating Ideas
Copper accents in a kitchen can create a warm and cozy environment. If you are looking to incorporate copper kitchen decor into your kitchen, I want to share some inspiration and tons of copper kitchen decorating ideas that are just what you need to warm your kitchen right up.
As opposed to stainless steel, copper lends itself to a warm, old world style. Stainless steel is one of the cooler metals while copper is a nice warm metal. It can take any space and warm it up immediately. Every kitchen design lends itself to the option of copper kitchen decorating ideas and elements. Lets talk about inexpensive as well as investment pieces that you can add to your kitchen with ease.
The kitchen is the heart of the home and I think we all want it to be a place where people want to be. I know at our house, this is the case.
Copper kitchen decorating ideas:
Copper Pots: Some copper elements can be easily added to any kitchen. Copper cookware is one of them. Hanging copper pots no a pot rack in a kitchen immediately adds charm and warmth to that space. The copper tones are so luxurious and it is the hottest trend right now. The great thing is that it will continue to be stylish for years to come. Copper is not necessarily one of those styles that will go away anytime soon. Hang copper pots above the island or behind the stove or range. These are both functional and decorative and a more affordable way to add copper elements to your kitchen.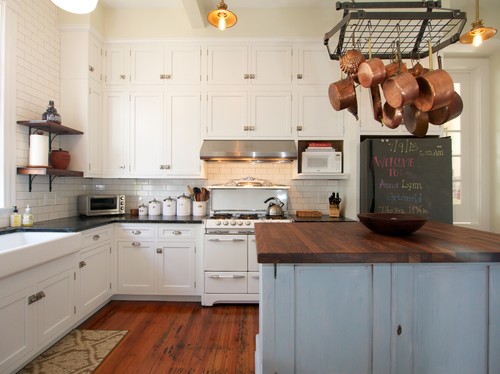 Copper Hood: If you are remodeling or working with a new kitchen, this is the time to consider a copper range hood. If you want to add this warm metal to your kitchen a range hood is a great option and will become the focal point of the room.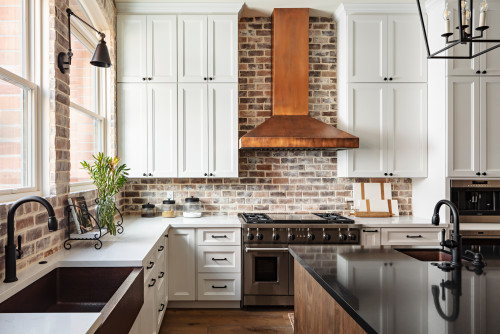 Copper Pendant Lights or other kitchen lighting: Imagine some copper pendant lights over an island or a copper chandelier over a kitchen table. This is another more affordable option and it is something you can add to your current space simply by changing out old light fixtures.
Copper Kitchen Sink: Talk about a wow factor in a kitchen, copper sinks are gorgeous! I love both the hammered copper sinks as well as the smooth copper sinks. This is something truly worth considering. Be sure that if you choose a sink or copper hood that you opt for more simple finishes in the rest of the space. Too much copper can become….simply put, too much. A copper sink can be the perfect addition to your kitchen.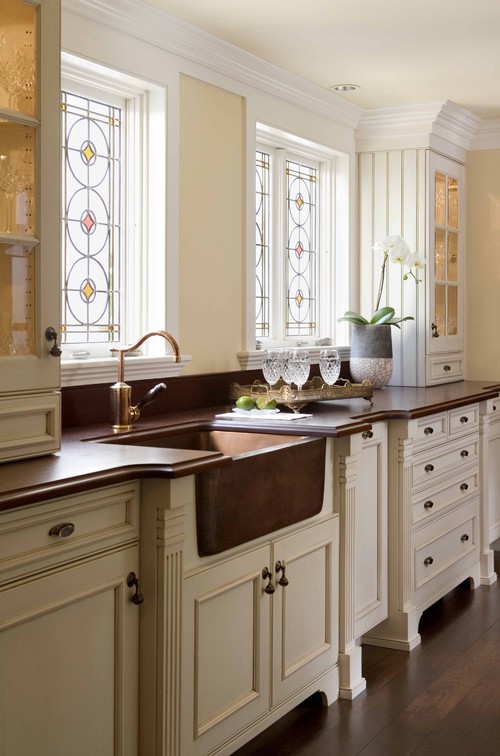 Copper Faucet: This is how I added a touch of copper to my kitchen. I really wanted to add a touch or two of copper elements to my kitchen . I replaced my old kitchen faucet with a gorgeous copper faucet. I also added some copper bowls to my open shelving.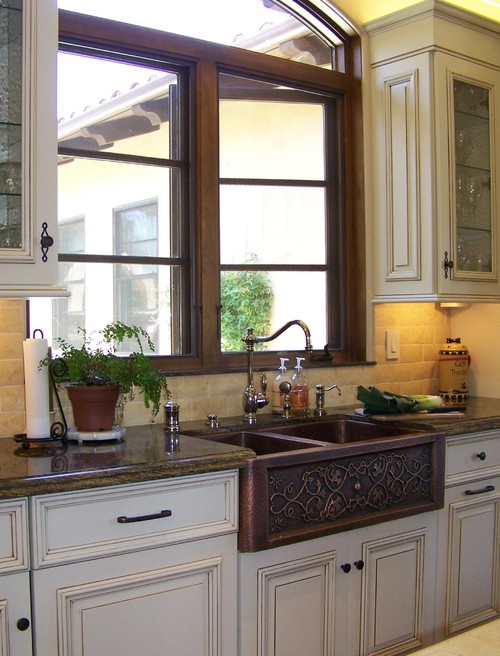 Copper Backsplashes: Looking for a unique kitchen backsplash idea? If you want to go all out, a copper backsplash is another great option. Against a simple cabinet and coordinating countertop, a simple copper backsplash can be so beautiful. Remember to consider your other finishes wisely because you do not want them all competing for attention. Copper tiles as well as copper sheeting are perfect for this installation.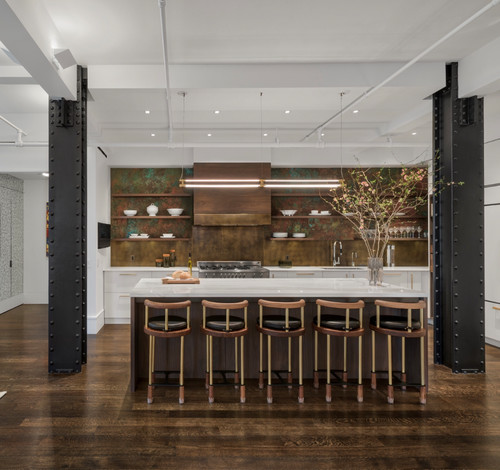 Copper cabinet pulls or handles: If you want to make an impact without making any structural changes or without having to replace major fixtures, copper cabinet pulls would be a great option for your cabinet doors . You can find handles appropriate for a contemporary kitchen as well as an old world style kitchen. I think the key is to keep a neutral palette for the most part so that they the finishes do not fight each other.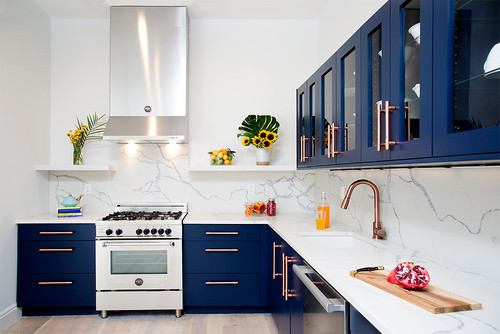 Copper Range or stove: Now, let's talk about another big element you can add to your kitchen that will make a huge statement. A beautiful copper kitchen can be accomplished by using using something like a copper stove, or a stove with copper accents. This can be quite an investment but if it is what you want to use in your kitchen, do it.
Other Copper Decor Ideas: There are other great kitchen decor idea options available. Copper moscow mule mugs, copper canisters, and many other copper kitchen accessories can easily be incorporated into any kitchen. You can add these statement pieces to your kitchen countertops. Copper accessories are an economical way of adding warmth, style and even a rustic look if that is what you are going for. It is such a flexible element and can be used in so many different applications.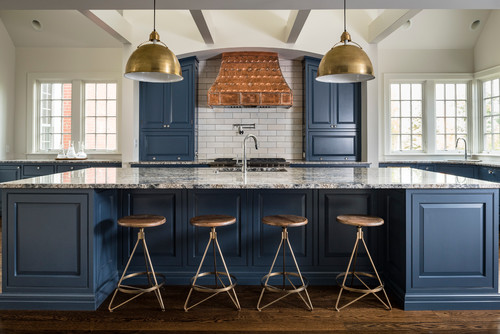 I hope that this guide helps you add some copper elements to your kitchen. Whether you want to update a neutral kitchen, add more of a farmhouse look, or incorporate it into an industrial style kitchen, there are multiple options for you.
Check out these other great posts:
How to Choose a Kitchen Backsplash
Amazing Kitchen Backsplash Ideas
Beautiful New Counter Height Stools in the Kitchen
Want Open Shelves in the Kitchen?