With Thanksgiving fast approaching I think its time to share one of our favorite side dishes. My mom has always included brussel sprouts, but this year I wanted to give them a bit of a boost. We found this restaurant in San Diego that serves the most amazing roasted balsamic brussel sprouts . Sadly we do not live close and only get them once or twice a year. But believe me they are amazing! I wanted them on my holiday menu and I want to show you how I make them. I am sharing my recipe with some of my favorite bloggers who are also sharing healthy and delicious Thanksgiving recipes. Check them out at the end of the post.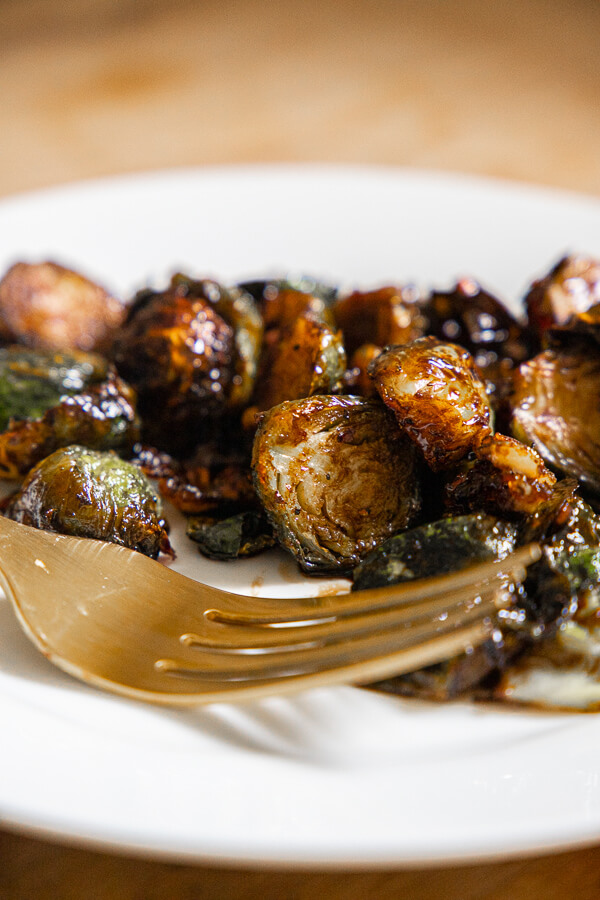 Jump to Recipe
Before I share anything else, did you know they are actually called Brussels Sprout? I will be using this spelling as well as the way they are spelled other places throughout the post!
Over the past couple years, I have wanted to try to recreate this side dish, but never really thought about it much until this year. There was one caveat this year though, I wanted to make them on the healthier side, and by using my air fryer to make these balsamic roasted brussel sprouts I was able to create something amazing that I also felt good about eating too! This healthy side dish is definitely a favorite.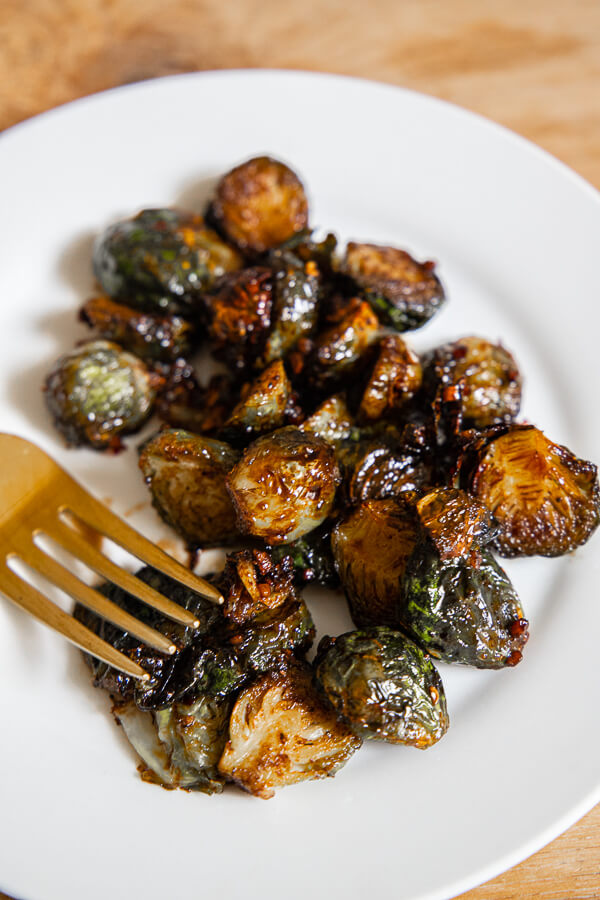 Obviously brussel sprouts are already healthy but if you add a bunch of butter or oil and fry or roast them up, they aren't quite as healthy are they? That is why I wanted to try these in the air fryer. The other great thing about using the air fryer is these only take about 10 minutes to whip up! They make an easy and amazing side dish that goes well with your favorite protein and they are the perfect side dish for Thanksgiving!
The secret behind these balsamic brussels sprouts is the balsamic glaze and the amount of roasting you get on the brussel sprouts. These a re maple balsamic roasted brussel sprouts. I decided to use pure maple syrup as the sweetening element in the glaze. I also added minced garlic and some crushed red pepper flakes.
Lets talk about how to make these yummy maple and balsamic brussel sprouts: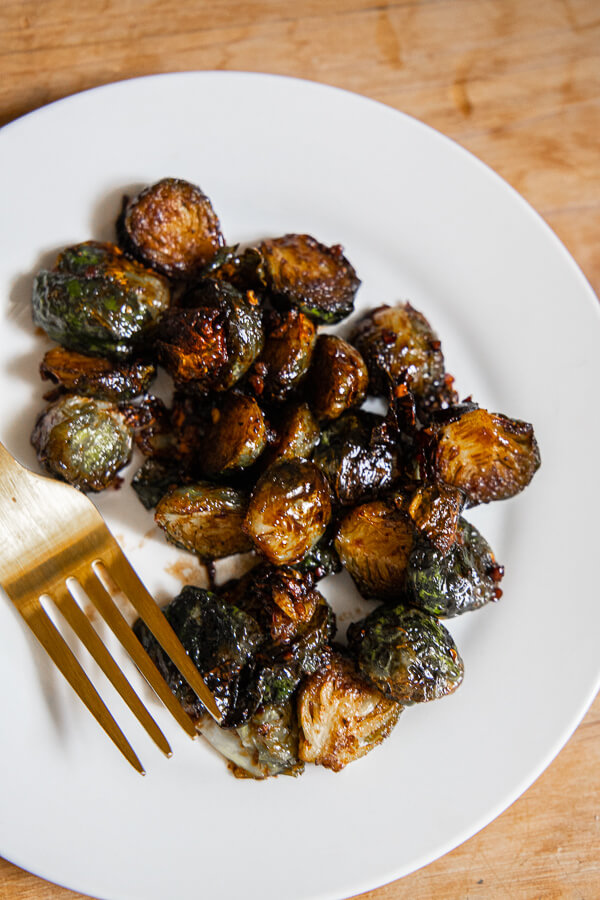 This recipe is perfect fo9r sprouts lovers!
First, you need to prep your brussel sprouts. Wash and trim brussel sprouts. If the outside leaves need to be removed, go ahead and do that. Cut the brussels in half and put them all in a medium or large bowl. Depending on the size of the brussels sprouts, you can quarter them if they are really large. Drizzle a little olive oil over them as well as some salt and pepper to season them. Lay them out in your air fryer in a single layer and let them cook on 400 degrees F for about 10 minutes. You can cook longer if desired or less if that is what you like. I like mine a bit more charred, I think it gives them a nice nutty flavor. (if you do not have an air fryer you can use a baking sheet in the oven, but I find the air fryer to be the best way).
While the brussel sprouts cook make your balsamic glaze. Put your balsamic vinegar, fresh garlic, maple syrup and crushed red pepper flakes into a small sauce pan and heat it over medium heat. Give it a stir and let the mixture come to a low boil, stirring occasionally.
Let it simmer for a couple minutes, letting the vinegar reduce, creating more of a glaze. You can a balsamic vinegar reduction. Once your crispy brussels sprouts are cooked to your desired doneness. Toss the sprouts in the the sauce and you are done!
I have also tossed the cooked sprouts and balsamic reduction in a sautee pan where I let them caramelize a bit more, but that it entirely up to you. I like to top my delicious brussels sprouts with some parmesan cheese if I have some available. We love the addition of the salty with the sweet and tangy flavors.
This should be served immediately, or reheated in the air fryer or in the oven to achieve that hot crispy texture. These maple and balsamic roasted brussels sprouts are so flavorful and easy to make. They are also a great healthier alternative for those guests with special diets. The only sweetener I can have is maple syrup, on the Low FODMAP diet and this is my favorite way to eat brussel sprouts. It is one of my most favorite recipes for Thanksgiving side dishes. It is the perfect crowd-pleasing side dish.
Brussel sprouts are often a love it or hate it food item, and I have always love them. I promise if you haven't liked them before, give these a try! These delicious brussel sprouts are a hit in our home with my kids. You can easily add more to these by adding turkey bacon or regular bacon as well as other veggies as well! I like to do only brussels because I know my kids love them this way. It is a simple side dish that make a big statement. Make these easy roasted brussels sprouts as soon as you can!
This would be great along side that famous sweet potato casserole and even this amazing pistachio, pomegranate, wild rice and kale salad. They compliment your mashed potatoes as well as that tasty turkey! I promise you will love them at first bite. It may be a new vegetable at your Thanksgiving table, but they wont be ignored.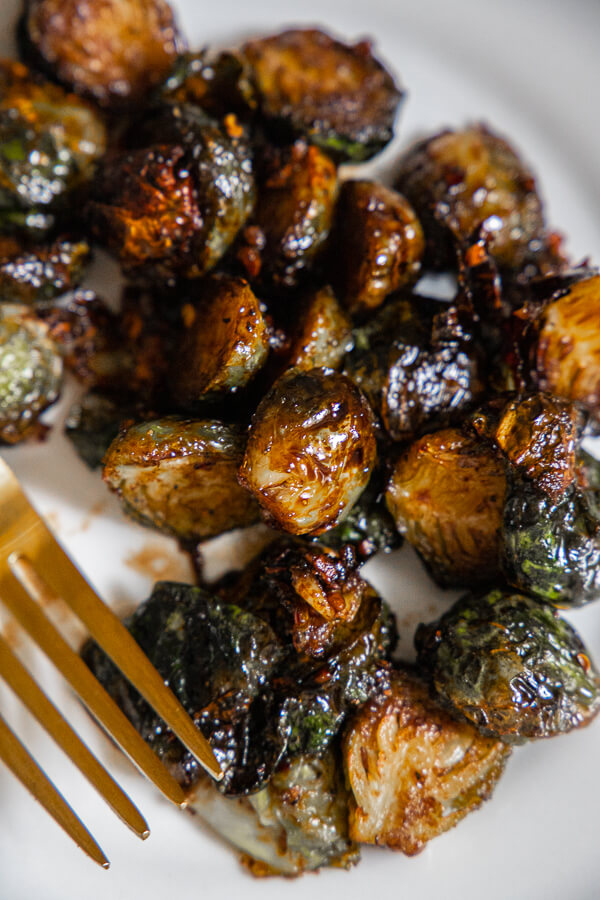 Roasted Maple and Balsamic Brussel Sprouts
This amazing side dish is perfect with any protein of your choice, at your Thanksgiving table and more! They are healthy too by using the air fryer as well as maple syrup.
Ingredients
14

oz

fresh brussel sprouts

1/2

cup

balsamic vinegar

1/4

cup

maple syrup

2

cloves of garlic minced

pinch of crush red pepper flakes

(add as much or as little as you want)
Instructions
Clean and trim your brussel sprouts. Trim the ends and cut them in half.

Add your sprouts to a bowl and toss them in a small amount of olive oil and salt and pepper.

Put them int he air fryer and let them cook on 400 degrees F for 10 minutes (longer if you want them more crispy or less if you dont)

While the brussel sprouts cook, put your balsamic vinegar, maple syrup, garlic and crushed red pepper flakes in a saucepan and bring to a low boil. Let it simmer for about 5 minutes while the brussels cook.

When the balsamic mixture has reduced, turn off the heat and let it sit while the sprouts finish cooking.

When your brussel sprouts ready, add them to a bowl and toss them with the balsamic reduction.

If you want to take it a step further, add them to a sautee pan and let them crisp up and caramelized a bit more.
Check these other great delicious and healthy Thanksgiving recipes out!
8 Delicious and Healthy Thanksgiving Recipes

Healthy Sweet Potato Soufflé // My 100 Year Old Home
Triple Layer Pumpkin Cheesecake Bars // Tatertots & Jello
Roasted Butternut Squash with Goat Cheese // Grace In My Space
Vegan Wild Rice Stuffed Squash // Most Lovely Things
Thanksgiving Salad Recipe With Cranberries // Happy Happy Nester
Air Fryer Roasted Maple And Balsamic Brussel Sprouts // Twelve On Main
How to Cook Lentils for Simple Healthy Thanksgiving Leftover Meal // The Design Twins

Sweet Potato Rounds // My Sweet Savannah
GET YOUR FREE GUIDE to 30 DIY projects that can be done over the weekend!
By subscribing, you will gain access to my FREE guide with 30 DIY projects that can each be done in a day, or over a weekend!
You will also receive a weekly email with some of my favorite tips, tricks, and design ideas.