Well, my friends, the weather is getting colder, and we are wrapping up all our summer and fall projects. This year we have been so busy building and adding to our property. We have spent our efforts outside, creating new exciting spaces on our land. We have built a goat house, which now houses 2 goats, created a gorgeous tree house for the kids, and our last project of the summer was our farmhouse chicken coop with a functional yet pretty chicken coop design. Its the best hen house on the block, if I do say so myself.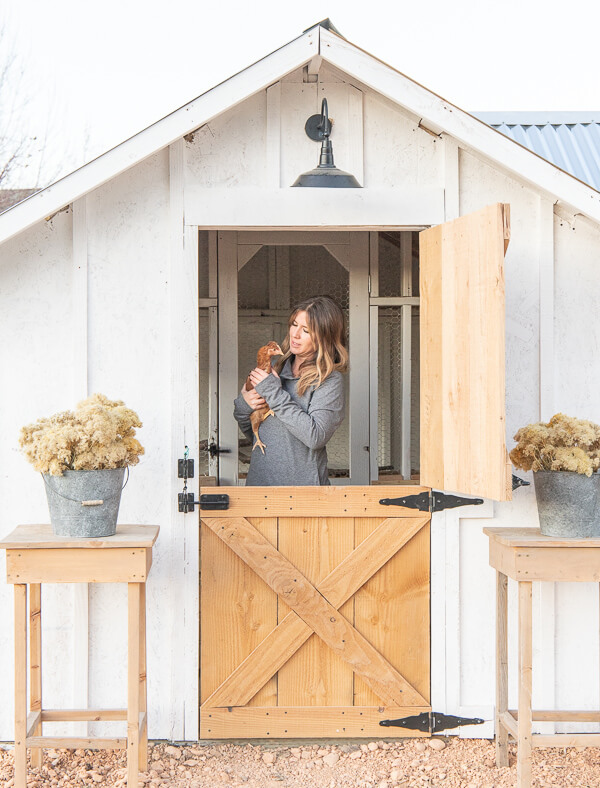 If you are new here, welcome! If you have been here before, you will know I just don't tolerate functional. There has to be a marriage of function and appearance. This definitely hold true with our chicken coop design. Before I start showing all the pictures and gushing over my love for this chicken coop and the chickens in it…lets talk about what our thought process was and why we built it the way we did.
Want to build a chicken coop like mine? We are now selling digital plans complete with full instructions!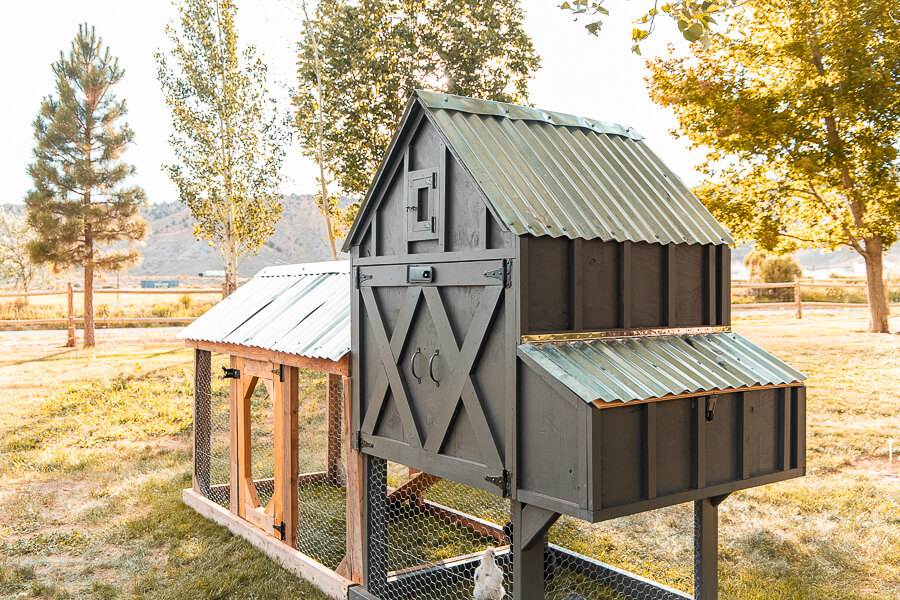 First and foremost…we wanted to focus on reusing, repurposing, and recycling old wood and products for this chicken coop. We also wanted to be very budget minded, spending as little to build this giant chicken coop. Can we do it? Keep scrolling to see!
I spent a good amount of time on Pinterest getting some chicken coop ideas for our chicken coop DIY. There is so much information there, I was able to get a good idea of things I did and didn't want.
We created this chicken coop design on a piece of paper, as we sat in our backyard figuring out what would work best for the area we had chosen to build it. As of now there are no chicken coop floor plans but we could create them if there is enough interest.
There were so many concerns we needed to address and I think we have crossed all of them off our list.
The bottom line is that chickens are messy and dirty, but I wanted to create a space where they could be happy, and I could enjoy the chores of cleaning and maintaining the area while getting those yummy eggs.
We started by ordering our baby chicks online at Meyer Hatchery. I knew once they were on their way, we needed to begin our project. They spent 6 weeks in our garage in their brood box, and that was just the right amount of time for us to finish their chicken coop.
Why we do not have 100 percent free-range chickens:
We decided long ago, that our backyard chickens would not be free roaming, and completely free range. We had many reasons for this, the biggest one being predators in the area. We have mountain lions, foxes, raccoons, skunks, bobcats, ferrel cats, eagles, hawks, and neighborhood dogs. All of which I really did not want to worry about. So, the first thing we needed to address was creating a chicken coop and chicken run that would be as predator proof as we could get it. Obviously I don't think it would ever contend with a bear, but if that ever happened we would be shocked entirely. So we focused on the things we knew we could prevent.
So, since we are keeping our chickens in their coop and run, it needed to be a bit larger, granted I think ours is a bit larger than it needed to be, but the chickens are so happy, and we never do anything half way! They have tons of space and I think it worked out well.
How we created a chicken coop and run perfect for our chickens:
The chicken run needed a roof to protect our little chickens from all the predators and I liked the idea of having a large place that they could run, and play while being protected from the sun and rain. This chicken coop DIY needed to check off all those important concerns.
The chicken coop design:
The coop also needed to be large enough for the 11 chickens we have. The size of your flock will dictate the size of your coop. We wanted them to have enough square foot space for each chicken, as well as a roaming area. As we were building our coop people commented on how large it was and that it must be my husbands new quarters….haha! Well, there is a good reason for that. The coop is actually half storage for our chicken and goat feed and supplies. I was in desperate need of a place to put their things that were near them, instead of in our garage which is quite a ways away.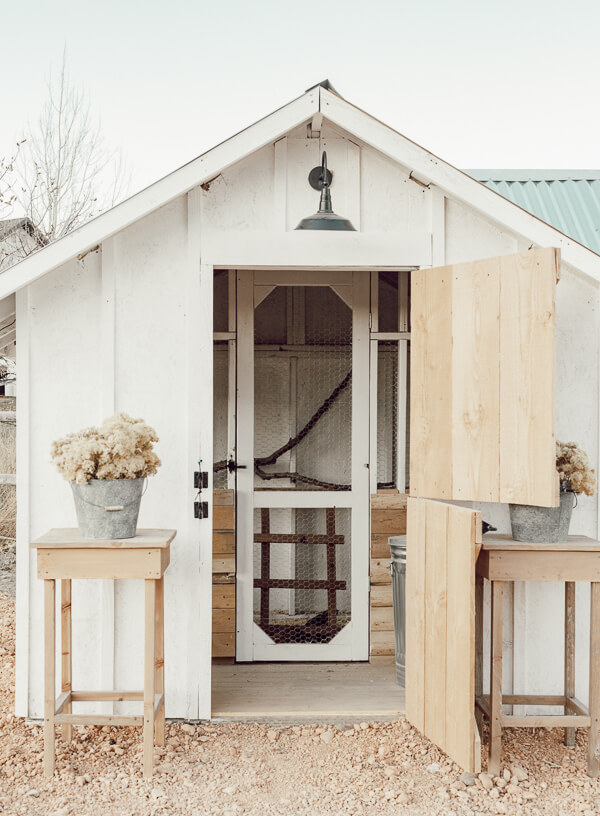 chicken run and gorgeous solar lights!" width="600″ height="816″>
So, we addressed this by cutting the coop in half, using half as the coop and half as storage. It just looks like a glorious large mansion for the chickens! We added a tongue and groove wood floor to the storage half of the coop. This makes it easy for me to sweep up the dust and feathers that seem to show up everyday. The coop side was left as dirt so that they could scratch and enjoy their dust baths(which are hilarious by the way).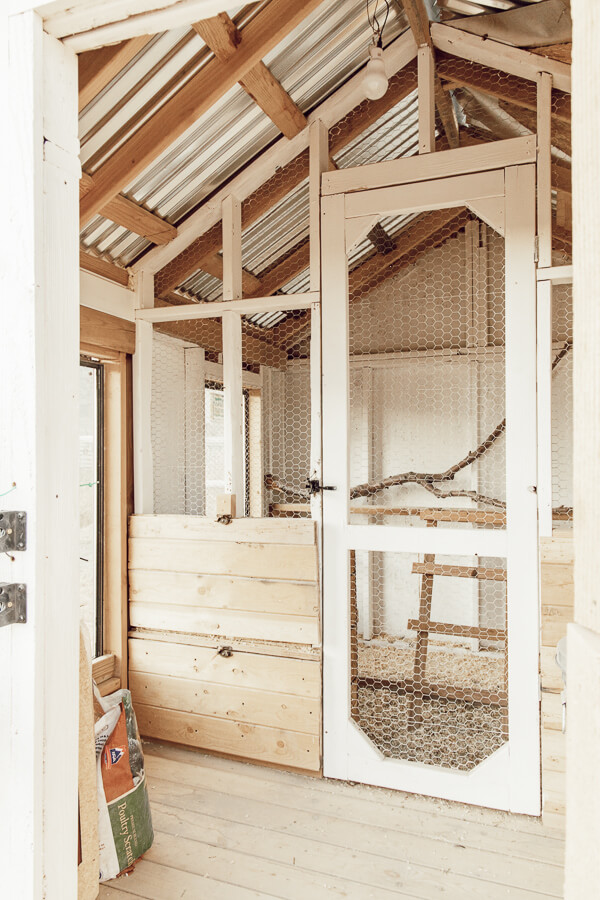 chicken run and gorgeous solar lights!" width="600″ height="900″>
We store their feed in a large metal trash can. Its cute and keeps all the critters out!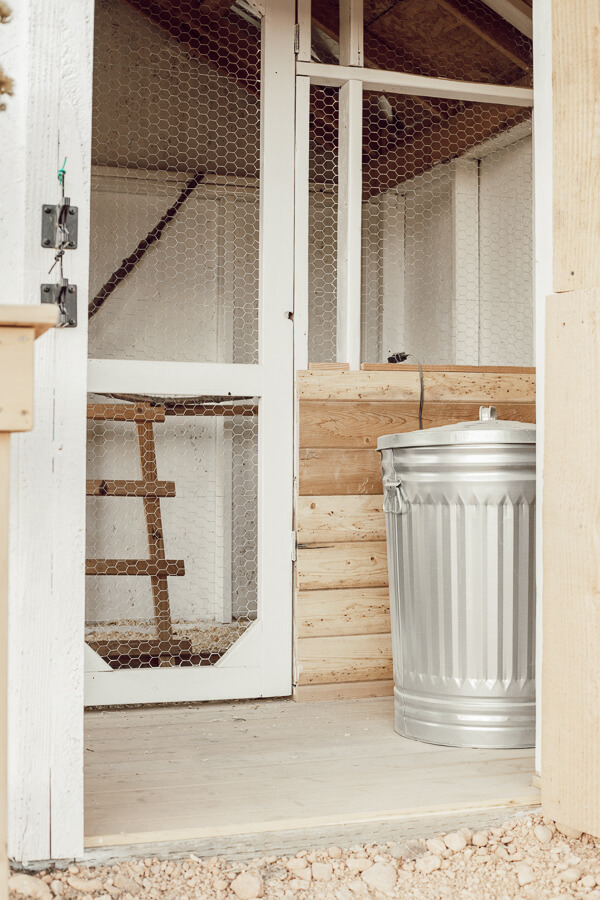 chicken run and gorgeous solar lights!" width="600″ height="900″>
We also needed to address how were were going to access our eggs without having to tromp around in the coop. We originally were going to build nesting boxes that were accessible to the outside but we decided we had plenty of room inside the coop and built the nesting boxes into the wall that divided the coop from the storage.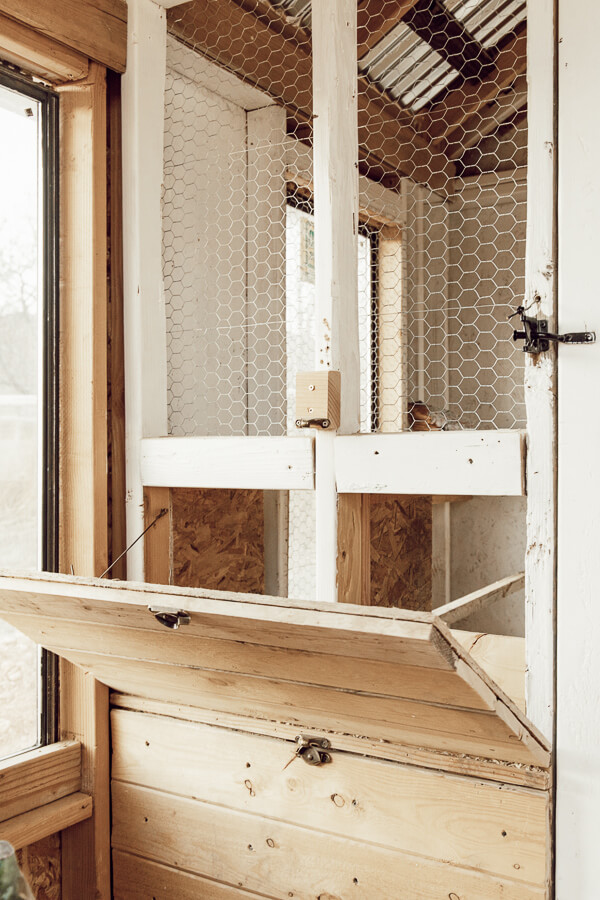 chicken run and gorgeous solar lights!" width="600″ height="900″>
This way, we have easy access, we can go in, fill their feed and check for eggs all at the same time. I am really excited to start finding fresh eggs in them! As it is, our chickens are only 3 months old, so it will be a couple more months before we start getting them. Hopefully having a happy place will keep egg production
high!
So, let's talk about our large chicken house project.
We started by building a simple semi rectangular shed. We added two windows that are west facing, and they get wonderful afternoon sun that keeps the coop cozy through the night. They are also functional and open like an awning window. They have wire covering them, to protect the chickens from predators. You want to have great ventilation for your chickens. Proper air flow (different from being drafty) is super important to a healthy flock.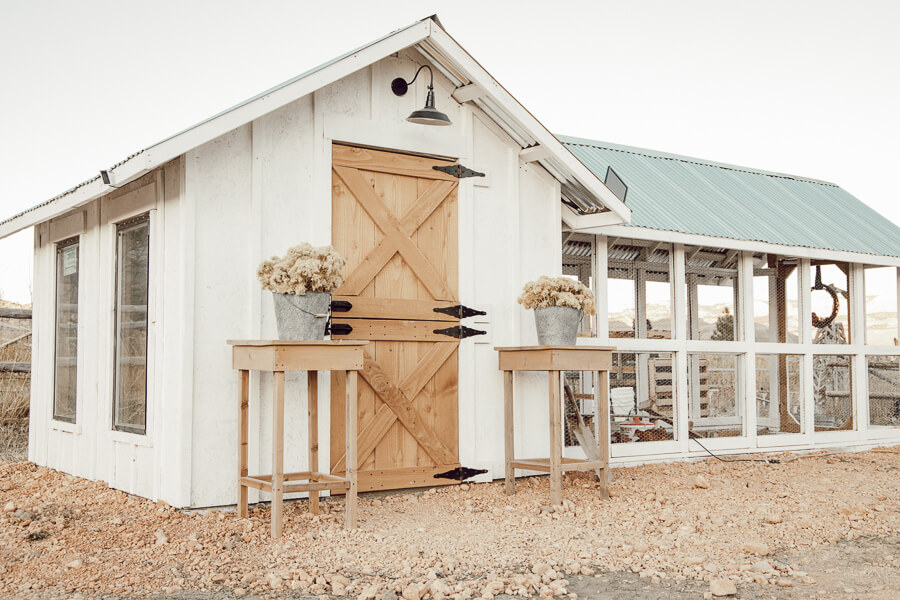 We built a wall cutting the coop in half. We kept this as a half wall, so that we could hopefully keep some of the dust down, and allow the chickens the appearance that the space is more open. I like being able to see them when I come in. They are often chilling on the roosts we have built.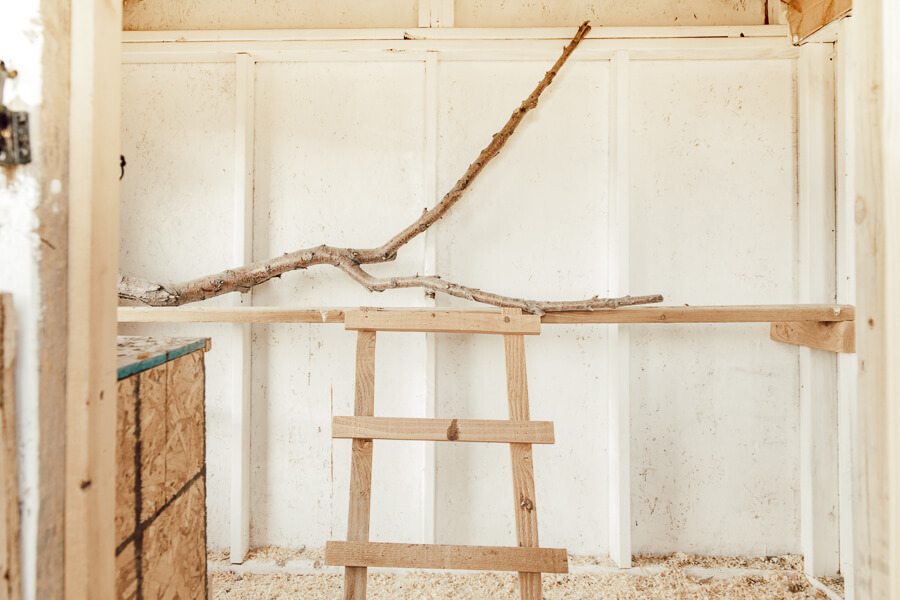 Under the roosts, I built a wood platform that allows them to poop all over, but I can easily sweep it off, making it so much easier to clean. I know they poop everywhere, but I find they poop the most when they are roosting, so this helps to maintain this and make it easier to clean.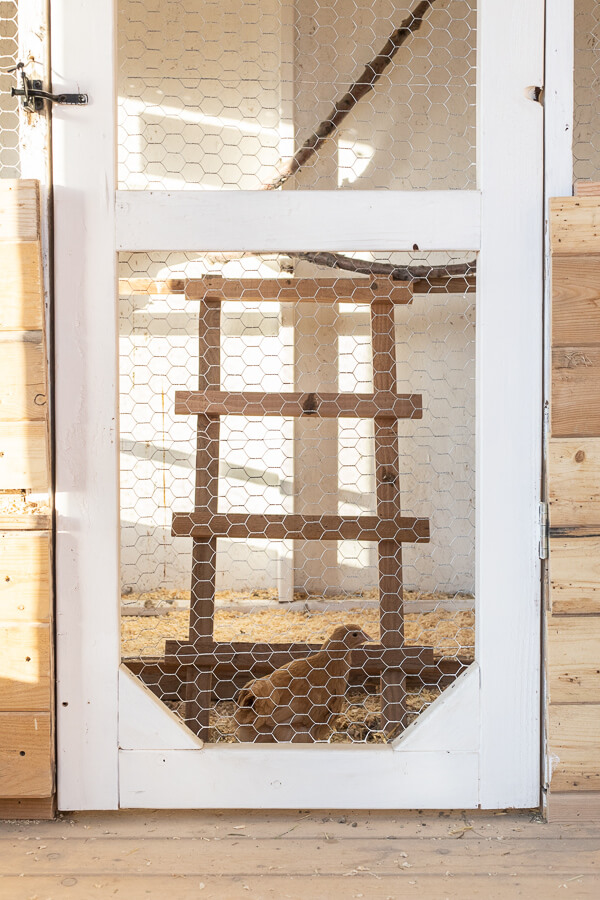 We built a small door that they can use to go in and out, with a door we can slide down at night to keep the warm and cozy and out of the wind. I know, it sounds like I am spoiling my chickens…and I suppose I am…but thats okay! They are happy chickens and so very sweet! They are sweet with the kids and the kids love them too.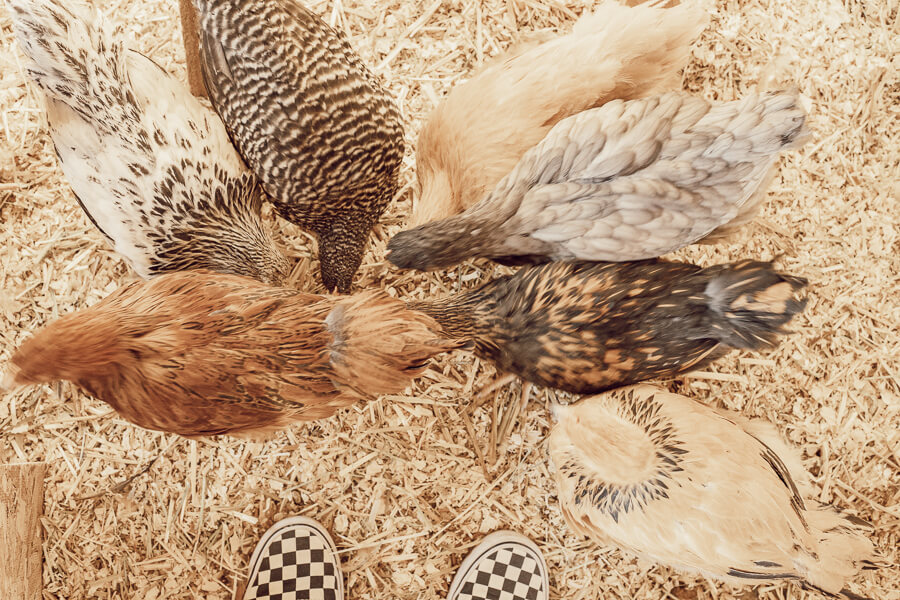 I want to talk about the roof for a minute. We decided to use a corrugated tin roof for many reasons. We really wanted to use shakes as we have on our goat house and tree house, but we ran out and they are so pricey and time consuming, so we opted for something a bit more economical option. Plus, I have wanted to use the tin roof in some of my designs so this seemed the perfect time.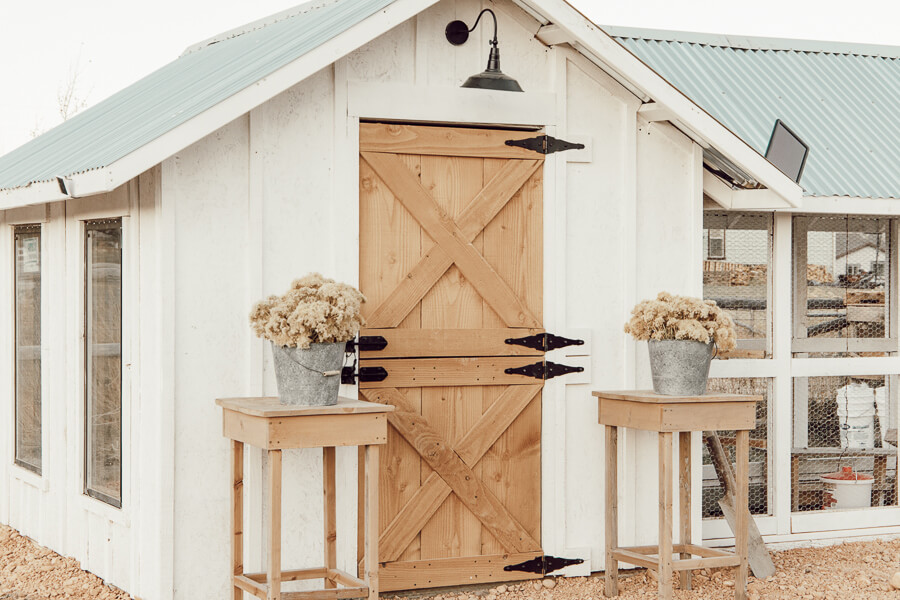 We decided to break up the roof lines by running the run opposite of the coop, giving us that T shaped roof. I love how it is broken up and gives it dimension.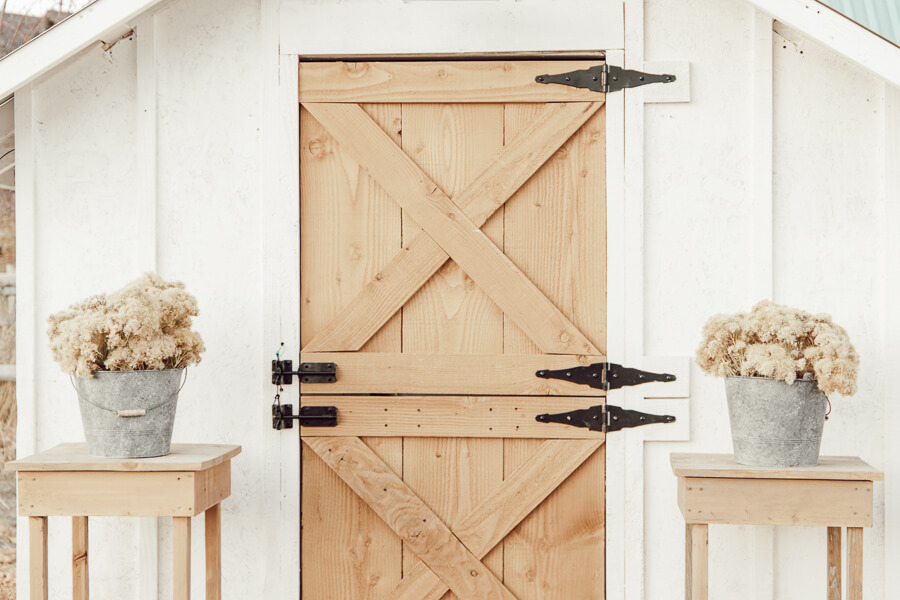 Last, my husband built the dutch door on the front of the coop to compliment the ones on the goat shed and tree house.
I love, love this door and right now, we are leaving it stained…but one day I may paint it….we shall see. It's great being able to shut the bottom door and leave the top open to allow fresh air for the chickens on warm days. This prevents dogs from getting in as well.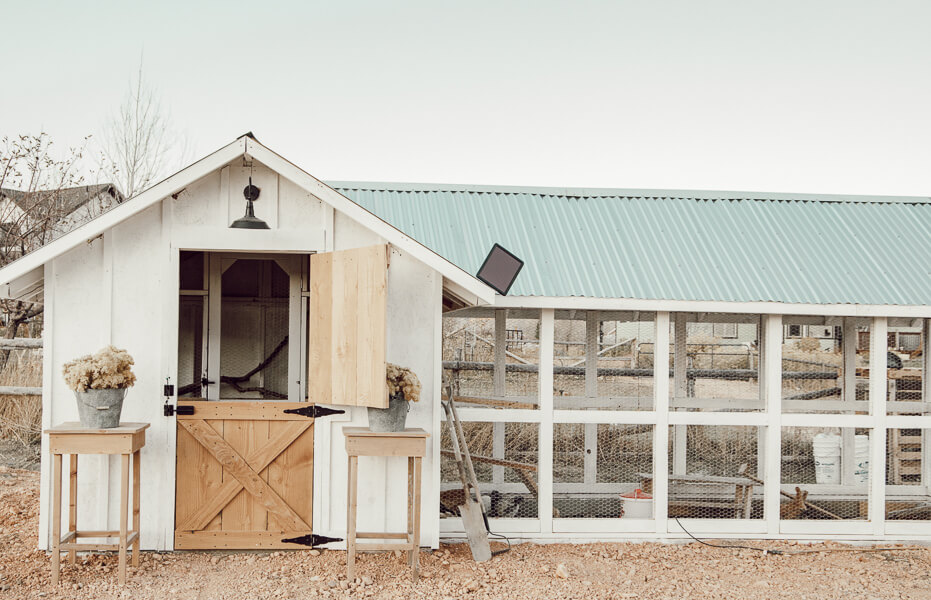 The chicken run design:
More chicken coop ideas…..we chose to have a covered run! It was the best choice for our environment. We wanted a place that protected them from inclement weather or predators.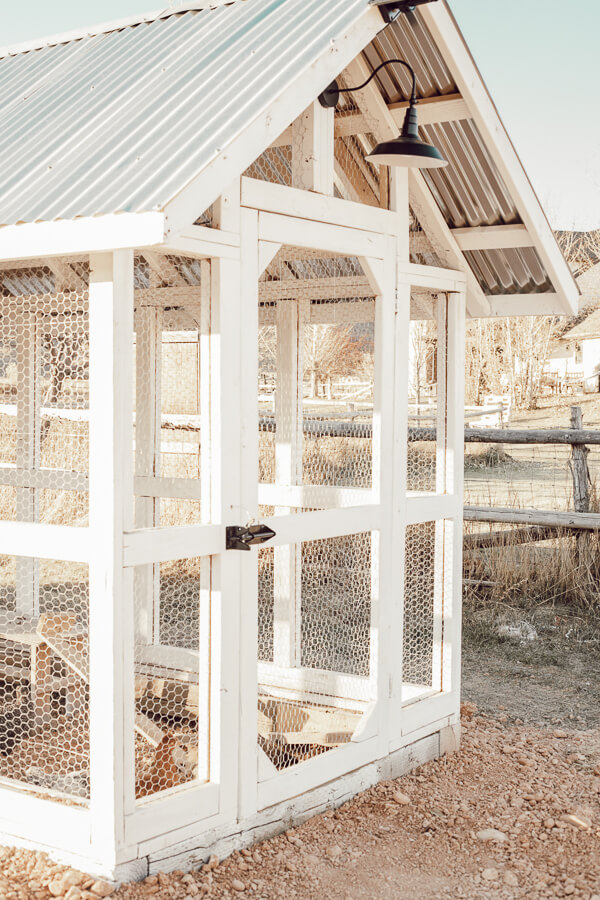 The roof and door wall of this chicken run is the star in my opinion. My husband created a gorgeous looking new home for our chickens.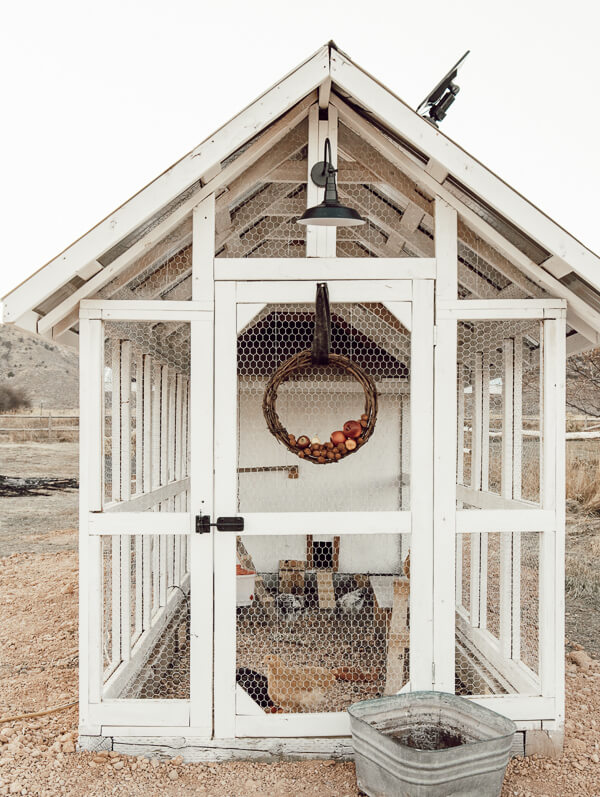 We installed beams and cross beams on the roof, and used 2 by 4's on the walls of the run. We installed one set of studs building out the entire run, and then we stapled our chicken wire to the studs and then we sandwiched it by adding another 2 by 4 on top of the chicken wire. You can also use hardware cloth.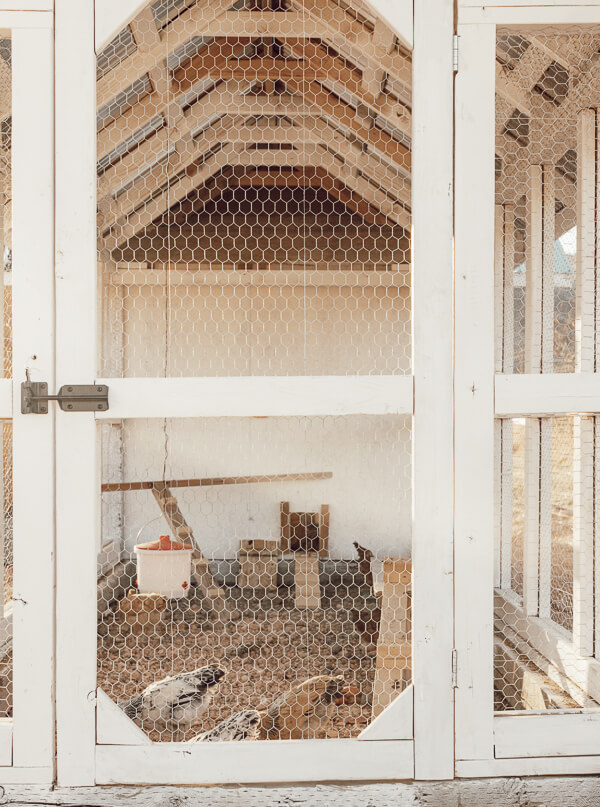 This will hopefully prevent any predators from being able to tear or pry the chicken wire off. It's as predator proof as we could get it.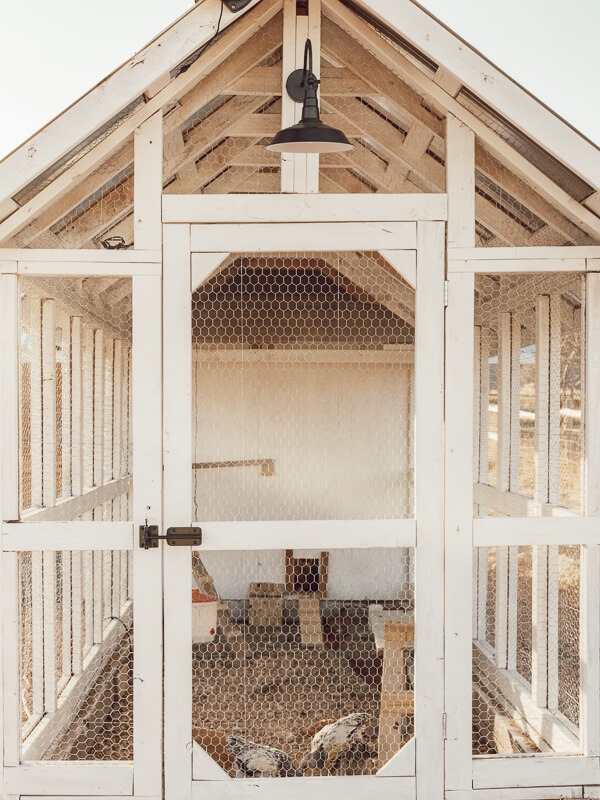 My husband built all the doors on the chicken coop and run. I am obsessed with the main door on the chicken run as well as the dutch door on the front of the coop. I could not stress enough how important it was that I did not have to duck down to get into the coop or the run, and my tall husband can do it too! I wanted it to be functional and still beautiful. I wanted to have some ease to the design that made our life just a bit easier.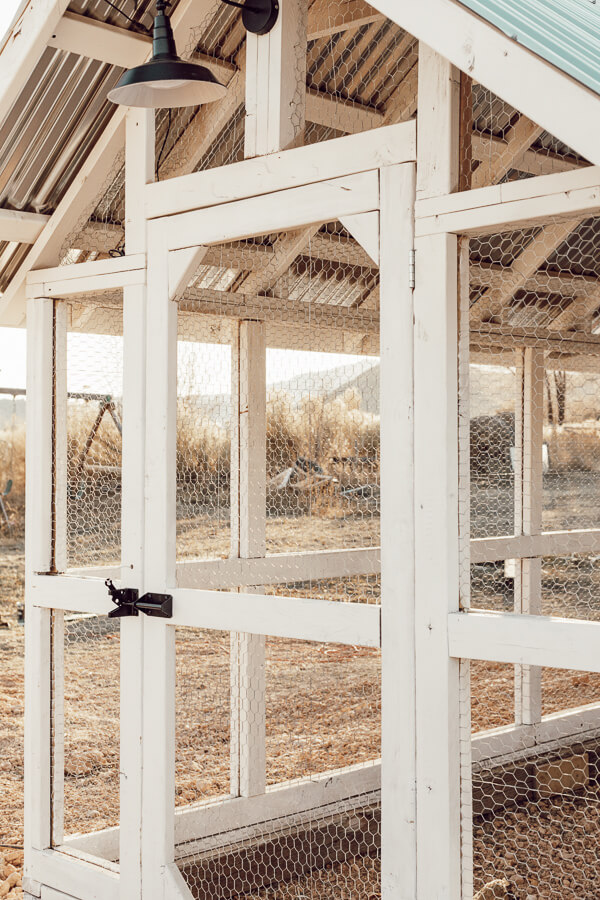 All the doors lock from the outside but have a mechanism that allows us to pull a wire to open from the inside which will prevent me from being locked in with my chickens:)
Lighting for our chicken coop design:
With so many chicken coop ideas swarming around in my brain, I knew I wanted some kind of lighting.
I was really unsure whether or not I wanted to add electricity to our chicken coop design. I opted to not have any, just for safety sake. But, I also wanted to have some lighting on the outside that was decorative and functional. I searched high and low and finally came across these gorgeous solar farmhouse barn style lights. They are the perfect addition!
chicken run for chickens that aren't able to run free range." width="900″ height="600″>
These solar lights light up when the sun goes down, and recharge during the day. They give the perfect amount of light in the evenings when we are out locking up and making sure all is well. I love them!!! The only thing I don't love about them is their solar panels, which you can see in some of our images. But, it has made all the difference, so I will choose to ignore them.
One more thing that we did to ensure the safety of our chickens was to bury some chicken wire along the entire exterior of the coop. We stapled it to the foundation and covered it with gravel. I hope this deters any naughty critters exploring our backyard in the night.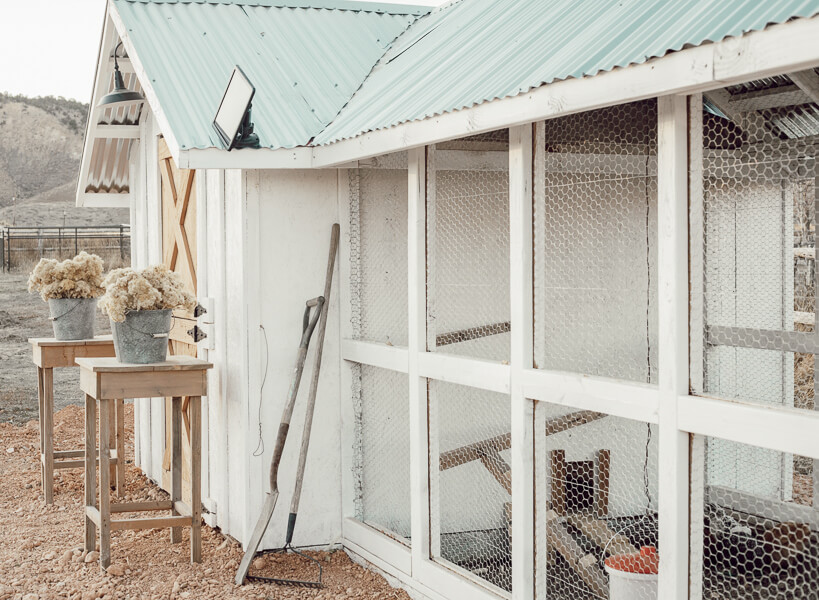 Overall, I am so thrilled with how our chicken coop turned out. All my chicken coop ideas were finally coming to fruition.
The exterior finish of our chicken coop:
chicken run with a tin roof. Its so pretty!" width="600″ height="900″>
I chose to paint the entire coop and run white. I used my Wagner Control Pro 130 Power Tank Sprayer. This sprayer is so wonderful. It took me no time to paint the exterior and interior of the chicken coop.
This paint sprayer is perfect for big interior or exterior jobs. It can be used with a large range of paints and stains. It is gravity fed for fast priming and cleaning. The spray gun features High efficiency Airless technology. It gives a great even finish. There is also way less overspray with this sprayer! It is my tried and true. I am a big fan.
Shop my favorite chicken coop accessories!

Why do I go overboard on projects like this?
There are many reason why I push to create these types of projects. Honestly, I feel that if I can going to have to build a chicken coop, greenhouse, goat shed, or treehouse, why not push it to the limit and make it exactly what I want. I do not sit back and watch my husband do all the work. On the contrary, I am right there with him building, cutting, nailing and screwing. Granted, he has to do the heavy work, but if I feel that if I want something done, I should be in there doing the work. I am so grateful to my husband for all the hard work he puts into our home and outdoor projects.
I feel that I have certain standards of how I want things to look on my property and I am not afraid to work for them. I love having something that is functionally great but also visually appealing. It makes for one very happy girl.
Yes it is the harder way, and yes it is more work and effort, but I have found it all to be completely worth it in the end.
I have happy goats, and I have happy chickens. I cant ask for more than that. I have kids who take pride in their home and that is important to me. We have built the basics. We are creating the framework of a 'homestead" that we can truly love..each and every inch.
Now, I do want to say…this chicken coop DIY isn't entirely finished. We still have landscaping and a few little touches to take care of. But, I wanted to share it with you now, in hopes that you can gain some inspiration for projects you may be thinking about. I am hoping once summer hits, we will have grass, flowers, and hopefully a lot of lavender and rosemary planted along the exterior of the chicken coop. But, this will all have to wait until then.
I truly hope you enjoy seeing the progress we make daily here at Twelve On Main. Its not easy, nor is it always the most fun, but it is so worth it!
chicken run full of happy chickens! This was a very affordable chicken coop, using repurposed items, a solar barn light, and its completely predator proof!" width="473″ height="1024″>
Want to learn how to take care of those sweet new baby chicks you have?
Check out my post with everything you need to know about baby chicks!
Want more chicken coop inspiration?
I have rounded up some of my favorites here!
Thanks for stopping by!
xx
Sara
Check out these projects too!
Super Easy Pallet Compost Bin DIY
How I Turned A Pallet into Planter Boxes
The Very Best Way to Take Apart Wooden Pallets
Create Thrift Store Basket Storage
Want some great chicken recipes?
Cozy and Comforting Crock Pot White Chicken Chili Recipe
The Crispiest Fried Chicken Recipe with Herb Infused Batter and Sriracha Honey Sauce
Our Favorite Grilled Chicken Recipe You Will Love Making
Instapot Chicken Tacos with Zesty Slaw
Grilled Chicken Souvlaki Skewers With Flatbread and Tzatziki Sauce
GET YOUR FREE GUIDE to 30 DIY projects that can be done over the weekend!
By subscribing, you will gain access to my FREE guide with 30 DIY projects that can each be done in a day, or over a weekend!
You will also receive a weekly email with some of my favorite tips, tricks, and design ideas.