Its been a long time since I shared some of the happenings on the farm. This one in particular has been a project since Covid. We started this pole barn about March of 2021, and then we got covid! We took a couple of weeks off to recover and then my husband got right back at it!
Now, a little back story as to why this large pole barn shelter was built. With our animals such as our goats and chickens, we need to have hay on hand to feed and to use in th chicken coop and goat houses. When we are milking our goats, I also wanted somewhere that I could milk her under a sheltered roof. I didn't necessarily need to have an enclosed building, not yet at least.
So, I asked my husband if we could build a small lean to, to cover the large round hay bale that we get for the goats. I figured it would be about 8 ft high and 6 ft wide. Not too big just enough to cover and protect the hay and other feed.
When I came out and saw what my husband had started I was both shocked and super excited! I was so excited a how much larger this pole barn shelter was than I was expecting. It is at least 14-16 ft high at the highest and about 20 feet long. We made it long enough that we could add two gates. This was done so that when the goats are out in the pasture, they cannot get into this area.
With the increase in size, this became so much more than a place to shelter our hay. I am able to keep my milking stand under here, along with our riding lawn mower and more. Now I feel like I need to say that this is not technically a traditional pole barn when you hear pole barn. But I like to call it a pole barn because it is a pole barn shelter made from strictly poles there are no two by fours there are nobody no beams there's nothing but polls used to create this.
This was by far, a very happy accident. I was not e exactly expecting there to be a large pole barn shelter in my backyard. I was super excited with the change. The cool thing about this pole barn is that my husband build this all entirely out of poles that we had collected on the farm.
He started by building the bones of the structure by digging large holes and placing the vertical poles in those holes. We then filled them with dirt and tamped them down really really well. Once that was done he started to build the top of the pole barn by adding the horizontal pieces. He used long bolts just like we used on our fence to secure all these pieces of holes together.
I came out to see the progress one day and was so inspired by what he had. done. I mentioned to him that I thought it would look really cool if we had some sides on it. This would be so that with gates, the goats could not get in. It would also look kind of decorative, similar to my grapevine trellis.
Something nobody knows about my husband is that he loves to build these kind of structures. He loves to use these poles. They are difficult to use, especially when you're trying to create something that is functional and structural. But, he always makes him look really cool and really stylish. He did this with the sides of this pole barn creating some almost like a wainscotting along the bottom.
This worked out really well. Since we had the sides built we could then put the gate on the front of the pole barn so that it creates an entire enclosed structure. The opposite side of the gates was built this up against the fence that goes to the goats pasture. When we are feeding them, we can just feed them straight across the fence and not have to go anywhere else.
Also when I am ready to milk goats I can bring them right into this area. I have everything that I need I have their goat snacks as well as her hay and the goat milking stand is there as well.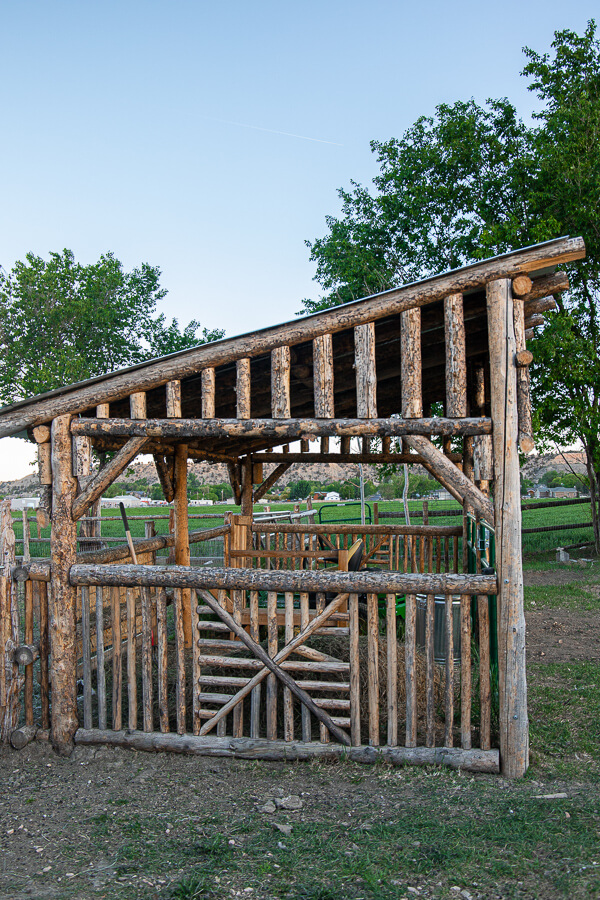 The roof that we used on this was tin roofing that you can get at the Home Depot. It is the same roofing that we used on our chicken coop as well as other small projects around the house. Both chicken coops that we have use a tin roof just like this. It's an economical option and we are able to put it straight on top of the poles that made the roof.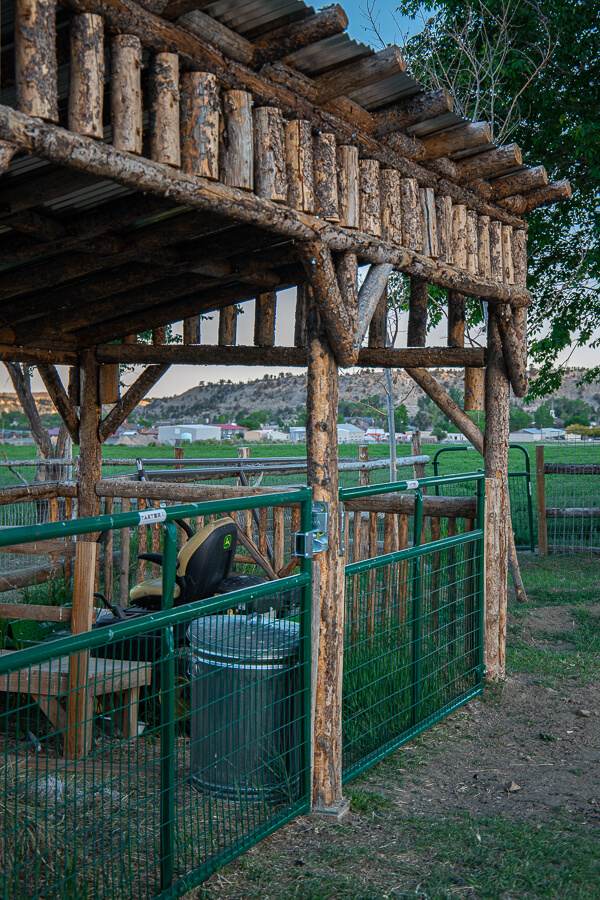 I always laugh and think that when my husband builds a project like this that he doesn't do it halfway. He always thinks about what I might like and what might look consistent with what we have around the yard. We have consistently used these kind of poles for many things in our yard. Those proojects including the staircase to our treehouse, the fencing around the entire property, our grape arbor, and so much more.
His experience using these poles to build fence has really helped in the way that we build with them around the property. When we build a fence, the vertical posts do not get cemented into the ground. You dig a very deep hole and you put the post in vertically. Then you tamp down the dirt around it so you technically will put about half of the pole in the ground. The chances of it coming out are pretty slim and it keeps them very secure.
This is the method that he used for our pole barn. I love how this pole barn turned out and I am so excited to be able to use it for so many different things. It keeps everything protected that we needed to and it is very functional as well as nice to look at.
Maybe one day we will look into steel buildings as a place that we could keep our goats if we decide to expand as well as if we get a milk cow. If we decide to do more milking, it will make sense to do that. For right now, this area is perfect for what we use it for. I can trim on my goat hooves in here on the milk stand. I can feed them directly from the shelter and it's just really works out well for us.
GET YOUR FREE GUIDE to 30 DIY projects that can be done over the weekend!
By subscribing, you will gain access to my FREE guide with 30 DIY projects that can each be done in a day, or over a weekend!
You will also receive a weekly email with some of my favorite tips, tricks, and design ideas.