Set of 5 Summer Quote Printables
Hey there friends, its been a couple minutes since I have shared some FREE printables, and its time for some today! Today I am joining up with some amazing bloggers to bring some fun summer printables! I wanted to share some summer quote printables with you today. Not just one but 5 free summer quote printables!
Scroll to the bottom to see all the ladies sharing their adorable printables!
With the weather being so amazing lately here, and my deep desire to be on a beach somewhere, I decided to create some simple summer quote printables that help to add a bit of whimsy to my home and give me all those summer vibes that I am craving right now.
Maybe its because we are stuck at home right now, but i have never craved summer more. I generally am not in a hurry for summer to get here because I love the spring, and I love the fall! But this year, its all I need. Just being able to sit out in my backyard, work in the garden and feel that warm sun on my skin is enough.
Here are the 5 summer quote printables I am offering.
These summer quotes were hand lettered by me, and are super simple and fun. I kept the color more muted, and its actually a greenish hue, however I had a hard time getting it to come through in the pictures.
"Salt in the air, sand in my hair". Doesn't this scream summer?
"Made for summer days" yes please!
"Create your own sunshine"
"Nothing but blue skies"
"Forever chasing the sun"
All these summer quote printables are available to you! Here is how you can get them all!
Click here, or click the image below to get exclusive access to my entire printable library, with over 50 printables! It includes calendars, printable quotes, artwork and more!
You will get exclusive access to my printable library as well as sign up for my weekly newlsetter!
If you already subscribe to my email, then there is no need to sign up again! Simply use your link and password to access my printable library!
Now make sure to check out all the other fun summer printables!: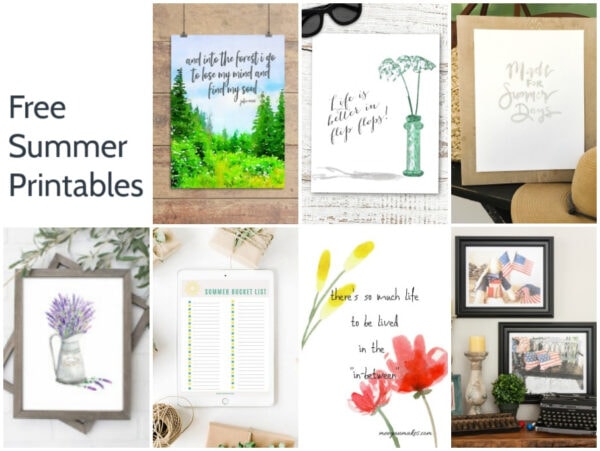 Free Printables: Colorful Art for Summer from Lovely Etc.
Free Summer Printable: Life is Better in Flip Flops from Up to Date Interiors
Set of 5 Summer Quote Printables from Twelve on Main
Watercolor Lavender Free Printable from Postcards from the Ridge
101 Summer Bucket List Ideas – FREE Printable from Charleston Crafted
There's So Much Life To Live Summer Printable from What Meegan Makes
Wall Art Free Printable | 3 Colorful Designs For Summer from Sunny Side Design