Amazing Lemon Chia High Protein Pancakes
I am certain you are going to be huge fan of these high protein pancakes! Ever since I have changed my diet in a big way, pancakes have always been a big go to for breakfast. I have made multiple pancakes using oatmeal as the flour since I am gluten free, Today I want to share my absolute most favorite pancake recipe to date! Years ago I had some amazing lemon chia pancakes. A little while ago, I went searching for the recipe only to find that they were made with Kodiak Pancake mix, which I cannot have. So I took the challenge to try to make some that tastes just as amazing, without the gluten, and one more thing, a lot of protein.
Jump to Recipe
I have been really working hard to incorporate at least 120-140 grams of protein in my diet everyday. Sometimes you have to get creative when finding options for protein.
When it comes to breakfast there are tons of options available. There are some really great protein pancake mixes you can use but these are so easy to make and cost just about nothing to make! I love starting the day with a healthy breakfast. These low carb, high protein pancakes are the perfect way to start it!
Some of my favorite ways to get all that extra protein in without eating 5000 calories are:
Egg whites
Greek yogurt
Turkey Bacon
Chicken
Peanut butter powder
vanilla protein powder (I cannot have whey protein powder, so I use vegan)
cottage cheese
I try to add many of these into my diet daily. The one thing I have been omitting is cottage cheese because it gives me a stomach ache. I am mostly dairy free, but I can tolerate lactose free protein shakes, such as Fairlife Protein Shakes. I can also tolerate some greek yogurt. I try to limit the amount so that I do not risk bloating and stomach aches.
I took all these things into account when I was creating this fluffy protein pancakes recipe. I knew that with all my other gluten free pancake recipes that oats make a great base. So, I knew that it was going to have oats and also that I needed to figure out how to incorporate enough protein to make it a protein packed meal.
I decided to use egg whites and protein powder as the extra sources of protein. Believe it or not, these protein powder pancakes were really easy to throw together. I had to make just a few adjustments of the ingredients to make them the right consistency. The addition of chia seeds helps to thicken the batter before you cook the pancakes.
This protein pancake batter could not be easier to make. You do not need to mix wet ingredients and dry ingredients. All the ingredients get put in the blender and blended up! The best part about these pancakes is that there is no added sugar! The only sweetener is in the protein powder!
Here is a little secret as to how I add a bit more protein by using some of my vanilla Fairlife protein shake as the milk option in these healthy protein pancakes .

Lets talk about how easy it is to make these lemon chia oatmeal protein pancakes:
This recipe has only simple ingredients. These are the kind of meals I make. I do not want to have to make things that require expensive or hard to get ingredients. All of these ingredients are staples that should be easily found in every pantry.
First take your oatmeal, lemon zest, large egg, egg whites, greek yogurt, a scoop of protein powder, baking soda, baking powder, vanilla, milk(i use my Fairlife vanilla shake, you can use whatever milk you choose including almond milk, oatmilk or regular. milk), and a pinch of salt into a high-speed blender.
Blend it on high for 1 minute. After it has been blended, add your chia seeds and stir them in. Let the batter sit for about 5 minutes so it can thicken up. Pour the batter onto a medium heat griddle sprayed with cooking spray. I heat mine to 350 degrees. This will make 2 large pancakes or 3 medium pancakes.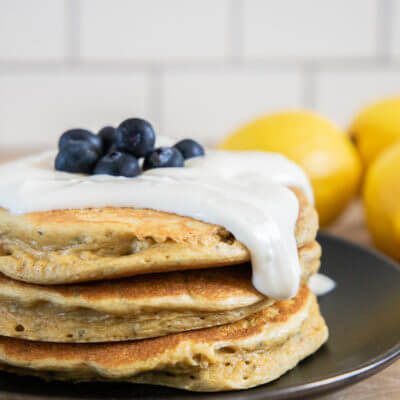 Lemon Chia Protein Pancakes
These lemon chia protein pancakes are so easy to make and taste amazing! They are packed with protein, gluten free and so perfect for breakfast!
Ingredients
1/2

cup

rolled oats

1

large egg

3

tbsp

egg whites

1

tsp

vanilla

1/2

tsp

baking soda

1/2

tsp

baking powder

2

tbsp

plain greek yogurt

1

scoop

protein powder

I use Orgaine Vanilla protein powder

1 1/2

tsp

chia seeds

tbsp

lemon zest

1

tbsp

milk of your choice
Cream Cheese Sauce
2

tbsp

cream cheese or greek yogurt

You can use lowfat

1

tbsp

pure maple syrup
Instructions
Put everything in the blender except for the chia seeds. Blend it all for 1 minute. Once it is fully blended, add the chia seeds and stir them in. Let the batter sit for about 5 minutes to thicken up more with the chia seeds.

Pour the batter on a medium heat griddle or pan. Cook the pancakes as you would any other pancakes.

Heat your cream cheese in the microwave for 15 seconds. Mix in the maple syrup and drizzle on hot pancakes. If you use greek yogurt, you do not need to heat it, simply mix the yogurt and maple syrup together and pour over the pancakes.

Eat and enjoy! Store any extra in an airtight container or ziplock bag. You can also freeze them!
Now just wait for the topping! I use some softened cream cheese and a small amount of pure maple syrup and mix it well. You can also use greek yogurt and maple syrup to up the protein content even more! Honestly I go back and forth between the two. But the creaminess of the sauce is so good with these lemon chia protein pancakes.
Now, lets break down the nutrition facts. One serving of these, which is one recipe is 325 calories and 33 grams of protein! Thats amazing. Add a couple pieces of turkey bacon and you have even more protein!
Pro Tip:
The best thing about these are that you can double or triple the recipe, making a big batch, and store them in the fridge or freezer. You can pull these out on busy mornings and throw them in the toaster oven or the microwave. Its an easy way to have a healthy and high protein breakfast.
I think this is the perfect protein pancake recipe. You can easily change things out by taking the lemon out and making them different ways.
If you are a fan of pancakes, make sure to save these and make them! My kids absolutely love them! They don't have to just be for those that want to be healthy, have gluten issues, or anything else.
GET YOUR FREE GUIDE to 30 DIY projects that can be done over the weekend!
30 DIY Projects to do this weekend!