Windows in the bathroom can often be a tricky thing to manage. We all value our privacy, but having natural light in the bathroom is so essential as well! For me, a beautifully curated bathroom with large windows is absolutely dreamy. There are however caveats to having those large beautiful windows, the most important being privacy. There a tons of ways to create the privacy you need in a bathroom while being able to enjoy all that natural light. Let's talk about beautiful bathroom window ideas and some ways to create the privacy you need while enjoying the beauty too. First let's answer a few questions.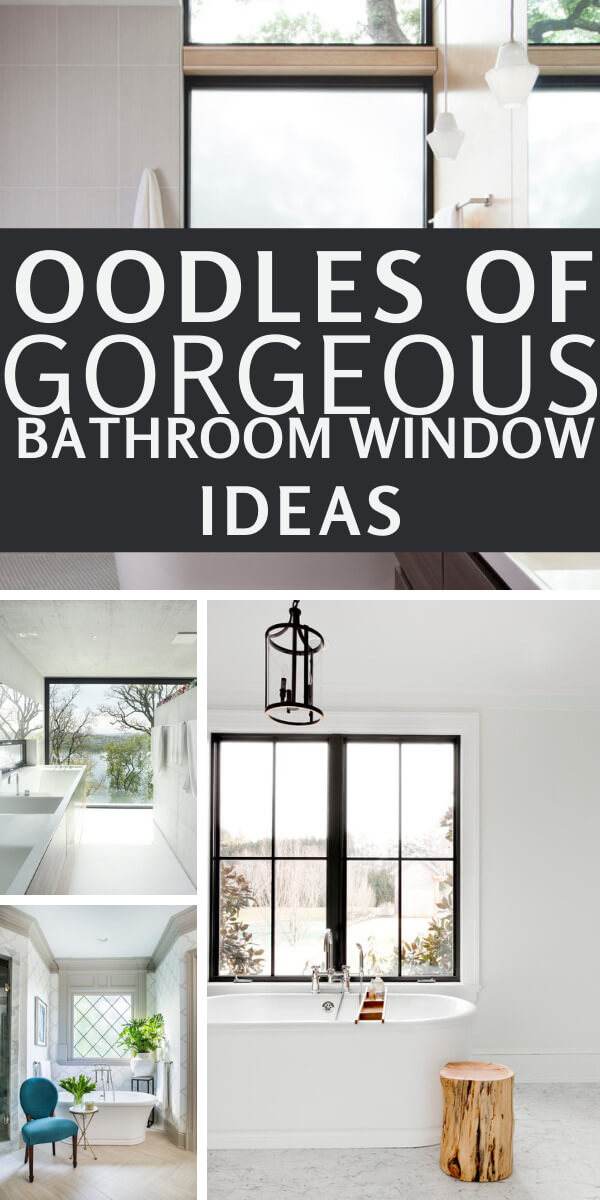 What should I put on my bathroom window for privacy?
There are many options of what you can put in your bathroom window in terms of privacy. First, you can have your window installed with privacy glass, frosted glass, or even a stained glass window! These can add privacy and beauty to a bathroom. You can also add venetian blinds, faux wood blinds, wood shades or shutters, mini blinds, roman shades and roller shades to your bathroom windows which is an affordable option that anyone can install. Another option is a window film. This can be purchased at most home stores
What type of window do you put in a bathroom?
Slider windows are pretty common for bathrooms, particularly because they are among the bathroom window options that are more affordable. They can provide ample lighting inside the bathroom, depending on the side, and natural ventilation once opened. Slider bathroom windows are also pretty easy to install.
Casement windows are also nice, and that is what I have in my bathroom. Since my bathroom is on the second floor and faces fields of hay we are not as concerned with the privacy. We also made sure to place the shower in a position that makes it hard to see in from the bathroom.
There are a couple specific types of window designs you can create in a bathroom, and I want to discuss the functionality and aesthetic features of them.
Bathroom Window Ideas:
Above head windows
large picture windows
stained glass windows
frosted windows
Bay Windows
Above Head Windows Or Transom Windows
First let's talk about the above head windows or transom windows. This is not a technical term. What I mean by this is that they windows are installed high, up near the ceiling. Often they are installed as a shower window but high enough that you can have privacy but also have natural light. You may also see them installed above bathroom vanities, or above cabinets. This gives you all the light you need with extra privacy you crave.
Here are a couple of examples below:
Large Picture Windows:
This is what we have in our bathroom. However it is a casement window, so it is technically not an actual picture window(which is a window that cannot be opened). A casement window is one that you use a hand crank to open either sides of the window. We use sheer bathroom window curtains to help filter the window and keep some privacy. We do not need to worry about it very much so we generally keep the curtains open to enjoy the natural sunlight. Sheer curtains are a great option if you have a large window but need less privacy.
Here are some examples:
Stained Glass Windows:
I love the look of stained glass windows, especially in the bathroom. These are generally a custom option when putting windows in. They may be more costly and really are only something you should do if you can afford it. But, they are such a beautiful accent in a bathroom or kitchen. If you can find an antique window at the salvage store or antique store that would be the way to go. These are a great way to create privacy in a bathroom because of the break in the window with the leading. I love the character these types of windows have and the way they bring a custom look to any space.
Here are some examples below:
Frosted Windows:
A frosted window is a very popular way to give your bathroom natural light while providing much privacy. This is also good for light control since it filters out the light in the bathroom. This is the best option if you have a large window and are in a busy neighborhood and need some privacy. Another option that is more affordable is to put a window film on an existing window. This is super affordable and can be used on any window that requires privacy. Whether small windows or large windows, they are a great source of privacy for large bathrooms or smaller bathroom.
Here are some examples below:
Bay Windows
These are such a great focal point in a bathroom. I love the traditional classic look that they give a space. I think they are a great way to make your bathtub a focal point in the bathroom if you choose to install a freestanding tub near them. They add a lot of visual interest to the space as well.
All these bathroom window ideas give you plenty of natural light along with addressing privacy issues. Bathroom window privacy is important but there are tons of options that will allow you to have a lot of natural light and also the privacy you need.
Here are some examples below:
I hope that these bathroom window ideas give you inspiration as well as some starting points for ideas that you can do in your home! There are so many options that can work for a bathroom that are both beautiful and functional.