With so many things coming at family and home these days, there is nothing better than being able to stay home and enjoy a meal together. My love language is service and food. So, with that you can guess what I like to do. Baking and cooking for my family is one of the ways I show them that I care. One of their favorite ways to show me how I care is by making their favorite homemade pizza. But this is no ordinary pizza. This is the yummiest homemade deep dish sourdough focaccia pizza!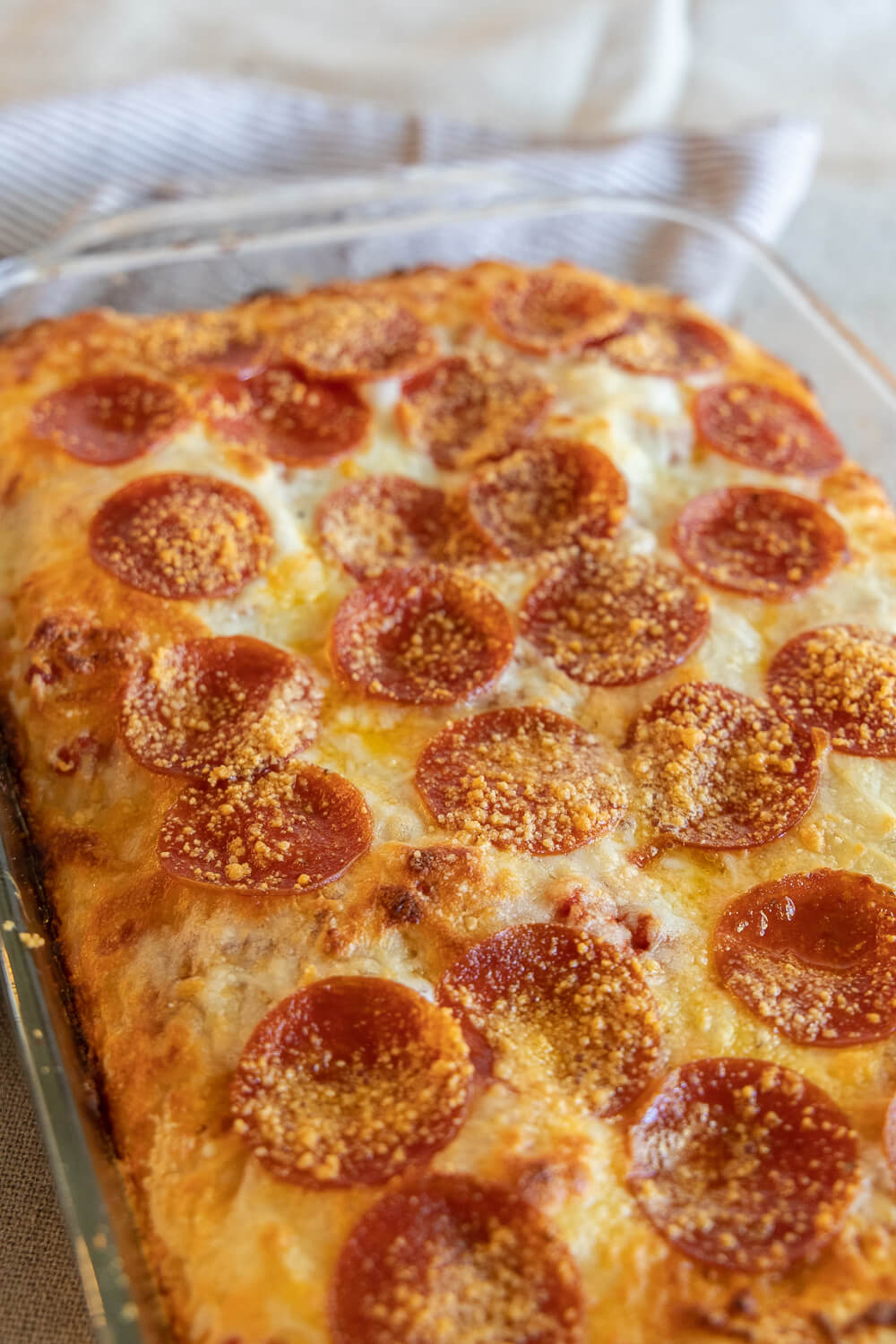 With rising concerns over the cost in food, gas and so much more, feeding our families has become a big concern for families. Over the past couple of years, I have been trying hard to cook more from home, to be more self sufficient, and find more affordable food options for my ever growing family and my larger than life sons who eat everything haha.
I have shared often that I live a considerable distance from our nearest large grocery store. Our nearest Walmart is 1 1/2 hours away. But, we do a lot of traveling and hit this nearby city often. The newest online grocery pickups available by Walmart have been a lifesaver and total game changer.
I love that I can stay in the comfort of my own home, get my order placed and scheduled and then pick it up when I am out running errands. It saves me so much time and money. Honestly it does save me money because I can really focus on what I really need and I can see the running total. I can remove items if I get over budget.
Additionally I can also add items after the order is placed, within a certain amount of time. It makes it so nice because we all know we forget stuff at the grocery store.
Walmart has always been an important part of our grocery shopping and also for basic necessities. They are able to help us with so many things. With so many options to make every event easier, whether its for back to school, holiday entertaining, or to celebrate a birthday or anniversary, they have what you need.
And they always have exactly what I need to create pizza night. My kids love this pizza and I love that I can get affordable ingredients that make it easy to treat my family.
Have you tried their online order and pickup? Use code TRIPLE10 to save $10 off their first three pickup or delivery orders. $50 min.
Restrictions & fees apply.
Dare to compare prices? Start your order now!
I even sneak in a treat or two haha.
I am able use Walmart's Great Value brand often and I find it to be really great. For this deep dish sourdough focaccia pizza, I always make 3 different pizzas. Of course, you can make any kind of pizza you love but these are our favorites.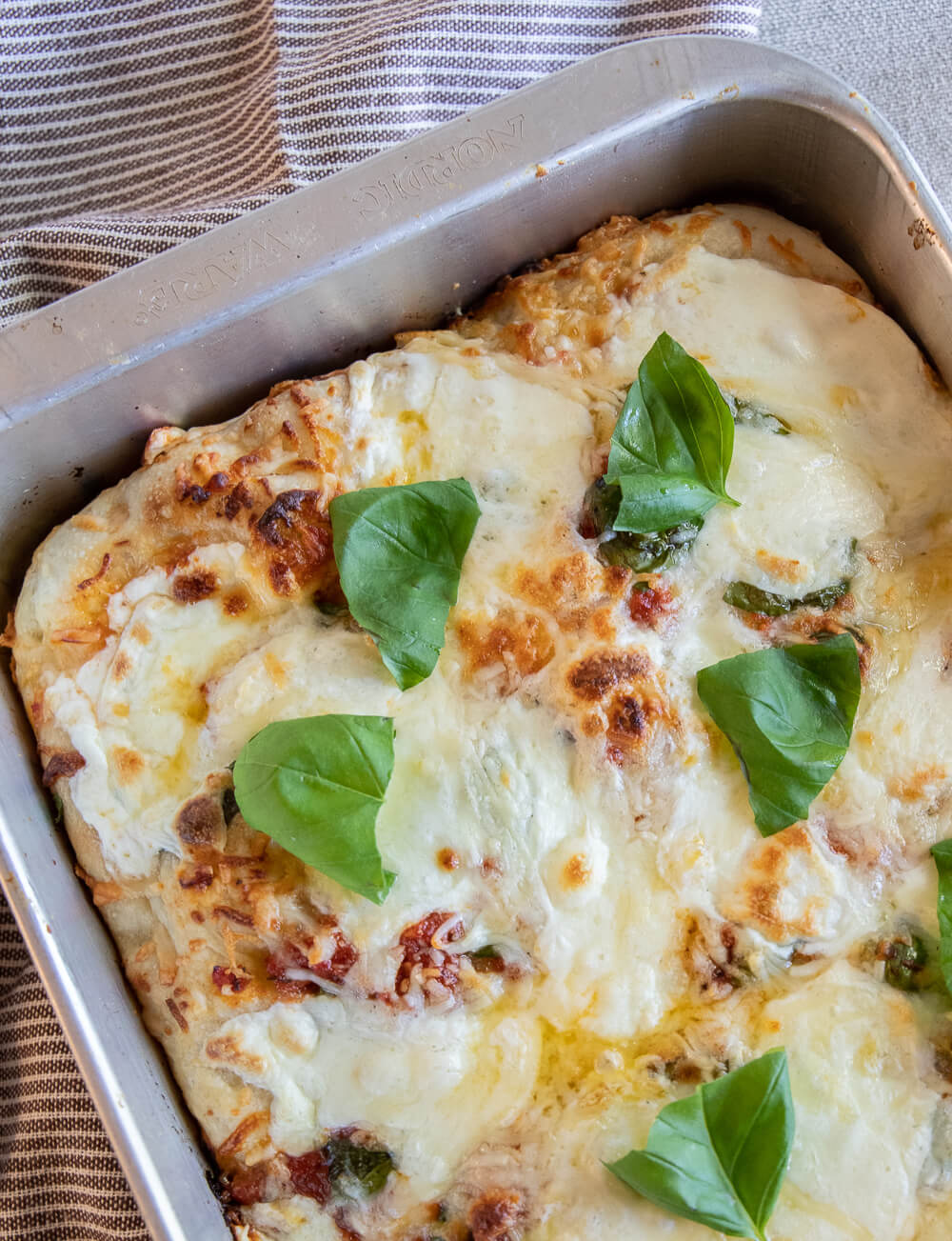 Margherita pizza: Fresh mozzarella, tomato sauce and fresh basil
Pepperoni Pizza: Italian pizza blend cheese and pepperoni
Spicy Sausage, Mushroom, herbs, and Swiss Cheese: This is my favorite. I use a spicy sausage like Jimmy Dean, sliced mushrooms, topped with fresh herbs like rosemary, sage, and thyme, and I top it with some fresh shredded swiss cheese.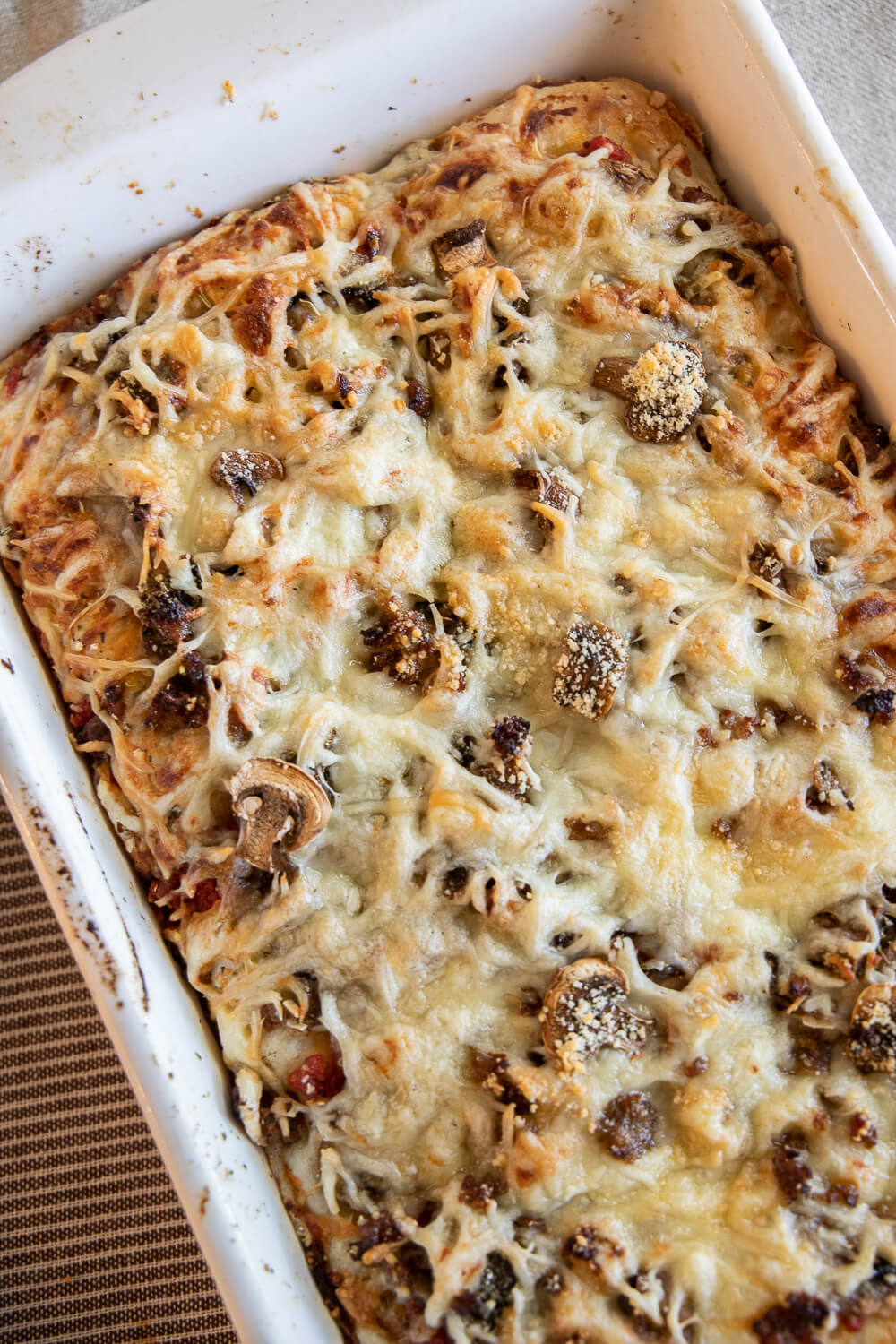 I use my sourdough focaccia bread recipe as the base for these pizzas. Honesetly, these are the most hearty and flavorful pizzas and my kids absolutely love them.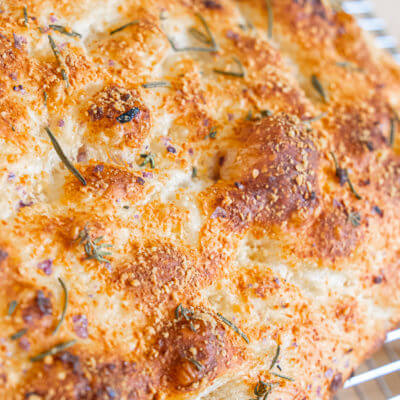 Easy Sourdough Focaccia Bread Recipe
Ingredients
3.5

oz

active sourdough starter

1 1/2

cups

water (plus 3 tbsp)

also 400g

3

tbsp

honey

2

tsp

salt

4

cups

bread flour

2-3

tbsp

olive oil

for the bowl

3

tbsp

olive oil

for the bread ( you can use less or more as needed)
Toppings (all optional)
sea salt

fresh rosemary

fresh thyme

parmesan cheese
Instructions
First, you need to get a large mixing bowl. It can be plastic or glass but not metal. Metal can react to the starter. I like to use a glass bowl and transfer it all into my proofing container with a lid when its time for its bulk fermentation.

Take your sourdough starter and water and mix them in the bowl(it does not need to be warm water). I like to use a digital scale to measure these out. Once they are combined, add your honey, salt and bread flour(you can use all purpose flour but i prefer bred flour). Mix this until it is well combined. I like to use my danish dough whisk but you can use a wooden spoon. At a certain point it will become easier to mix it with your hands, and this is exactly what I do.

Once it is combined well, cover the bowl with a towel or plastic wrap and let it sit for about 30 minutes. After about 30 minutes, you want to do your first knead. With wet hands, take the dough from one of the sides of the bowl, lift it, and fold it over the dough. Repeat this, rotating the bowl and raising the dough and laying it across itself. I do this to all sides and then let it rest. This should be a very wet dough. If it is tough, add a bit more water to it. Only 1 tablespoon at a time.

Its time to let the wild yeast do its thing. You can let it sit at room temperature to let it bulk ferment, but if I have time I will make sure to repeat the kneading process a couple more times. If I make it in the evening, I have plenty of time to do this since there is not a lot of active work, it only takes about 10 minutes of my evening to get my dough going.

If you want to bake your bread the next morning I would recommend leaving it out on your counter at room temperature, covered.

If you want to wait and bake it the next evening, I would put your dough in the fridge to allow the yeast to slow down overnight. I have woken up to dough that has burst the lid and it spilling over the side of the bowl. If you choose this route, you simply need to take the dough out a couple hours prior to baking

So for ease with these instructions, I will be going with the first option which is what I usually do(bulk fermenting on the counter overnight). With either option you want to cover bowl with plastic wrap to prevent the dough from drying out.

In the morning, the dough should have at least doubled in size, mine often quadruples in size. This is from the longer fermentation process. This long rise is what will give your bread its amazing flavor.

Oil the counter and gently let the dough drop out of the bowl or container onto your countertop. You want to try to avoid popping all those bubbles. I gently spread the dough, pulling the corners to make it larger. I will then fold the dough over itself once or twice. Then I will make sure to oil my 9 by 13 cake pan with a 1-2 tablespoons of olive oil.

Transfer dough carefully in the sheet pan and gently pull it so that it starts to fill the pan. You do not to stress about it too much because it will spread and once we poke those holes in it, it will fill the entire pan.

At this point I like to cover the pan with a towel and let the dough rise once again until it doubles its original size. This can take about 30 minutes to 1 hour. It will totally depend on how active your starter was.

Once it has doubled in size, I pour about 2 -3 tablespoons of the olive oil onto the focaccia dough and gently spread it over the dough with my hands. This is the best part!

Now its time to poke those holes in the focaccia bread.

FIRST PREHEAT YOUR OVEN TO 425 DEGREES F.

Take your fingers and gently begin pushing into the dough creating little creators. The olive oil will spill into the holes. The goal is to gently do this while not deflating the dough.

After you have have done this, its time to add some toppings to the top of dough, which are completely optional!

Once you have added your toppings, put the bread in the hot oven and bake on the middle shelf for about 20-25 minutes. You are looking for a nice darker golden brown color on the top and the bottom will be nice and crispy.

When it is done, take the focaccia out of the oven, take it out of the pan and let it cool on a wire rack. Do not let it sit in the pan, it will sweat and lose its crisp, which is an amazing part of the bread.

Once the bread has cooled you can store it in a bread bag or air tight container. Enjoy this bread with soups, make it into deep dish pizzas, with pastas, with balsamic/ olive oil dip or toasted with butter!
Follow those directions to make the sourdough focaccia bread recipe and then come back here to see how I make my sourdough pizza using my sourdough focaccia bread!
Watch this video below to see how I make focaccia pizza:
It is a very easy sourdough recipe. It is also the one sourdough recipe I make the most. So I will now explain how I make these pizzas once I have the focaccia dough ready.
Once the focaccia dough is ready to use, I prep the pans I will use to bake them in. I like to use my 9 by 13 pans for this. I first like to spray the pans with nonstick spray. I then divide the dough. If I want to make 3-4 pizzas, I will double my focaccia dough recipe. One recipe will make 1-2 pizzas.
Once you have your dough divided, take one mound of dough stretch it as you place it in your pan that has been sprayed. Use your fingers to stretch and spread the dough to size of the pan. It will shrink back a bit, which is fine because once you do your final rise it will spread much easier and fill the pan
.
Once you have the dough spread in the pan, cover them with plastic wrap and let the sit to rise once more. You want the dough to almost double in size. This will take about 1 hour.
While it is rising I like to prep my toppings, which include my homemade pizza sauce or I like to use the Great Value Organic Tomato Basil Pasta Sauce.
Here are the toppings I like to add to my pizzas:
(All these can be ordered and picked up day of!)
Mushrooms
Swiss Cheese
Fresh Herbs
Red Onion
Olives
Peppers

I often opt for the Great Value brand at Walmart. This brand is always very consistent and delicious and by making that swap I can save money where I need to.
When the dough has risen, pour a small amount of extra virgin olive oil over the top and spread it carefully with your fingers. Use your fingers to poke down into the focaccia bread dough and repeat this all over the dough. This will give you that pillowy texture that focaccia has. Do not smash down all the dough. You want to have bubbles, dips and craters in the dough. This is where all the yummy toppings will go.
Construct Your Pizza
Once you have the dough ready, spoon your favorite pizza sauce over the dough. Use as much as you like. But don't go overboard. I also like to keep about an inch away from the sides of the pan so that there is a crust around the pizza. Add the rest of your toppings to the pizza. I like to sprinkle parmesan cheese at the very end.
Bake Your Pizzas
Preheat your oven to 450 degrees. Bake the pizza until the sides are golden brown, the top is melty and getting crisp and the bottom is browned. You can use a spatula to lift the side of the pizza to check.
This usually takes about 25-30 minutes but may be different depending on your oven.
Once the pizza is ready, you can either cut it in the pan or remove it. I like to remove it and slice it on a cutting board. This way the crust stays nice and crisp.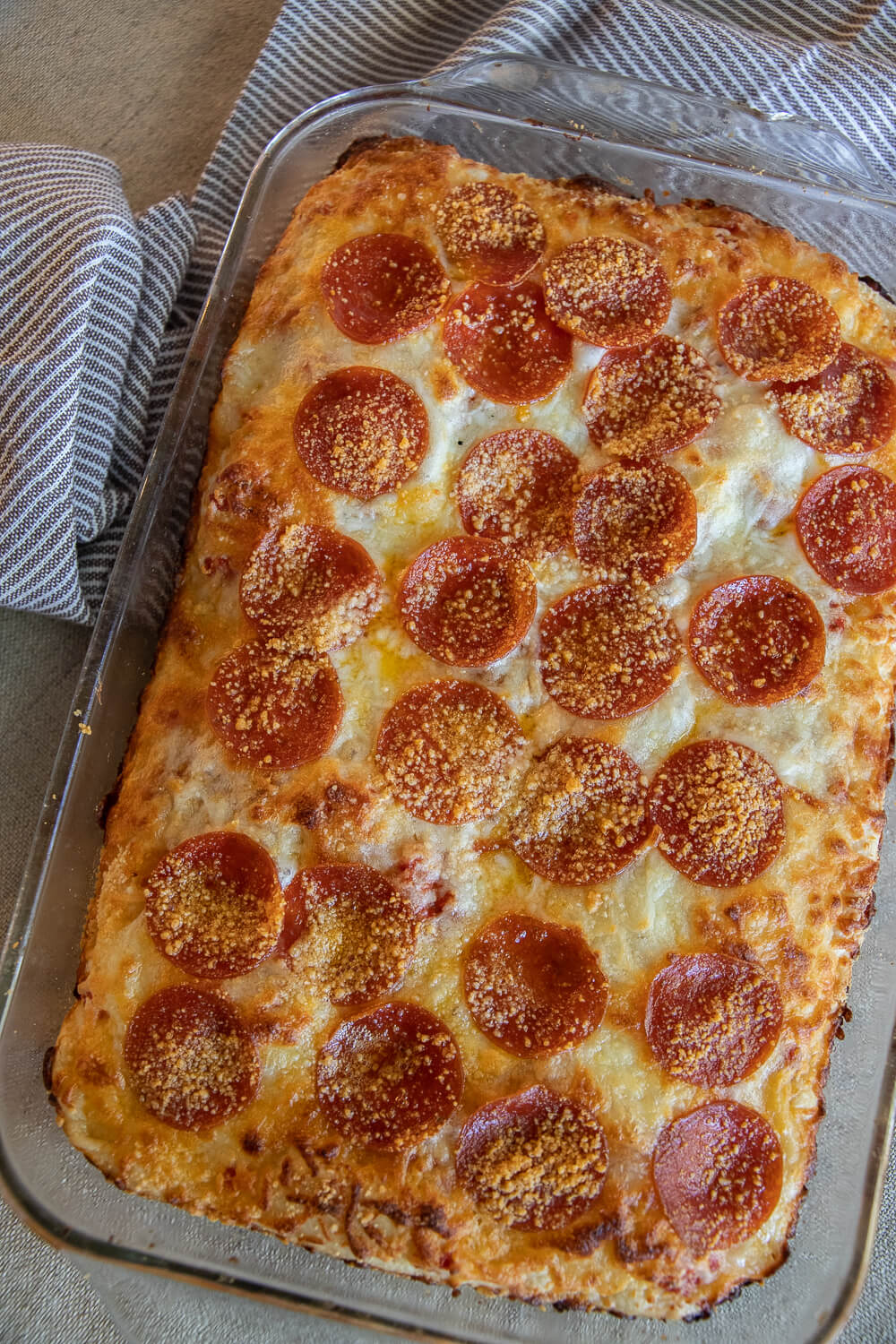 This pizza is amazing! The sourdough focaccia bread is what makes this pizza so unique. The dough has so much flavor and by using long ferments with the dough, you create an amazing sourdough flavor. This pizza is one that I can eat since it is made without yeast. Since it is a true sourdough with a long ferment, it is easier for me to digest as well.
This deep dish pizza dough is so easy to make. You do not need a stand mixer to make this! There is only about 15 minutes of active time to make this sourdough pizza dough. The rest of the time is resting time.
This sourdough deep dish pizza is even amazing cold or room temperature! I am a bit partial to room temperature pizza though haha. We store the leftovers in a zip lock bag and store it in the fridge. My kids like to reheat this pizza in our air fryer. Its an easy way to have something to feed your kids without much work. And with the cost of food these days, we don't want to waste any of it!
Here are the three different pizzas that I like to make: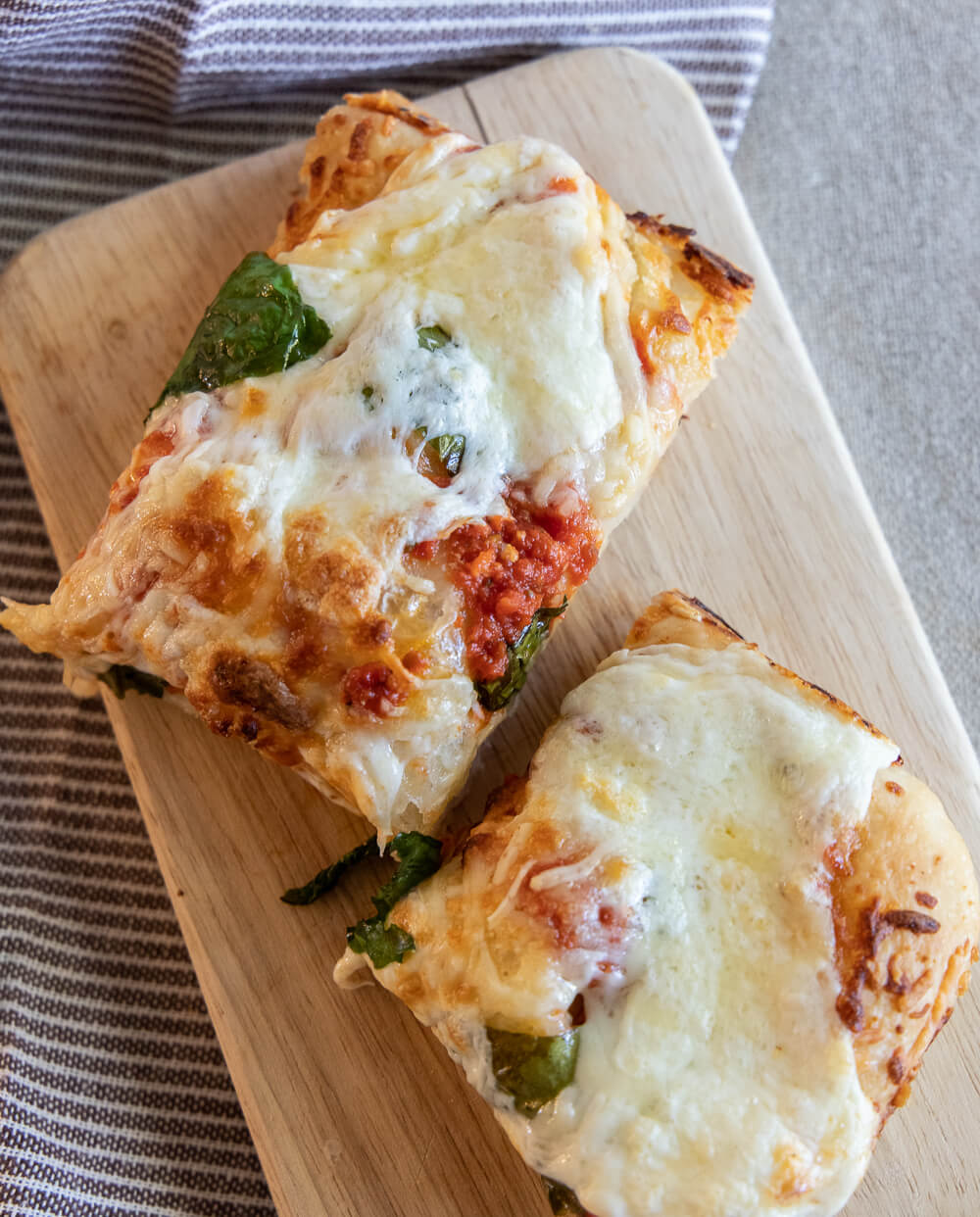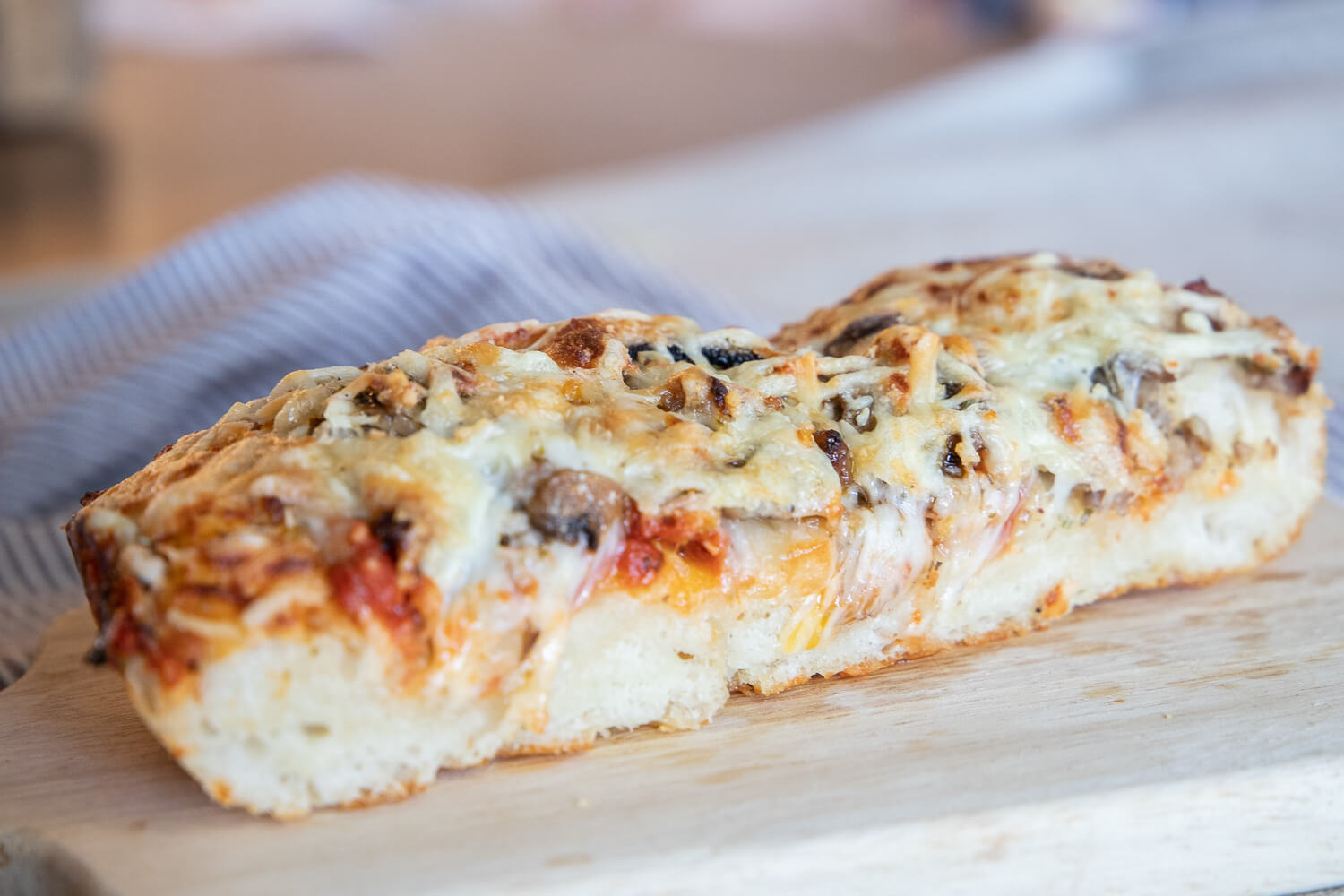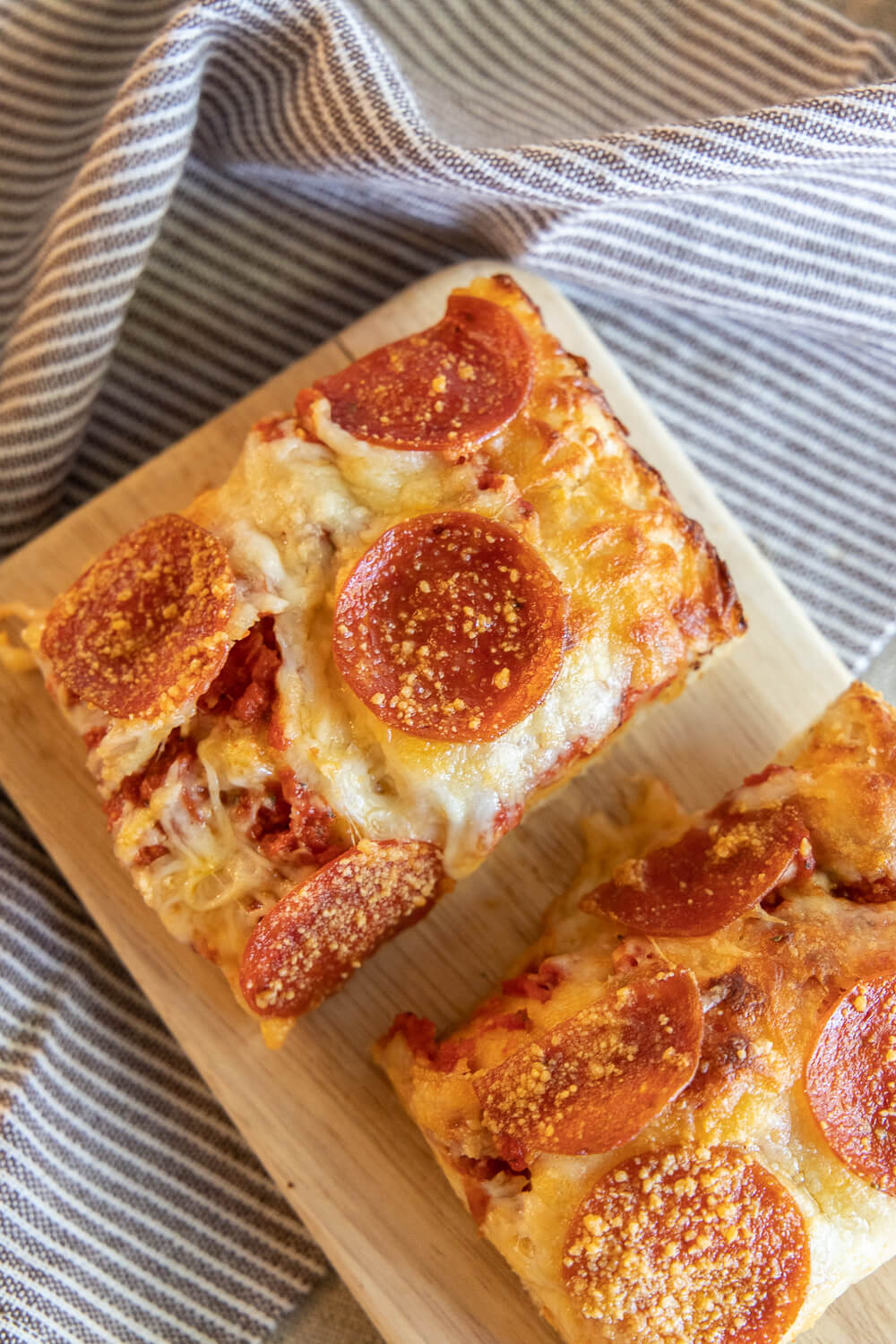 Like I said a the beginning of this post, I try hard to cook at home and to make things from scratch. I am so very aware of how much we are spending on groceries per month and trying to stay to a budget can be difficult. I am very aware that Walmart has. Why not give them a try and see what they can do to help your family save where it counts.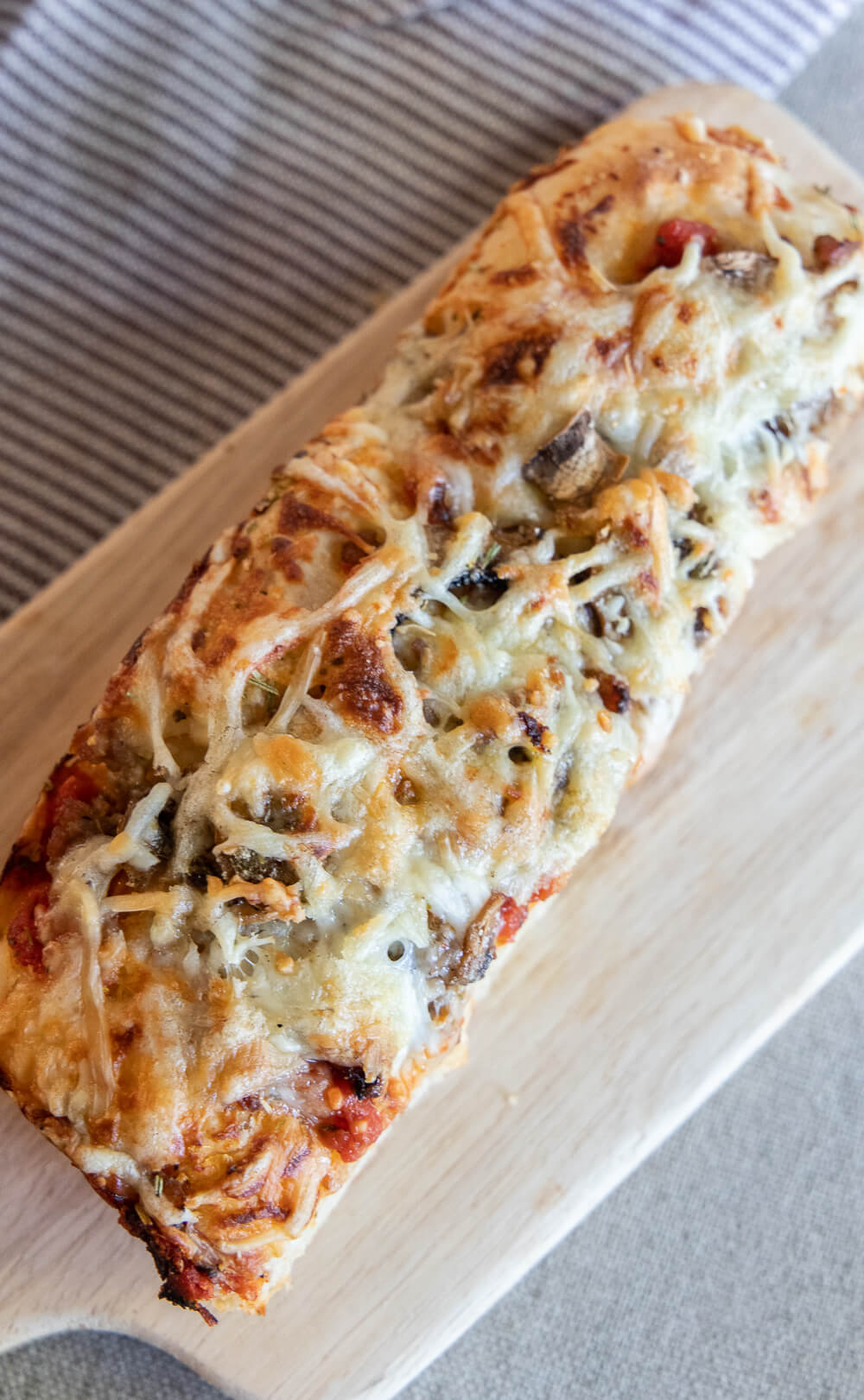 Make sure to follow me on Pinterest where I share DIY, crafts, home decor, recipes and more! Its all things home.
GET YOUR FREE GUIDE to 30 DIY projects that can be done over the weekend!
By subscribing, you will gain access to my FREE guide with 30 DIY projects that can each be done in a day, or over a weekend!
You will also receive a weekly email with some of my favorite tips, tricks, and design ideas.