Hey friends I hope you are here looking for my easy homemade pizza sauce recipe, because that is what you are getting!
I love to make homemade pizza and pasta. During the past couple of years I have really focused on spending more time at home creating the things we love the most. I want to be able to make all those basic staples without having to run to the store to buy a jar of pizza sauce or spaghetti sauce.
I have always had a hard time finding a pizza sauce that I loved. Most just lacked flavor that I wanted. Really I did not realize how easy pizza sauce is to make. All you need is to have some of these ingredients in your pantry.
First, a couple of questions:
Is pizza sauce made from tomato paste?
It can be, but I prefer to make it with crushed tomatoes, which is a combination of tomatoes and tomato sauce. I think that sometimes tomato paste can be too strong.
Can I substitute tomato sauce for pizza sauce?
You can use tomato sauce for pizza sauce, but you still need to add herbs and seasonings to give that pizza sauce good flavor
What kind of tomatoes should I use for pizza sauce?
I like using canned tomatoes for pizza sauce. They are super consistent in their quality and since you can keep them in the pantry for along time it is something you can always keep on hand. I prefer to use canned crushed tomatoes, which is a combination of tomato sauce and tomato chunks.
Can I use canned whole tomatoes?
Yes you certainly can. I prefer to use the crushed(which is more like a tomato puree) but you could use any canned tomatoes that you have. Give it a try.
Is fresh basil or dried basil best for homemade pizza sauce?
It depends. Dried herbs are more flavorful and have more aroma to them, but you need to cook the sauce longer to get the fuller flavors. Fresh basil is great to put in right at the end. The longer the sauce cooks, the basil flavor will weaken. Fresh basil gives the best flavor in my opinion but I like to add it right at the end.
There are simple ingredients in pizza sauce and you probably have them in your pantry right now.
These are the basic ingredients of my easy pizza sauce recipe. Its so easy. Here is the recipe below~

Easy Homemade Pizza Sauce
Why get store bought pizza sauce when you can easily make amazing pizza sauce at home!
Ingredients
1

28oz

can of crushed tomatoes

2

tbsp

olive oil

2

tbsp

fresh minced garlic

1

tbsp

dried basil

1

1

tbsp

oregano

pinch of sugar and salt

red pepper flakes

optional
Instructions
In a medium sauce pot, add the olive oil and turn the heat on medium.

Add the garlic and slowly let it sautee for about 3-4 minutes.

Slowly add the can of crushed tomatoes

Give it a stir and add the basil, oregano, salt and sugar as well as red pepper flakes

stir the mixture and let it simmer on low for about 10 minutes.

Use a hand immersion blender to blend the pizza sauce in the pan. This will help combine the flavors and get rid of some of the larger chunks of tomatoes.

Use this pizza sauce warm or put it in the fridge for future use. I would not keep for longer than 1 week in the fridge. You can also freeze this pizza sauce and use it in the future.
HOW TO MAKE EASY HOMEMADE PIZZA SAUCE INSTRUCTIONS
So, lets talk about how to make this easy homemade pizza sauce. First, in a medium saucepan, heat your olive oil on medium heat. Add your fresh garlic and sautee for about 4 minutes.
Add your crushed tomatoes to the pan and stir the trio and let them simmer for a couple of minutes. Add the dried oregano, dried basil, red pepper flakes, salt and sugar to the pan and give it all a stir. I like to add the salt and sugar last, and add it to taste. A pinch of each is usually good, but let it simmer and then taste to see if it needs more.
The sugar helps to cut the acidity of the tomato sauce.
Let the sauce simmer for about 10 minutes. After it has simmered, I like to use my immersion blender and blend the sauce up breaking down the larger tomato pieces.
You can use your sauce immediately! I always make my own pizza sauce while I am making homemade pizzas. This is an amazing sauce to use to dip breadsticks, or even use with pasta if you are looking for a quick marinara sauce.
Try them with my super easy breadstick recipe, or use them on your favorite pizza!
I use this on my homemade sourdough deep dish pizzas, and its always the perfect sauce! Just spread it over your pizza dough and top with your favorite toppings. You can keep the leftovers in the refrigerator for up to a week. You could also freeze this pizza sauce for future use. I like to store it in a glass jar whether I am putting it in the freezer or keeping it in the fridge. But rarely do we have any left after making pizzas with it.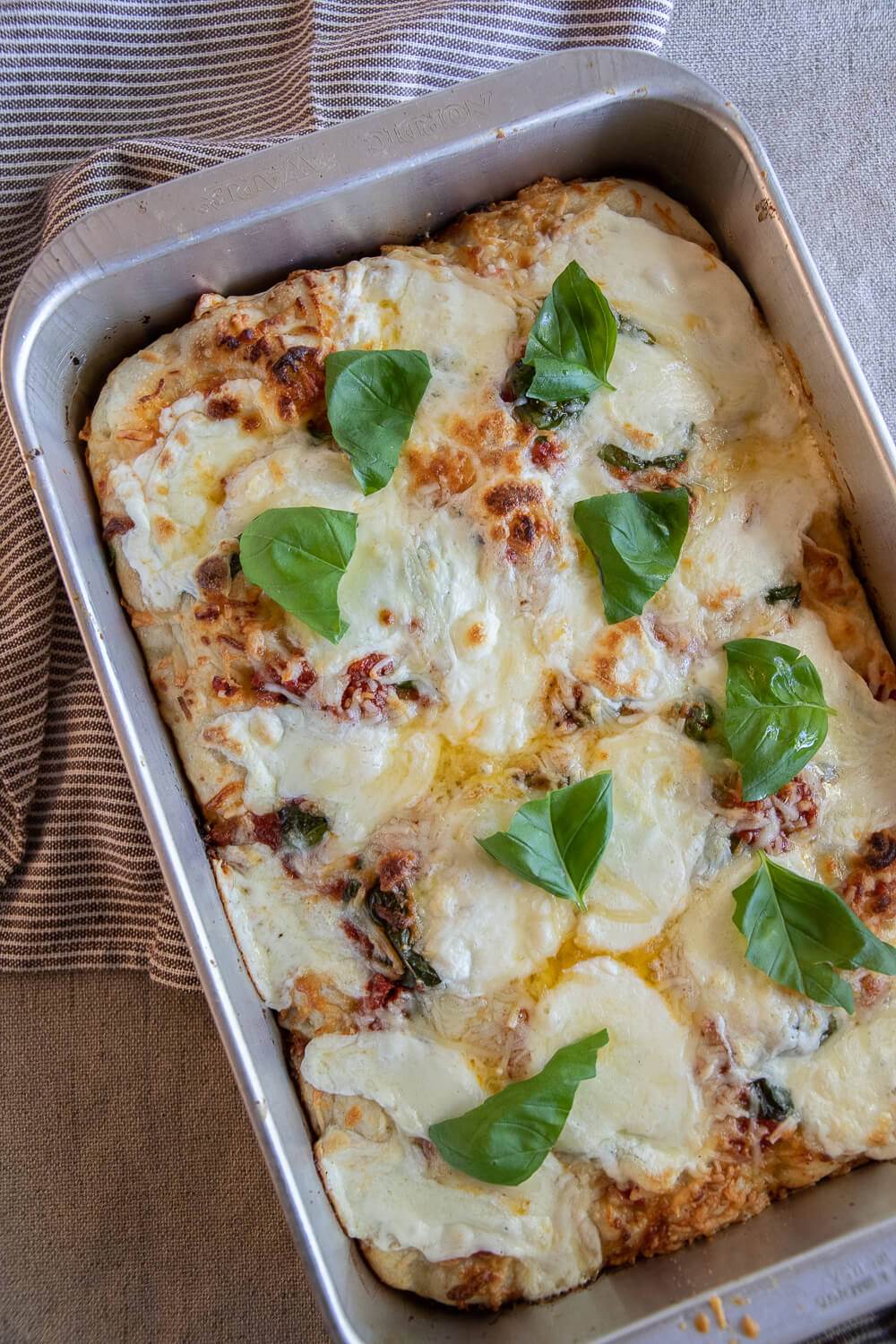 I like making this homemade pizza sauce because I can control the sodium content and sugar content which are often high in store bought pizza sauces.
This is the best pizza sauce in my opinion and it is so affordable to make! Learning to make pizza sauce from scratch is just another skill that allows you to make and create meals with confidence. With just a couple of pantry staples you will be able to make it anytime.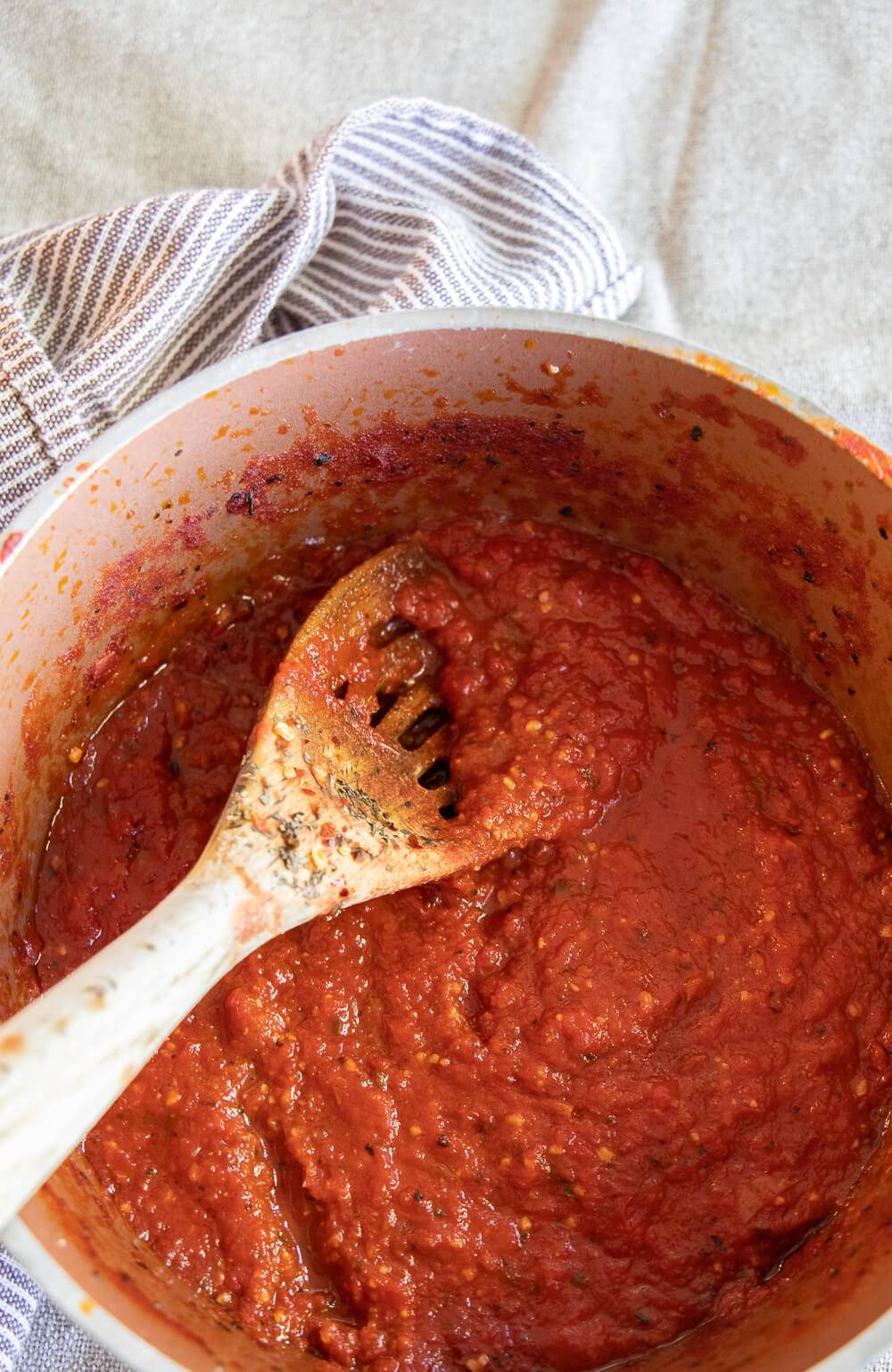 GET YOUR FREE GUIDE to 30 DIY projects that can be done over the weekend!
By subscribing, you will gain access to my FREE guide with 30 DIY projects that can each be done in a day, or over a weekend!
You will also receive a weekly email with some of my favorite tips, tricks, and design ideas.